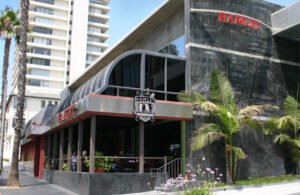 We are always on the quest for a good burger and a good drink and this past Saturday was no exception. After contemplating various places in West Hollywood that we could go to for Pub grub it occurred to me that the Hamlet on Sunset would be the place. I had driven by numerous times and we finally got our chance to hang out at this Sunset Strip landmark where Old Hollywood meets a cross breed of Steak House and upscale American pub.
When we arrived around 3pm the lunch crowd was few and far between and we had almost the entire place to ourselves. Since it was a late lunch we contemplated splitting a burger but for 3 of us that would be a little complicated so we opted for several appetizer selections.
To start we ordered the obvious choice to entice our palettes. The "Munchies, Munchies, Munchies (for 2)" platter is a combination of crispy calamari and shrimp, zucchini Zircles, Asian pot stickers, BBQ chicken quesadilla and a trio of sauces. Ignore the "For 2" label in the title as it provided enough for 3. All of the distinct flavors created a colorful party in our mouths.
Like my friends I can never say no to French Onion Soup especially on a cool day in California. The following description "Aromatic broth of deep caramelized onions, topped with a crust of French bread and bubbling melted Gruyere cheese" was enough to make my mouth water and it didn't disappoint. I decided to split the soup so that there would be room left for the Gourmet Baby Burger Sampler since this was the reason that we choose this location; Burgers & Beer. These Mini beef versions of the Hamlets signature burgers included the All American, Hickory Cheddar, Caliente and Steakhouse Blue burgers. When quartered they all provided a little taste of burger heaven.
To wash all of this goodness down I opted for Hamlet's Premium Ale I the 20 oz Schooner. With my goblet of beer I pictured for a moment sitting at King Arthur's round table, but then I drifted back to reality.
In summary, The Hamlet is the perfect place for upscale pub grub, especially when you cannot decide exactly what you want. The cocktail menu offers various selections and the lunch/dinner menu has all of your favorite soups.
The staff was friendly and first class.
"To be or not to be, that is the question"
Hamlet on Sunset
9201 Sunset Blvd.
West Hollywood, CA 90069
(310) 278-4924
http://hamletrestaurants.com/index.php?q=lochamletsunset.html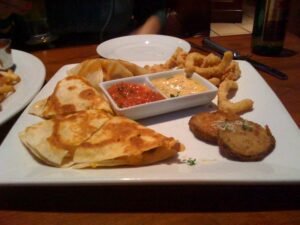 Hours of Operation
Monday – Friday: 8am – 11pm
Saturday: 10am – 11pm
Sunday: 10am – 10pm