Boneyard Bistro is where California bistro cuisine and barbecue collide. The restaurant is located in Sherman Oaks California in the San Fernando valley and is the jump-off point where chef Aaron Robins(chef and co-owner) brings his culinary vision and creativity to patrons and guests from all over the city.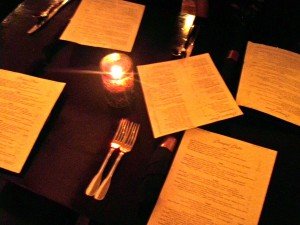 Aaron is also backed up by talented chef de cuisine, Nicci Piscitelli. Together they oversee the kitchen and dining room and work in unison to ensure that guests feel at home and don't leave hungry. We were delighted and fortunate to sample a bountiful spread that would even make the "Cheesecake Factory" look meager in comparison.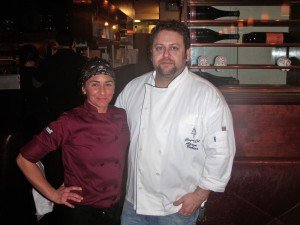 Aaron is a fan of both bistro cuisine and traditional BBQ and he knew that he didn't want to limit himself to one style of cuisine. As a result, you will find a robust double sided menu loaded with choices. Add an efficient kitchen into the mix complete with smoker and wood fire grill aid the chef's have all of the tools to make their authentic masterpieces come alive.
After browsing the extensive beer selections on the beverage menu we decided on several local brews and a few imports, ranging from Lost Coast, Great White from California to a Schneider-Weisse, Aventinus Organic from Germany. Both beers complimented the meal that we were about to see unveiled before our eyes. With far too many menu items to mention, I will name a few and let the pictures tell the rest of the story.
We experienced an intense blend of flavors on our visit. A lavishly plated Thai infused calamari salad started things off followed by the Kobe Chili donuts. The salad paid homage to Asian cuisine and was a great dish to get our palettes primed and ready. The chili donuts were a whole other animal. These chili buns of sorts served with cheddar and pickle are savory versions of their sweeter cousins and share a likeness to Chinese sticky buns and a chili cheeseburger all rolled into one are the "Worlds first non messy chili burger" a phrase coined by Aaron himself after he created them.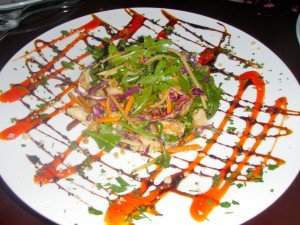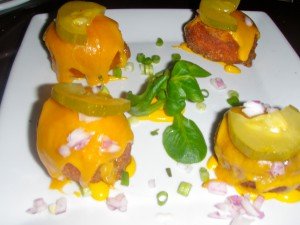 We continued with the indulgence throughout the night and had several salad courses and for the meat lovers, "The O.M.G. Burger and 16 oz traditional oak grilled rib eye. Both were loaded with flavor and portioned out for 2 people, but if you are hungry enough you can take them on yourself. Add into the mix a fully loaded BBQ party platter dubbed the Evanator and you are ready for a trip to foodie heaven with a smile on your face.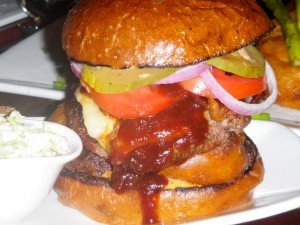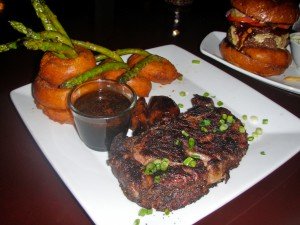 After getting the idea that this was no ordinary tasting we were ready for one last treat; Desert. We had no idea what the chef's had in store for us for something sweet, but were happily surprised with the selections. Our first item was a smore doughnut. A play on a traditional smore, it looked great but tasted even better and I will never look at smores in the same way. And just when we thought we were done the ultimate cupcake arrived. Simply named, Nicci's maple bacon pecan cupcake. The name says it all but you have to taste it for yourself. A perfect savory-sweet combination gives those boutique cupcake houses a run for their money. Grab a beer, burger and cupcake or take a page from our book and sample it all.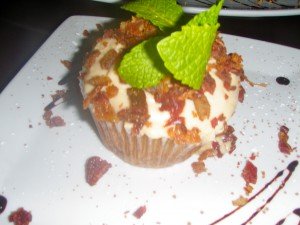 Boneyard Bistro
13539 Ventura Boulevard
Sherman Oaks, CA 91423-3825
906-7427
http://www.boneyardbistro.com/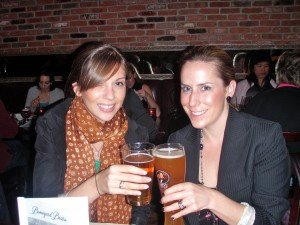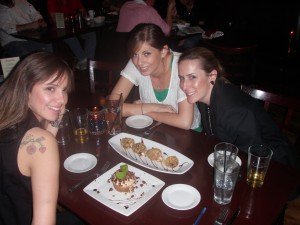 Boneyard Bistro Smoked Side 10.17.09