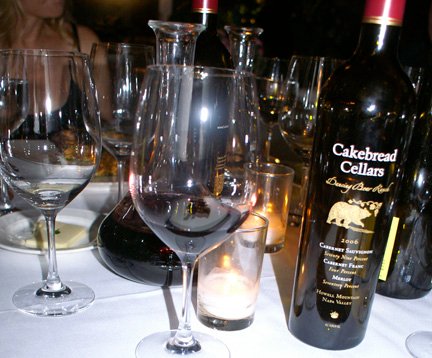 An intimate dinner with a vintner is now something I can cross off my bucket list, thanks to Dennis Cakebread and Cakebread Cellars; micro-purveyors of wine from the Napa Valley. And yet again, the Cheese Impresario didn't fail to "impress" with this introduction, that was a meeting of the minds, nose and stomach all rolled into one.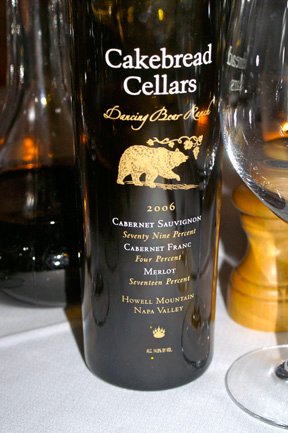 It pays to stay connected with your foodies and that is exactly how I became a guest at the table on the patio of legendary Michael's Restaurant in Santa Monica.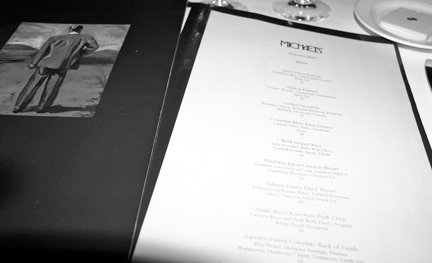 On a brisk Summer night I was delighted to be in the presence of some of LA's top food and wine bloggers, while having great conversation and learning about the nuances of Cakebread's latest pour, the Dancing Bear Ranch, Cabernet Sauvignon.
Eve Hammond Bushman from Eve's wine 101 and Greg Henry sippitysupp(ed) their way through the Napa Valley tour without leaving the table; while Marissa and I enjoyed some food and drink along with some chatter.
A focus(ed) group we were, all enthralled with Cakebread Cellars, Dancing Bear Ranch, Cabernet Sauvignon as it gleamed as the evenings centerpiece in its crystal decanter until the time was just right.
Dancing Bear Ranch Cabernet is a blend consisting of Seventy nine percent Cabernet Sauvignon, seventeen percent Merlot and four percent Cabernet franc. All grapes in this luxury blend from 2006 are grown in the Howell mountains high above the Napa Valley and attribute to its rich fruity flavors and body.
It was no coincidence that Cakebread and Michael's were paired for our tasting since they both celebrate the flavors of California and have ties to Califonia's wine regions and the restaurants and patrons that support them.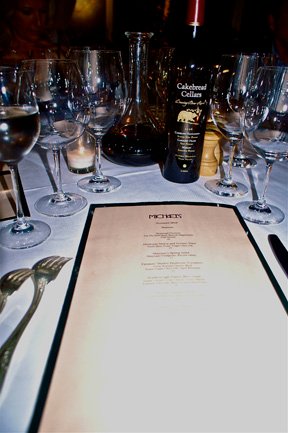 Michael's has been a Los Angeles staple since the 70's and has been bringing contemporary California cuisine to Santa Monica ever since. Seasonal summer selections made the wine pairings an easy task and Dennis Cakebread didn't let the table down, nor was there ever a moment in wine limbo.
Each item that we ordered offered great flavors as well as quality farm fresh ingredients. Summer freshness is interpreted in each dish; from an Heirloom Melon and Serrano Ham salad to the Superior Farms Colorado Rack of Lamb just top name a few selections that we indulged in.
Throw in a Warm Brown Butter Tart from the dessert menu loaded with Farmers' Market Seasonal Fruit, Crème Anglaise and Crème Fraîche and you have just experienced ecstasy.
There is nothing like a gourmet dinner paired with great wines, and for a just a moment, we thought we were in Napa, or at least until the valet attendant brought us our car.
Take a moment and read the Cakebread Dancing Bear Ranch story and glance at the amazing cinematic video tour of the property and you will truly understand this micro wine, it's purveyors and the Cakebread family run winery. And you just might run out to the store and pick up a few bottles one for the present and one for the future as this line is a must have for collectors and will be great for years to come. Thanks Michael's and Cakebread Cellars for having us along for the ride. We will see you in Napa real soon!
Summer menu snapshot for your dining pleasure
Starters
Heirloom Melon and Serrano Ham
Fresh Mint, Extra-Virgin Olive Oil
Mains
Snake River Kurobuta Pork Chop
Fried Yucca, White Peach Mostarda
38
Superior Farms Colorado Rack of Lamb
Rice Beans, Merguez Sausage, Harissa,
Watercress, Heirloom Cherry Tomatoes, Lamb Jus
44
Dessert
Warm Brown Butter Tart
Farmers' Market Seasonal Fruit, Crème Anglaise, Crème Fraîche Soft Cream
12
Michael's Restaurant
1147 3rd Street
Santa Monica, CA 90403-5005
(310) 451-0843