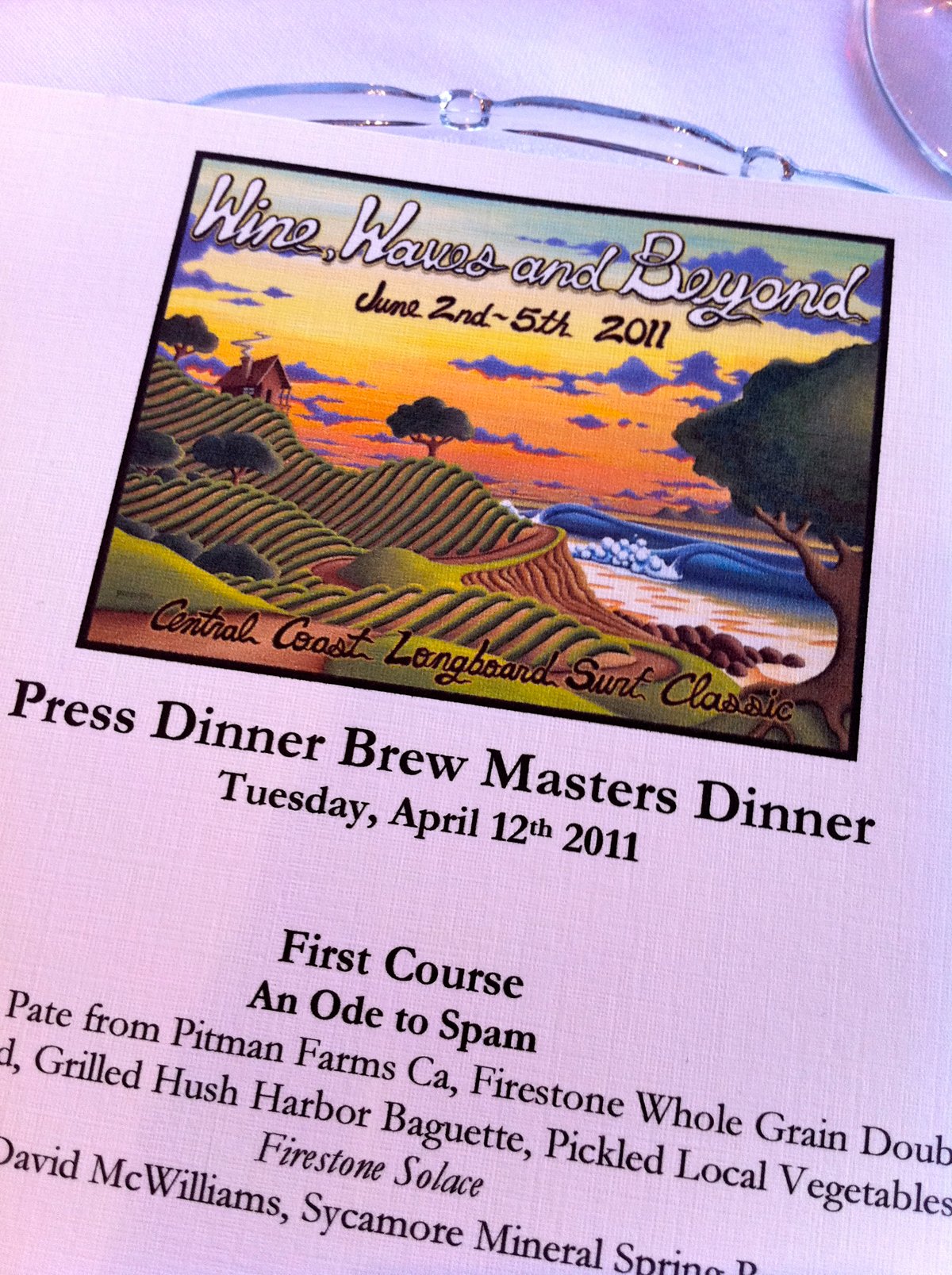 Several weeks ago we had the pleasure of attending, A taste of the Central Coast; "A dinner preface to the Wine, Waves and Beyond Festival" that takes place in San
Luis Obispo County in early June of this year.
Local chef's from the areas top restaurants and resorts showcased a unique surf-inspired tasting menu as an introduction to the Festival fare with a preface to its "Brewmaster Dinner" that will be held during the event.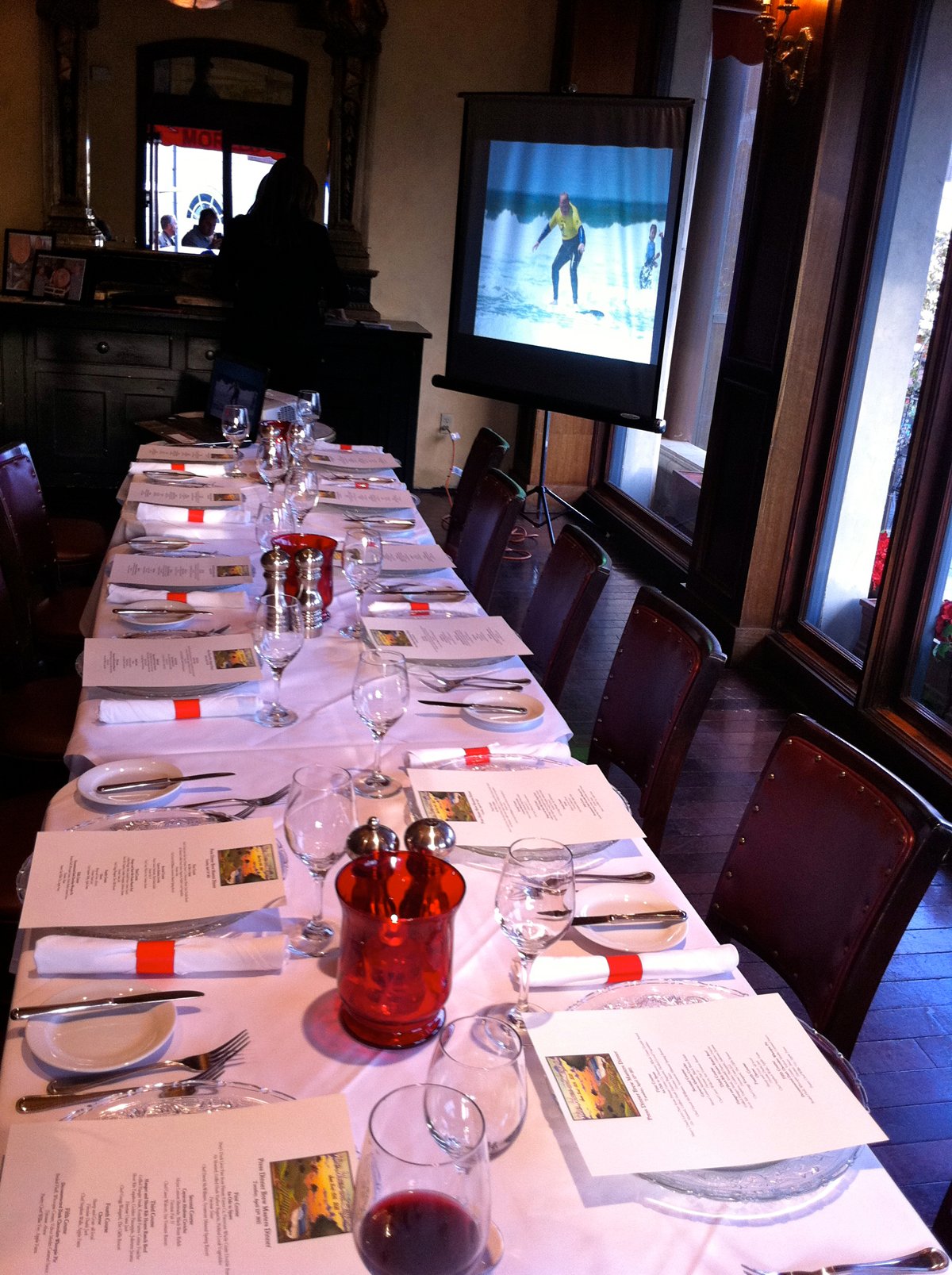 The dinner was centered around socially conscious dishes created with local ingredients and paired with some of Firestone Brewing Companies premier brews.


Besides good food, and drink the event brings awareness and funding to the Association of Amputee Surfers also know as AmpSurf.
From savory to sweet and everything in between, it was all in the name of a great charity that is helping to put smiles on surfers faces from coast-to-coast.
Event info:
Wine Waves & Beyond will be held in San Luis Obispo County from June
2-5, 2011. This food and lifestyle event blends together like a fine wine, the best of wine country and local area surf culture with all proceeds going to support AmpSurf.
The events activities range from a Surf movie premiere screening at the Fremont Theater in S-L-O, a "Barrel to Barrel" wine and beer tasting and art show by the"Forever Stoked" artist consortium, a "Brewmasters Dinner" that you will not want to miss, a Classic VW car show, Longboard surf contest with some Surfing winemakers from Paso Robles and a Bikini fashion show to top things off.
About AMP Surf: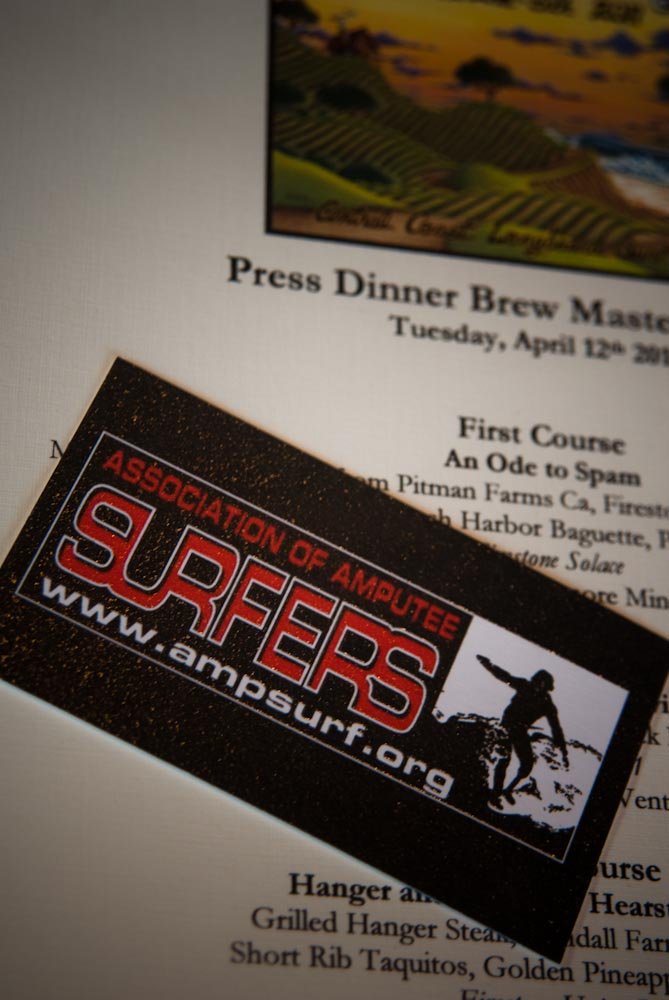 Dana Cummings from AMP Surf is truly a "Soul Surfer". Both a former marine and founder of the non-profit organization(AMP Surf), he is on a mission to teach as many people with disabilities and or life challenges how to surf. It is his passion and determination for surf education and rehabilitation that caught the attention of CNN who honored him as 'hero" last-year. During the weekend event, Amp Surf will be leading Operation Restoration with a surf demonstration with over 40 of its members. All event proceeds will raise money for their efforts so they can continue to hold surf clinics up and down the coast of California.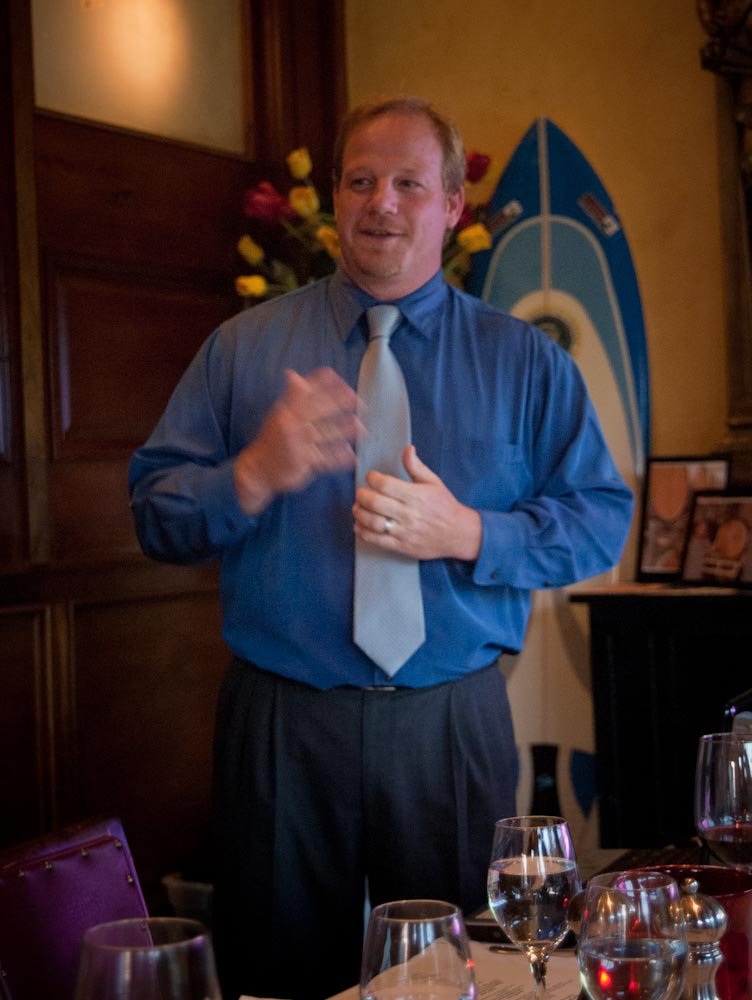 Beer and Wine local flavors and pairings:
Before the meal we enjoyed some local sips from some Surfer's turned winemakers with youthful names such as Chronic Cellars & Four Vines Anarchy, before indulging in the latest in Firestone Brewing Companies extensive product line.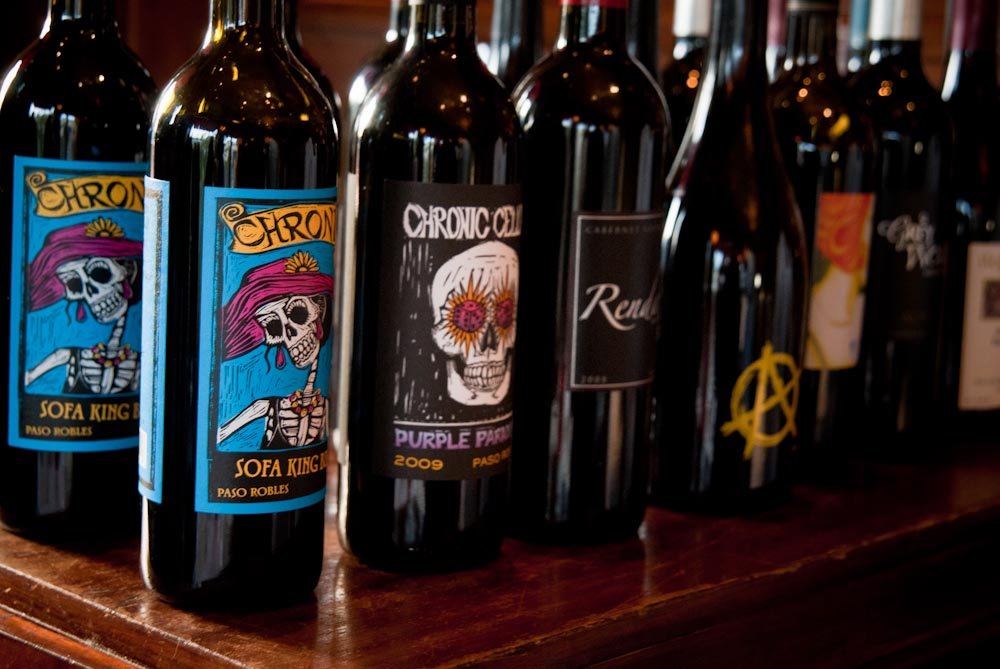 Our host, Steve Almaraz(VP of Sales) from Firestone Walker says that "it takes great beer to make good wine" and I would agree. Firestone Beer was born from the Firestone Wine family and prides themselves on being a boutique brewery that brings fresh, unique and interesting beers to their customers who are eclectic and as passionate about the beers they drink.
The Menu:


Since I could go on forever about the special "brewmaster" five-course tasting menu, I have decided to showcase my top 3 favorite dishes from the evening. Flavors ranged from classical French to Contemporary Latin and Traditional American Cuisine, all with farm-to-table freshness.
Ode to Spam
Mary's Duck Liver Pate from Pitman Farms Ca, Firestone Whole Grain Double Barrel Ale Mustard, Grilled Hush Harbor Baguette, Pickled Local Vegetables paired with Firestone Solace(a Bavarian Blend) created by Chef David McWilliams, Sycamore Mineral Spring Resort


California's New American approach to Foie Gras would make anyone smile, while the "Fresh" beer(aged for 45 days) complimented the dish with its youthful blend of Bavarian Hefeweizen  and Belgium Pale Ale to quench the palette. Most importantly, this version did not come from a blue can.
Hangar and Short Rib Hearst Ranch Beef
Grilled Hangar Steak, Kendall Farms Creme Fraiche, Short Rib Taquitos, Golden Pineapple, Julienne Jicama paired with Firestone Union Jack from Chef Gregg Wangard, The Cliffs Resort(in Pismo Beach)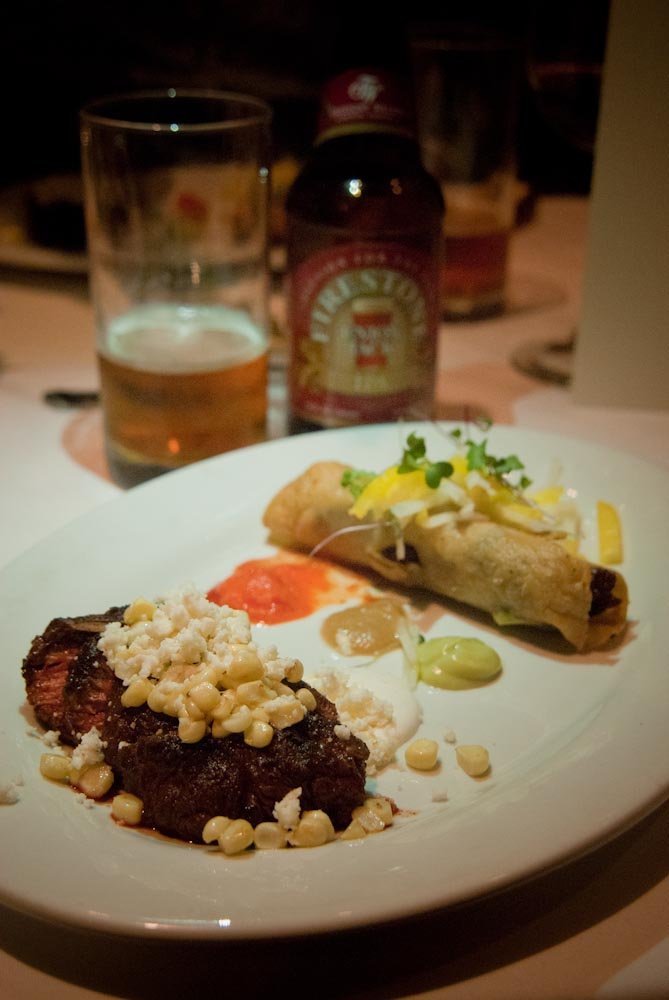 The grass-fed beef made the steak enjoyable and the tender taquitos added a crunchy balance of Latin spice to the dish.
Deconstructed Dark Chocolate Whoopie Pie
Bruled Fluff, Whoopie Cream, Velvet Merlin Caramel Sauce paired with Firestone Abacus deconstructed by Pastry Chef Willie Vey from Apple Farm
Cake, Cookie, or Pie? You decide! This American classic dessert originally from Maine was ramped up a few notches and was so decadent that I couldn't leave any on my plate. It only made sense that Firestone paired the dish with it's limited production Barley Wine that will remain nameless from here on out.


Now that I have your taste-buds in a frenzy and your mouth watering, you can experience the complete five course menu by visiting the festival in June and RSVPing to the "Brewmaster dinner".  You will not leave the table disappointed("I promise")
Compliments to all five of the Central Coast chefs for putting together such a great tasting menu.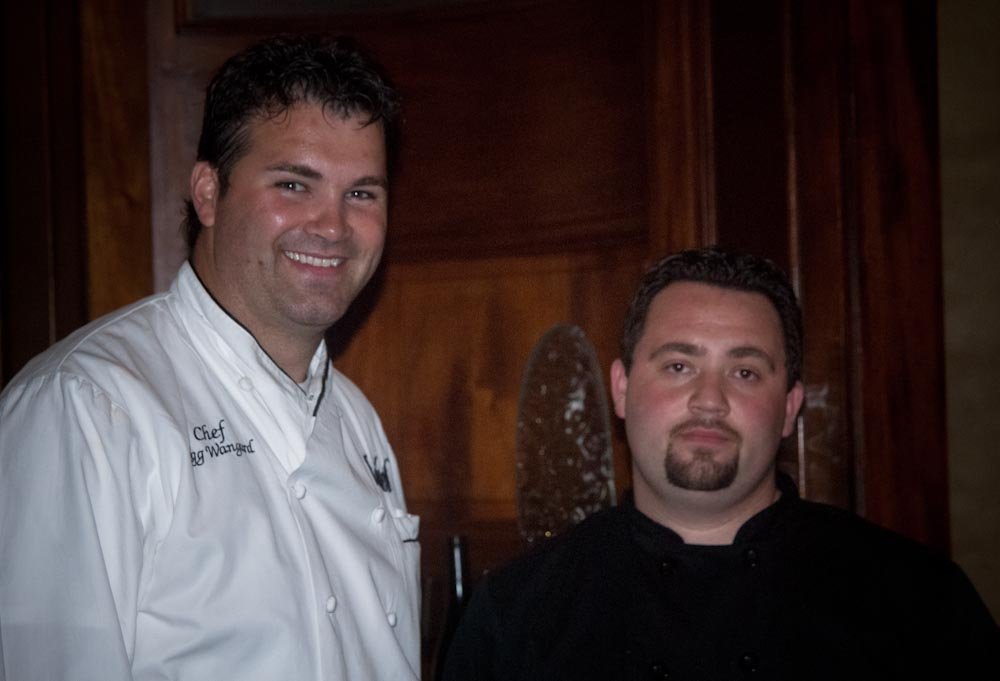 Special Thanks:
We had an amazing time at the preview dinner and would like to give a warm thanks to our friend Barrie Lynn "The Cheese Impresario" for all of her great table conversation. We also owe a thanks to Rico Mandel Photography and The Culinary Image for snapping some images of the progressive dinner for us to share. We would also like to thank Mila Becker from "Call Me Grace" Public Relations for having us as guests to the event that took place at Morels French Bistro at the Grove in Los Angeles as it was truly a memorable evening and and we will always be "Forever Stoked."