After a successful kick-off event for the industry launch at the newly opened The Manufactory at the ROW DTLA.  The Los Angeles Times FOOD BOWL will return with a diverse program this May. The city's adventurous new food festival will again featuring hundreds of events all over Los Angeles, with a mix of local favorites and world-renowned chefs.  To find out more about the month long FOODIE-CENTRIC FESTIVAL during the entire month of MAY sign up for updates and check out a partial list of amazing events that will be the backbone of the event featuring LA's "TOP CHEFS" and trendsetters in FOOD, DRINK , MIXOLOGY and so much more. 
LOS ANGELES TIMES' THIRD ANNUAL FOOD BOWL RETURNS IN MAY
 The citywide food festival will feature hundreds of events across Los Angeles with a mix of local favorites and world-renowned chefs
 LOS ANGELES – Feb. 5, 2019 – The Los Angeles Times announces participating chefs and event highlights for its third annual Food Bowl, a monthlong festival in May celebrating the city's dynamic food scene. Spanning 31 days of food, Food Bowl will feature many of Los Angeles' best chefs and restaurants alongside world-renowned chefs in rare local appearances.
Enrique Olvera (Pujol, Mexico), Daniela Soto-Innes (Cosme, USA), Gaggan Anand (Gaggan, Thailand), Virgilio Martínez (Central, Peru), Koji Kimura (Sushi Kimura, Japan), Angela Dimayuga (Standard International), Rodolfo Guzmán (Boragó, Chile), Musa Dağdeviren (Çiya, Turkey), Andrew McConnell (Cutler & Co., Australia), Frederic Morin and David McMillan (Joe Beef, Canada) are among the visiting chefs and experts scheduled to appear.
L.A. chefs including Niki Nakayama (n/naka), Michael Cimarusti (Providence), Arjun, Nakul and Pawan Mahendro (Badmaash), Nicole Rucker (Fiona), Wes Avila (Guerrilla Tacos), Jordan Kahn (Vespertine), Wolfgang Puck (Spago), Jessica Koslow (Sqirl), Nancy Silverton (Mozzaplex) and Kris Yenbamroong (Night + Market) and sommelier Helen Johannesen (Helen's Wines) and many more will represent their hometown through a series of special one-off collaborations and events.
The Times Food staff, led by Editor Peter Meehan, will honor the legacy of critic Jonathan Gold through the continuation of the Gold Award (previous winners as selected by Gold include Wolfgang Puck, Susan Feniger and Mary Sue Milliken) to be announced alongside the Restaurant of the Year on May 1 at the opening event. The festival will also highlight and help tackle the issues of food access, sustainability and waste reduction. The full line-up of dining events, panel discussions, culinary collaborations, volunteer projects and other food-inspired happenings will be announced April 1 at lafoodbowl.com.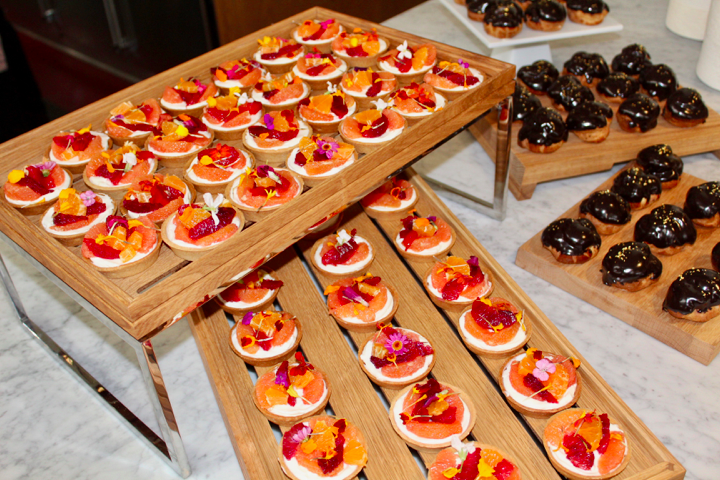 Food Bowl highlights include:
Opening Night: LAMESA with Enrique Olvera: An event at the Million Dollar Theater downtown with chefs, architects and musicians from Mexico City and Los Angeles discussing the connections and unique relationship between these two great cities as they celebrate the 50th anniversary of becoming sister cities.
CDMX Launch Party: The 2019 kickoff event for L.A. Times Food Bowl will feature an all-star lineup of chefs and guest tacqueros from Mexico City, as well as the announcements of the Gold Award and Restaurant of the Year at Grand Central Market following LAMESA.
L.A. Times Food Bowl Night Market, May 8-12: A Food Bowl favorite featuring a bustling outdoor celebration of L.A.'s diverse food scene with a series of special events curated by Peter Meehan, Times Food Editor, and The Times Food staff. Night Market will feature dozens of food vendors, pop-up experiences, special chef collaborations, musical performances, art installations and DJs in Grand Park. Night Market special events include Test Kitchen, Taco Tribute, Fried Chicken Party, Dumpling & Noodle Night, and an all-star BBQ festival featuring America's best pitmasters from California, North Carolina, South Carolina and Texas.
Outstanding in the Field: A series of long-table feasts inspired by locally-sourced ingredients set in spectacular locations, including Manhattan Beach and Tehachapi.
Natural wine showcase featuring leading winemakers, sommeliers, chefs and special guest host Eric Wareheim.
A food and film festival featuring screenings and talks in various neighborhood restaurants around the city, bringing together food and cinema.
Collaborations to highlight pizza, burgers, Champagne and sparkling wine, science and food in space, and Korean cuisine and culture. There will also be a Vespertine X Food Bowl special event.
Things in a Bowl, a month long menu special served in a bowl. But here's the twist: The dish must use the special ingredient of The Times' choosing: artichoke.
Other event categories include Brunch & Lunch, Classes, Markets & Tours, Cocktails & Canapes, Exclusive Dinners & Dishes, Giveback, Kids in the Kitchen, Panels & Talks, Pop-Ups & Parties, and Test Kitchen, with event submissions now open until March 1.
Los Angeles Times Food Bowl charity partners include L.A. Regional Food Bank, Food Forward and Midnight Mission. Festival sponsors include founding partner Citi along with High West, Jose Cuervo, Sapporo and Wines of Germany. For additional information, to register a participating event or for festival updates, visit lafoodbowl.com. Connect onFacebook, Twitter and Instagram @LAfoodbowl (#LAfoodbowl #31daysoffood).
# # #
Contact:
Innovative PR: Jennifer Betts
jen@innovative-pr.com | (323) 207-7882
Los Angeles Times Food staff (L-R): Lucas Kwan Peterson, Andrea Chang, Peter Meehan, Jenn Harris and Amy Scattergood in the back row; critics Patricia Escárcega and Bill Addison, behind the newspapers, in front. (Tiffany Roohani)