La Cachette is a contemporary French bistro on the cutting edge of Cal-French cuisine. Located a stones throw from the Pacific Ocean on Ocean Ave in the seaside community of Santa Monica, acclaimed and philanthropic chef, Jean Francois Meteigner, formerly of L'Orangerie brings his interpretation of modern French cuisine to hip West-side Angelinos.
Chef Jean Francois is a strong believer in the farm to table movement and seeks out locally sourced ingredients at farmers markets all over the city on a daily basis. This approach allows for his culinary team to create and compose dishes with unique and fresh produce while continuing to support the local farm economy.
When we arrived at La Cachette, we were seated in the open bar/lounge area while our table was being arranged. We were immediately greeted by Fabrice Lorenzi, General Manager who suggested several beverages for us. The restaurant and lounge were in full swing and a contemporary hip vibe was in the air.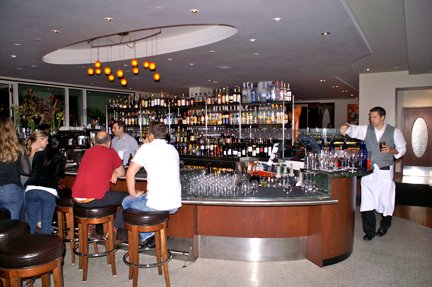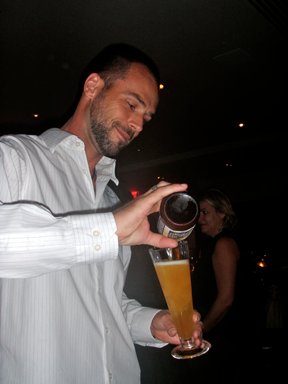 The old saying "When In France, do as the French" came to mind when I looked over the expansive beverage selections on the beer and wine menu. After glancing at several French beers I decided on Belzebuth, a Belgium stytle ale from Brasserie Grain D'Orge in France. At 13% ABV it was a great way to prime my palette for the chef's tasting menu. Within a few moments Chef Jean Francois arrived with our first course of homemade Duck Confit Relettes. A classical French dish was plated in a contemporary fashion and it complimented our beer selections while inviting our palates to indulge on chef JF's creations.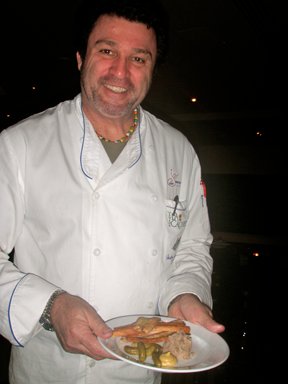 Upon finishing, we were escorted to our seats in the main dining room. We glanced over the menu in anticipation of our next course and ordered our next beverages.
The pear martini and Fisher beer transitioned us into our next course; a chef's amuse-bouche of seafood gratin that chef Jean Francois explains was inspired by his mother when he was growing up. An amazing medley of cuttlefish, shrimp,mussels,clams, Swiss cheese and Parmesan. This went amazingly well with our appetizer course of Black Mussels in white wine and saffron broth. A rustic whole grain baguette was also presented and became the vehicle for soaking up all of the flavorful goodness from these hearty selections.
To lighten things up between courses, chef Jean Francois brought out a smoked trout salad with warm potatoes, creme fraîche and Frisse tossed in a homemade vinaigrette. This well composed dish provided a balance of textures from salty to sweet, crunchy and soft and was harmonious.
Chef JF's technical ability was evident throughout the menu and as courses progressed they got more dynamic while retaining classical elements. The smoked Cod, fennel sauerkraut and salmon sausage in a fennel lemon sauce showcased chef's skills from a chef de Garde Manger to Poissonnier. The dish blended flavors extremely well and another enjoyable dish that was on the lighter side.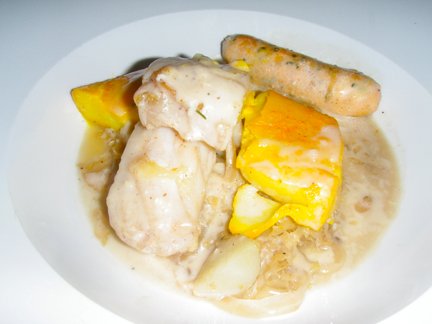 Just when we thought we couldn't eat any more our second to last course arrived. A healthy portion of the Buffalo Short ribs with Coffee rub and Cabernet Jus was accompanied a ramekin of potato gratin. Braised in excess of 8 hrs, these tender cuts of meat melted off the bone and into our mouths. A comfortable choice for a winters evening warmed us up right into our desert.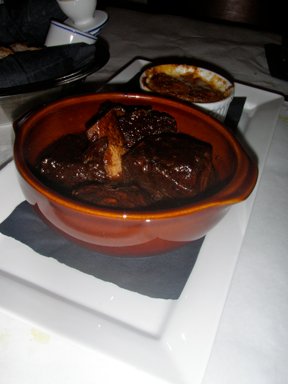 Chef JF presented his version of the classical French Rum Baba filled with creme fraiche and coated in pineapples and garnished with caramel sauce and finished with a flavor shot of rum liquor. The predecessor to the more common Pineapple upside down cake is served right side up and dates back to 18th Century France. From beginning to end Chef Jean Francois is passionate about his food and his talents. A lifetime in the kitchen it is no surprise that he is constantly pushing himself to the next level of ultra fine cuisine that draws on international flavors. Visit La Cachette and taste the South of France in our Santa Monica backyard.
La Cachette Bistro
1733 Ocean Ave
Santa Monica, CA 90401
(310) 434-9509
http://www.lacachettebistro.com/