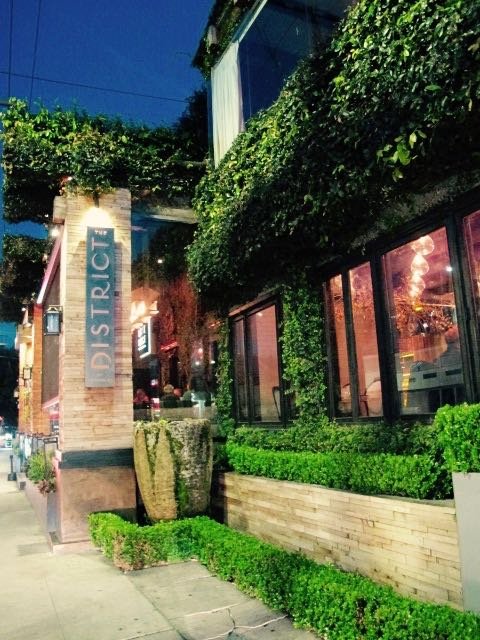 Located at the intersection of Food, Fashion and Interior Design in Los Angeles' most prolific and densely populated design districts, in the shadows of the Beverly Center and Cedars-Sinai Medical Center, lies a not so hidden gem, The District by Hannah An:  Merely a brief latte run from Verve Coffee Roasters on Melrose and the high fashion boutiques on famed N. Robertson Boulevard, and a stone's throw from neighboring A.O.C.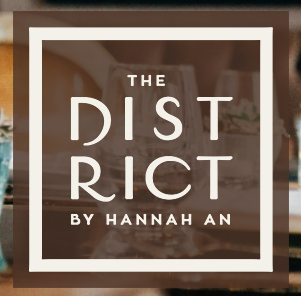 The restaurant is the exquisite culmination of dynamic flavor, invigorating style and tranquil ambiance. The District wildly succeeds in merging the best of Vietnamese influenced upscale cuisine with local California artisanal ingredients and sensibilities.
Hannah An, culinary descendant from the lineage of the famed Crustacean Beverly Hills, and the An Hospitality Group, has branched out on her own and has curated an experience for all five of the senses. Chef-owner, An, reinvents popular regional dishes from the many distinct districts of her native Vietnam and curates the entire menu based on seasonal colorful local produce, high quality meats, and the freshest seafood available.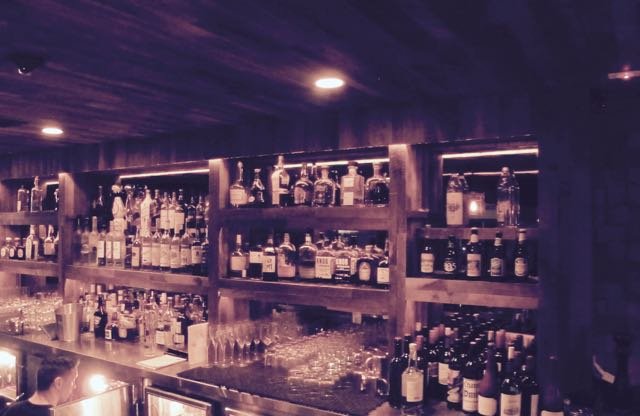 The beverage program is top notch, with craft cocktails based on Southwest favorites, transformed into Southeast Asian inspired refreshments that pair perfectly with their food program. Crafted from local ingredients and Vietnamese flavors, along with local distilleries and artisanal purveyors such as Loft and Bear Vodka, a locally distilled Vodka based in Downtown Los Angeles, and Casamigos Tequila, owned by the not-so-well-known George Clooney, Rande Gerber, and Mike Meldman, just to name a few.
Our selections were the "Guava Rita," a tropical margarita, and the "Love You Long Time," based on a simple Gimlet with a melody of fruit flavor. The "Hot Asian," despite its goofy name, completely surpasses your average craft cocktail program. You can't just add chili to a cocktail and hope for the best… we were delighted by this light refreshing beverage with a finish of heat, perfectly complimenting spicy food items without overwhelming the palate.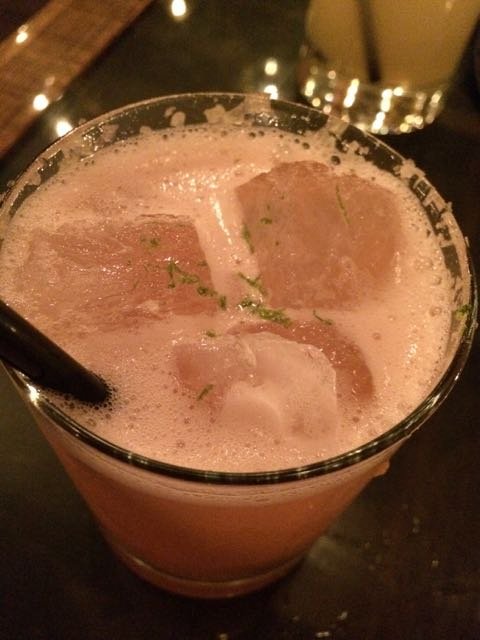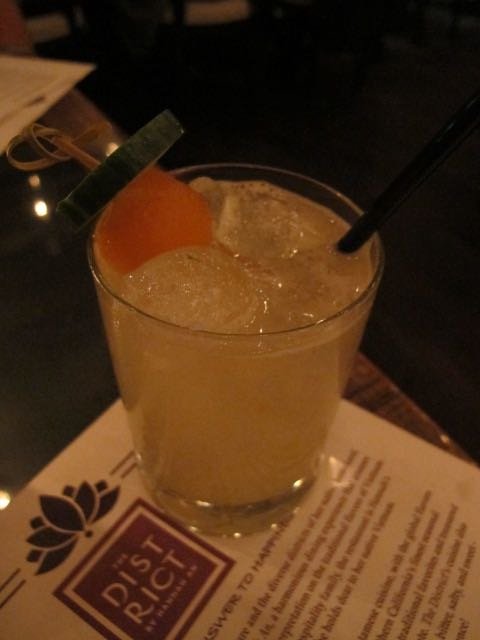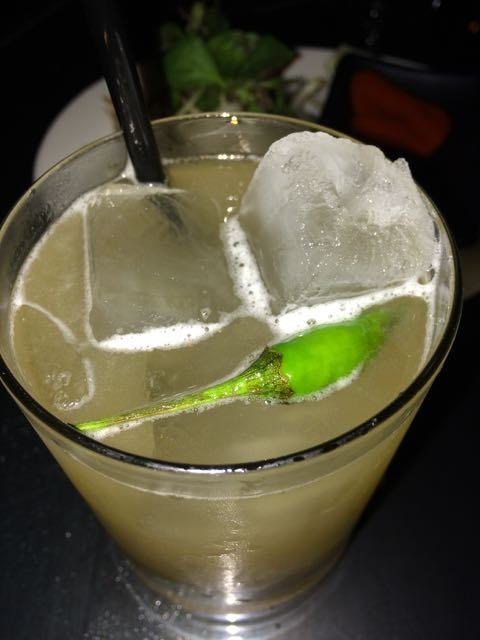 In addition, Victor, onsite sommelier, who has worked with An for years, will walk you through your most discerning questions regarding the diverse offering of artisanal Craft Cocktails, Sake, Beer, Wine, Bubbles and Spirits. They even host periodic themed beverage classes for your imbibing pleasure.
One Friday night, unlike any other, we entered the front doors flanked by two suspended fire pits, heating the outdoor patios, and entered the dimly lit modern dining room with natural wood and tile décor and rows of Edison light bulbs in large glass orbs. Chad Jackson was our server, from Nikita of Malibu fame, and was intimately aware of the menu, having worked on it that morning, knowing where the day's ingredients were sourced and what qualified as gluten-free options for my wife.
We were guided through the nuances of the menu in selecting our tasting for the evening to sample the best that The District by Hannah An has to offer. The District's menu categories: Tastes of the District (Appetizers), Bahn Mi & Flatbread District, Garden District (Salads), Land District, Ocean District, Pho & Soup District, Hannah's Favorite, Hannah's Curry, Vegetarian District and Rice District offer something unique for everyones most discerning tastes.
Sharing is encouraged and we would insist upon it, from small appetizer plates, salads, soups and even specialty entree plates, each boasting a unique grouping of seasonal sides with Asian inspired flavors.
Our hands-down first place medalist goes to the Turmeric Ponzu Hamachi Carpaccio, which will literally melt-in-your-mouth after the initial burst of kaleidoscopic citrus flavor. This dish is a sensation destination and a must try.
Other delights included the Grilled Colossal Tiger Prawn District Salad with a nice balance of flame kissed jumbo prawns, cooked to perfection with a beautiful array of colorful seasonal greens and a Garlic-Lime Vinaigrette. If you love lamb, The Coriander Crusted New Zealand Lamb with mint pesto will not disappoint, and the sides of Curry Brussels Sprouts and Braised Fennel are a District specialty.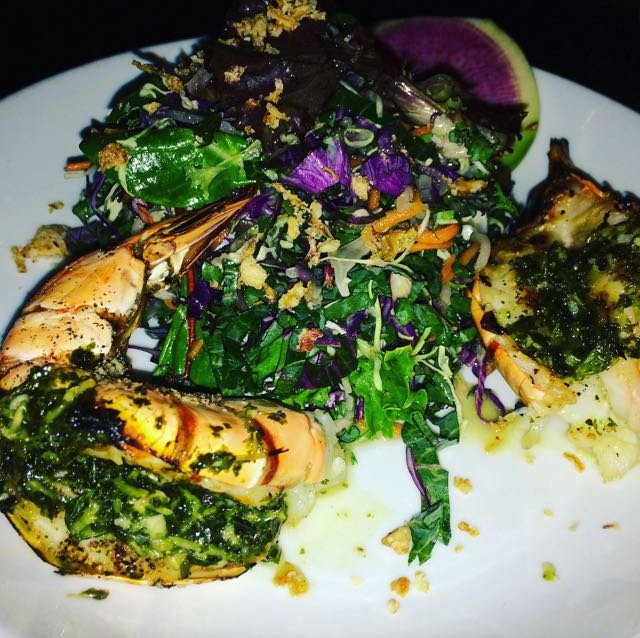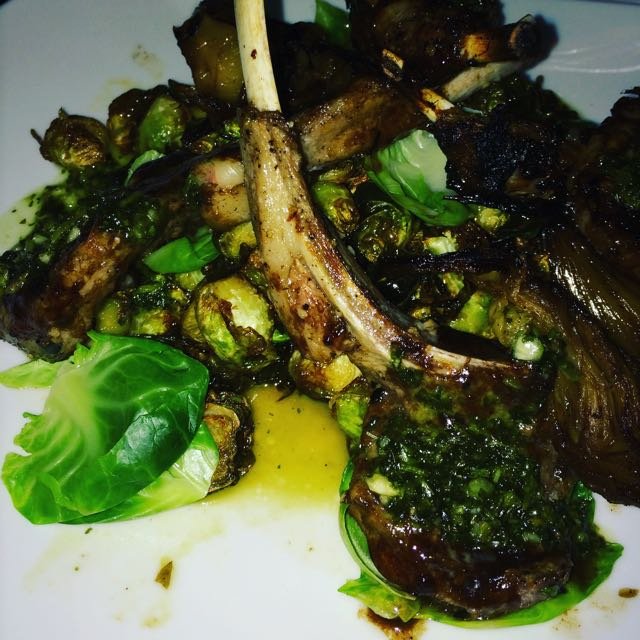 The Ca Kho aka "Black Cod in Clay Pot" is so buttery and tender and pairs brilliantly with tropical flavors from the Pineapple, Ginger and Pickled Vietnamese Vegetables.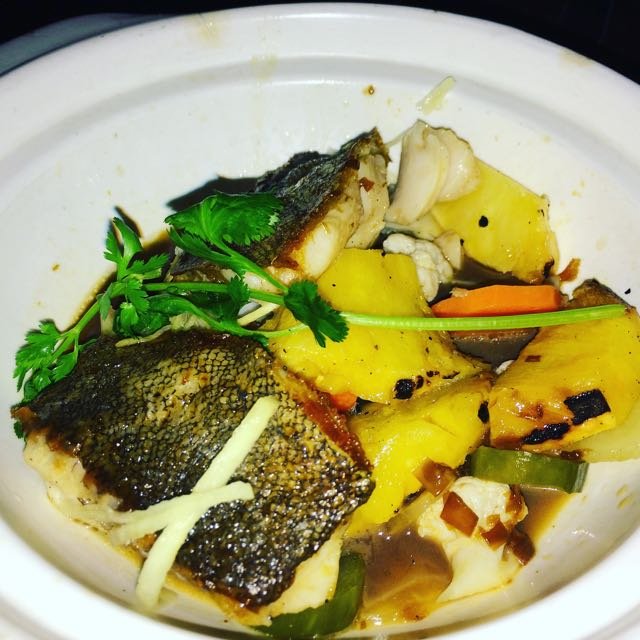 Chef/Owner Hannah An really displays her unique vision and star power style when resurrecting her country's traditional dish from its forsaken trend, by offering the tender Filet Mignon Pho, light broth loaded with thinly sliced Filet and brisket, and homemade Vietnamese Meatball, which was similar to a sausage and incredible. Most Iron-Chefs would agree that this dish packs a flavor and Iron punch. We even indulged in the Kimchi Fried Rice (because they had me at Kim-Chi) with a fried egg on top.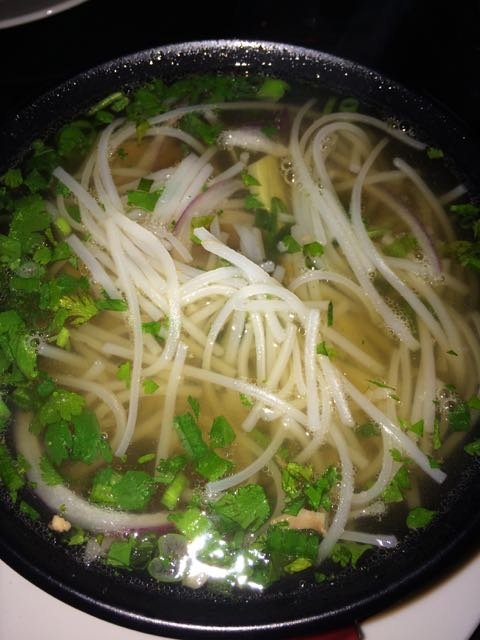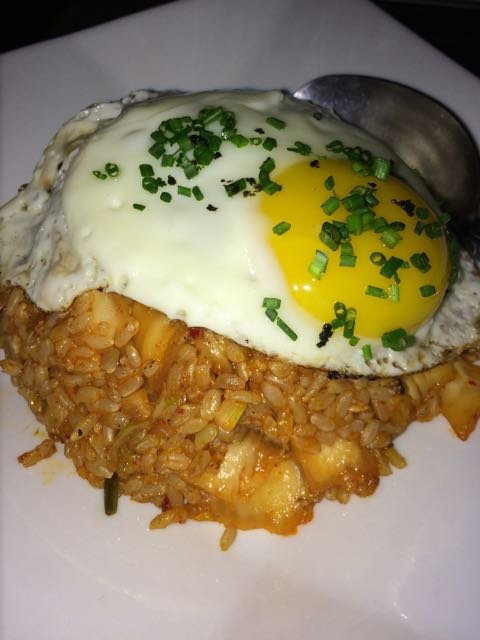 With little room left for more, we couldn't skip Hannah's "Sweet District" selections. The Pineapple Bread Pudding with Caramel-Rum Raisin sauce and coconut ice cream is a tropical version of its namesake and full of sweet and savory flavors. For the Gluten-Free Chocolate lover, the Chocolate Layered Mousse Cake with its colorful Chocolate Mousse layers, raspberry coulis and Vietnamese coffee ice cream will haunt your dreams.
The District was packed, even for a Friday night, which is typical of any Los Angeles "Hot" spot. To be safe, reservations are strongly encouraged and can be made via the website or by calling in. Heated patio al-fresco dining is available facing 3rd Street as well as several intimate dining rooms and even a private upstairs banquet space for larger groups and private parties.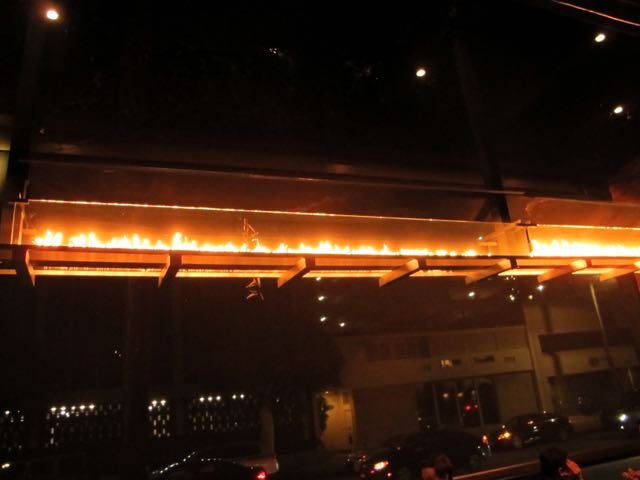 When you begin your culinary adventure at The District, we advise you to come hungry. You will not be disappointed with Los Angeles's newest eclectic dining destination.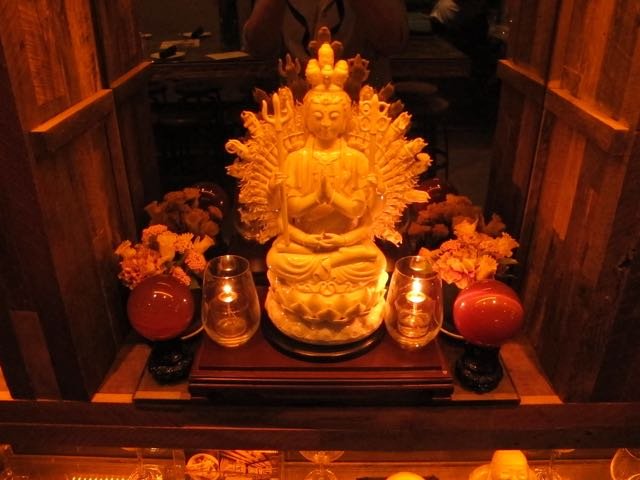 A preview of our tasting menu provided below for reference:
CRAFT COCKTAILS
The Guava Rita
Casamigo Blanco, Organic Guava Agave, Fresh Line, Kafir Lime Leaf Tincture & Kaffir Lime Leaf Salt 
Love You Long Time
Loft & Bear Vodka Infused with Cucumber, Fresh Lime, Organic Agave, Cantaloupe & Cucumber
Hot Asian
Loft & Bear Vodka Infused with Lemongrass, Organic Vietnamese Chili Agave, Chili Tincture & Lime Zest
TASTES OF THE DISTRICT 
Tumeric Ponzu Hamachi Carpaccio
GARDEN DISTRICT
Grilled Colossal Tiger Prawn District Salad
Purple Kale, Red Mustard Frill, Frisbee & Garlic-Lime Vinaigrette
LAND DISTRICT
Coriander-Crusted Lamb
Curried Brussels Sprouts, Braised Fennel Savoka, Bordelaise and Mint Pesto
OCEAN DISTRICT
CA Kho- Black Cod in Clay Pot
Caramelized Black Cod, Ginger, Pineapple, & Pickled Vietnamese Vegetables
PHO & SOUP DISTRICT
Filet Mignon PHO
Brisket, Vietnamese Meatball, Filet
RICE DISTRICT
District Kimchi Fried Rice
Gai Lan, Egg, Kimchi
SWEET DISTRICT
Pineapple Bread Pudding
Caramel-Rum Raisin sauce and Coconut ice cream
Chocolate Layered Mousse Cake (gluten free)
Chocolate Mousse, raspberry coulis, Vietnamese coffee ice cream
GET SOCIAL with "THE DISTRICT by HANNAH AN"
Instagram: @thedistrictbyha
Twitter: @thedistrictbyha
Facebook: www.facebook.com/TheDistrictByHA
LOCATION:
8722 W 3rd St
Los Angeles, California
Call (310) 278-2345
Make a Reservation Here
Article written by Adam Rubenstein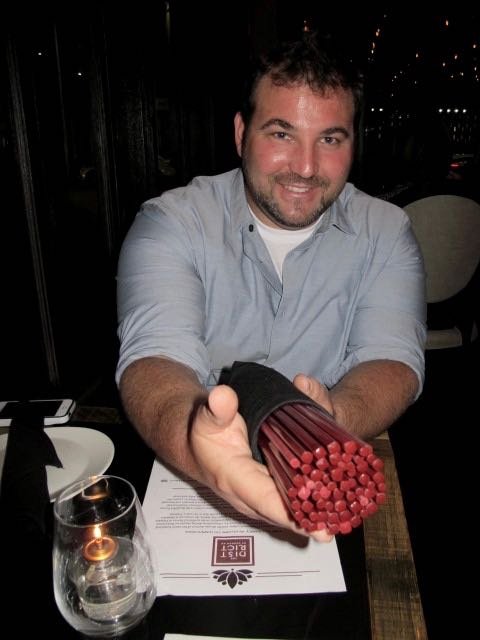 Photography by Samantha Rubenstein
Edited by Samantha Rubenstein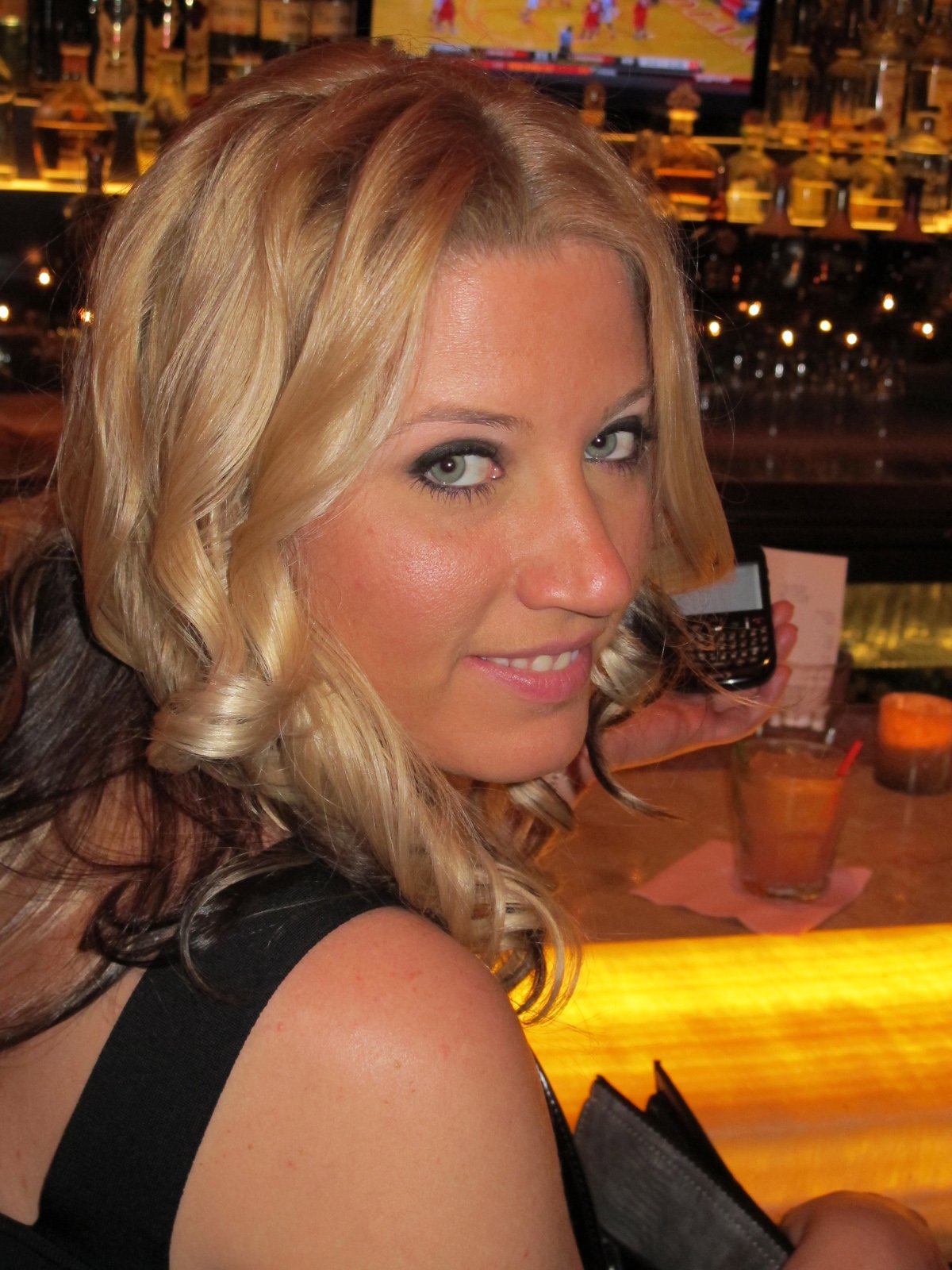 A To Go Option is Also available for "EXPRESS LUNCH BOX FOR PICKUP & DELIVERY" CLICK HERE