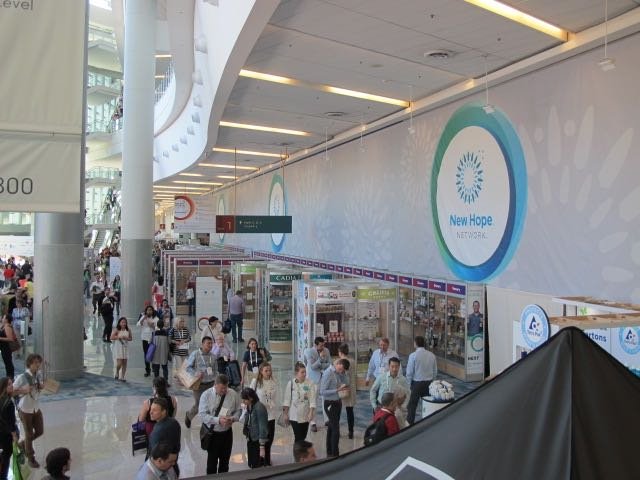 The Natural Products Expo better known as Expo West was held at the Anaheim Convention Center this past week. The largest natural foods trade show held on the Westcoast featured many companies showcasing everything from the latest Food trends, gluten free, vegan, non gmo, sustainably sourced foods, probiotics & digestives, fermented foods, condiments, sauces and seasonings, non-dairy beverages, Nitro coffee and cold brews, hot and cold teas, Kombucha's, pastas, jerky and other natural foods and household consumer products.  Your one stop shop for a crash course in the latest and greatest and upcoming products are showcased at the Expo in Anaheim each and every year.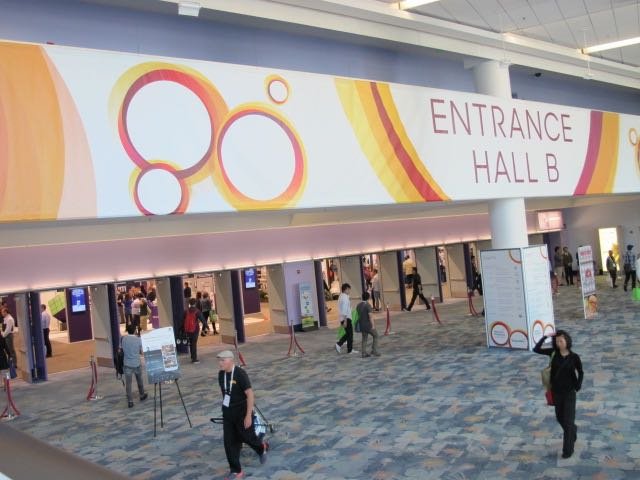 We broke down our favorite products by category, taste, creativity, innovation and retail availability to consumers around Southern California.  With far too many products to list and feature this is our mini crash course of products that we encountered at the Expo and stood out from the rest..  We covered the following market segments:
healthy snacks
condiments/sides
prepared foods (frozen)
non-dairy beverages
probiotics
cleaning products
"BEST Non-Dairy or Dairy-Free Milk alternative"  ~ REBEL KITCHEN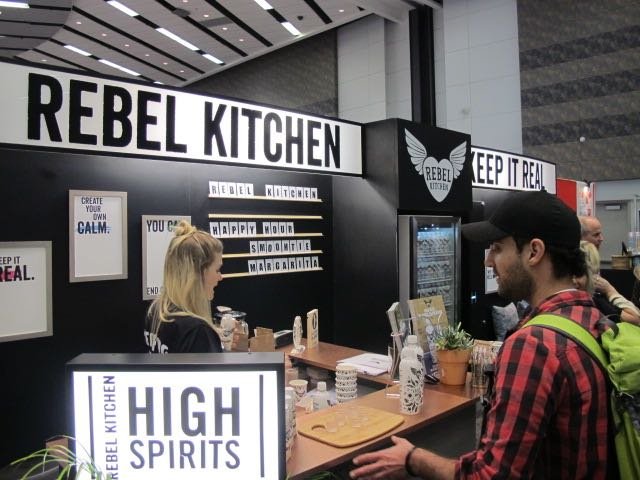 When it came to non-dairy coconut beverages at the show, a real stand out  from the crowd was from the folks at Rebel Kitchen.  This young and innovative U.K. based company with operations and distribution in the USA showcased its entire line of certified organic, non-GMO, all-natural, vegan and paleo-approved Coconut dairy-free Mylks, that are currently available in three flavors: Chai, Chocolate and Coffee.  The Rebel Kitchen also provided samples of their pure, pink Coconut Water – the newest Rebel to the family.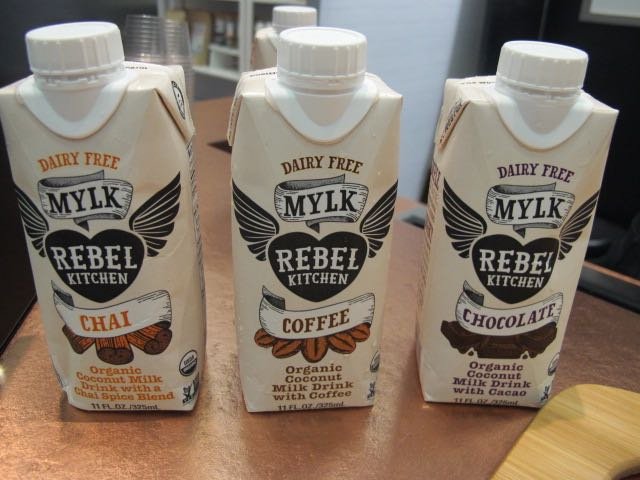 Rebel Kitchen Coconut Mylks are crafted using nothing but simple, wholesome ingredients such as organic coconut milk, organic date nectar, spring water, organic cacao and/or organic spices and organic fair-trade coffee.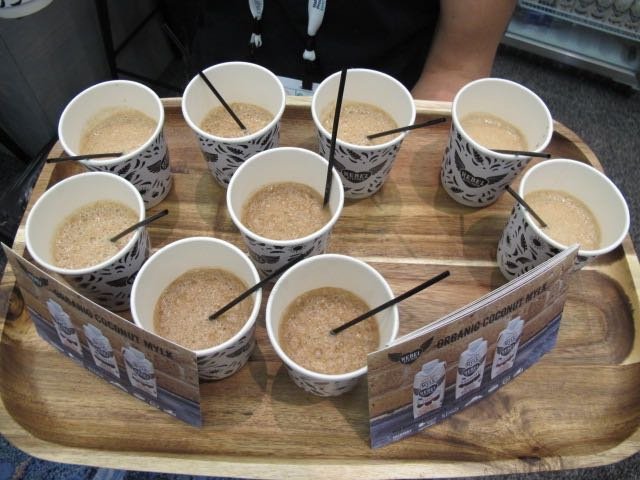 Rebel Kitchen's Coconut Water is pure, pink and sustainably-sourced.. The water comes from organic, young green coconuts, sustainably sourced from local farmers in the Philippines. The whole coconut is used so nothing goes to waste – coconut water goes into bottles, coconut meat is used in the yogurt range (available in the UK) and the coconut husks help to fuel power at the plant. Sustainability at its best.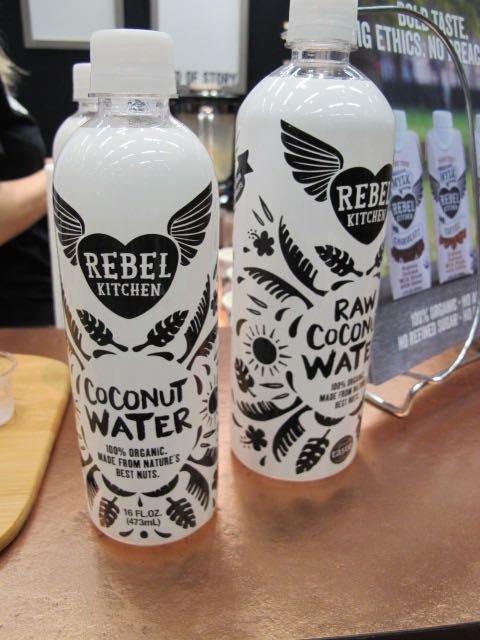 We enjoyed a refreshing blended Coffee Mylk Breakfast Smoothie that kept us going throughout the show and would be simple to blend up in the morning.  (See recipe image below).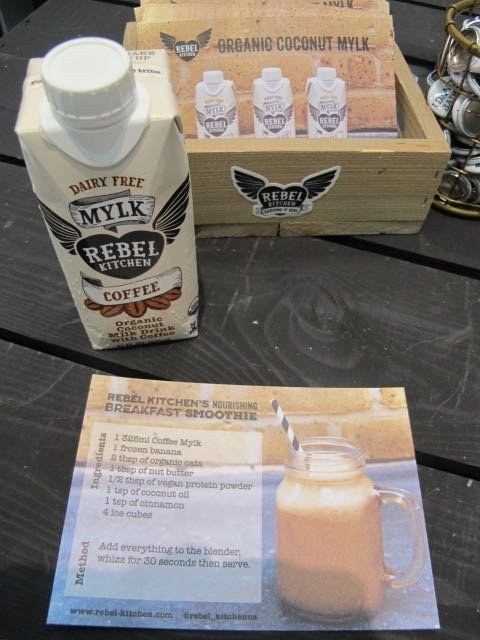 Look for Rebel Kitchen products here in the US at Bristol Farms, Sprouts, Lassens and more retailers throughout the Westcoast as well as their own SHOP section on their website.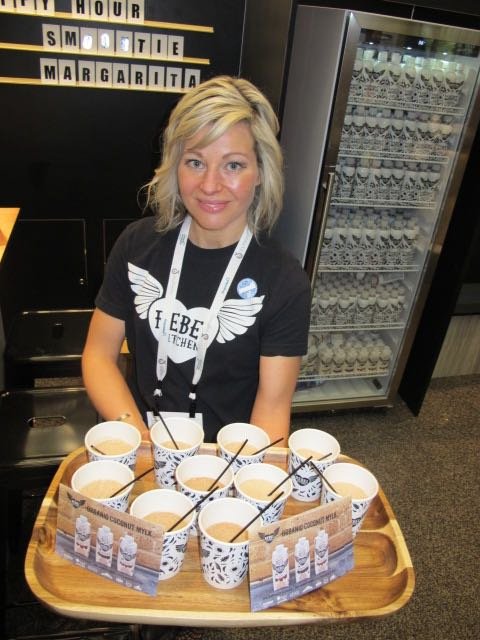 "BEST PICKLES"  ~ YEE HAW PICKLE Co.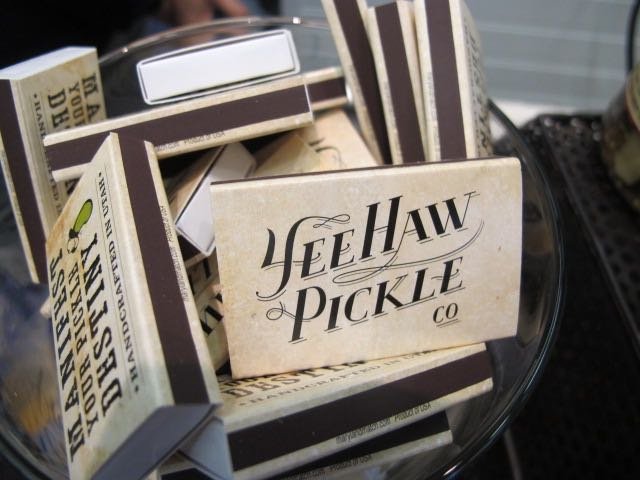 These pickles came to the show via Colorado, the Mile High state.  These chemical-free pickles stood out from others at the show due to their artisan nature and creative flavor combinations as well as retaining a nice crunch and a savory taste.  The sweet pickles were quite tolerable and would pair well with bbq pulled chicken and pulled pork. A real bonus is that these pickles are free of such preservatives as yellow 5, sodium benzoate as well as not containing refined sugars.
If you are a pickle fiend like us we suggest going to your nearest grocer and pick up a jar of each: No Frills Dills, Giddy Up Garlic and if you like 'em spicy the Hot damn dills made with Habanero Chili Peppers will not disappoint.   Head on over to your local Sprouts market or other natural food retailer and start your next bbq off right.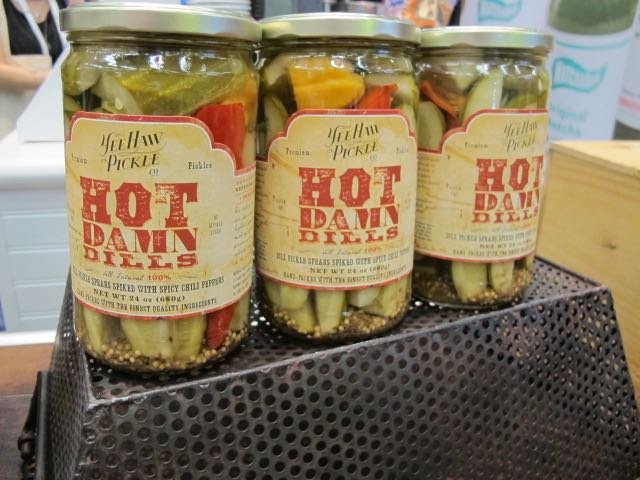 "BEST KIMCHI ("KIM-CHEE") ~ SINTO GOURMET
WE love our pickled and fermented vegetables and the probiotic and digestive benefits that these foods offer. We can never get enough pickled vegetables and that is true of Kimchi as well. The Sinto Gourmet line of Korean Kimchi is locally sourced with the finest produce ingredients in the San Francisco area and the chef driven offering puts an artisan spin on the marketplace without harmful chemicals to preserve the products shelf-life. The packaging also takes into consideration the gaseous nature of placing a fermented food in plastic packaging and they have included a vent on the package that prevents the package from exploding. The entire product range is worth checking out from the "plenty roots", root vegetable based kimchi derived from (beets), the spicy red Korean "mu" radish as well as the traditional Napa cabbage. So colorful and a great garnish idea for your proteins at your next dinner party or a use as your own "Banchan" side dish for at home Korean-BBQ nights with your friends.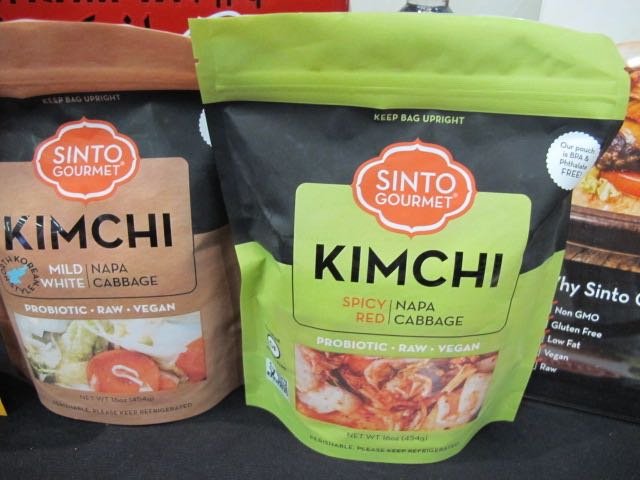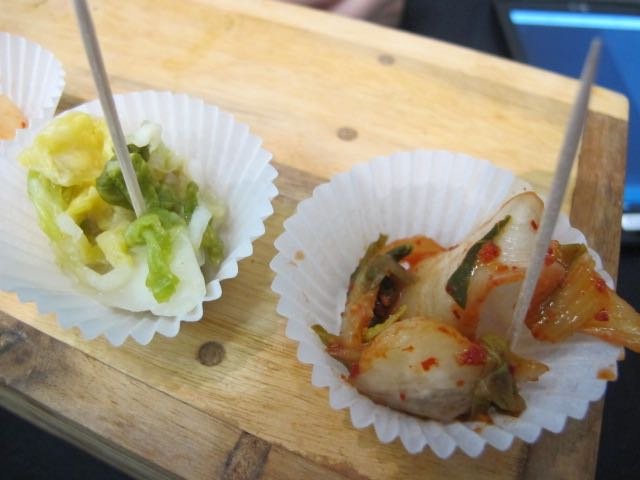 Are you a fan of bibimbap bowls and Korean sauces?  If you answered yes than the red bean paste Gochu Jang sauce range is for you. The company offers its own sesame and apple infused Gochu Jang sauce to be used as a sauce for marinades as well as dipping sauce for meats, seafood and poultry and can be even used to make your own Gochu Jang infused mayo or aioli.  They even offer their own FoodService grade "Red Bean Paste" without MSG and other chemical preservatives making this the only natural food in this sauce range.  Look for these products at Sprouts farmers markets in Los Angeles and a wide array of stores in Northern California.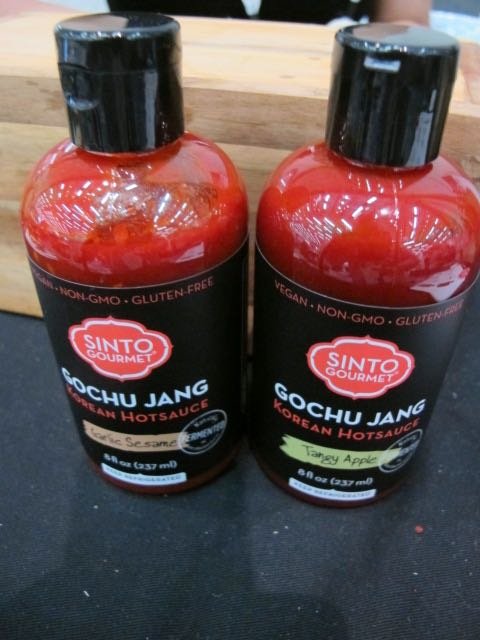 "Best Sea Salt and Salt Infusions" ~ JACOBSEN SALT COMPANY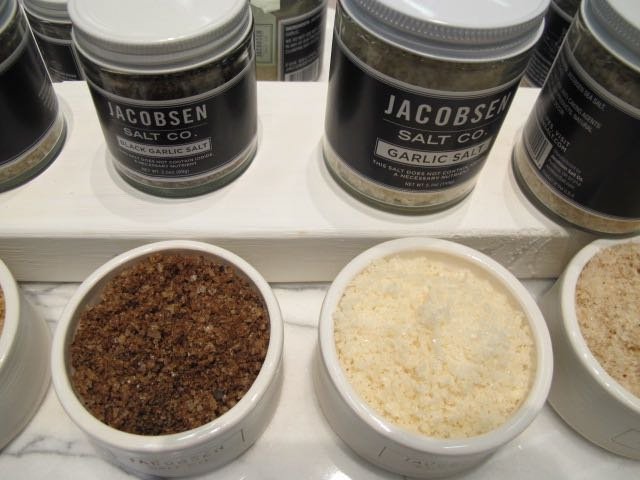 Straight Outta Oregon, more specifically Netart's Bay on the Oregon Coast, Jacobsen Salt Co.'s Kosher sea salts and salt flakes are clean and have a wide array of flavorings from standard chefs driven restaurant grade sea salt to creatively infused sea salts, cocktail salts for the mixologists out there as well as seasonings and spice blends.  Its nice to see these regional American Saltmakers bringing their own spin, knowledge and experience to this segment of culinary products for professional chefs and aspiring home cooks.  We were pleasantly surprised by their unique salt blends and such trendsetting flavors such as the ever so hot "Black Garlic" infusion and the more adventurous  "Pinot Noir." wine infused salt.  These salts offer great garnish options for everything from appetizers, soups and desserts. SHOP for salt products online via their website.
"Best Yogurt, Dairy Product" ~  STONYFIELD FARMS, grass fed organic yogurts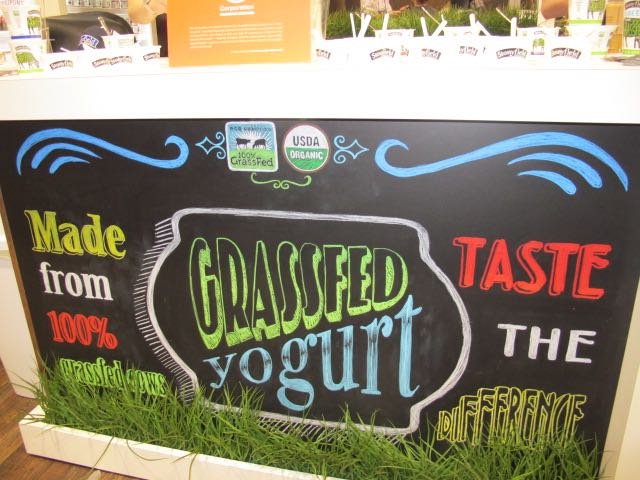 With a sea of natural product yogurt vendors at the show, Stonyfield Farms new product line of 100% grass fed organic yogurts and Greek yogurt were pleasantly tasting and full of flavor while keeping sugars at a minimum. Their slightly earthier taste gave them a more natural taste as well as an artisanal farmstead flavor profile. With flavor offerings in plain, vanilla, blueberry and strawberry your whole family would approve. They company is committed to the environment and the founders are actively involved in this New Hampshire dairy operation. According to the companies website "everything we make isn't just delicious, it's certified organic – made without the use of toxic persistent pesticides, artificial hormones, antibiotics and GMOs. While we're at it, we support family farms and take care of the world around us."  Look for these and other products at your neighborhood Whole Foods and Stater Bros. supermarkets in Southern California and throughout the country. They even recycle their plastics from the used yogurt containers into a user friendly Recycled toothbrush.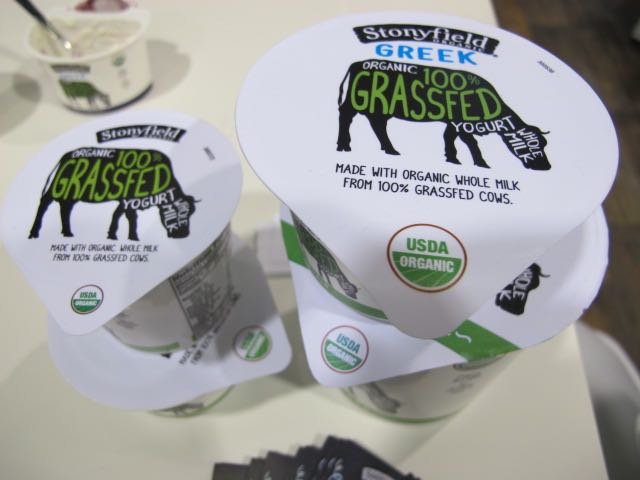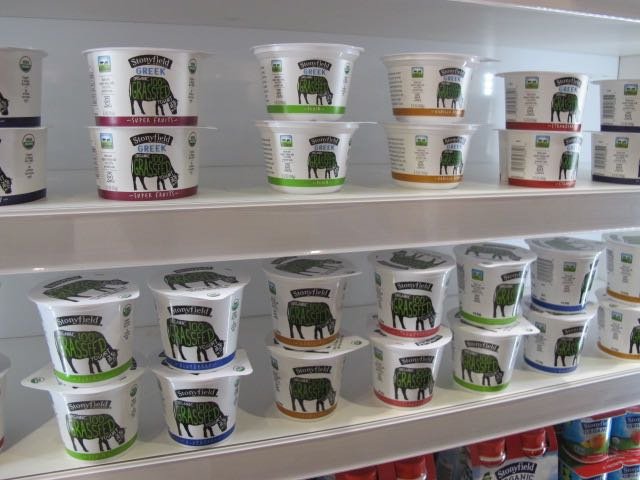 "Best Healthy Focused Prepared food" ~ Dr. Praegers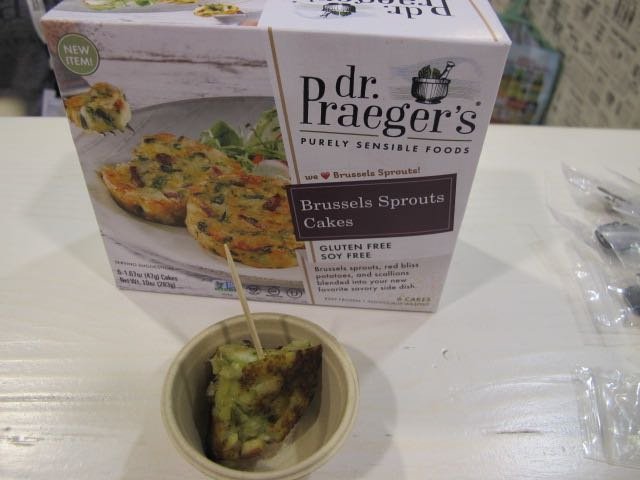 To be honest we were already fans of their range of broccoli cakes, spinach cakes as well as their California Garden Burgers but now are thrilled to be able to purchase their newest items featured at the show that included the new Brussels Sprouts Cakes that had a nice farmers market flavor and texture of homemade roasted Brussels sprouts.  I can see these used as a base for Eggs Benedict or even a side dish to go BUNless with a burger or just eat them on their own.  They are a good potato pancake alternative and have a gourmet look when cooked.  We were also impressed with the Four Potato Puffs, a healthier version of a basic tater-tot with all natural ingredients that you can pronounce. Great as an appetizer or bbq side dish.  We trust anything from this medical doctor plant-based focused food line and will even go out and try their sustainable seafood items the next-time we are at the grocery store.  Available at most major grocery chain stores and natural food stores including Sprouts and Pavillions/Vons markets.
"Best Bone Broth"  ~ Nona Lim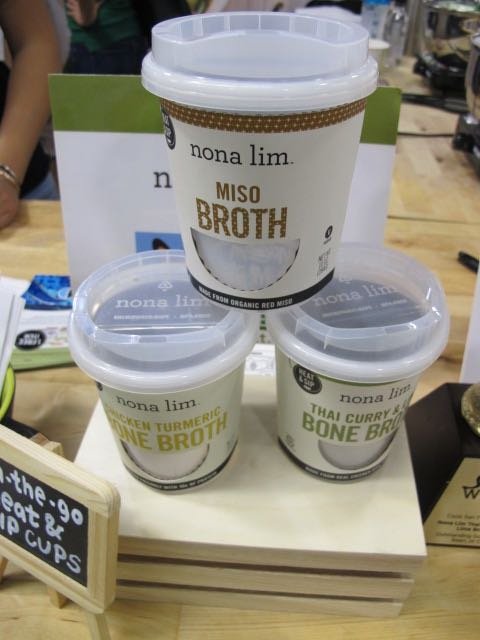 BONE BROTH IS HOT RIGHT NOW, SO HOT, literally. Everywhere you look their are bone broth derivatives and you almost have to mortgage your home just to be able to afford a 16oz serving at your local farmers market.  Most consumers can't get beyond the sticker shock and the lack of flavors from Beef, Chicken and Fish but to my surprise we stumbled upon Nona Lim prior to leaving the show.  Living in ethnically diverse Los Angeles I didn't think that such flavors existed in the ever so popular bone broth segment until I visited Nona Lim. They are doing something uniquely different with their 100% gluten-free and Non-GMO project verified vegetable broths and bone broths are made from fresh, whole vegetables and the highest quality meats and poultry locally sourced from Northern California farms. Their broths are completely free of unnecessary additives or preservatives.  You can even use their products as a delicious savory base for a noodle soup, or a convenient heat-and-eat standalone sipping broth.  Our favorites were the Vietnamese Pho, Miso Ramen Broth & Thai Curry and Lime. Restaurant quality Bone broths from your supermarket aisle. What more could you ask for.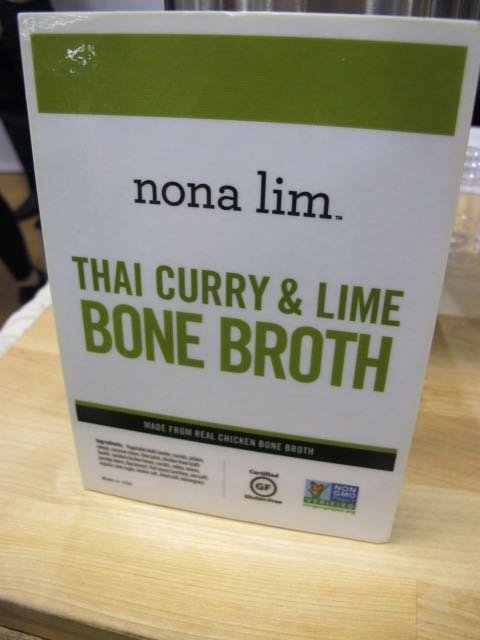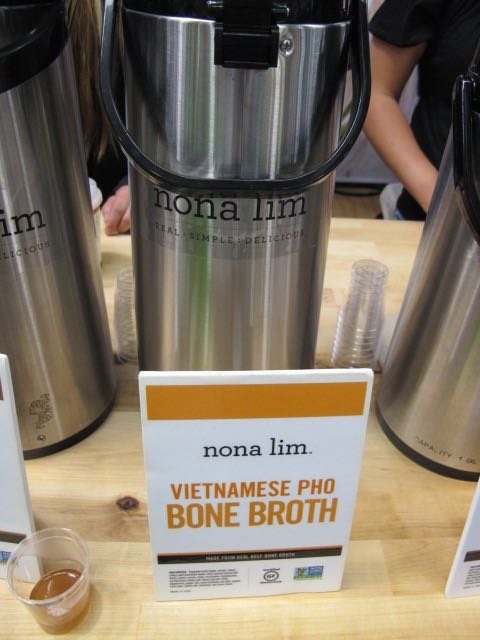 Our favorite Snack ~ DANG Sticky Rice Chips and Coconut Chips
New from the Dang Foods company previously showcasing their (coconut chips) comes Dang Sticky Rice Chips.  These crunchy morsels were neither sweetened nor salted, and had a good balance of sweet and savory and and are a great gluten-free rice cake snack alternative.A creative interpretation and usage of dried sticky rice by way of a rice puff. We still love the Coconut chip range and have even seen them pop-up at our local Costco in bulk packages.  Take our word for it, the shaved chocolate cacao flavor is awesome.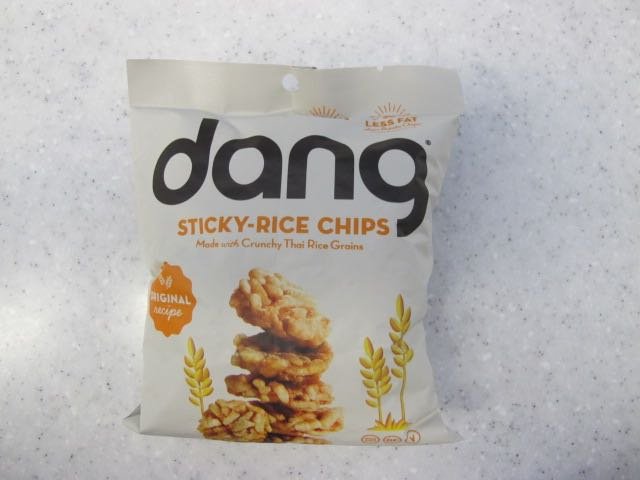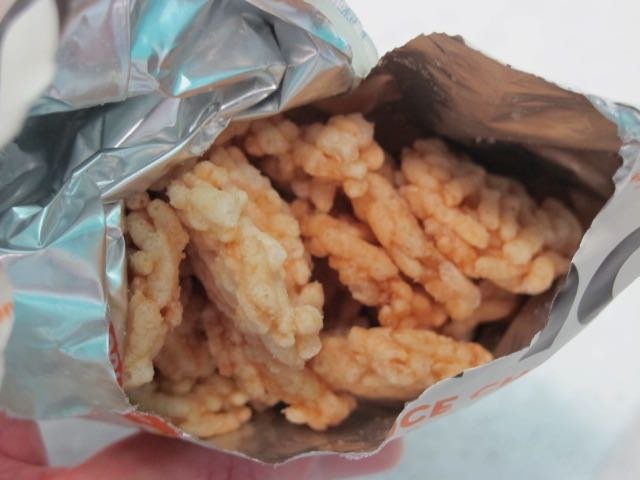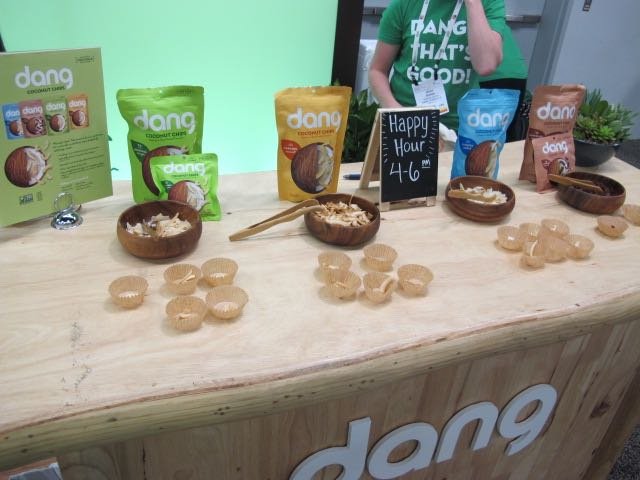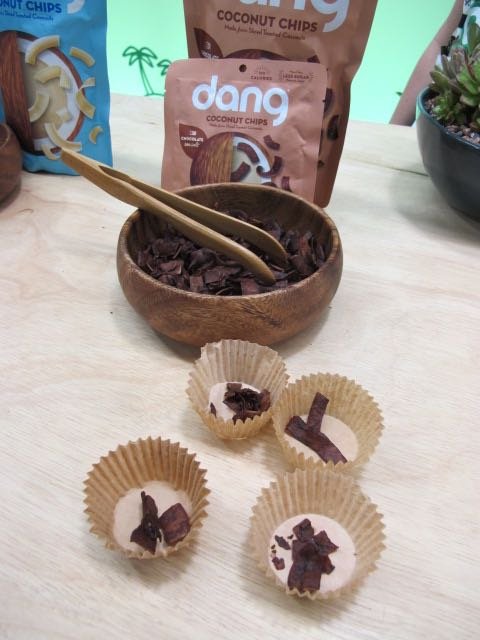 Other natural products that we loved:
"Favorite Probiotics" ~ Jarrow Formulas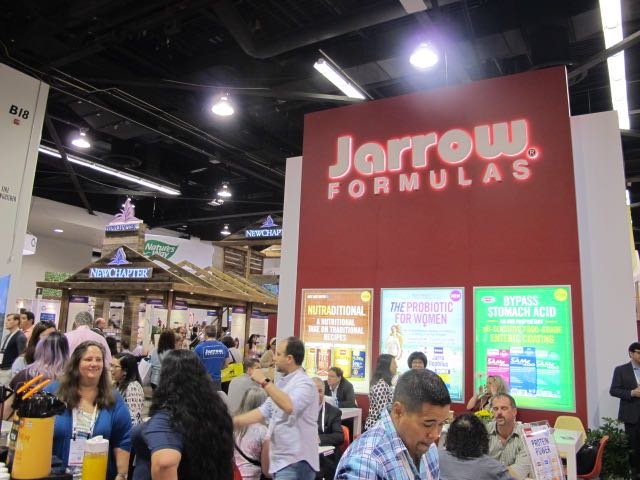 Men and women formulas are now available. Weather it's the expo and you need to calm your stomach after a day of sampling or just body wellness and maintenance the team at Jarrow Formulas has developed probiotic supplements specifically formulated for men and women that are seeking a probiotic supplement to take daily to work into your diet to maintain a clean gut. Look for the range of Jarro products available at health food stores including Whole Foods as well as online retailers.  Look for the shelf stable Jarro-Dophilus EPS®  selected from the following 4 genera: Lactobacillus, Bifidobacterium, Lactococcus and Pediococcus.  Consult your doctor if you have any specific medical conditions.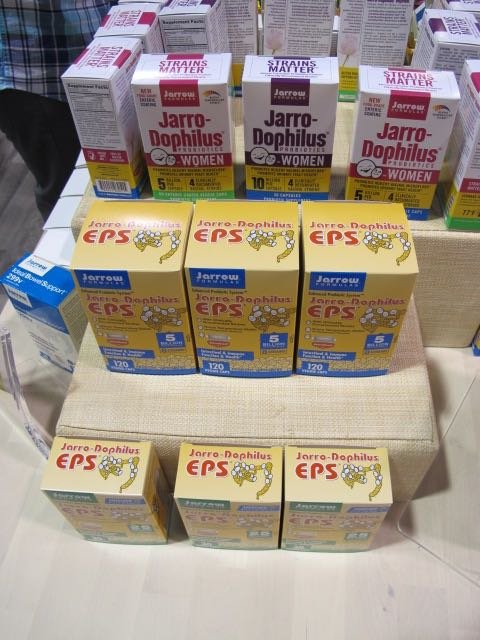 "Favorite Household Cleaning Product" ~ Ms. Meyer's Soaps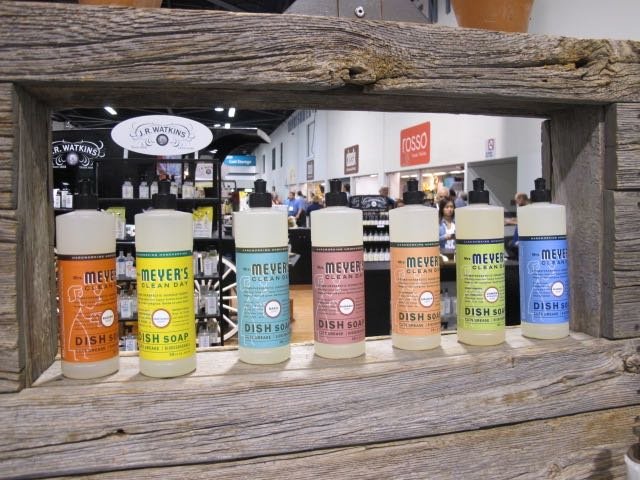 The old adage CLEANLINESS IS NEXT TO GODLINES definitely applies when maintaining your home no matter if it's your kitchen or bathroom. Natural products that are gentile on the skin, don't harm the environment and also smell good are also important.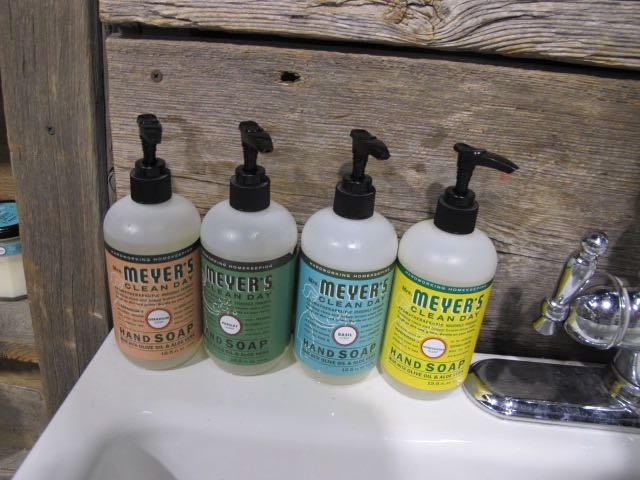 The Mrs. Meyer's Soap line covers all of the criteria and have expanded their line of farmers market scents and now include Sunflower, Parsley & Geranium in addition to Lemon Verbena, Honneysuckle, Basil and Rosemary.  They provided a working sink to sample the entire range of hand and dish soaps and we were tempted to try them all, but we remembered that despite all of the rain we have been having in Southern California we are still in a drought.  Shop these soaps at Bed, Bath & Beyond, Pavillions and other retail stores as well as online.
"Favorite Food Truck" ~ Falasophy, modern Lebanese street food kitchen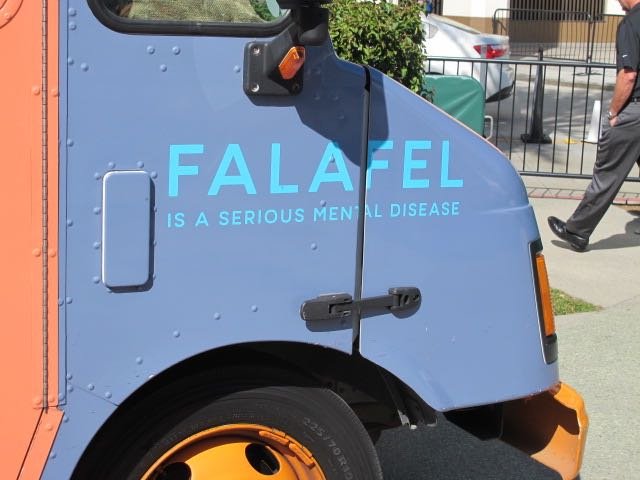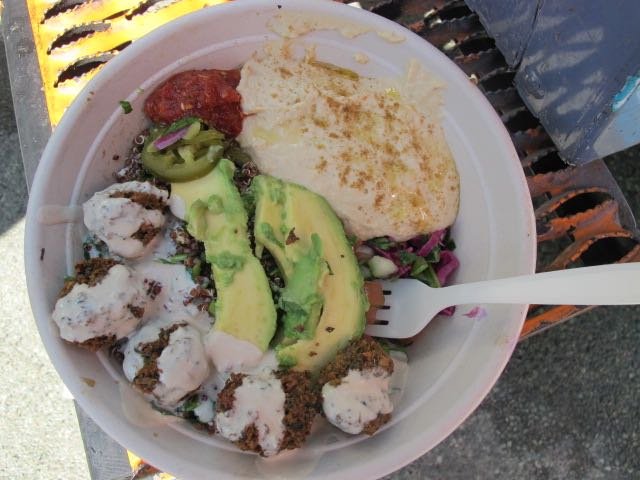 This was not your average food truck lunch and tasted like it came from a sit-down restaurant if not for the disposable containers that the food was served in.  The OC food truck scene has expanded since the last time we visited and we enjoyed a heathy Lunch at the food truck alley right outside the convention center.  We were transfixed on the Mediterranean inspired falafel bowls from the Falasophy (Falafel and Hummus Bar) truck that were all around. Most visitors were consuming the Plato bowl that was loaded with fresh refreshing  house pickled jalapenos, sliced avocado and homemade scratch hummus dip, gluten-free falafel, red quinoa salad and tahini. Awesome Mediterranean flavors and the perfect menu item to cool down in the sun one one of the warmest days that we have experienced in a long time.  Check the trucks schedule  or twitter for when they are out on the road or visit their brick-and mortar location in Downtown Santa Ana at the 4th Street Market.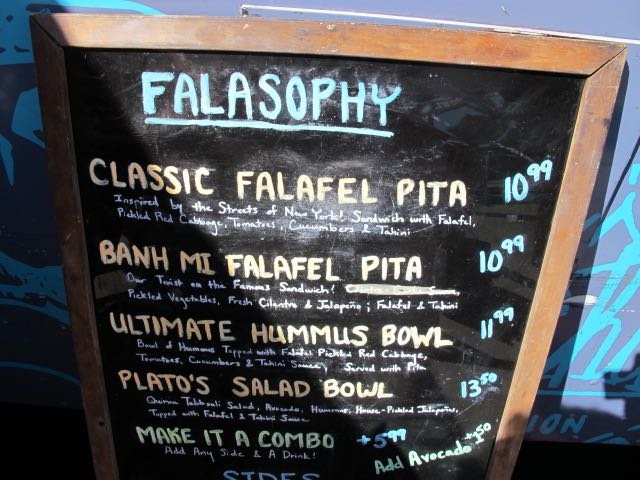 We had a brief yet successful visit to ExpoWest 2017 and look forward to sharing our show favorites with everyone. Making the move to including more natural products into your life will ultimately make the world a better place one small step at a time and keep making vendors more socially responsible for packaging, their carbon footprints and impacts on the environment. The next time you make the choice to support certified Organic, Non GMO project verified, 1% for the planet, sustainable seafood, grass fed products you are making a difference. Living a local and sustainable life is one way of limiting big Agro's impact on our food system. Now is the time to make an impact on our future because the food system is an integral in protecting the environment from future harm.