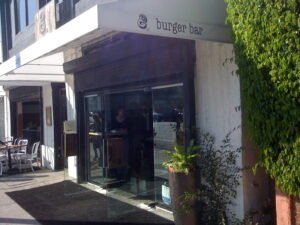 8oz Burger
This past Sunday we headed down to Melrose Ave in Hollywood for some shopping and to grab some lunch.  I had remembered that I had driven by 8oz Burger earlier in the week and after reviewing the menu online earlier in the week I was excited to try it for myself.  This inviting upscale Brew Pub or as they call it; "Burger bar" provides adequate "pet friendly" outdoor seating coupled with an interior filled with ambiance and flat panel televisions for watching your favorite games.
The three of us were easily seated and delighted by the vast micro-brew selections and the various custom burger options.  Along with high quality ingredients the menu states that the menu items are sourced locally as well as the utilization of hormone free and humanely raised meat.  They also state on the menu that they are committed to the quality of the environment and sustainability.  This is a view that we all share and it made all of us that more comfortable with our choice.
We started with a pint of Telegraph White Ale from Santa Barbara.  This white hoppy ale provided a smooth beginning for us and primed us while we waited for our entrees and side dishes.
The 3 of us decided on the Estancia grass fed burger.  This 6oz gourmet variation of the house burger (The 8oz) has heirloom tomato ketchup, grilled escarole and roasted mushrooms.  We added avocado and were enthusiastic when we saw one of our favorite cheeses as one of the selections; Humboldt Fog Goat Cheese. We had the Humbolt Fog on ours while our friend opted for the Fried Mozzarella on hers.  We also ordered a side of spicy mayo so we could get even more flavor.  This pairing of custom, gourmet toppings made for one of the best burgers that I have had in a long time.
The side dishes were equally stimulating.  We went for the Kennebrick fries, stout battered onion rings and the grilled corn.  There was plenty to share and we passed all of the goodness around.
The prices, beer selections, atmosphere, service and location makes 8oz a great choice when you need a beer and burger fix that will leave you satisfied in your stomach and in your wallet.  8oz is the entire package.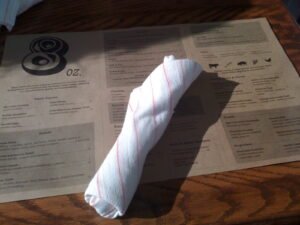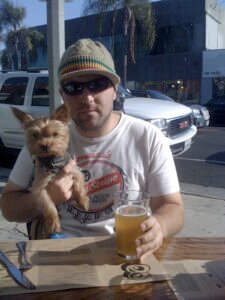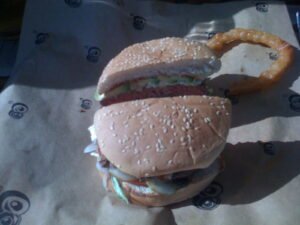 8oz Burger
7661 Melrose Ave
Los Angeles, CA 90046
(323) 852-0008
www.8ozburgerbar.com