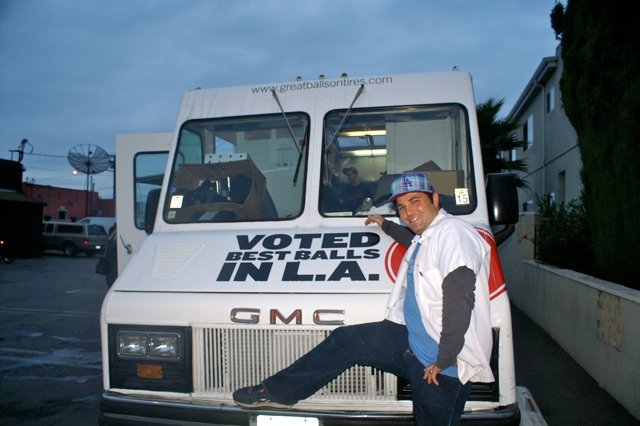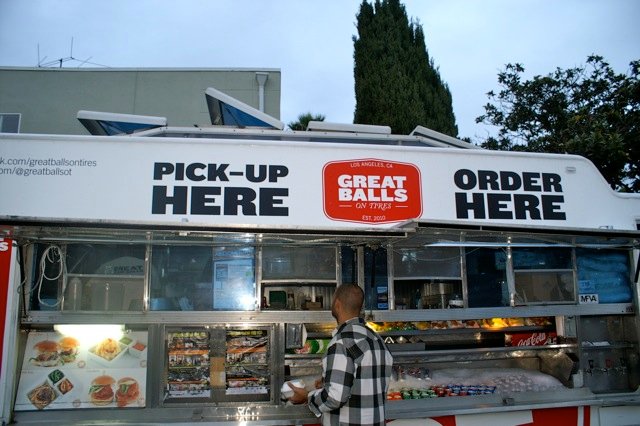 We had the pleasure of having a VIP pass to CENTRAL S.A.P.C in Santa Monica for the inaugural "Meatball Mondays" with one of Los Angeles'es newest Gastro-trucks: "Great Balls On Tires". Central worked with GBOT to develop beer pairings and made this option available inside the bar from 5-9pm.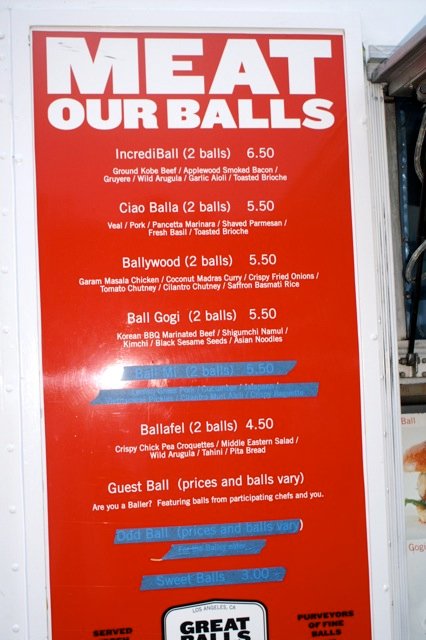 Every month, GBOT brings the "Guest Ball" and tonight's ball was every non-kosher Jew's fantasy: a Bacon-Wrapped Matzoh Ball, courtesy of Ilan Hall from Bravo's Top Chef (Season 2). As tref(trayf or traif) as it may sound, it was mouth watering and captured amazing flavors.
Both non-kosher Jews and goyam would agree that these are perhaps the best balls out there.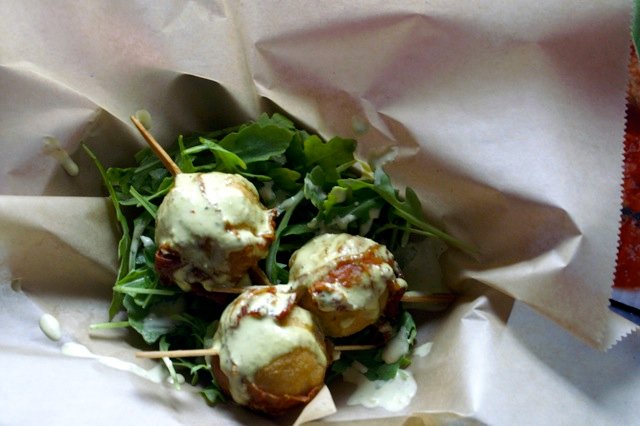 To continue on the theme of all things meatball, The classic film "Meatballs" staring a young Bill Murray was projected in the lounge area of the bar. I wonder what film will play this Monday!
Monday night football as well as CENTRAL'S regular Happy Hour specials are also available from 4pm-8pm.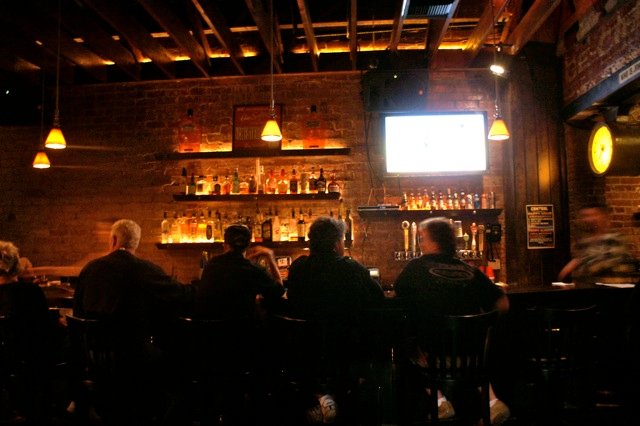 After all is said and done I have to say "Goodness gracious, great balls on tires"
Truck Name:    Great Balls On Tires(aka: GBOT)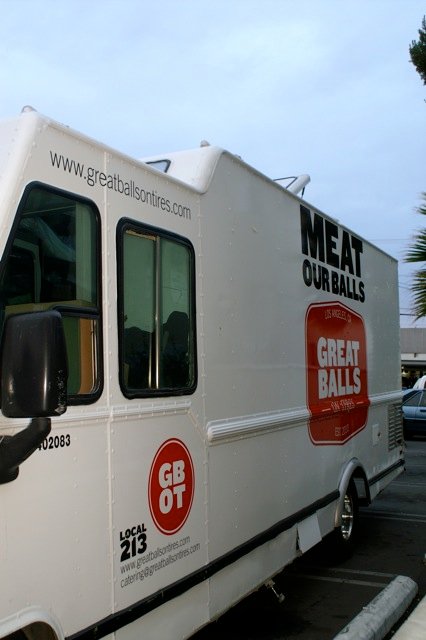 Truck Specialty: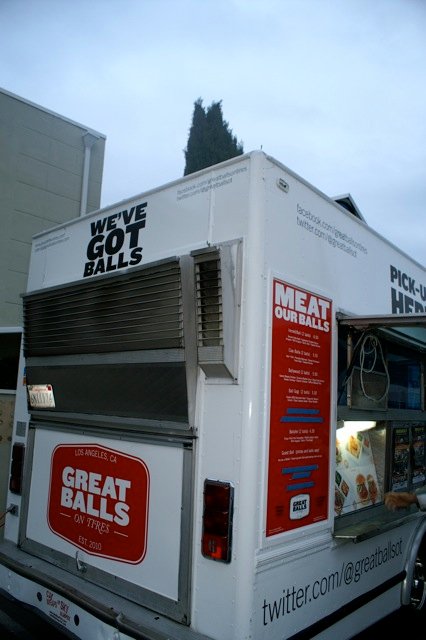 Bringing a taste of the high end to the masses using a "Meatball" as the vehicle. GBOT uses this one item along with global favors to entice Angelinos to savor each gastronomic meatball morsel. Meatballs can take many forms, but you will always get a ball no matter its origins. From Indian, Korean, middle eastern and American, all balls are created equal.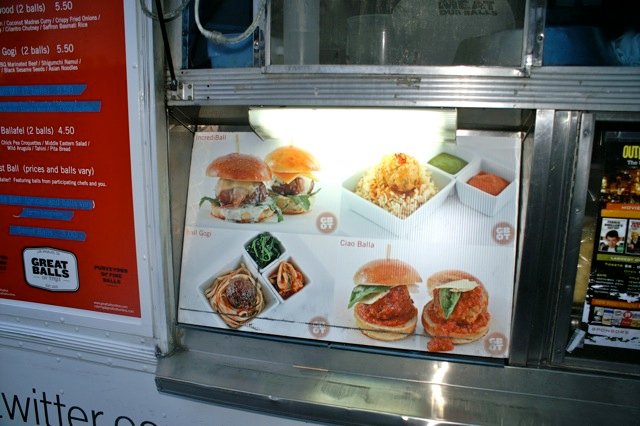 GBOT also gives back to LA by providing bread from homeboy bakery in its menu items.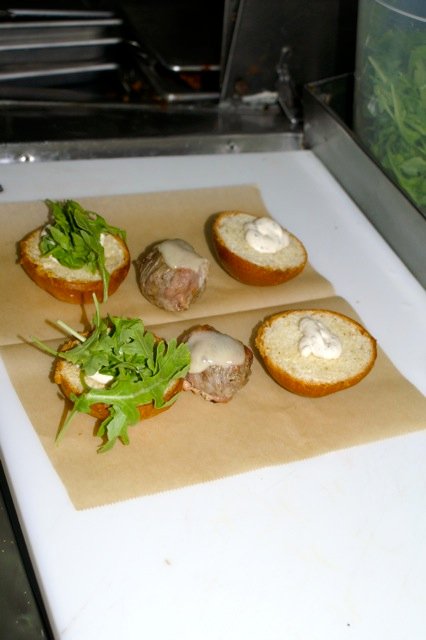 Truck Mission/about: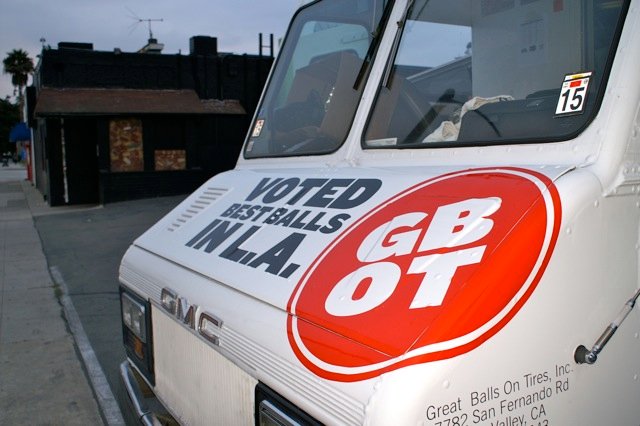 (FROM The GBOT website….)
Inspired by the love of food, Great Balls On Tires, or G-BOT for short was founded by two friends Clint Peralta and Michael Brombart.  One month after the food truck's launch, former Comme Ca Restaurant Executive Chef Michael David joined the duo.  With a highly esteemed and talented chef on board, it is no surprise that G-BOT serves the city's most savory and delicious meatballs.  Why meatballs?  Because meatballs are universal!  They are found in nearly every culture with the names like polpette, kofta and frikadel.  Across the globe, many cultures have found a way to make the meatball their own.  Inspired by their discovery, the G-BOT founders began tasting every meatball they could find.  They drove around town, flew across country and even overseas to taste the balls of the world.  Finally, they decided to bring the spirit of these balls home.  Today, Great Balls are On Tires for you to enjoy!  G-BOT's mission is to constantly create new, interesting and flavorful balls.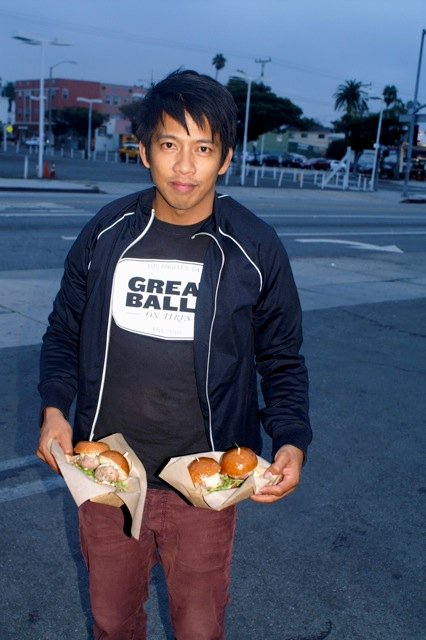 For more info to go www.greatballsontires.com.
Truck operators & Team:
Clint Peralta
Mike Brombart
Michael David(chef: Comme Ca(in LA & Cafe Boulud(NYC))-On truck at press events
Payment:
Credit cards & Cash(*you have options)
Truck neighborhood coverage:
Los Angeles, South Bay, Irvine, Valencia and everywhere in between
Menu breakdown:  Likes, must haves, etc…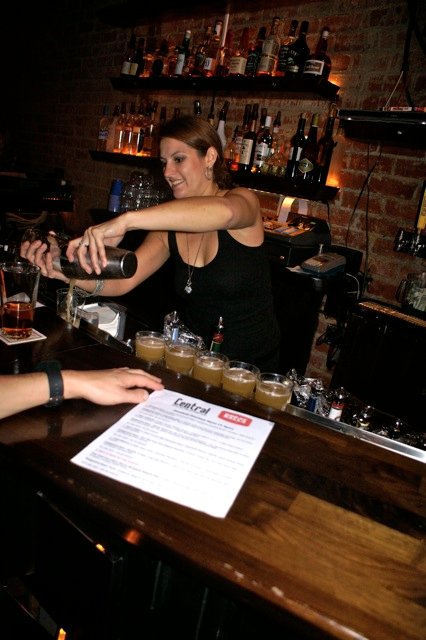 Mains: along with Beer pairings for Meatball Mondays at Central(Only) When on the streets no alcohol(Sorry guys. Street prices are also listed.)
Meatball Mondays Menu Includes Four Mouth-Watering Gourmet Meat Balls Paired with Four Delicious Beer Selections:
1.INCREDI BALL (2 balls) Ground Kobe Beef / Applewood Smoked Bacon / Gruyere / Wild Arugula / Garlic Aioli / Toasted Brioche.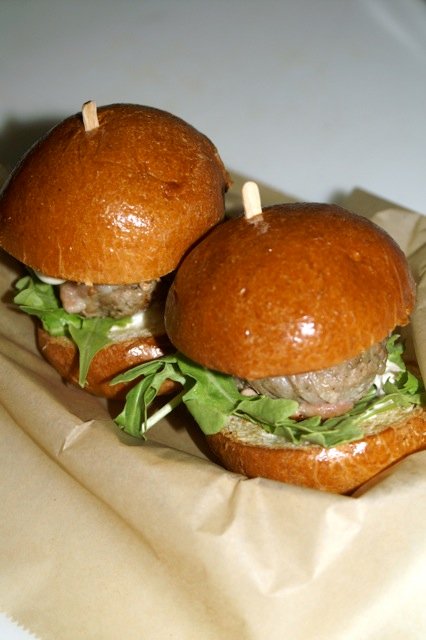 Suggested Beer: Lagunitas IPA, A Vintage India Pale Ale From Lagunitas Brewing.  Its Full Flavor And Robust Hops Pair Great With This Unique Take On The Classic Cheeseburger.
$10 with beer/ $6.50 without
2. BALLYWOOD (2 balls) Garam Masala Chicken / Coconut Madras Curry / Crispy Fried Onions / Tomato Chutney / Cilantro Chutney / Saffron Basmati Rice.
Suggested Beer:  Mirror Pond Pale Ale From Deschutes Brewing.  The Hop Aroma And Hop Forward Flavor Pairs Great With The Spices And Sweet Flavors Of The Ballywood Balls.
$9 with beer / $5.50 without


3. BALL GOGI (2 balls) Korean BBQ Marinated Beef / Shigumchi Namul / Kimchi / Black Sesame Seeds / Asian Noodles.  

Suggested Beer:  Fat Tire From New Belgium Brewing, A Classic Amber Ale That Pairs Great With Red Meat And Rich Flavors.
$9 with beer / $5.50 without 


4. CIAO BALLA (2 balls) Veal / Pork / Pancetta Marinara / Shaved Parmesan / Fresh Basil / Toasted Brioche.  

Suggested Beer: Peroni, A Light, Crisp And Flavorful Lager From Italy That Pairs Wonderfully With This Italian Themed Dish.
$9 with beer / $5.50 without


5. BALL & BEER OF THE MONTH

 Top Chef Ilan Hall's Bacon Wrapped Matzoh Ball (2 balls)  Manischewithz Matzo Meal / Bacon / Arugula / Arugula Tartar Sauce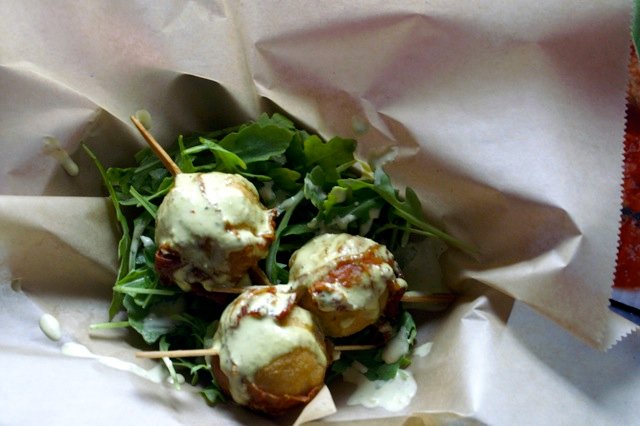 Suggested Beer: Stella, traditional Belgium-style lager, light and clean with a signature flavor
$10 with beer / $6.50 without
Sides/Extras:
No sides, just balls!
Average item price: 5.50
Truck contact info: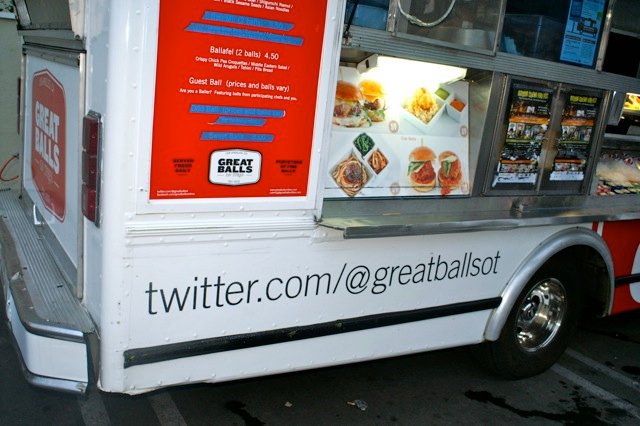 Twitter: @greatballsot
Facebook: greatballsontires
Website: greatballsontires.com
Private events: Yes, they are available, hit em up and they would have a Ball
Strangest question asked:
A girl wanted all of her meatballs cut in half…..and this is what the crew said to this one after her "strange request"…."Difficult your order is ready…… I'm sorry: Stephanie". They were good sports and just wanted to have a little fun!
Special Thanks: AKA: "last call for balls"(heard at closing time)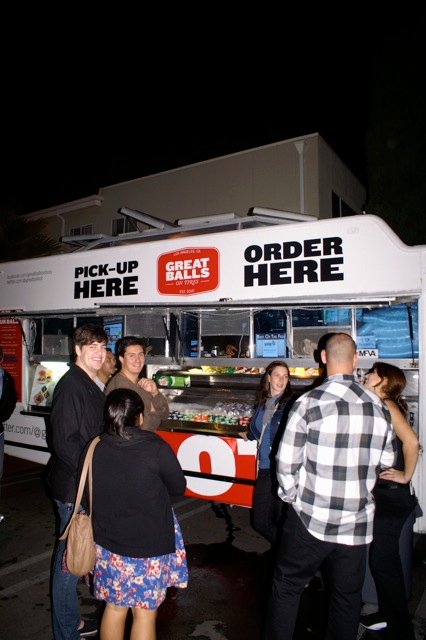 The list of shout outs goes on an on, so "here we go":
Central Social Aid and Pleasure Club and Nathan Levinson for keeping us informed about the happenings at Central along with the amazing Spin PR Group team for having VivaLAfoodies back again to cover these "Street Fusion" events and mash-ups.
I also have to thank my good friend, Mr. Kelly Parker for coming all the way from the Southbay to the streets of Santa Monica for some really tasty balls courtesy of GBOT. Its always fun to hit up the gourmet trucks with an entourage of foodies.
We also have to thank Super Good Music blogger, Brandon Dorsky(also from Grassroots California) for coming down to hang out and assist in the bacon-wrapped matzoh ball indulgence.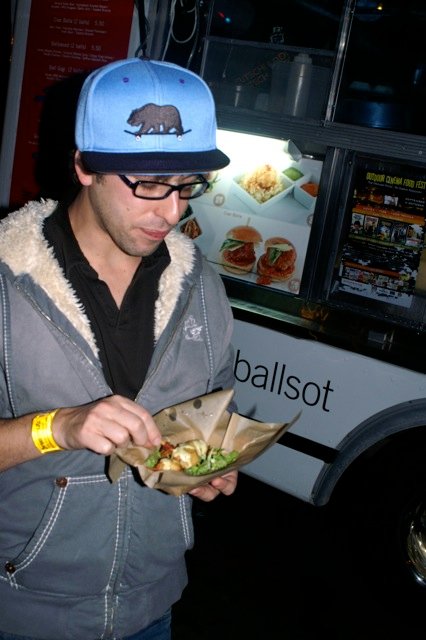 Lastly, we must give a shout out to "The Tragers" from Wildflour Pizza in Santa Monica. It was great chatting it up and we look forward to coming down to the restaurant soon for an upcoming feature as well as collaborating for Food Trucks at the Victorian in Venice.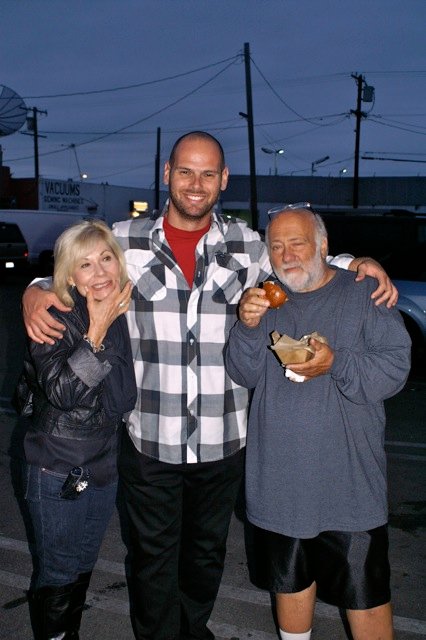 Additional info:
CENTRAL S.A.P.C., 1348 14th Street in Santa Monica, CA.  (Corner of Santa Monica Blvd and 14th St)  Phone: 310.451.5040  www.centralsapc.com
More great Food Truck Profiles coming soon! Over and Out!