Truck Name: TAKOSHER™ "The Chosen Taco"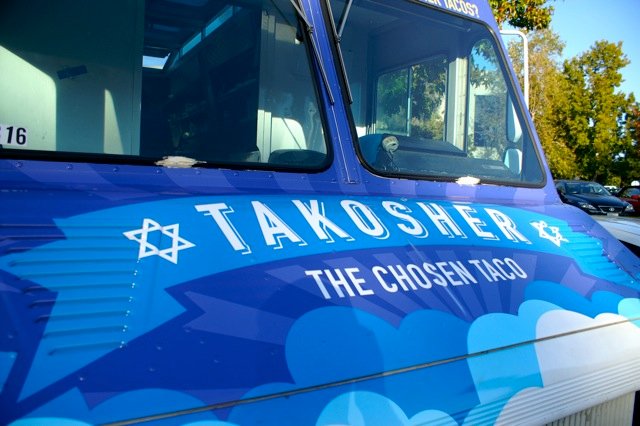 Truck Specialty: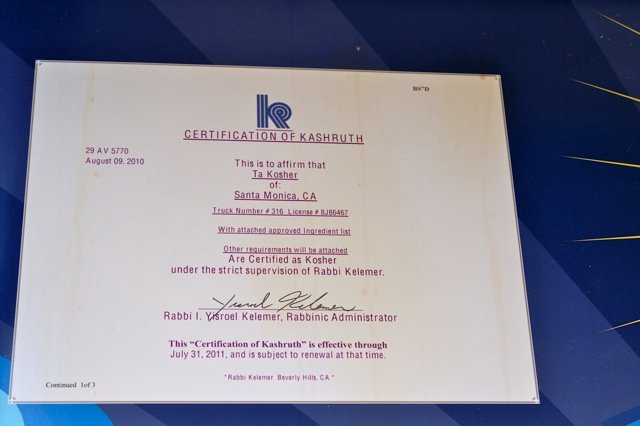 Kosher Mexican fusion cuisine all wrapped into one. Think of it as the lovechild of the Fairfax District and Olvera Street(on wheels) roaming the streets of LA. They are also the first certified Glatt kosher taco truck in the city of Angels. It won't be long before all Angelinos experience "The Chosen Taco." See what happens when Mexico city meets Fairfax on the streets of LA.
Truck Mission/about:
Providing certified Glatt kosher Mexican food in the form of Tacos and Burritos to the citizens of Los Angeles. Observers of Kosher practices(Kashruth) and non-observers will both agree that these are the best Kosher tacos around.
Truck operators & Team:
Lowell Bernstein(Owner-Partner-Chef)
Moises Baqueiro (Owner-Partner-Chef)
Chris Martin(Owner-Partner)
Pedro(Star cook on the griddle)
Payment: cash for now, credit cards coming soon.
Truck neighborhood coverage:
From Pico/Robertson to Pan Pacific Park(West Hollywood Adj) to Santa Monica, the Westside
Encino, Sherman Oaks, Studio city and Burbank, you can find the TAKOSHER™truck and you may find it in other areas and events as well.
Menu breakdown:  Likes, must haves, etc…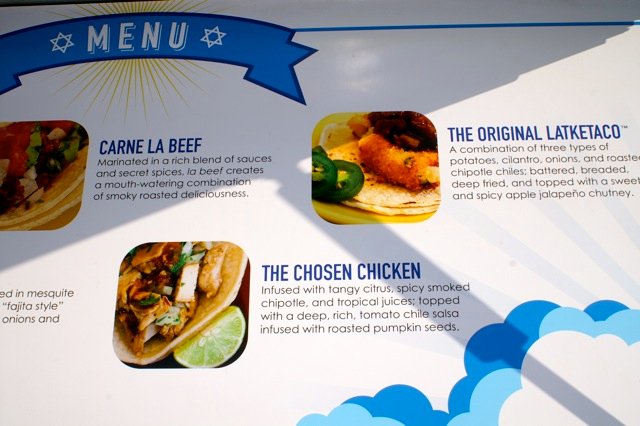 Mains:
Real simple menu as the name says "ta-ko"(taco-Sher)
Tacos: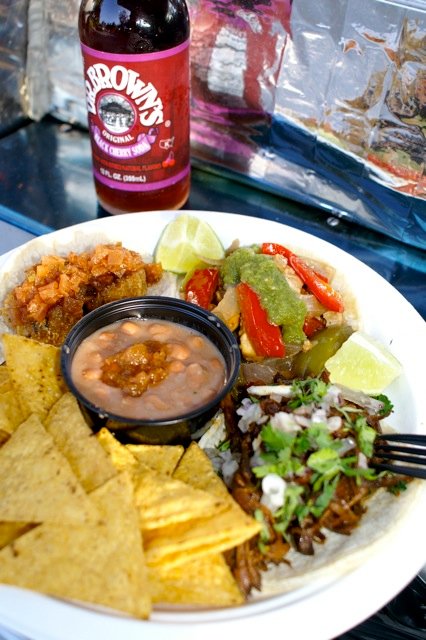 The Original Brisketaco™
A long-loved family recipe, braised and slow-cooked with chili sauce, sauerkraut, raisins, a touch of sweet, and a little spicy kick at the end.
Carne La Beef
Marinated and grilled in a rich blend of hearty sauces and secret spices, the recipe creates a smoky, juicy and flavorful beef, all brought harmoniously together on a hot corn tortilla.
The Original Latketaco™
A combination of three types of potato, cilantro, onions and roasted chipotle chiles; battered, breaded, deep fried and topped with a sweet and spicy apple jalapeño chutney.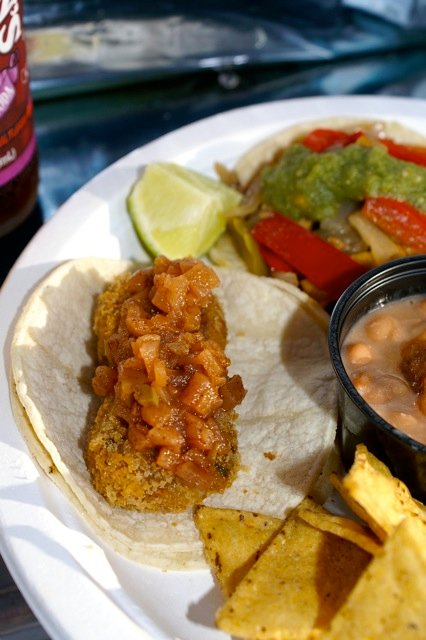 Fujitas™
Baked tofu marinated in mesquite and garlic; sautéed "fajita style" with grilled peppers, onions and a squeeze of lime.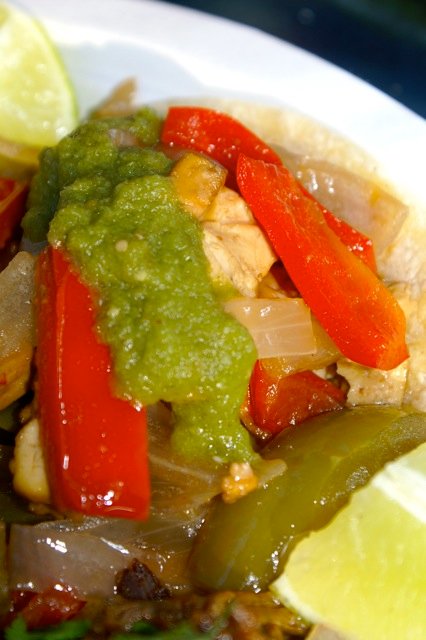 The Chosen Chicken
Infused with tangy citrus, spicy smoked chipotle and tropical juices; topped with a deep, rich tomato chile salsa delicately blended with roasted pumpkin seeds.
Burritos: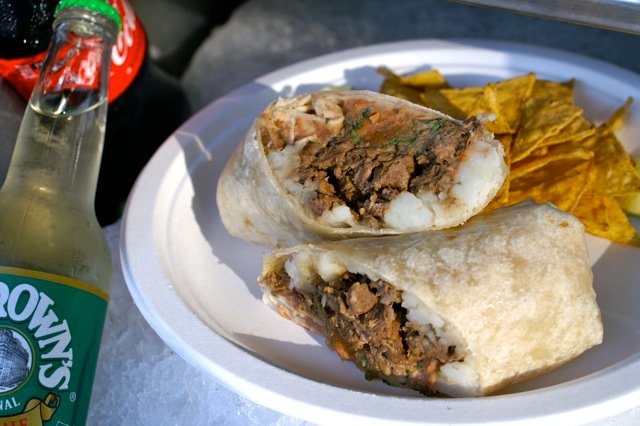 Currently in the works. We had a tease(I mean a taste) of the Carne La Beef and like us, the streets will agree that these are the meanest and cleanest burritos out there!
Sides/Extras:
Coming soon: Order the off the menu, Jicima slaw in the mean time.
Most importantly:the only food truck that packs a cooler full of ice cold Dr. Browns soda(in my case I sipped on classic black cherry.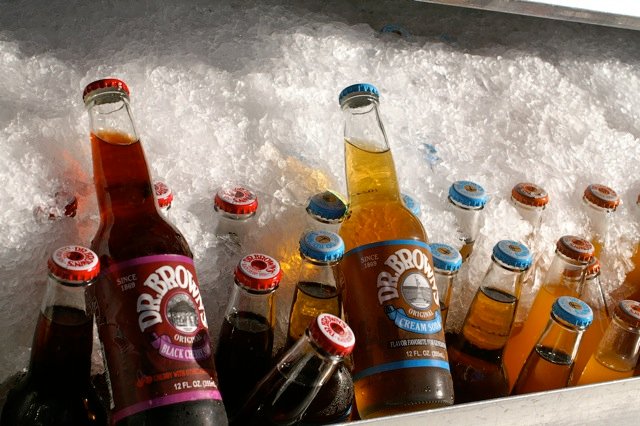 Average item price:
All-a-carte $4
Taco/burrito combo plates starting at $10-$14
Truck contact info: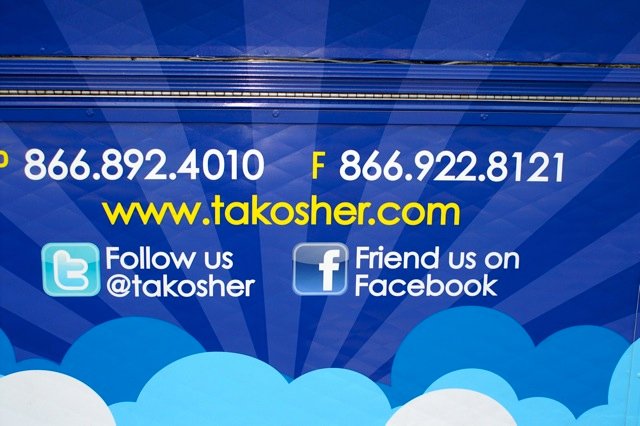 Twitter: http://twitter.com/takosher
Facebook: http://www.facebook.com/pages/takosher/130812846957249?ref=ts
Website: http://takosher.com/
Catering/Events: Like the website says: "Mitzvahs…Weddings…Events, etc.
Takosher looks forward to meeting your party needs. Bar Mitzvahs, weddings, office parties, special events. We are waiting to bring you the food AND the fun! Contact: lowell@takosher.com
Takosher just did back stage with Reggae/Hip Hop artist Matisyahu in LA and even Matisyahu "Cho(M)ped 'em down"
Strangest question asked:
A Hassid came up the truck and asked what is a taco? So they explained and then he asked what is a tortilla? So they also explained…, In the end, he ended up with a taco combo plate "togo" and a business card so he could have the truck at his office!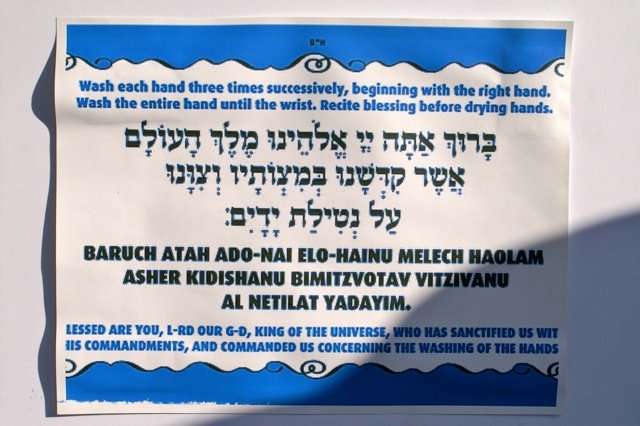 Special Thanks:
Go out to the Art institute, and the Activision business park on 31st. and Ocean Park in Santa Monica for allowing the food trucks to post up for a late afternoon lunch session. The crew from TAKOSHER™ was on point with their hospitality and I must say their Kosher play on latin street food was unparalleled. LA Street Taco vendors watch out, The Kosher Taco has taken over!!!! Mazel-TOV!!!!