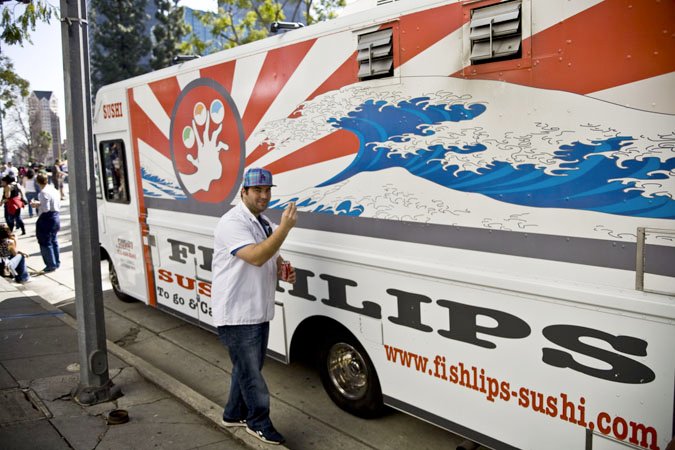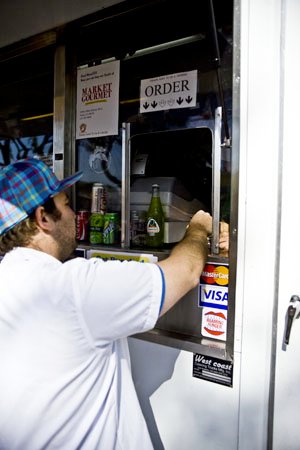 Truck Name:
Fishlips sushi (to go and catering)
Truck Specialty:
Bringing sushi to the masses in a mobile format. Its a gourmet sushi bar on wheels.


Truck Mission/About:
Sushi for sushi fanatics on the run. Grab a fresh tamari box or roll set and see for yourself why Fishlips followers keep coming back. Fishlips Sushi offers everything from rolls and nigiri sushi to edamame and other Japanese staples to Angelinos craving a quick sushi meal on the go.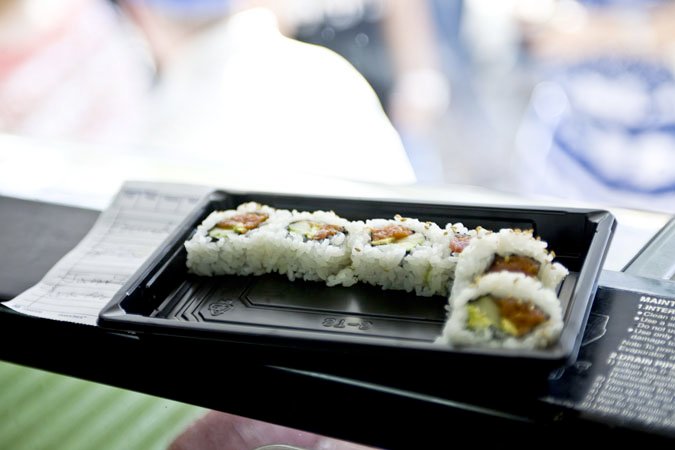 Website: http://www.fishlips-sushi.com
Truck operators & Team:
TK-Takeshi Kimura(chef/owner) and talented team of sushi chef's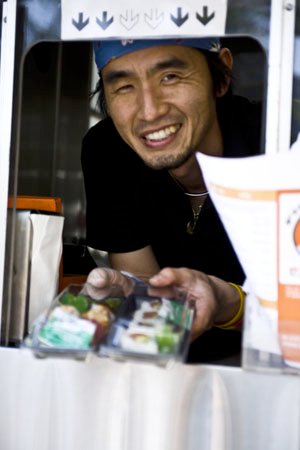 Payment: Visa/MasterCard and Cash(whatever you have in your wallet)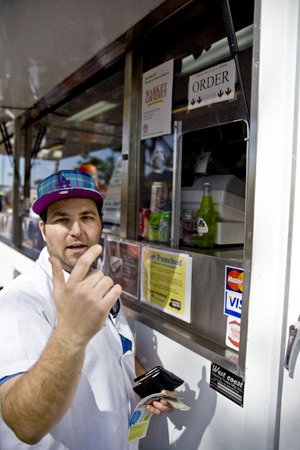 Truck neighborhood coverage:
Downtown to the Westside(Venice and WestLA)
Menu breakdown: Likes, must haves, etc…
Mains:
Spicy tuna roll


California roll
Crunchy Roll
Tamari(nigiri) set of mixed sushi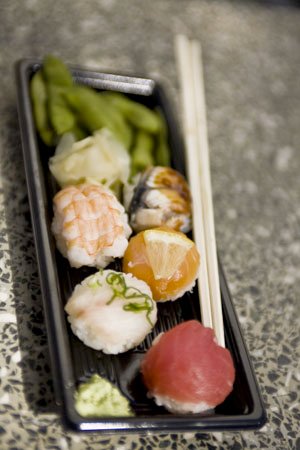 Sides/Extras:
Edamame
Sodas
Green Tea
Water(bottled)
Average item price: $5-$10
Truck contact info: 310.634.2999
Twitter: http://twitter.com/Fishlips_Sushi
Website: http://www.fishlips-sushi.com/
Private events: Fishliips provides sushi platters and the truck is available for hire for your next event. Take a look at the website or contact TK
Strangest question asked:
According to TK some strange things have been requested since operation. Some have asked for Sake, which is understandable considering it is sushi, but come on guys, very illegal, costly and virtually impossible for a street food vendor to sell alcohol, but good try. An even stranger request has been for tacos and burritos. I guess people just assume that all food trucks in LA sell tacos, but open your eyes as the truck clearly states "FISHLIPS Sushi" on the side; no implications of tacos or burritos. TK is patient and he respects all of his customers and will grant a request if it is in reason and falls into his sushi catering truck.
Special Thanks:
Thanks to TK for showing us the inside of the truck. Zach Schueller from Zach Schueller Photography was on hand at the LA Street Food Festival and shot some great pics. Special thanks to Shawna Dawson(SauceLA) & Sonja Rasula(UNIQUE LA) for putting on this amazing gathering of mobile vendors. I will definitely stop for sushi the next time I see the Fishlips truck.