Lastweek, we had the pleasure of hanging out with our good friend Shelley Beals at the official Fry Girl Food Truck launch party at The Mark for Events on Pico in beautiful Beverly Hills! We last featured "The Fry Girl Inc" and their specialty fried foods several years back during the first food truck/food cart craze and have become good friends and worked with the team on the catering side at various gigs including private parties from weddings, sweet 16's and many celebrity events that we will keep under wraps. During all of these events Shelley was always asked when the food truck would be added to her arsenal so she could hit the streets of LA. Well, the big PINK food truck is wrapped and ready and its already had great success roaming the streets of LA and don't be surprised when it comes to an event near you.
Truck Name: The Fry Girl Truck
Truck Specialty:
Our specialty is hot, fresh and delicious gourmet fried food with no grease. We use 'cholesterol free' canola oil to cook our fun, fried foods. Canola oil contains no 'trans fats'.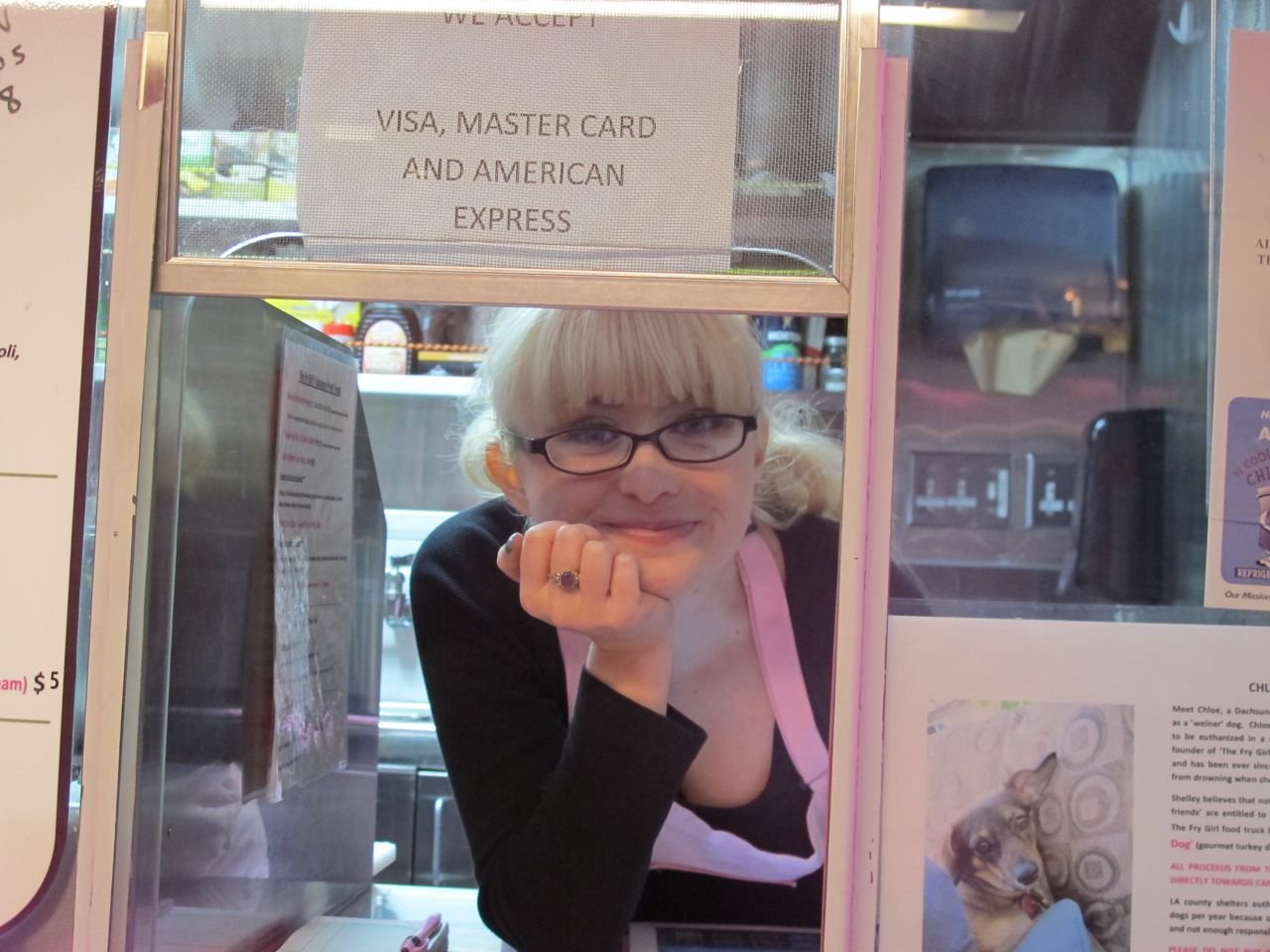 Truck Mission/about:
Our goal is to expand our current catering business and to promote with our food truck. Possible francising is in the near future.
Truck operators & Team: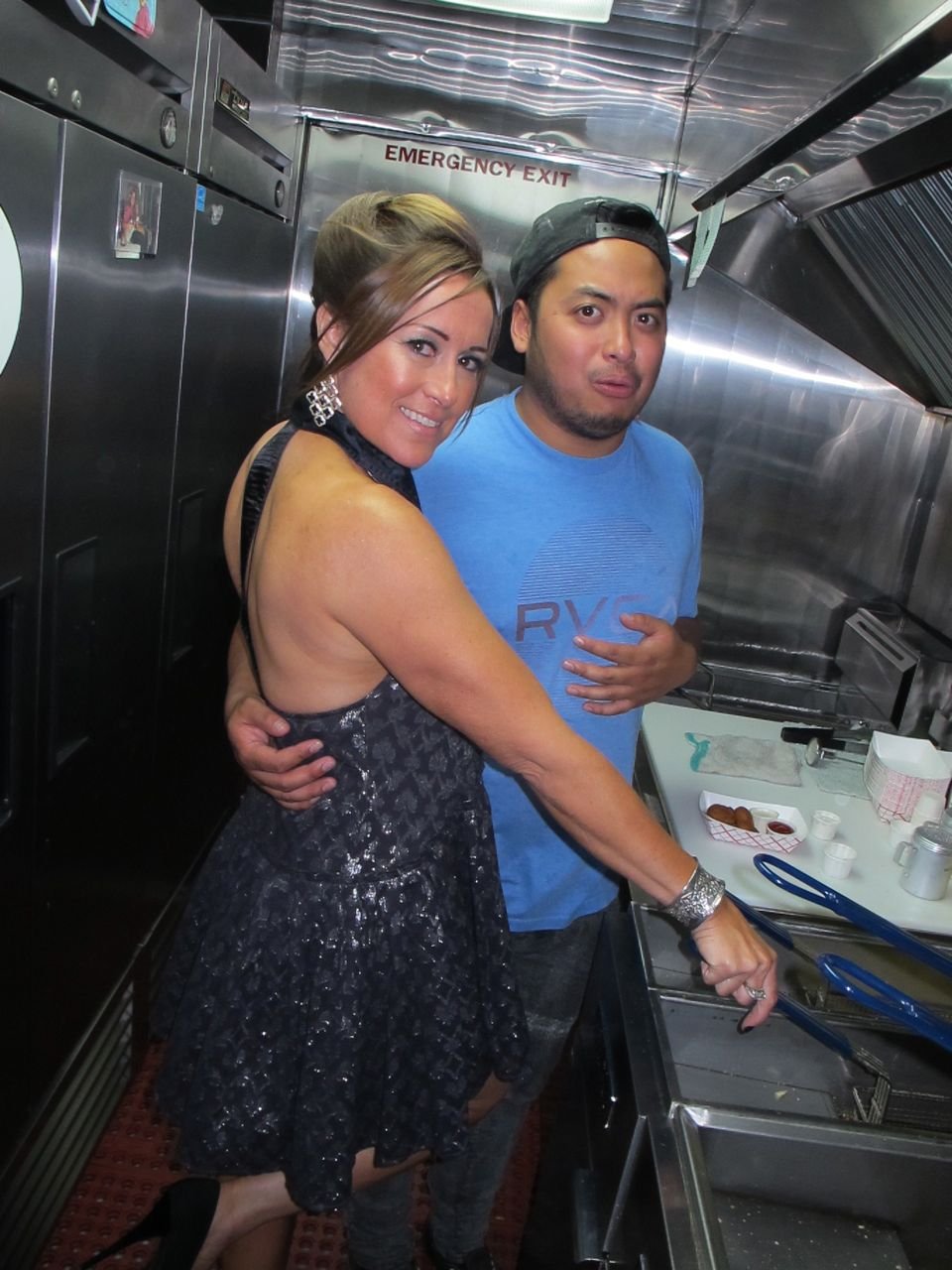 Johnny is our cook/driver and has been with us since we launched several months back. Jen and Stephanie are our servers better known as our Fry Girls.
Payment: cash and credit
We accept cash and all credit cards via our Square ipad POS system and we have no limits for orders like some other trucks.
Truck neighborhood coverage:
From Long Beach to San Dimas to Pasadena, Eagle Rock and down in the South Bay into Torrance, Hawthorne & El Segundo/Venice we are everywhere! Check our twitter feed for our latest up to date locations at www.twitter.com/thefrygirlinc
Menu breakdown:  Likes, must haves, etc…
Mains: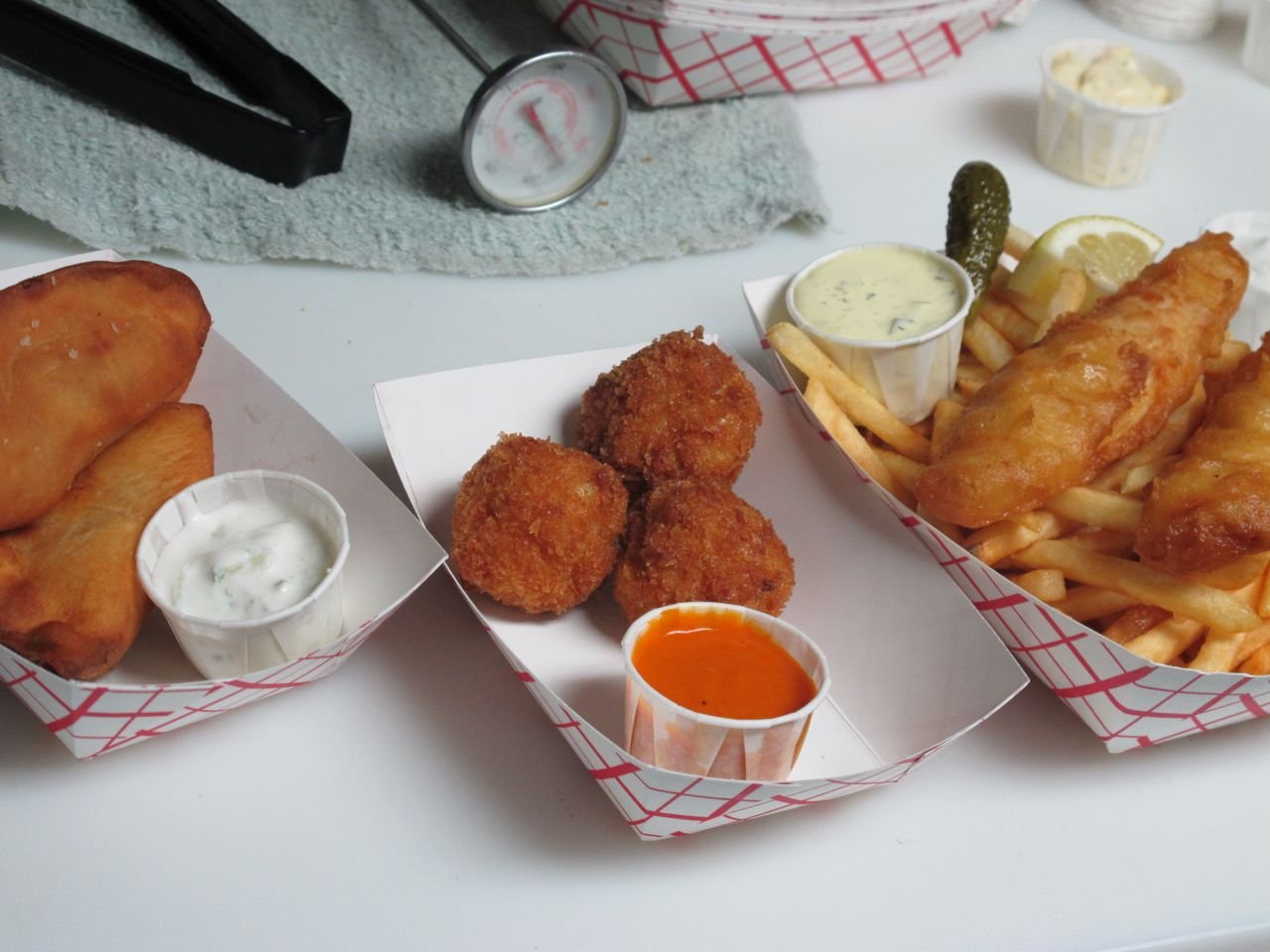 Beer Battered Fish n Chips with Lemon-Dill Tartar sauce
Deep Fried Greek Perogies with Sour Cream Tzatziki(2 for $5 or 3 for $6)
(Eastern European potato dumplings stuffed with potato, spinach, feta cheese & lemon)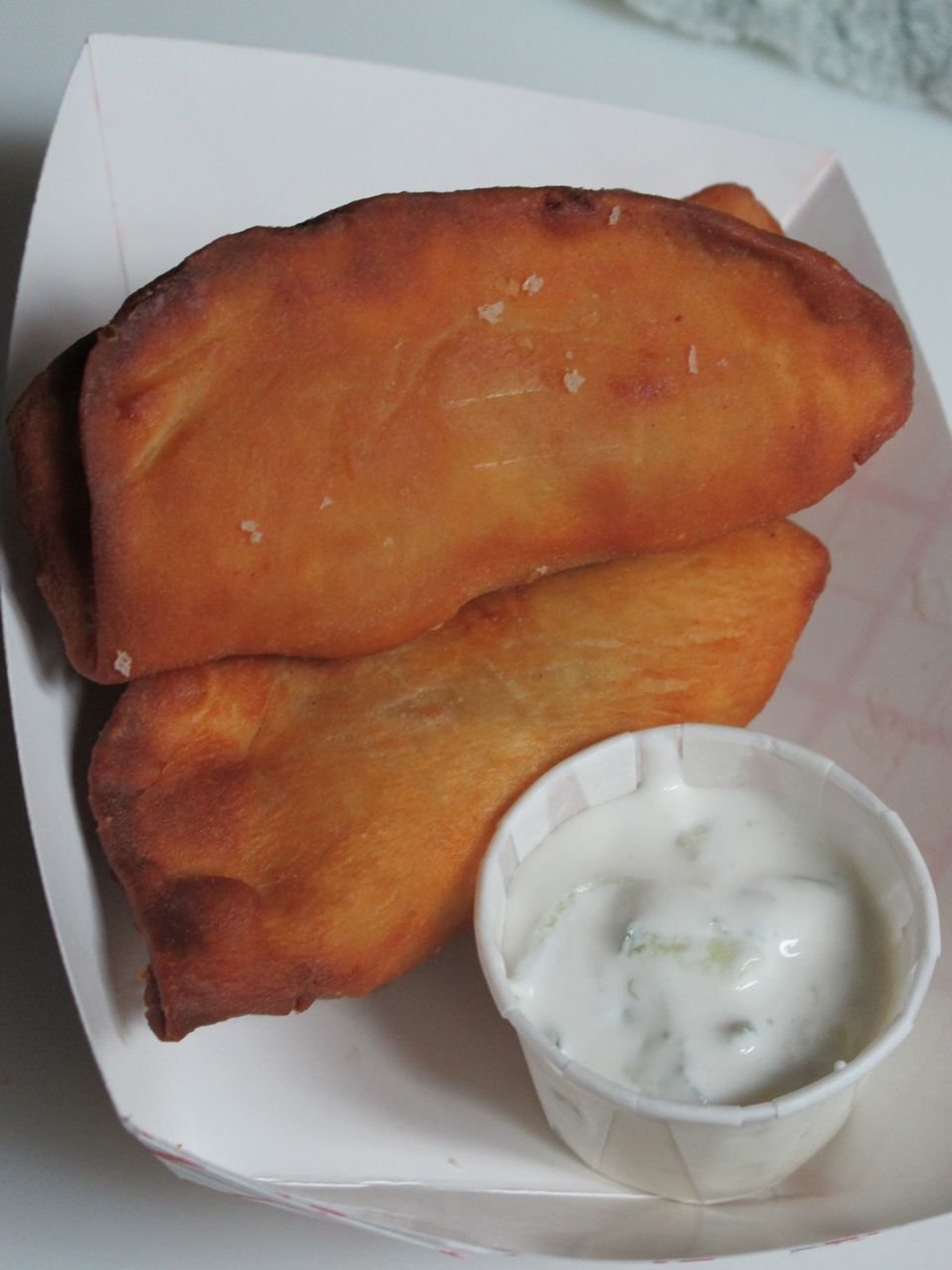 Fried Mac N' Cheese Balls with Tomato Soup Sauce(3 for $5)
Sides/Extras:
Sweet Potato Fries($4) & French Fries($3)
Choose Your French Fry Toppings***
Ketchup, Thai Ketchup (spicy), Chipotle Mayo, Rosemary Mayo, Roasted Garlic Aioli,  Sea Salt & Malt Vinegar or Black & White Truffle
Mini Chicken Corn Dogs w choice of dipping sauce(5 for $4)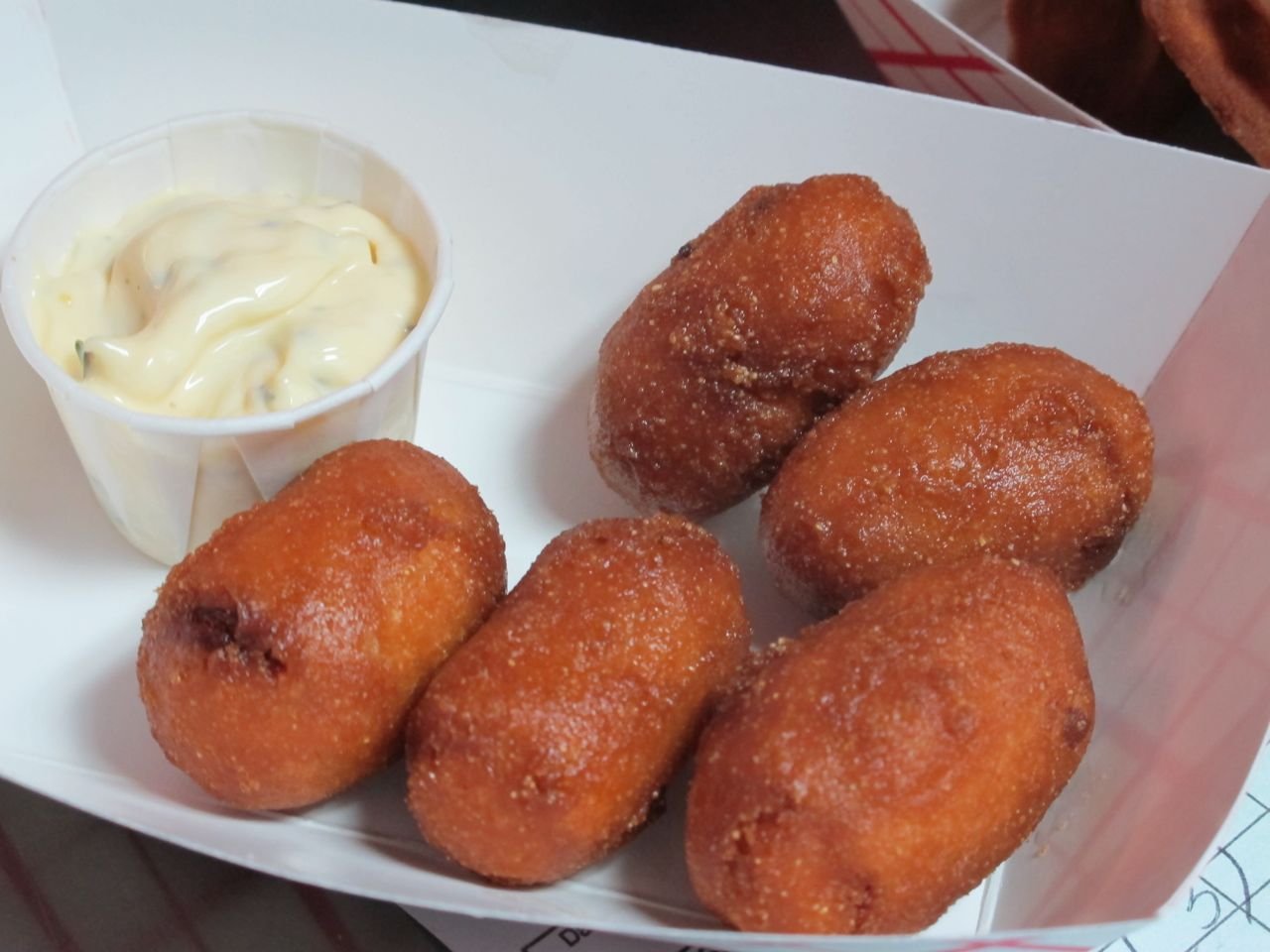 *Ketchup, Thai Ketchup (spicy), Yellow Mustard, Dijon Mustard, Honey Mustard, Chipotle Mayo, Rosemary Mayo or Roasted Garlic Aioli
Chloe Dogs: Turkey dogs for your dog! All proceeds go to support animal rescue initiatives!
Desserts:
Mini Donuts   6 for $3  –  12 for $4  –  30 for $6
Flavored Sugar Mini Donut Toppings: cinnamon sugar, powdered sugar, Vermont maple sugar or Oreo
Apple Fries (served with cinnamon sugar, caramel sauce & cream cheese whipped cream)  $5
Average item price: $4-$5
Truck contact info:
Twitter: www.twitter.com/thefrygirlinc
Facebook: www.facebook.com/thefrygirlinc
Website: www.thefrygirlinc.com
Catering/Events:
Private catering available with either our gourmet food truck or individual fried food stations inside your event. Please contact shelley at 213-590-1710 or email her at Shelley@thefrygirlinc.com for pricing & availability.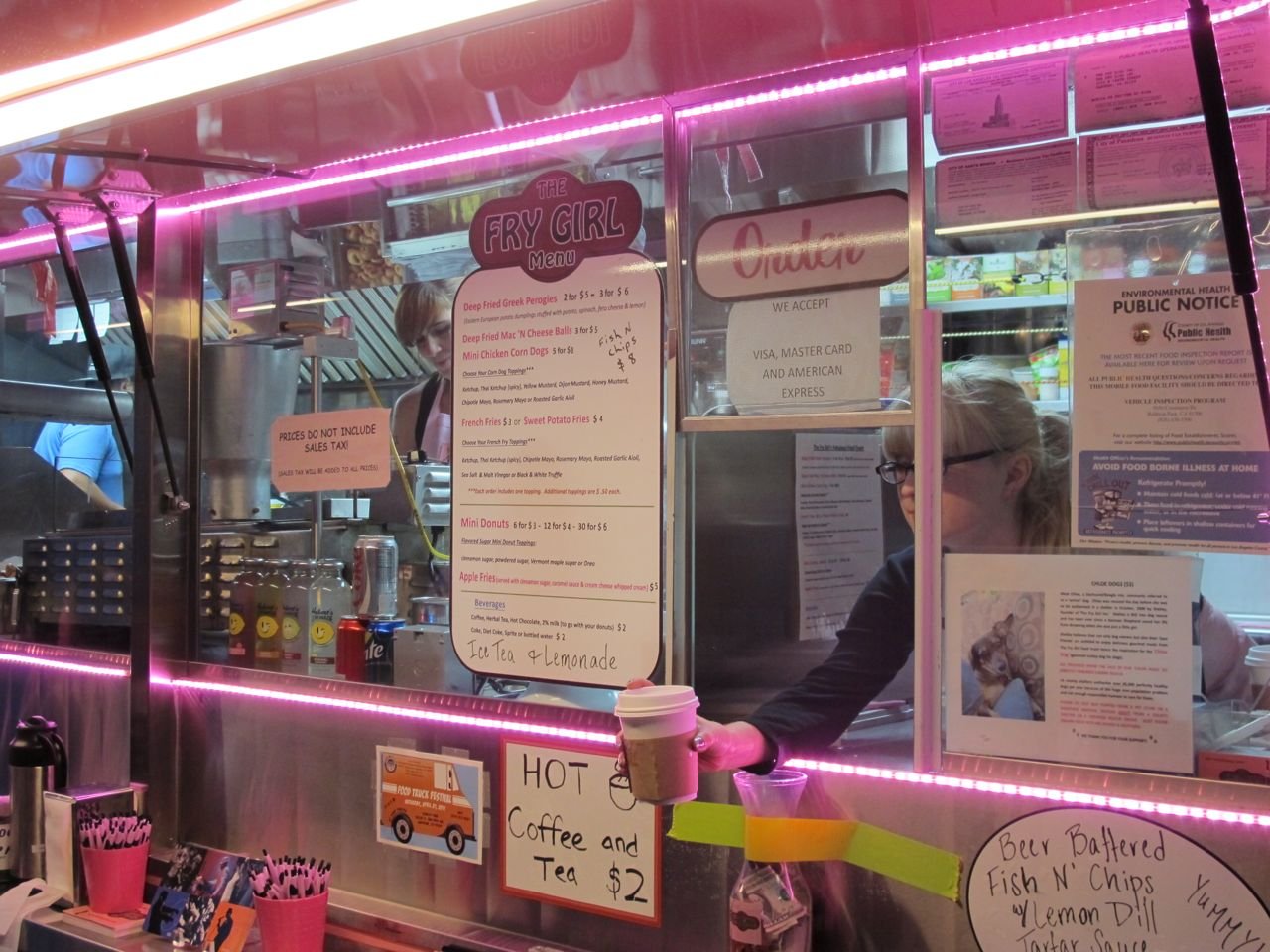 Strangest question asked:
That's actually a toss up! These are the most creative questions we could recall and that is why we love what we do! "Is that fried in oil?" "What would happen if I stuck my finger in that oil"
Special Thanks:
Thanks to the entire Fry Girl team for having us down to the launch party. We had a blast hanging out with the team and we had a great reunion with our good friends Zack Schueller & Joseph Briscoe who are also huge fans of the catering business and the truck. In those favorite show-biz words, "That's a Wrap"! Still Itching to get your fix? Check out my story and previous feature on the Fry Girl Catering Stations and Carts to the stars!