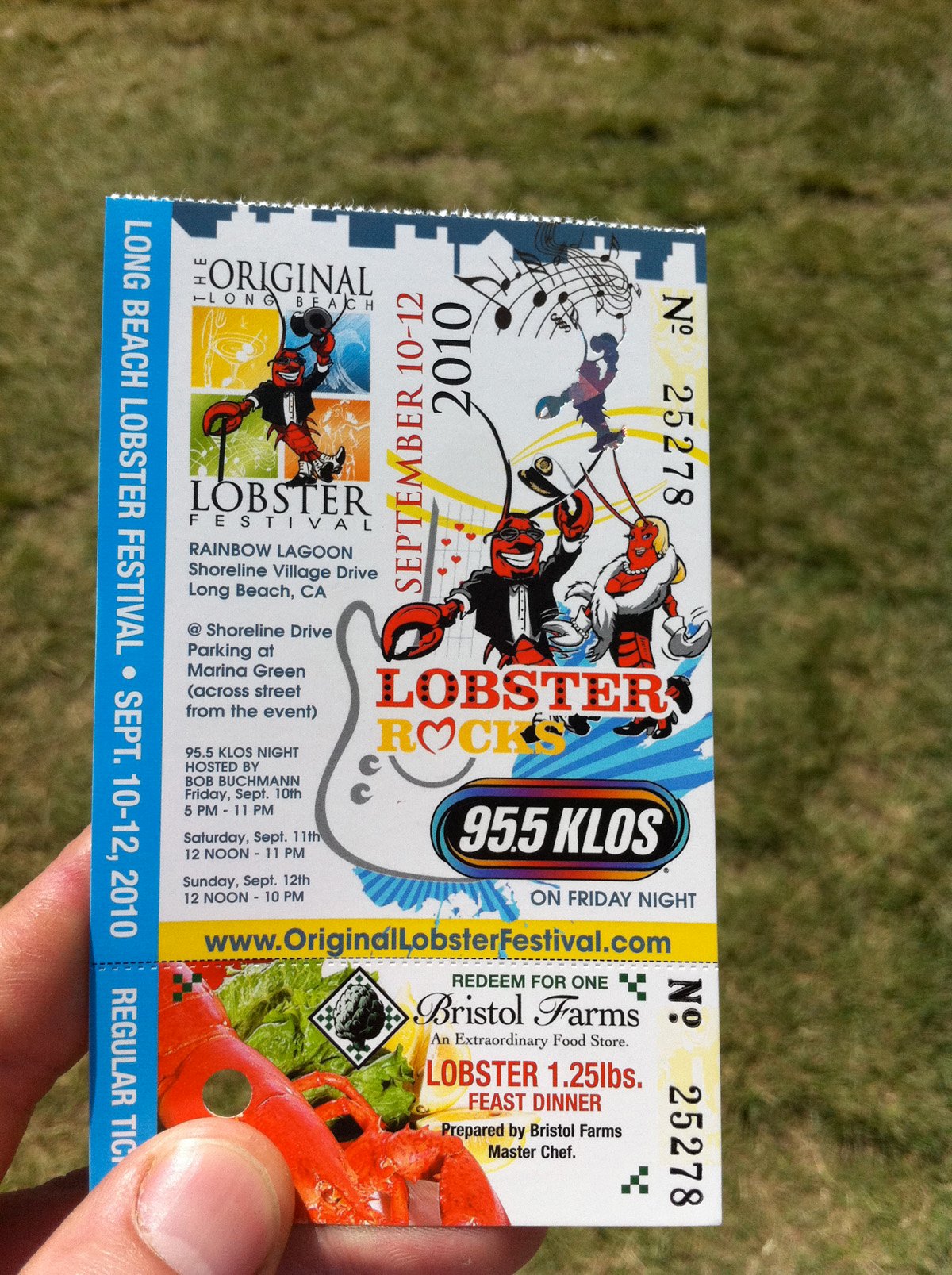 The 2010 Original Lobster Festival in Long Beach's famed Rainbow Lagoon at Shoreline Village proved to be a very palatable proposition for VivaLAfoodies and The Culinary Image.
We engaged in enough food indulgence to make both Anthony Bourdain and Huell Howser proud. There was not even a scrap left behind, and that didn't surprise us. So, "Just sit right back and you'll hear a tale, A tale of a fateful trip, That started from this tropic port…..(Thanks Sherwood Schwartz and George Wyle for that infamous lyric from Gilligan's Island"
Main Course:
Fresh live Main Lobster Feasts ranging from 1-1/4 – 2-1/4 lbs were served up by Bristol Farms. A bountiful meal that included one fresh live steamed lobster, coleslaw, dinner roll, watermelon, fresh cut lemons and butter dipping sauce. In our case we opted for the 1-1/4 pound-er's, but could have easily taken out the 2+ pound-er with ease.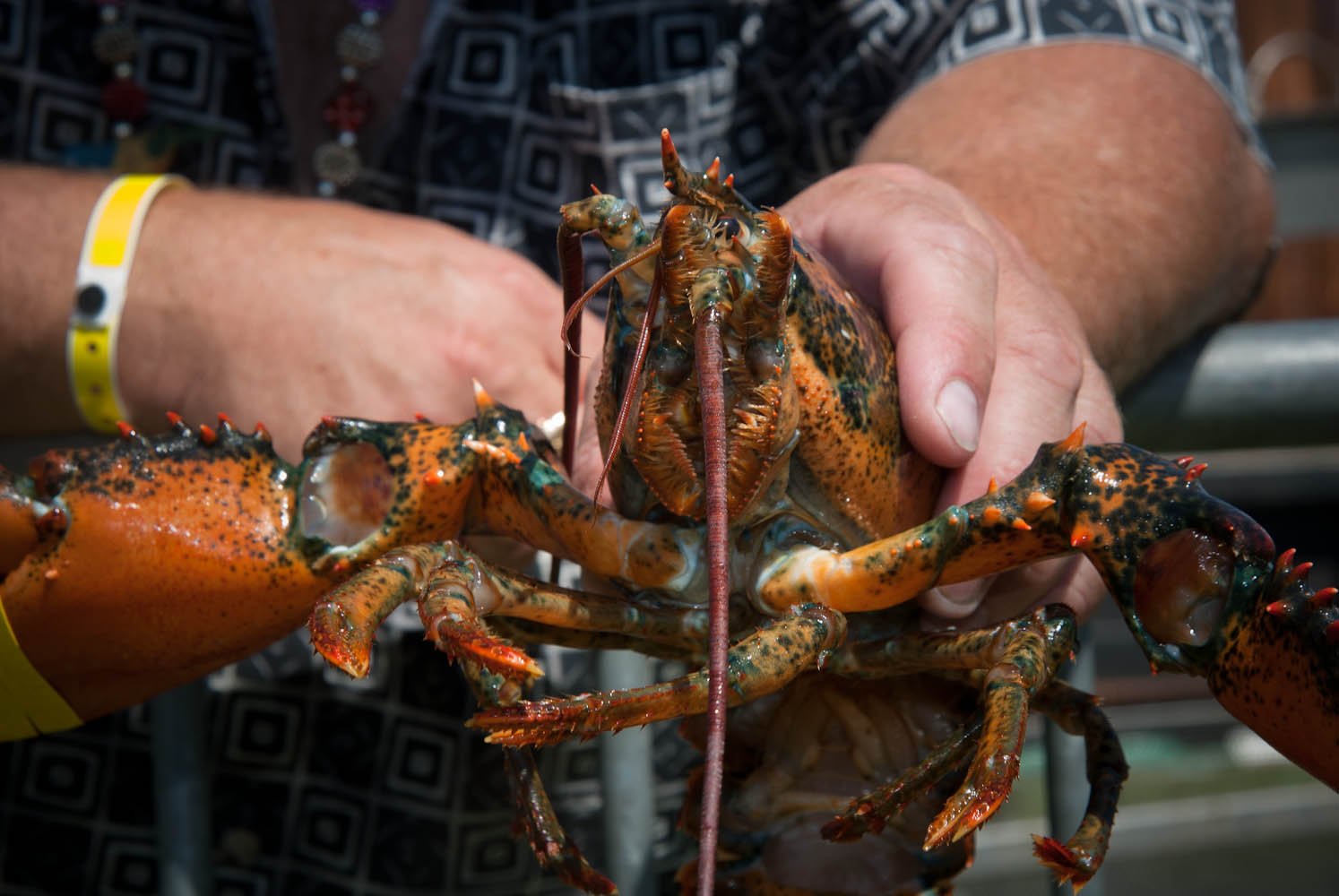 While we waited in line for our tantalizing crustaceans, we witnessed the simultaneous cooking of and estimated 150 lobsters in giant open steam kettles. It took the assistance of a small crane and boom and 3 strong chef's to process; simply a site for "hungry eyes" and one of the coolest mass seafood cooking's that I have ever seen. I am getting hungry just thinking about it.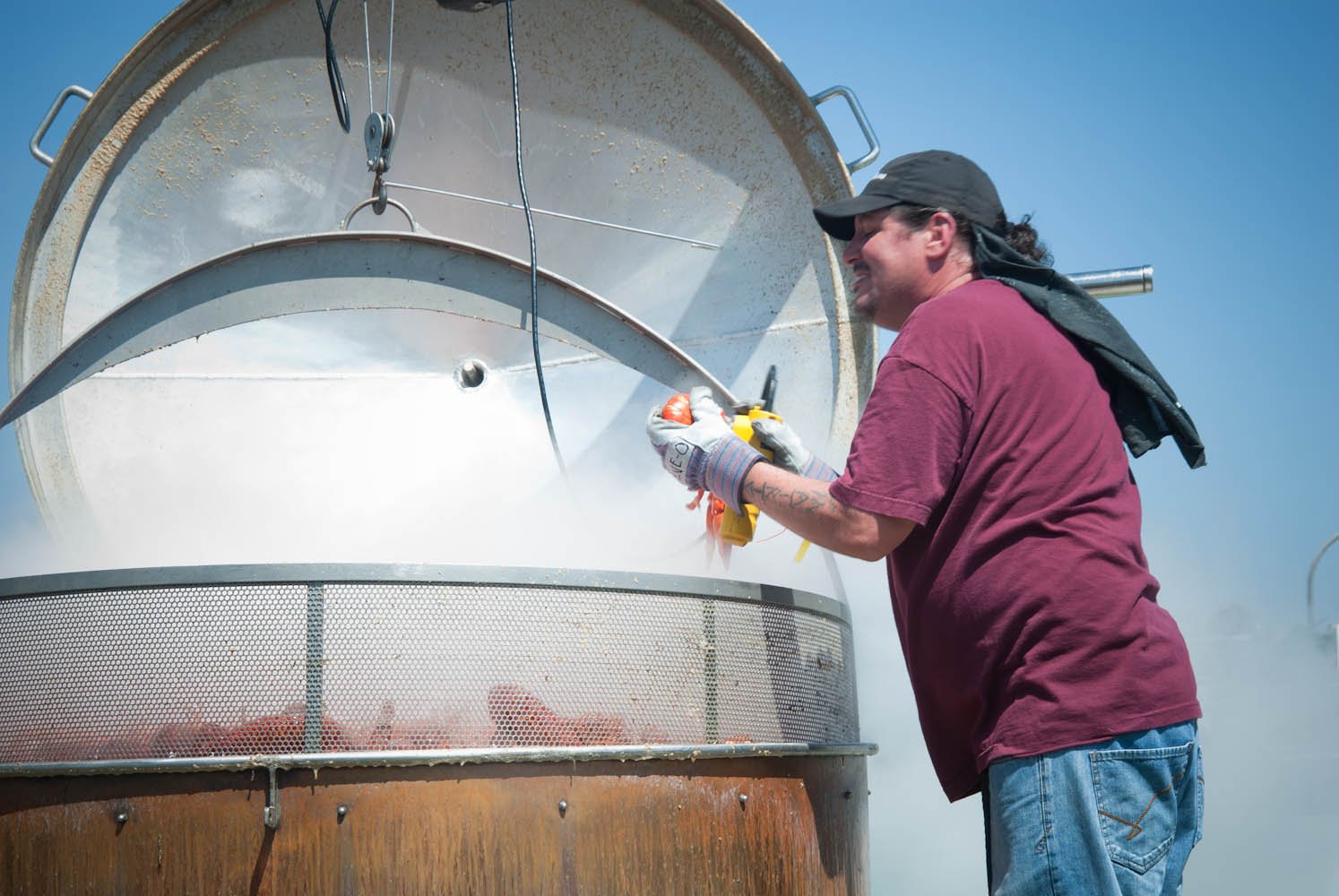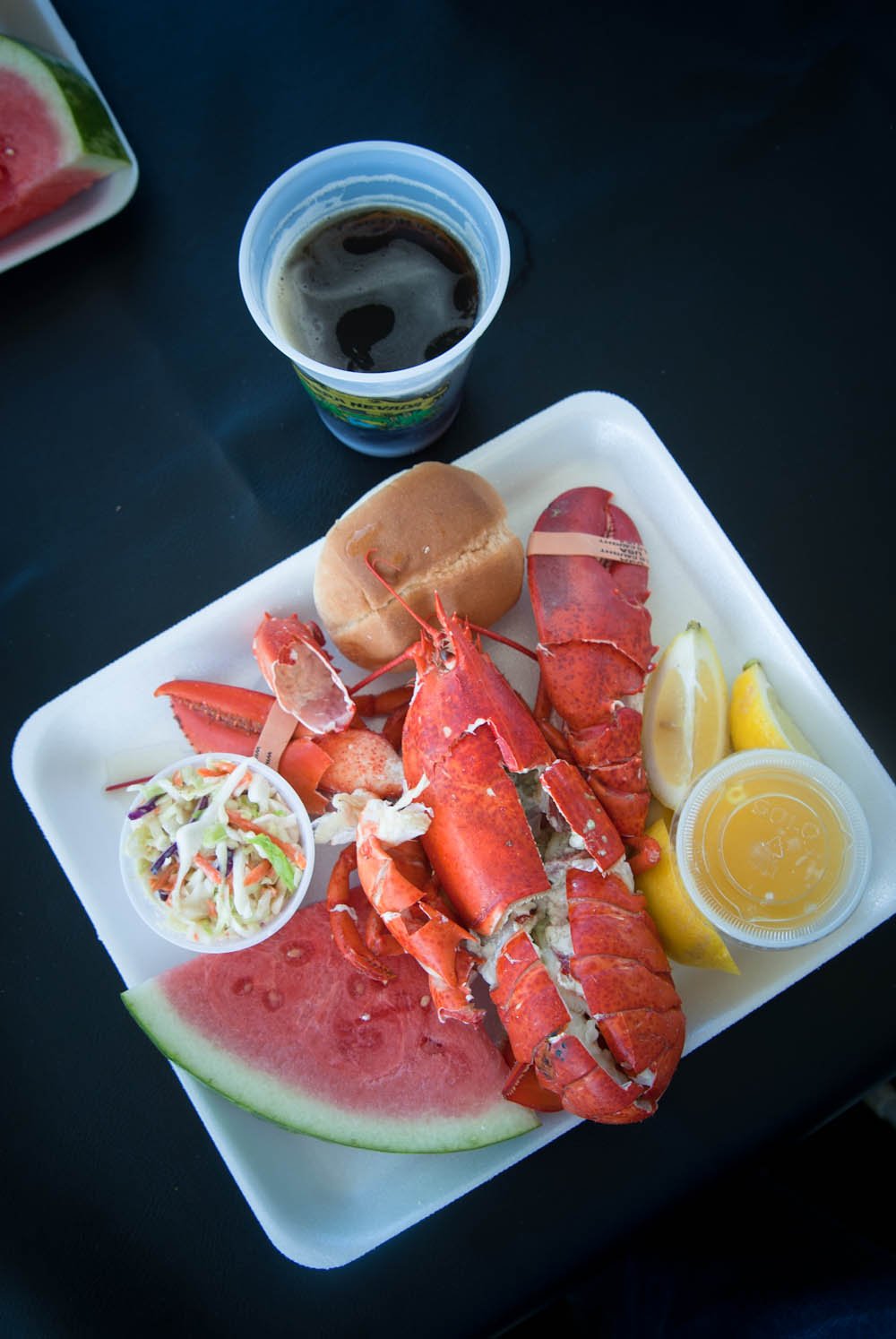 Food Vendors:
The lagoon was loaded with food vendors all surrounding the main event. From pints and quarts of Louisiana Shrimp fresh of the flat-top griddle to sweet treats like Funnel cakes made to order from the Sweet Stop, there was surely enough gluttony to go around.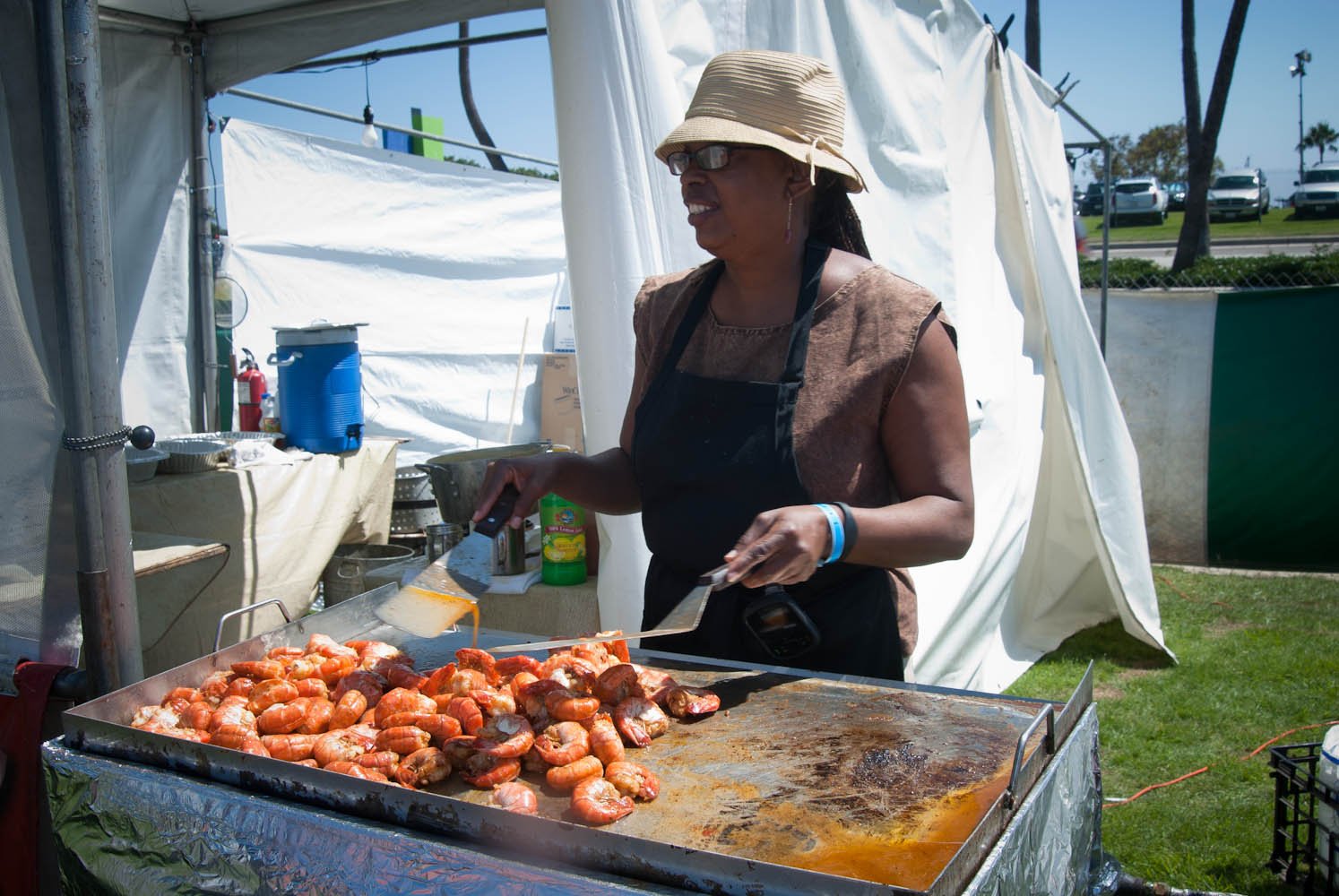 We made our lap around the festival prior to having our lobster meal and decided that we would revisit the tent of Brother's Bar-B-Que, simply dubbed, the "Kings of the Grill", upon the completion of our meal.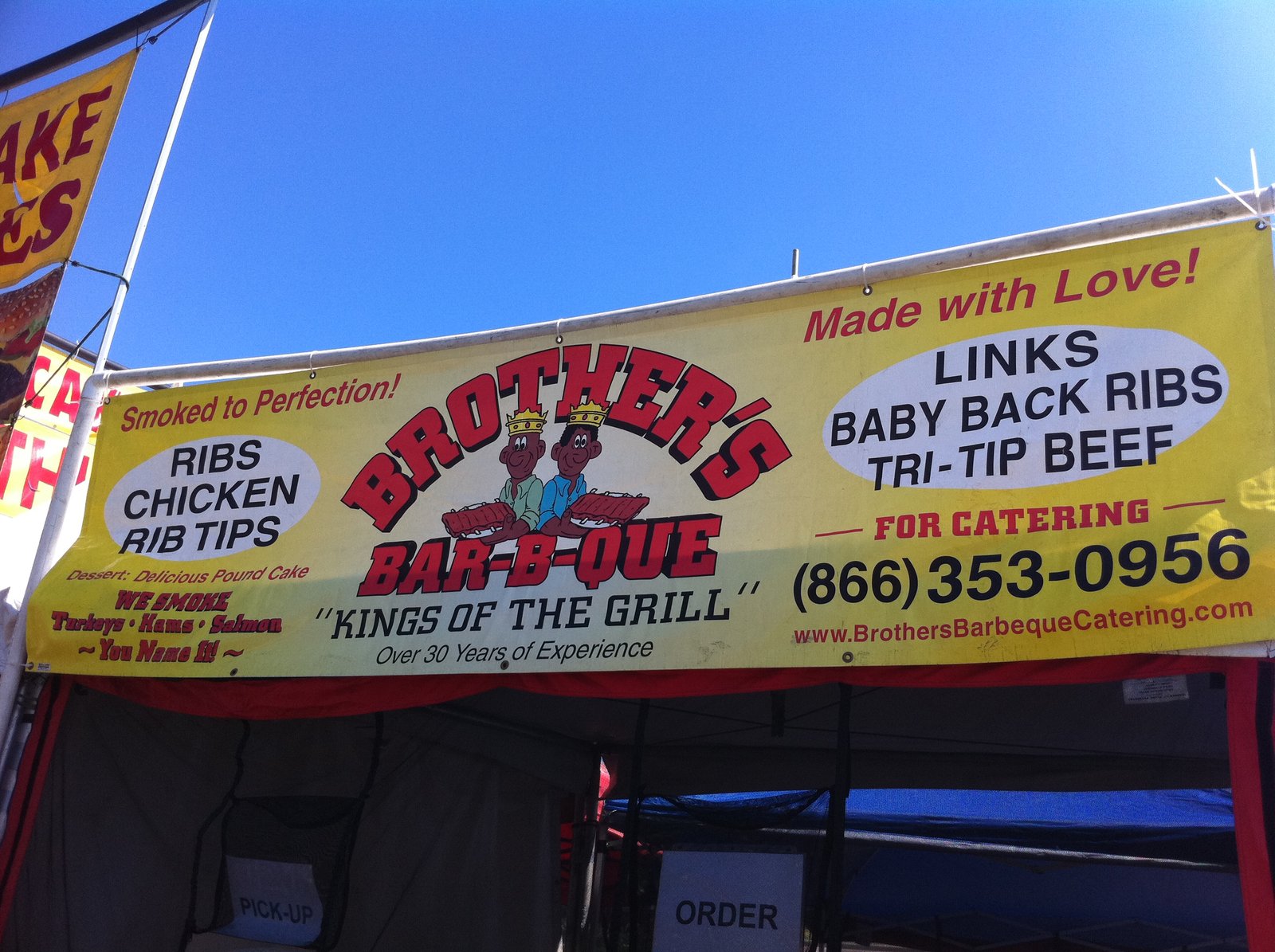 And what a good choice it was, considering that they had everything From Hot Link Sandwiches, Chicken Sandwiches, Rib Tips and in our case the Rib Tip & Link Combo with 1 side all for $8. The meal was enough to feed 2 big hungry guys and was a great way to end the day.
Music & Booths:
A mix of Classic Rock and Cajun jams were blaring from the main stage and Dj's from KLOS kept things funky in between bites.
Booths had a mix of lobster-fest-wear ranging from goofy lobster inspired hats, Official Lobsterfest tee shirts and sweatshirts, to an eclectic street art booth with Latin inspired pop-art from newly transplanted Chicago Artist Rhett Johnson, now residing in Long Beach City.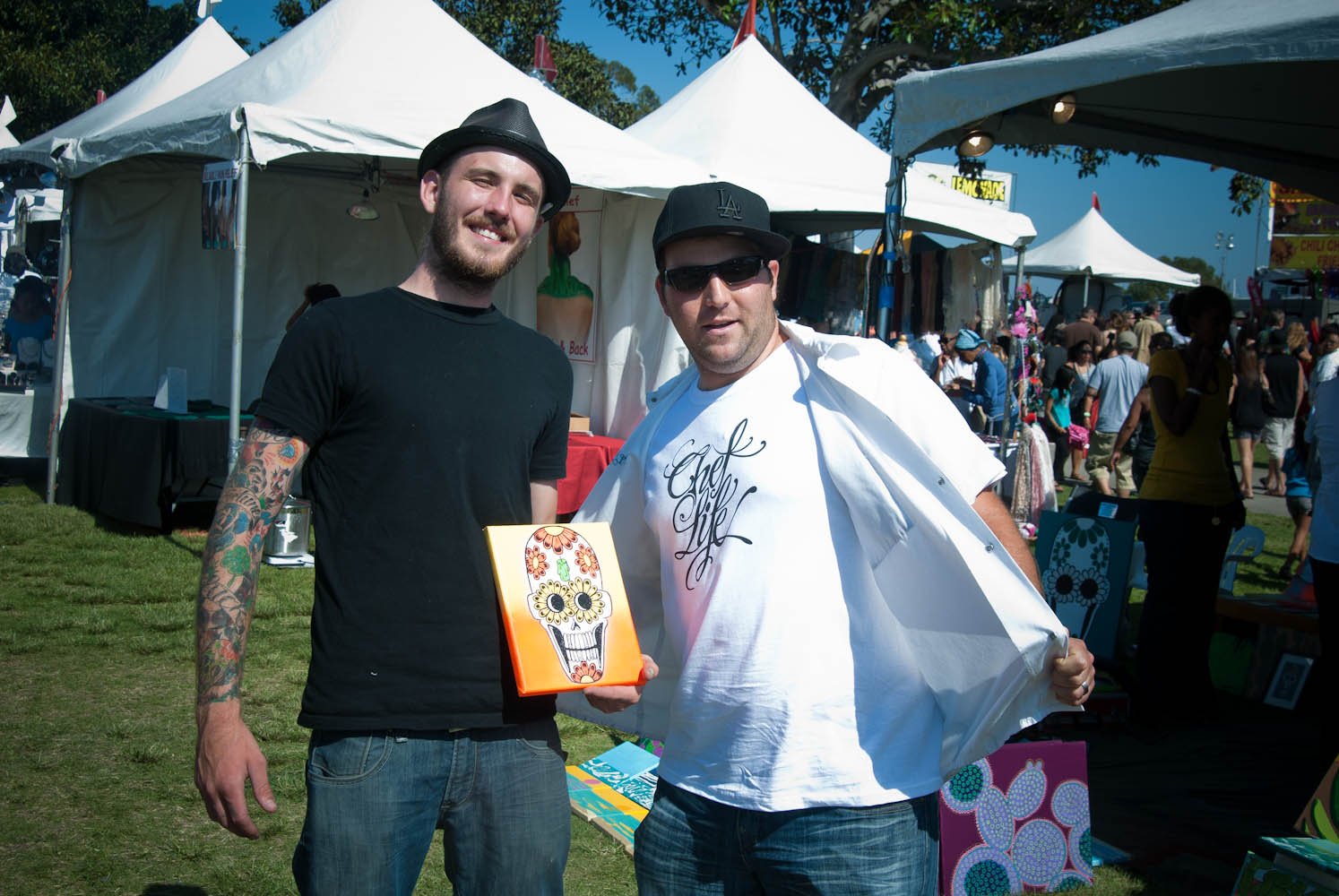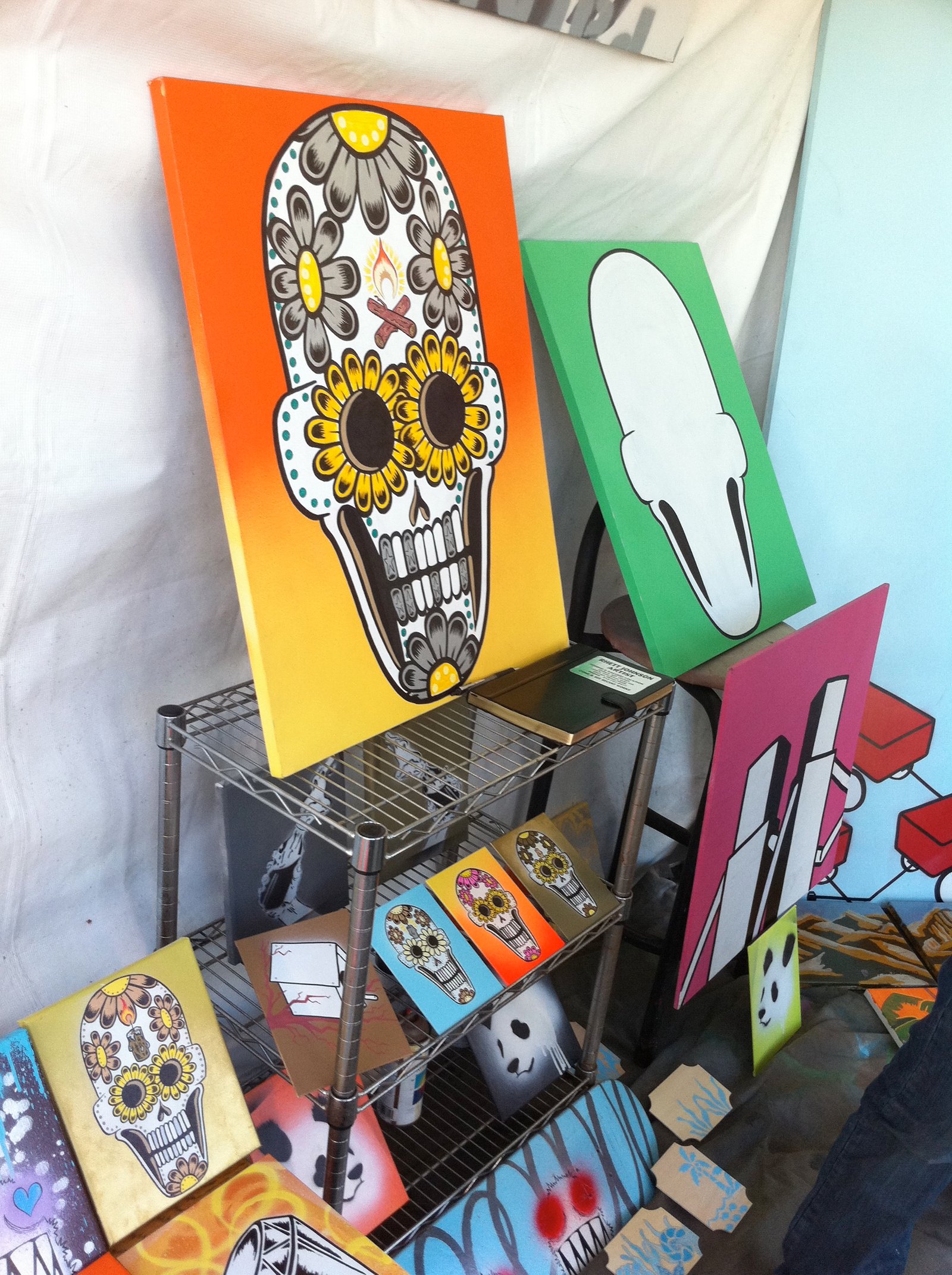 In true VivaLAfoodies fashion, we ended up supporting the arts with a cash contribution in exchange for a one of a kind Silver and Blue "Dia de Los Muertos" inspired Skull Canvas titled "Blow Out."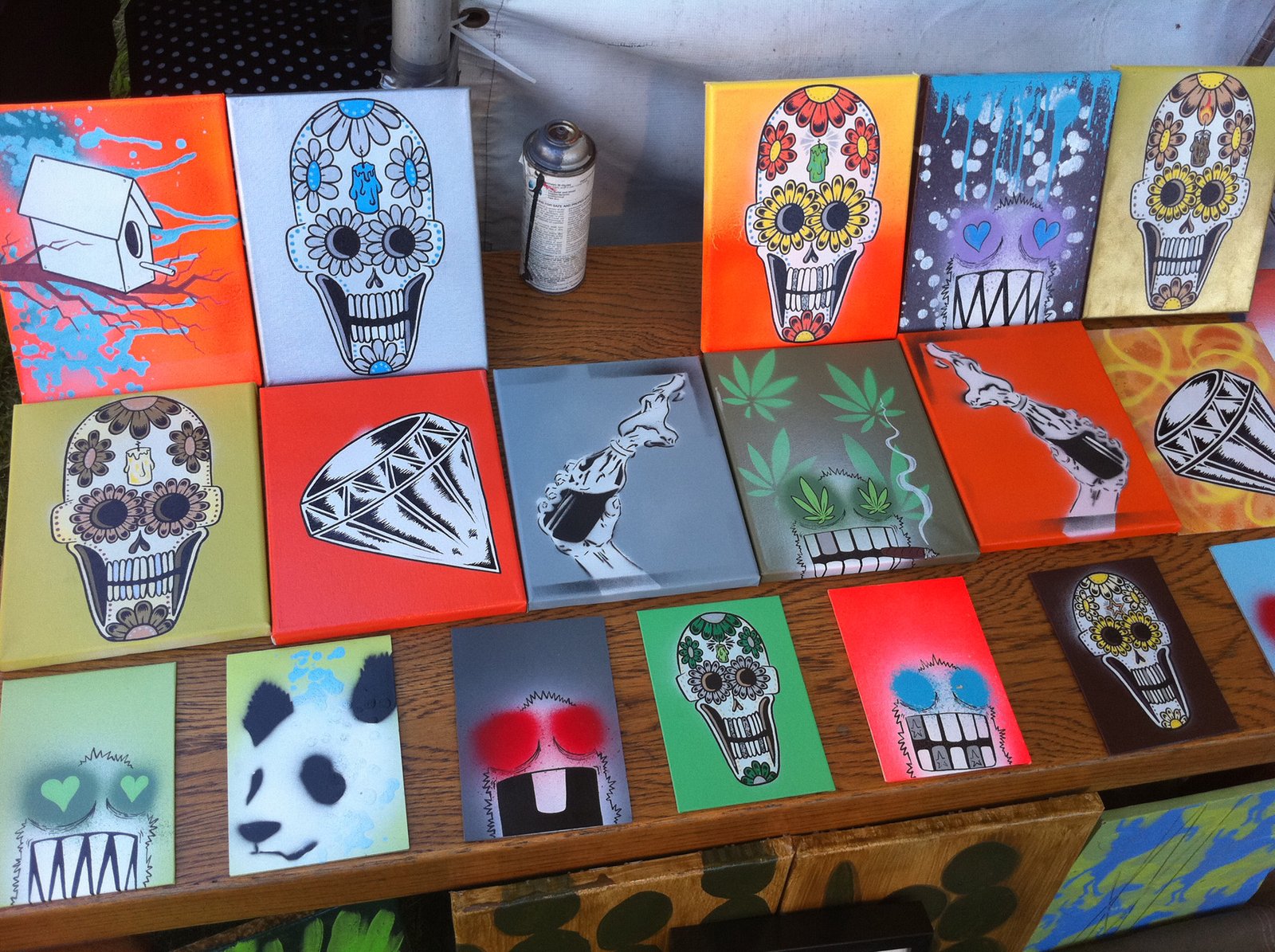 Now that the meal is gone we have the canvas to remember our trip to "Lobster Isle" Aka: Rainbow Lagoon.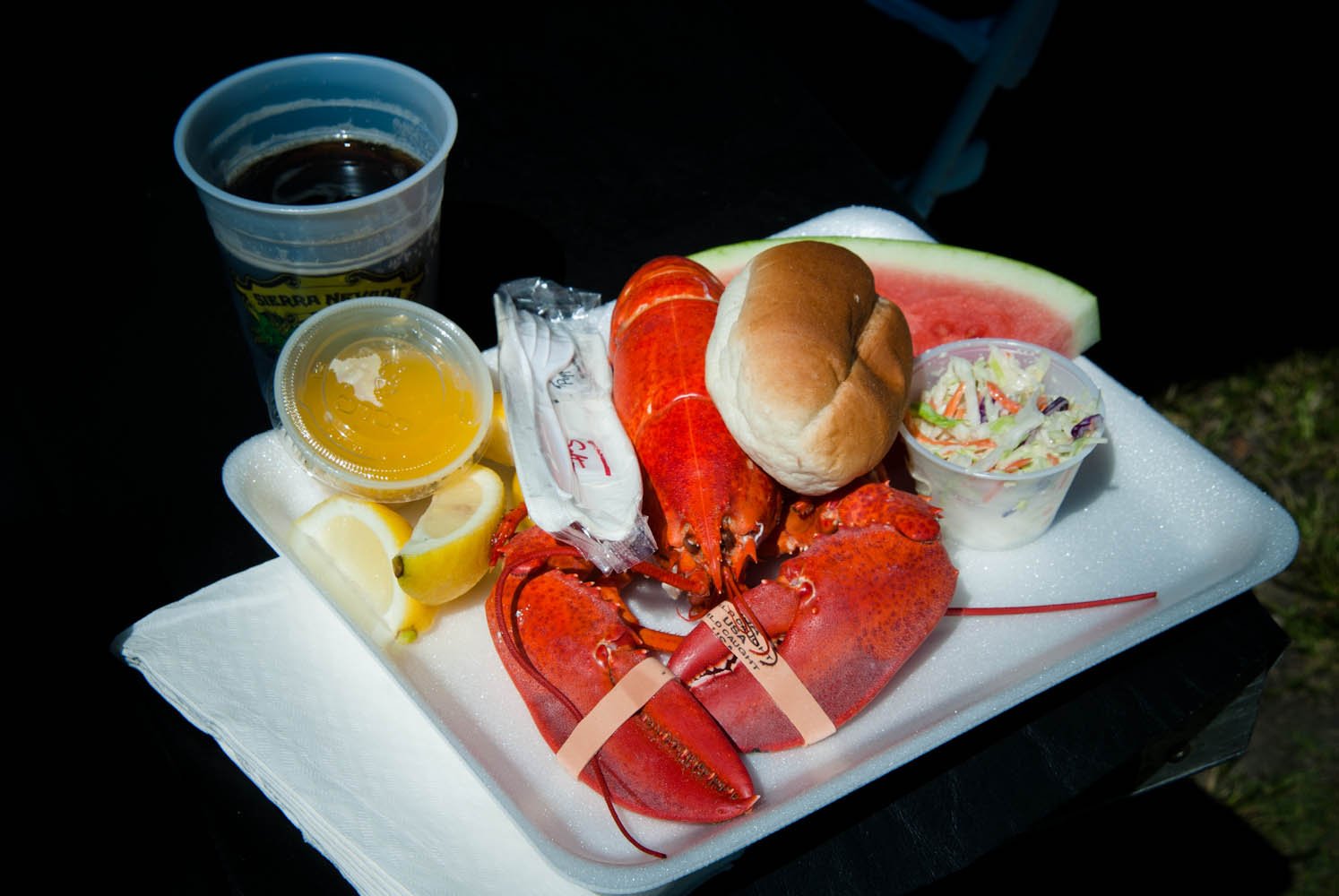 Sponsors:
Southern California Marine Association
Bristol Farms
95.5 KLOS
Sierra Nevada Beer
Direct TV
LA Weekly
The Barden "A Boutique Hotel
OC Weekly
Special Thanks:
We have to extend an extra special thanks to our amazing friend and festival director John Forrester for having us down to cover the wonderful tantalizing event for a second year in a row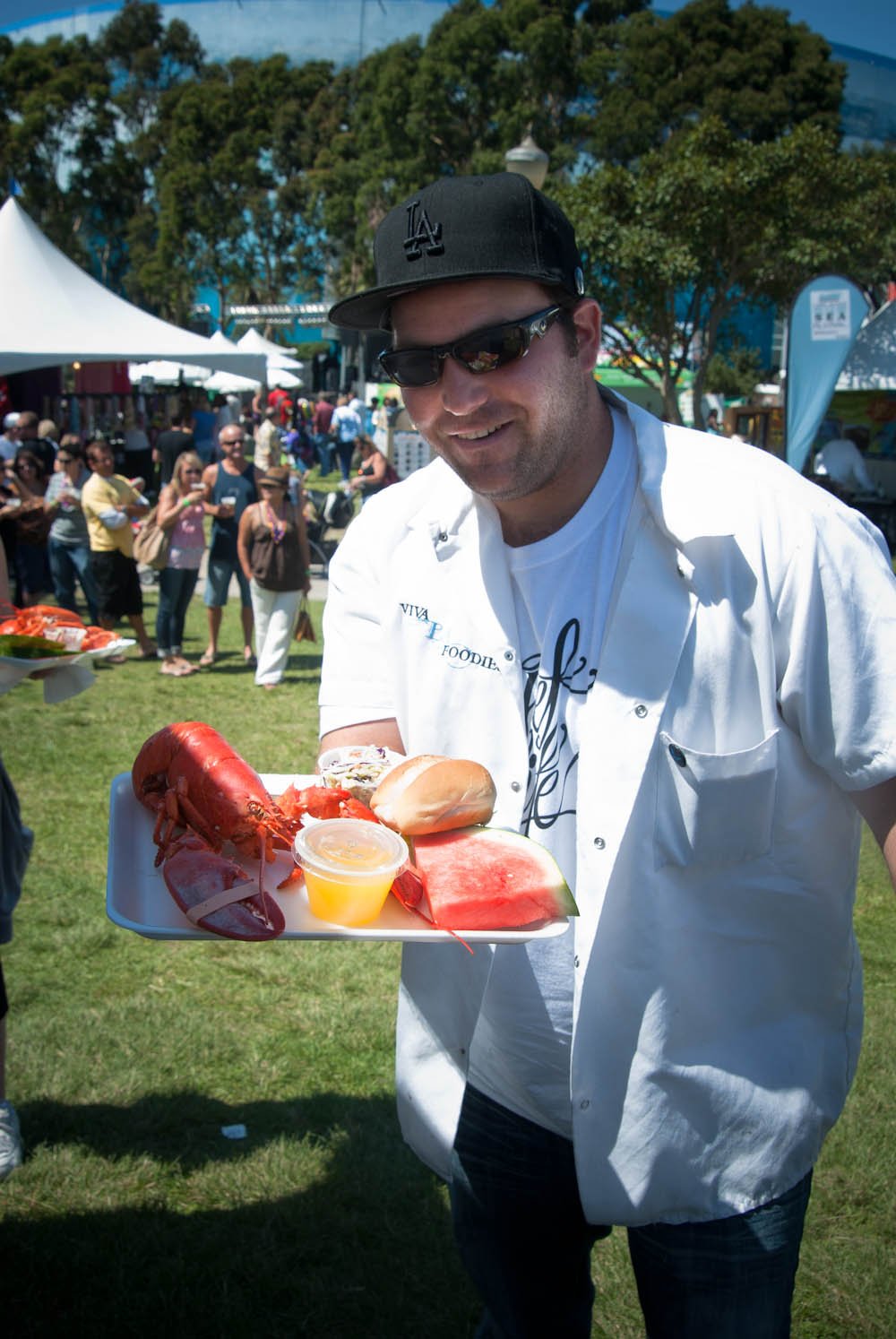 .
Another shout-out goes out to my VivaLAfoodies clothing outfitter, ChefLife for providing a shirt for me to wear to the L-B-C. Unfortunately, it became my bib after the aftermath of my lobster demolition. That's no big deal though, because I proudly support ChefLife and its part of the chef lifestyle to "get into your food." Like Carl's Jr says, "If it doesn't get all over the place, it doesn't belong in your face."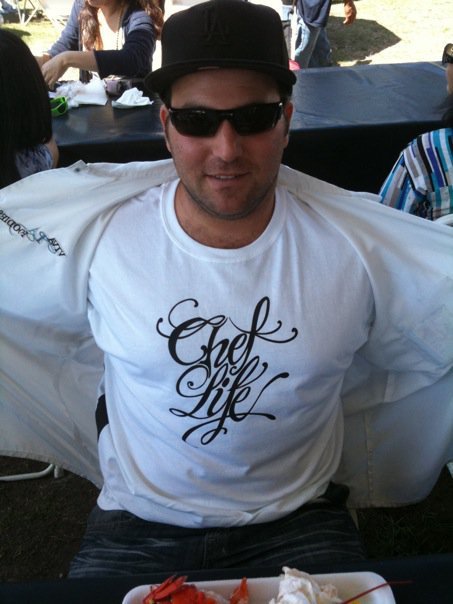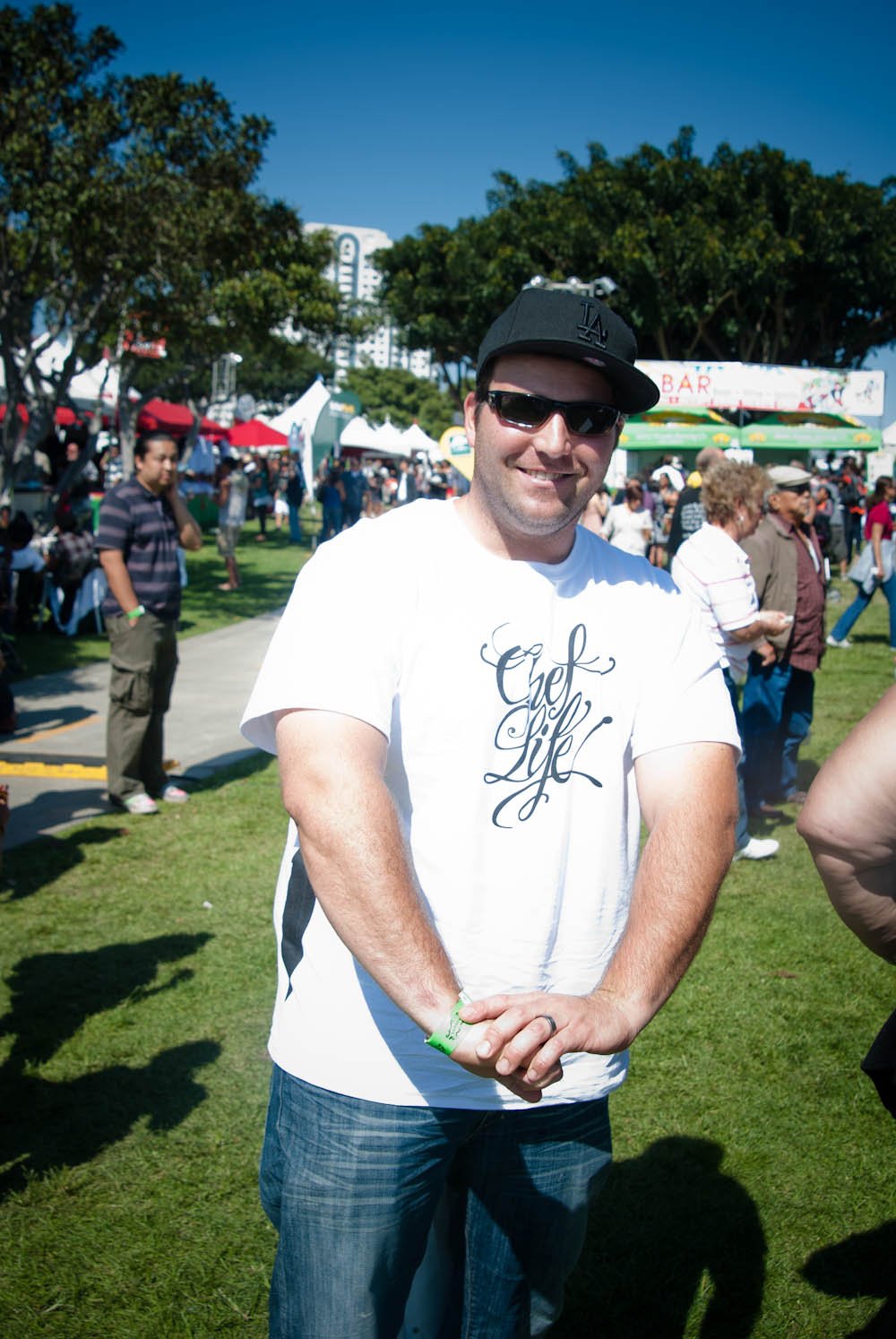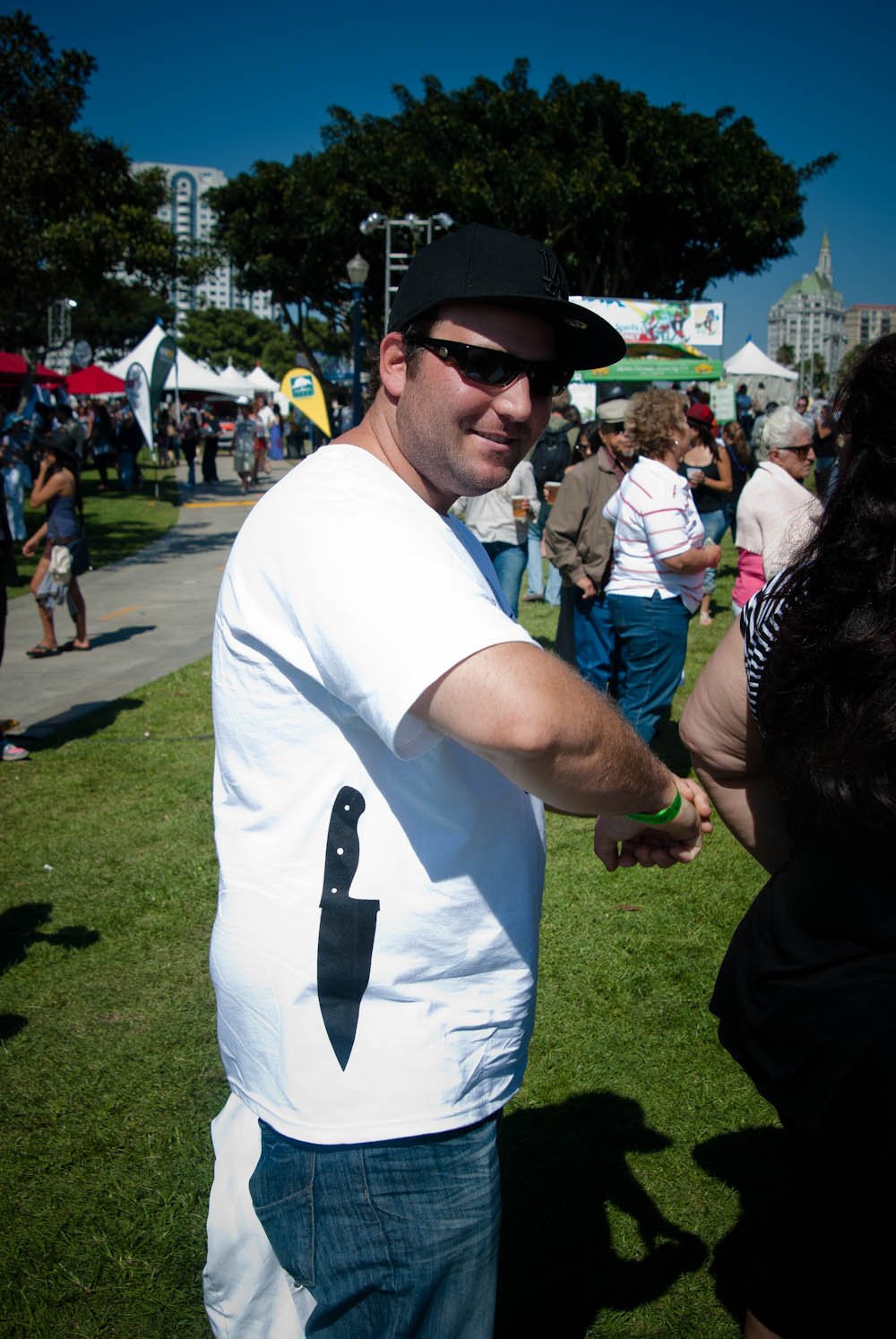 We also want to thank our newest event photographer and fellow food lifestyle blogger Rico Mandel from Rico Mandel Photography and "The Culinary Image", where his images from "Behind the scenes in the culinary world" tell the story of countless hours in kitchens around the world. See for yourself the amazing imagery.
Rico and I have more adventures up our sleeves, so stay tuned for more from team "Mandel & Rubenstein" Your LA Foodies hard at work and savoring each and every morsel!