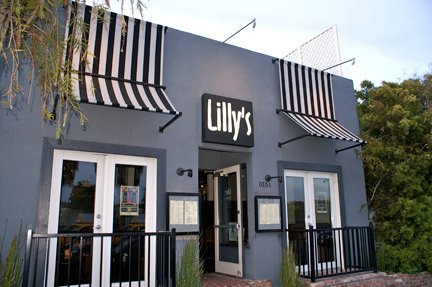 Lilly's French Cafe on Abbot Kinney is not the newest restaurant on the block, but you would never know that from first glance. Almost a decade since first opening their doors, they have an updated look showcasing the best of Traditional and Modern architecture, both inside and out as well as a healthy farm-to-table themed menu to match. Lilly's encompasses both classic and contemporary French Cuisine all packed into a beach-side bistro that takes me back to my time spent on the French Riviera.
Owner, and proprietor Yon Idiart has opened some of LA's crème de la crème dining spots, so it was only a matter of time before he ventured off to start his own Westside eatery; Lilly's French Cafe in Venice, California.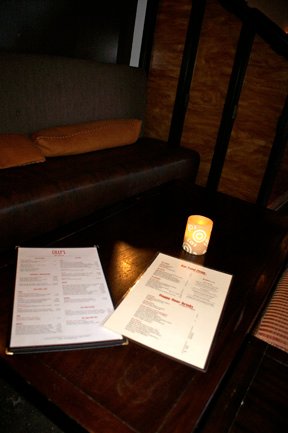 A Venice local at heart and a practicing Buddhist, Yon embraces the arts and showcases the works of local modern artist Tom Everhart.
His recycled canvas masterpieces are an ode to Snoopy and Woodstock and fit in well with the restaurants lofty interior spaces.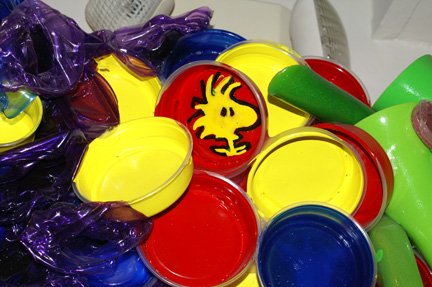 In addition to being a fan of mixed media, Yon also believes that everything should come from the source and we should give thanks for everything in our life. His philosophy choices are evident in the sustainably conscious menu. Each ingredient has meaning and helps transform the dishes into masterpieces. His belief in an organic lifestyle allows us to understand and remember where and how each ingredient plays a part in the bigger picture.
After hearing a few of Yon's wine selections we started with a glass of Argentinan Malbec, Cuvelier Los Andres-Mendoza 2005 and a cold tall glass of Pinkus Organic Hefe-Weizen from Germany.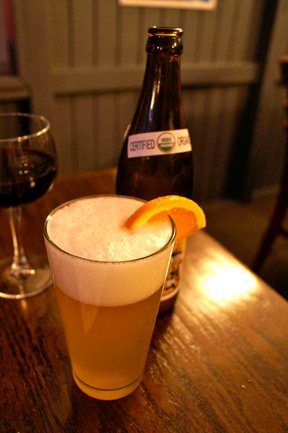 Both beverages were from socially conscious micro-purveyors and were refreshing. What is dining at a French restaurant without French onion soup?, or in the case of Lilly's, Soupe a l'Onion Gratinée.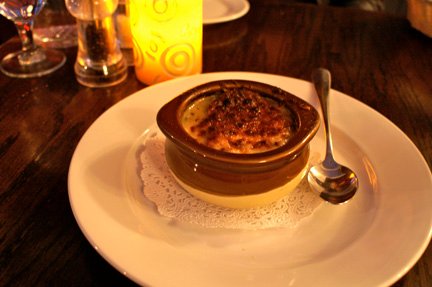 A lighter aromatic vegetable based broth makes this version ideal for Vegetarians and Carnivores alike and is perfect for the summer season because it is light and not overpowering.
We followed things up with the Moules Frites(Mussels & Fries) which added dimension and texture to our meal with the savory broth and contrasting crunchy fries. I couldn't help myself from dipping my fries into the broth, an unlikely yet tasty combination.
Our final dish was the Hachi Parmentier or more commonly known as Shepherd pie style short ribs. A tasty French version of an Irish classic will leave you craving short ribs long after finishing this dish.Experience the tastes and flavors that will keep your senses on edge.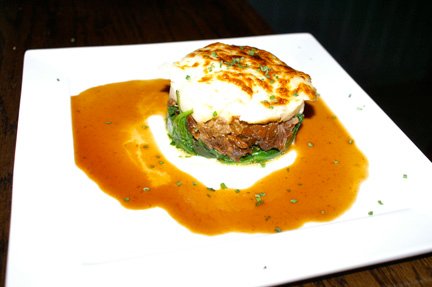 Culinary creativity is the name of the game at Lilly's French Cafe and the prices are also down to earth. Venture out to Abbot Kinney and see for yourself why Lilly's has been going 10 years strong.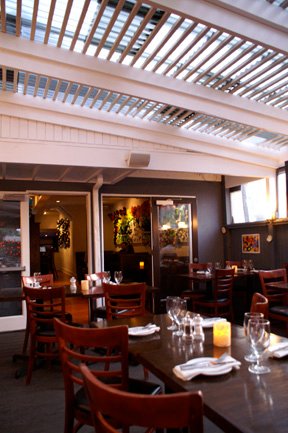 Lilly's French Cafe & Bar
www.lillysfrenchcafe.com
1031 Abbot Kinney Boulevard
Venice, CA 90291-3386
(310) 314-0004