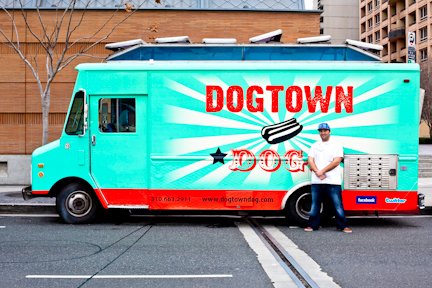 Truck Name:
Dogtown Dogs
Truck Specialty:
They put the gourmet spin on regular hot dogs. A hot dog stand on wheels for the hot dog enthusiast is what keeps Dogtown Dogs bringing tasty goodness to Angelinos by day and night.


Truck Mission/About:
To provide a gourmet hot dog stand on wheels that is accessible to Angelino hot dog enthusiasts all over the city. Vegetarian options as well as soy and kosher dogs are available upon request. These guys mean business, Rain or shine you can find them throughout the city unlike some other LA Street Vendors.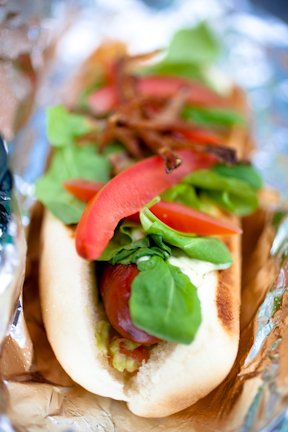 Truck operators & Team:
Mike Rosa
Jonathan Terrio(pictured)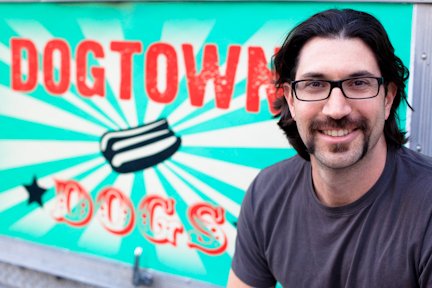 Payment Options:
Cash only:No cards please. Find your nearest A-T-M and grab a $20. Your belly and friends will thank you. For 10-12 bucks you will dine like a king/queen.
Truck neighborhood coverage:
From Downtown to the Westside and everywhere in between (check our twitter for exact times/locations)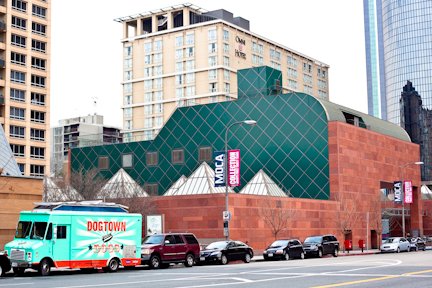 http://twitter.com/dogtowndog

Menu breakdown: Likes, must haves, etc…
Mains:
California Dog-beef dog topped with avocado, arugula, tomatoes, fried onions and topped with basil aioli.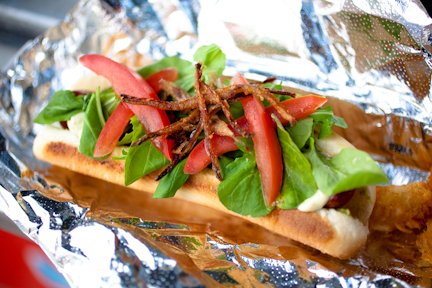 Dogtown Dog-homemade fennel slaw, dijon mustard and roasted red peppers on top of a beef dog
Morning Commute-beef dog wrapped in applewood smoked bacon and topped with a fried egg.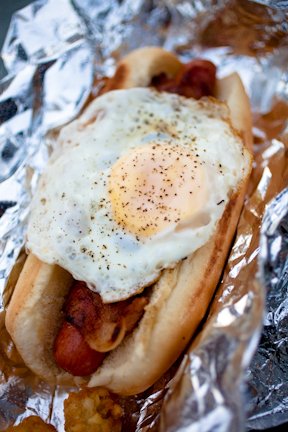 Portabello Cheese Steak-(Vegetarian Option) Grilled Portabello mushrooms, peppers and onions, all topped with melted cheese.
Trailer Trash- Chili,cheese and crumbled fritos, need I say more
Spicy Angelino*- An LA Street Favorite…Bring on the ode to the Bacon wrapped Mexican inspired LA Street hot dog delicacy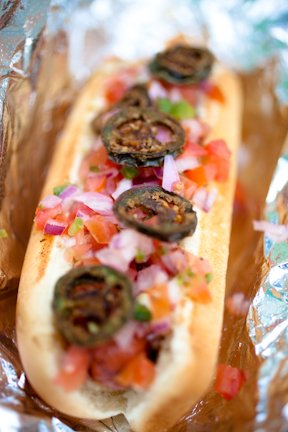 Sides/Extras: You can't miss these and you have to savor each bite!
Buffalo tots-Buffalo wing inspired Tater Tots
Cheese tots-Think Tater Tot Nachos(SO LA)….A melting pot of sorts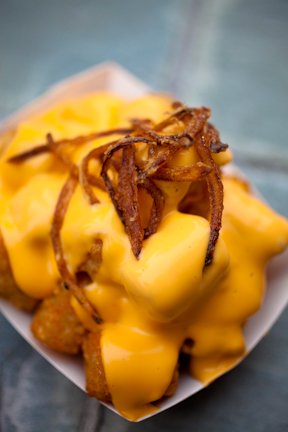 Fennel slaw-Don't miss this slaw lovers
Average item price: $6.00
Truck contact info:


Twitter: http://twitter.com/dogtowndog
Facebook: Dogtown Dogs Fan Page
Website: www.dogtowndogs.com
Private events: The Dogtown Dog truck is available for catering for events throughout the greater Los Angeles Area. Please refer to the catering link: http://dogtowndog.com/catering.html for more information
Strangest question asked:
Do you sell cigarettes? or in the case of my visit, Gum(aka: Chicle). Unlike other old school trucks, they do not. That's what 711 is for!
Special Thanks: Dogtown Dogs Team & Vanessa Stump Photography for making this feature possible and for making all of my hot dog dreams come true. Just writing this makes me want to grab another tasty dog. We will see you guys soon at Meltdown Comics for "Pop Gun 4" Book Release Party. Bring on the DOGTOWN DOGS!