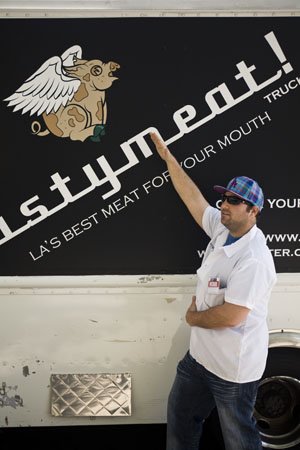 Truck Name:
TastyMeat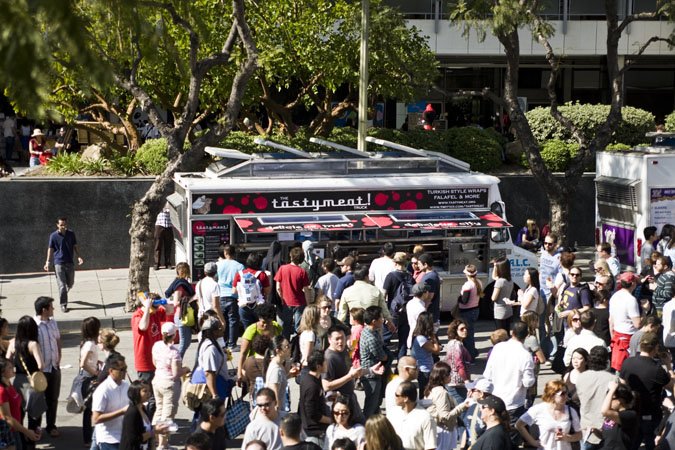 Truck Specialty: Turkish style wraps, falafel and more; all things meat and we are talking about sandwiches of course.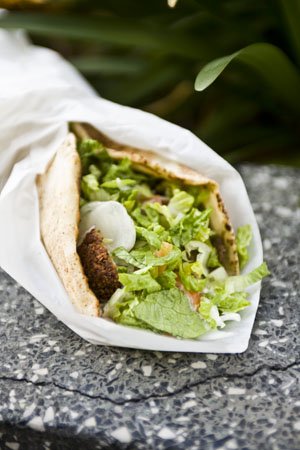 Truck Mission/About:
TastyMeat brings all of your favorite meat sandwiches to the Los Angeles street food scene with a taste that will rival any falafel and gyro house in LA. The Shawarma and Falafel get nods from my well seasoned Jewish palette and each tasty meat treat is a party in your mouth, gastronomically speaking. In addition to mobile meat sandos they also pack an arsenal vegetarian delights.
Truck operators & Team:
Maxson Smith, Chef/Owner, TastyMeat
Amy Smith, Owner, TastyMeat


Payment: Cash only, bring your dollar bills because you won't want to miss a bite

Truck neighborhood coverage:
Los Angeles: Citywide from the Eastside to the Westside. Check out twitter for the latest locations: http://twitter.com/tastymeat
Menu breakdown: Likes, must haves, etc…
With some great quotes and sayings the menu board will make you chuckle as you decide what to feast on: 2 of my favorites are below:
No beef? No lamb? Eat more Chickwich!
The Cuban Delight: Thank you Communism.
Mains:
.
The bamwich(Beef/Lamb)- A blend that gives you the best of both worlds
Shawarma-This flatbread sandwich will blow your mind
Chickwich-A chicken version of your favorite eastern sandwich that will make you feel great
The Cuban Delight-A medley of roast pork and ham that will take your palette on a trip.
The Meatless- You can never go wrong with a falafel that has been freshly made.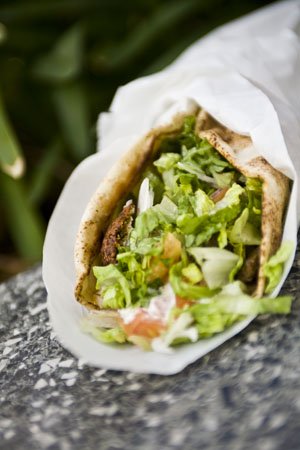 Sides/Extras: Great add-ons for your sandwich include:
Humus pita
Feta fries
Grilled cheese
Average item price: $6-8
Truck contact info:
Twitter: http://twitter.com/tastymeat
Facebook: Follow TastyMeat on Facebook
Website: http://www.tastymeat.org/
Phone: 323.206.MEAT
Private events: TastyMeat is available for on site event and studio catering. Contact the catering department for more info at catering@tastymeat.org
Strangest question asked:
Asked to purchase dabloons in West LA by an Angelino looking to make a quick buck.
Special Thanks:
Thanks Maxson Smith for bringing us on board and Zach Schueller from Zach Schueller Photography for taking all of the shots during our truck escapade at the LA Street Food Festival in Los Angeles at Hollywood Center Studios. Special thanks to Shawna Dawson(SauceLA) & Sonja Rasula(UNIQUE LA) for putting on this amazing foodie event. Los Angeles thanks you for your efforts!