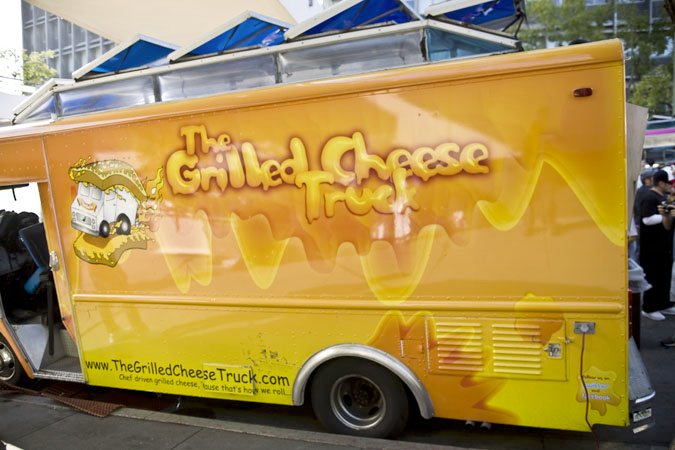 Truck Name:
The Grilled Cheese Truck
Truck Specialty:
Gourmet grilled cheeses and other comfort foods on a corner or venue near you.



Truck Mission/about:
"Chef driven grilled cheese, 'cause that's how we roll" is plastered in big letters on the side of the truck. This new concept keeps things old school as well as puts a gourmet spin on an American favorite, Grilled Cheese. From ordinary to extraordinary, savory to sweet, the Grilled Cheese Truck will keep your tastebuds coming back for more.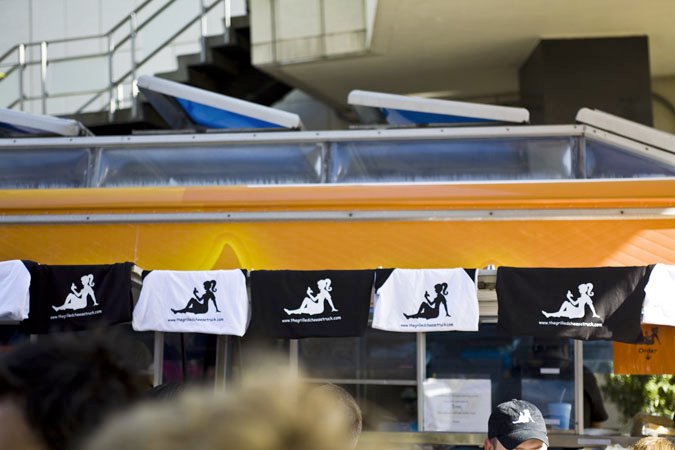 Truck operators & Team:
Michele Grant, a self proclaimed, "Cheese Executive Officer"(pictured in front)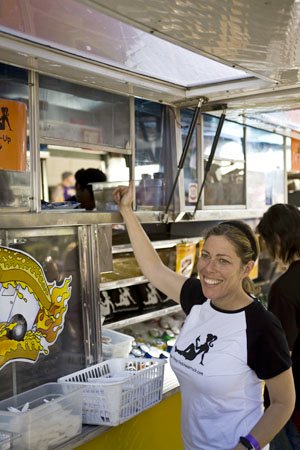 Dave Danhi, Owner, partner and Grilled Cheese Guru(working inside the grilled cheese machine)
Payment: Cash is king, but cards can also be accepted.
Truck neighborhood coverage:
From the mean streets of LA to the Beach cities you can find the Grilled Cheese Truck. Check their website and twitter for up to date location status updates.
Menu breakdown: Likes, must haves, etc…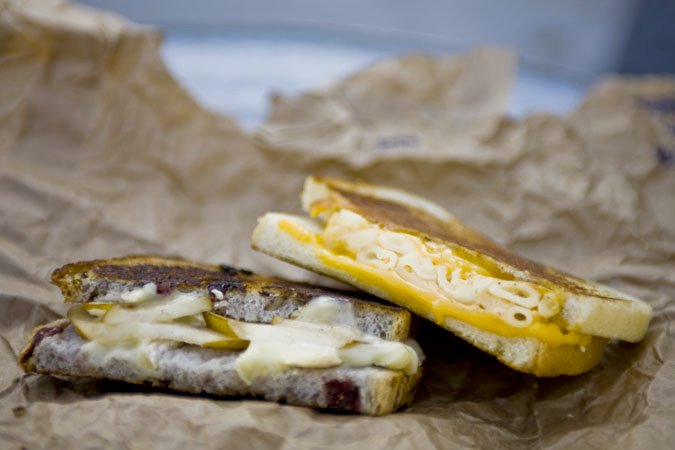 Mains:
Cheesy Mac and Rib
macaroni and cheese with sharp cheddar……$5
with bbq pork, caramelized onions……$7
Plain and Simple Melt (on french or wheat bread)
American Cheese……$3
Sharp Cheddar……$4
Fresh Mozzerella……$4
Gruyere……$4
Brie melt
*a tasty and mouthwatering experience for adults
Dessert Melt
Roasted banana puree, Nutella and marshmallow……$6
Sides/Extras:
tomato soup: cup…$2
mac and cheese cup…$3
tater tots…$3
Our Pickle…$0.50
tomato soup: shot…$0.50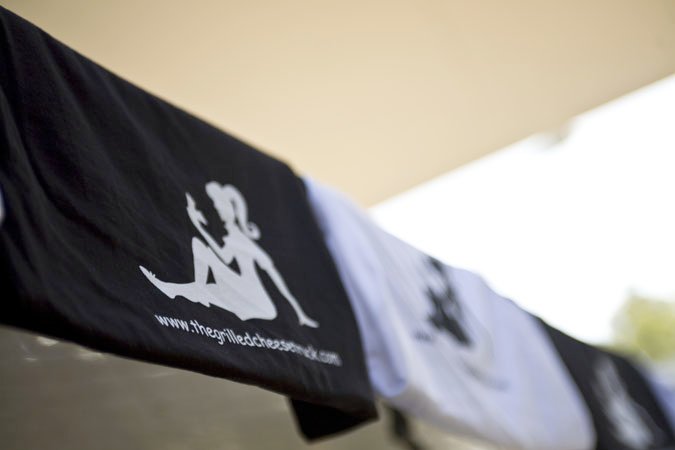 Average item price: $4-7
Truck contact info:
Twitter: http://twitter.com/grlldcheesetruk
Facebook: http://www.facebook.com/grilledcheesetruck?ref=ts
Website: thegrilledcheesetruck.com
Private events: Grilled Cheese Truck Catering is available. This brief comes hot off the trucks press "Make your next event extra cheesy! We'd love to cater your next birthday party, office picnic, special event or just feed your need for cheese!"
Strangest question asked:
Do you have tacos and burritos. I still don't get how people go from grilled cheese to tacos and burritos but I think some Angelinos need to realize that there is a new generation of food trucks on the streets of LA and each one is its own unique entity.
Special Thanks:
Thanks to Michele Grant for taking a moment to answer our interview questions and to demo 2 of the trucks specialty grilled cheeses during our attendance at the LA Street Food Festival in Los Angeles at Hollywood Center Studios. Zach Schueller from Zach Schueller Photography provided the fantastic enticing images that you see above.