Truck Name:
The Dim Sum Truck


Truck Specialty:
Traditional Chinese style cuisine with a focus on gourmet dim sum. Instead of checking out a multitude of carts you have one big Dim Sum cart with all of the "Greatest Hits" from savory to sweet.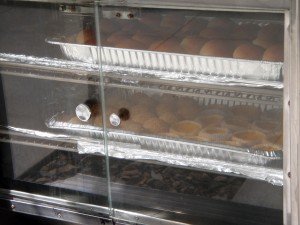 Truck Mission/about:
To provide Angelinos with a rolling dim sum restaurant with a few Chinese fusion items tossed into the mix. Dim sum and tacos anyone?


Truck operators & Team:
Alex Chu(Owner/Operator & GM)
Payment: Cash for now, credit cards coming soon
Truck neighborhood coverage:
Focusing on West LA but also encompassing Santa Monica, The South Bay(El Segundo/Hawthorne/Torrance Downtown, Pasadena and the San Fernando Valley, the Dim Sum Truck will be accesable for everyone. Follow the Dim Sum Truck on twitter for exact locations.
Menu breakdown: Likes, must haves, etc…


Mains:
All items available "A-la-carte":
Dumplings(3 dumplings/order), buns/bao(2/order), sides, deserts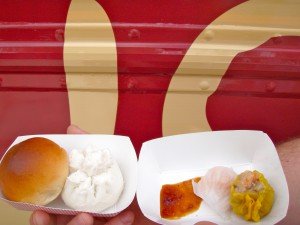 Daily Dim Sum specials also available
Lunch box combo:
2 har gow/2 shu mai/ 1 bao(choose your bun: BBQ pork, chicken mushroom or pan fried pork spare rib bun. Also served with a Side salad and 1 desert of your choosing.
Sides/Extras:
Lotus leaf wrapped sticky rice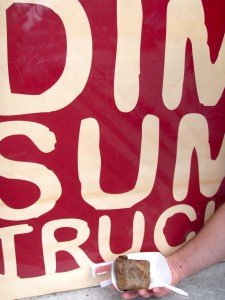 Chinese chicken salad
Special Fusion menu:
Peking duck taco
Spicy tofu mullitas( a quesadilla style sandwich)–Vegetarians rejoice!
Deserts-avg $2
Egg tart
Sesame buns
Beverages:
Assorted sodas and waters available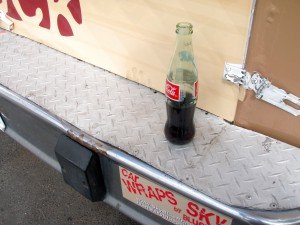 Average item price: $3-$8


Truck contact info:
Twitter: http://www.twitter.com/dimsumtruck
Facebook: Follow the Dim Sum Truck on Facebook
Website: http://www.thedimsumtruck.com/
Private events: They are available for catering. Catering and location requests can be sent to catering@thedimsumtruck.com.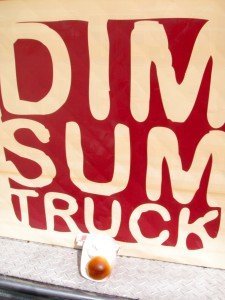 Strangest question asked:
It's in the works…..and to be continued. They are just starting to hit the road so one will be coming soon, I promise!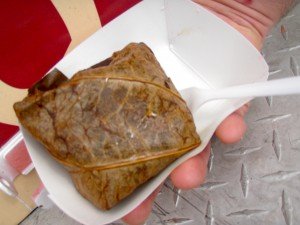 Special Thanks: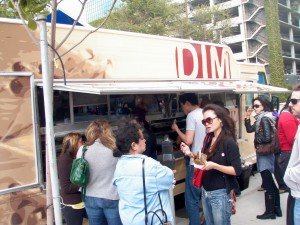 To Alex Chu for having us sample a taste of what his truck is bringing to Los Angeles in the coming weeks. We appreciate the addition to the Gourmet Food Truck Fleet here in our city. Thanks to the Tlofts on Tennessee for providing ample parking and a great backdrop for the tasting. We also have to thank Joe Briscoe from Briscoe Photo for coming down and snapping some shots for our vivalafoodies.com feature. Lastly we must thank the Street food LA Crew for introducing us to the Dim Sum Truck in the VIP area. It was great to see some familiar faces today. Had a blast with Carina Ost(Uncouth Gourmands), Patrick Green(LA Street Food Ap) and our Street Food Vendors who are bringing their mobile restaurants to a city near you: Mong Skillman(Mandoline Grill), Michelle Grant(The Grilled Cheese Truck) and Brook Howell(Fry Smith) keep up the good work!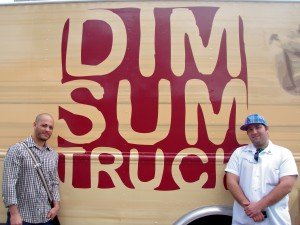 Stay tuned for YUM YUM Bowls(Thai food Truck) feature coming soon!