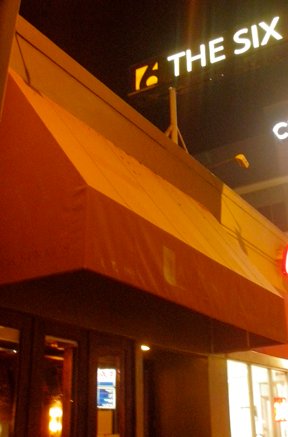 When you mix together guys night out with a chef and a beer ranger you get trouble. This was the case last-night when we embarked on "The Six,", Los Angeles's newest Westside Gastro-Pub. With a creative New American, farm to table approach at its core, Angelinos will experience the allure and pulse of this Westside eatery with Soul.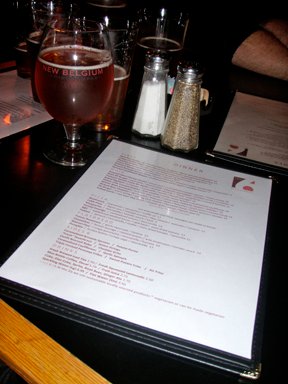 The Six is housed in the former location of Jack Sprat's on Pico Blvd and has become the local watering hole for serious WestLA food fanatics. Executive Chef David Gussin and Mitch DuRette, General Manager breathe life into the food they create and each menu item is meticulously composed.
On the interior you will find lofty open wood beamed rafters over head, Einstein(esque) light fixtures, and masculine booths and tables; but don't be fooled by the testosterone fueled adornments because the loungy and open space is romantically lit and a great date spot destination.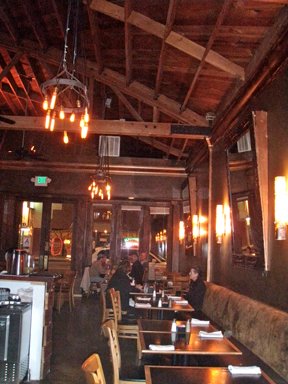 It was my job along with Dallas Byerley(Beer Ranger) from New Belgium brewing(the folks that brought us Fat Tire Ale) to sample a taste of The Six, and see for ourselves the talents of the chosen ones, David and Mitch firsthand.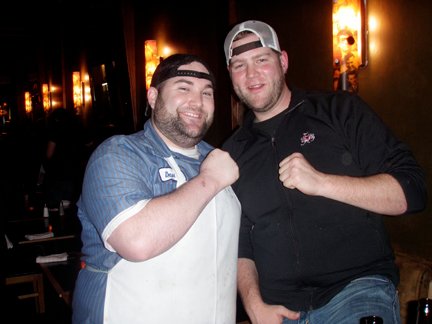 When all was said and done we were more than satisfied. We plowed through each plate with finesse, eating every last morsel as if were the "last supper". Flavor and layers were key components in each dish and each menu item takes you on your own palette journey.
Beers were selected for us by the team and all dishes worked in perfect symbiosis. From a Beet Panzanella salad with figs and bacon, Prince Edward Island Mussels in Chorizo broth, Blistered Mushrooms with roasted garlic served on grilled bread and Shaved Brussels Sprout Salad; each appetizer course stood firmly on its own. The finest details from ingredients, cooking methods and presentation are evident in each plate and the beers that were chosen enhanced the flavors from a New Belgium fat tire amber ale to a heavier hoppy more robust Old Speckled Hen.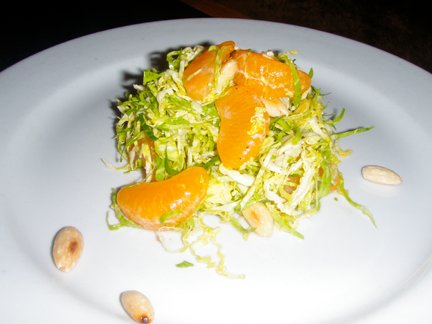 Our main courses were even more dynamic than the starters. We tasted a beef, chicken and fish dish and the highlight of the grouping was the Pastrami Spiced Prime NY Steak with caraway spaetzle, housemade sauerkraut and beef jus. This deconstructed low-carb version of a Ruben Sandwich is a New York deli throwback with a grown up twist. Spetzle replaces bread and the prime steak is loaded with intense flavors. The Potato Chip Crusted Salmon was also composed with layers in mind and was plated with leek soubise sauce, confit of Meyer lemons and rustic caramelized cauliflower florets. This is not your typical salmon and is an ode to gourmet comfort food. Lastly we dove into the Crispy Jidori chicken thigh served atop of a Quince, Butternut squash hash with cranberry gastrique. Both savory and sweet this dish is loaded with flavor and perhaps the moistest chicken I have ever tasted.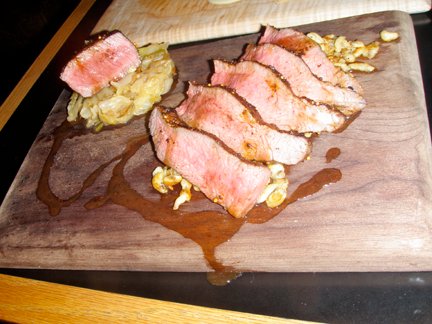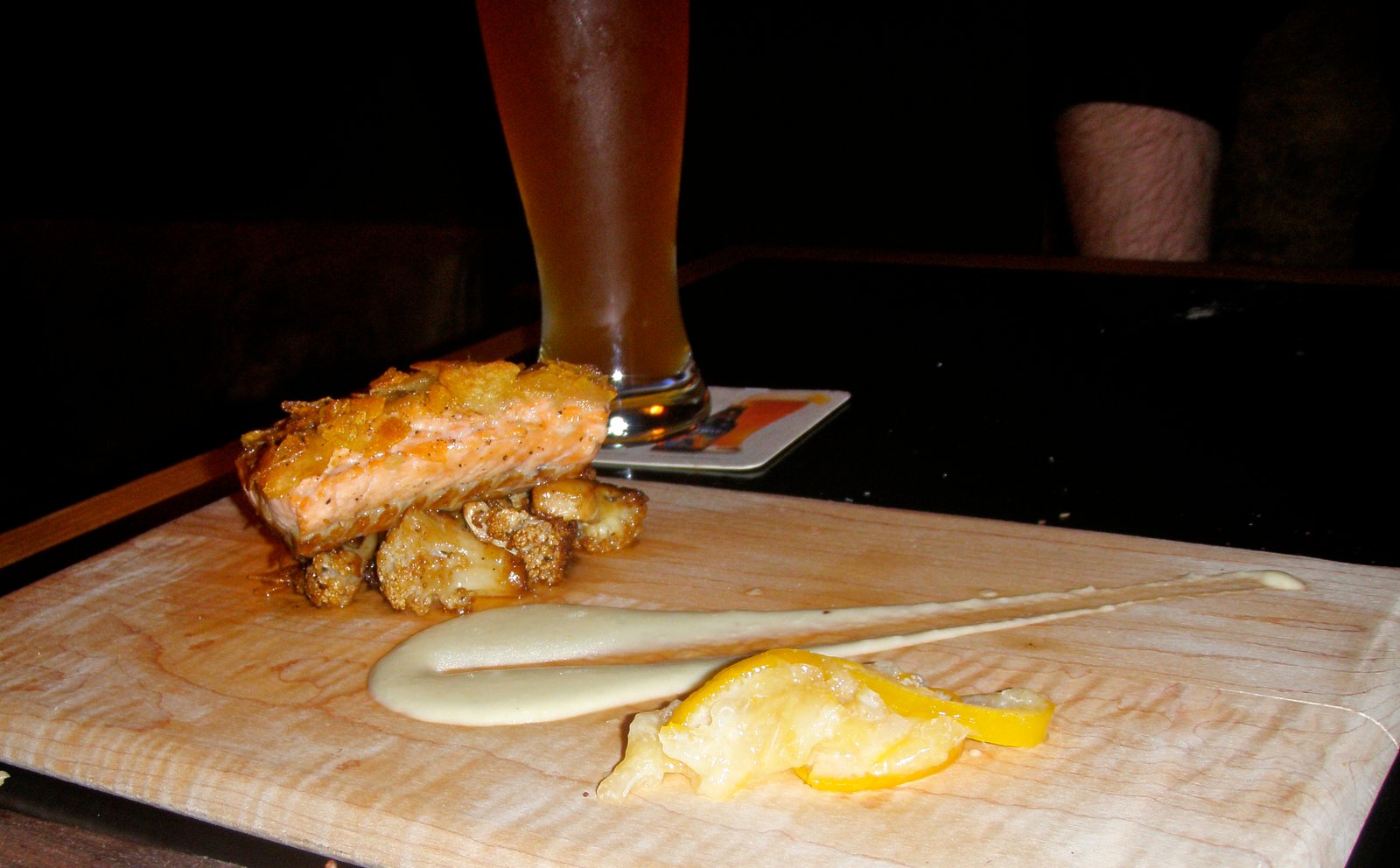 Before getting into desert we were served one last treat from the kitchen; a mushroom pizzette. A thin cracker crust and an array of Herloom mushrooms and truffle oil with chervil as a garnish made this the ideal palette cleanser and it is a perfect interpretation of Italian pizza and for second I thought I was in "Little Italy" NYC.
Our desert course was a French play on American coffee and doughnuts. Beignet doughnuts tossed in cinnamon and sugar were served with a thick mug pf homemade Pot de crème. One dip and I was convinced that the team at the six can do it all and are masters of their kitchen domain.
According to Dallas, Craft brewing is a lot like executing a quality menu and he came up with the term "Craft food" which translates to dishes that have taken time, love and enjoyment to execute. Any restaurant can serve ordinary food, but at the Six you will experience extraordinary.
The next time you get a craving for a beer and some pub grub visit: The Six Restaurant for a modern take on the more sophisticated alternative. Bar-food is a thing of the past and this grown up establishment will remind you that fine dining doesn't always come with a hefty price-tag or a pretentious vibe.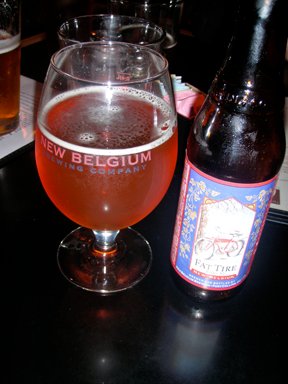 The Six Restaurant
10668 West Pico Blvd
Los Angeles, CA, 90064
310-837-6662
http://www.thesixrestaurant.com/
Follow The Six on Facebook:
http://www.facebook.com/home.php?#/pages/Los-Angeles-CA/The-Six-Restaurant/204697693251?ref=ts
Lunch & Dinner Menu
TheSix_Dinner_Lunch_Menu