Sunday, May 6th, 2018.
With the Spring/Summer Food festival event season off to a kickstart it's no surprise we found ourselves at this years 2018 "Masters of Taste", "Eat More Give More" tasting event at The Rose Bowl Stadium in Pasadena eating our way through Los Angeles' new wave of seasoned restaurant offerings to Angelos sprinkled across the great city of Angels.
Putting small plates aside for just a brief moment we want to shed some light on the reason that we are here; raising awareness and showing support to the amazing non-profit organization Union Station Homeless Services. With a homelessness epidemic permeating our city this organization needs your help to continue its great re-homing programs through volunteer work and fundraising. efforts.
"At Union Station, we help individuals and families identify the causes that led to their homelessness, and provide the tools and resources they need to end their cycle of homelessness and lead productive and stable lives." With Los Angeles struggling to meet the demand to build additional shelters fast enough this organization could not be more relevant right now.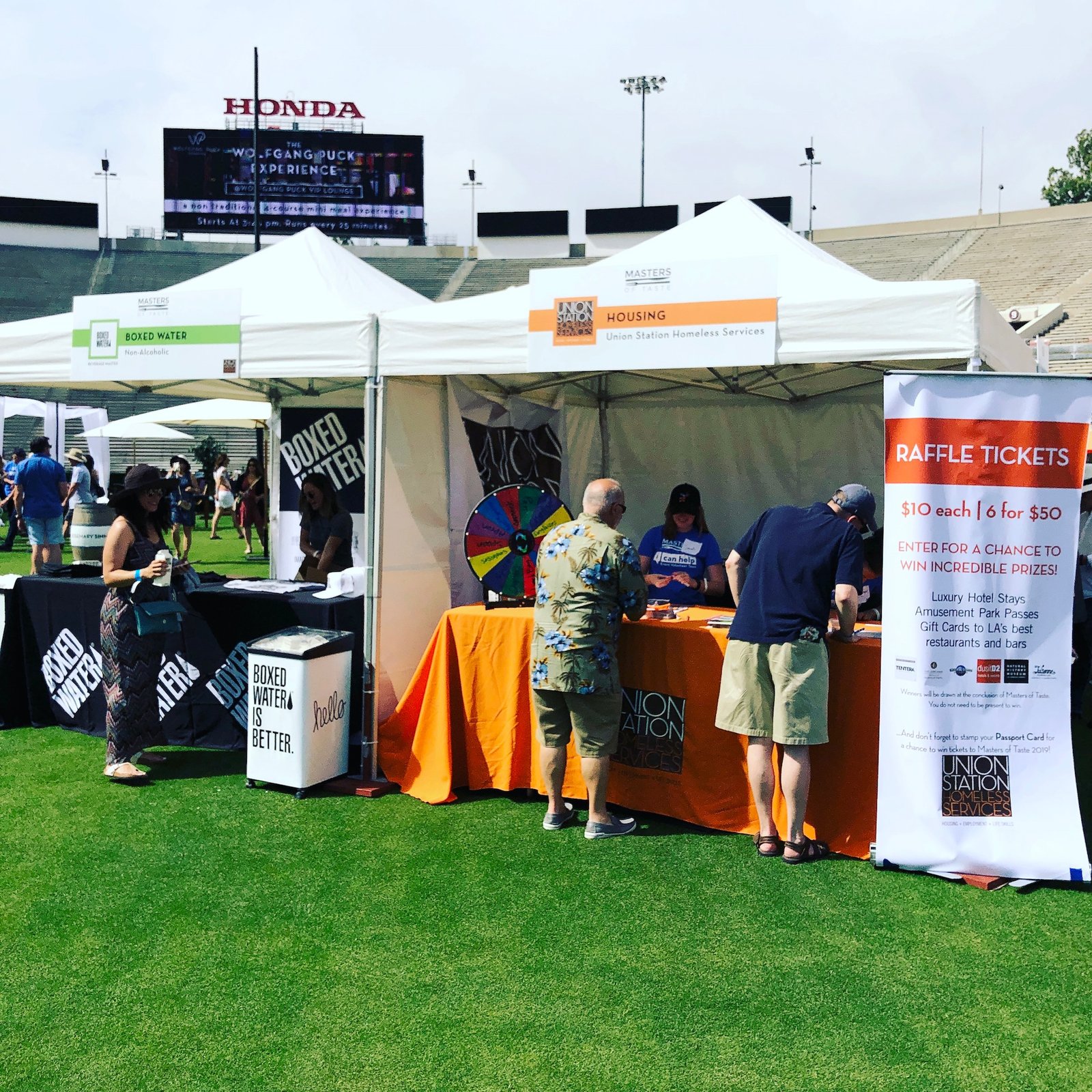 The "Masters of Taste" event delivers "100% of event proceeds to benefit Union Station Homeless Services, a 501(c)(3) organization helping homeless adults and families rebuild their lives." If you would like to donate financially or volunteer please visit USHS website here.
Eating outside of food trends and themes and compartmentalized to-go containers of eating choices and dietary restrictions the days long event provided something for everyone from vegetarians and vegans, "Plant Based", pescatarians and carnivores alike including our Viva LA Foodies Squad or (#VivaLAFoodiesSquad on social media).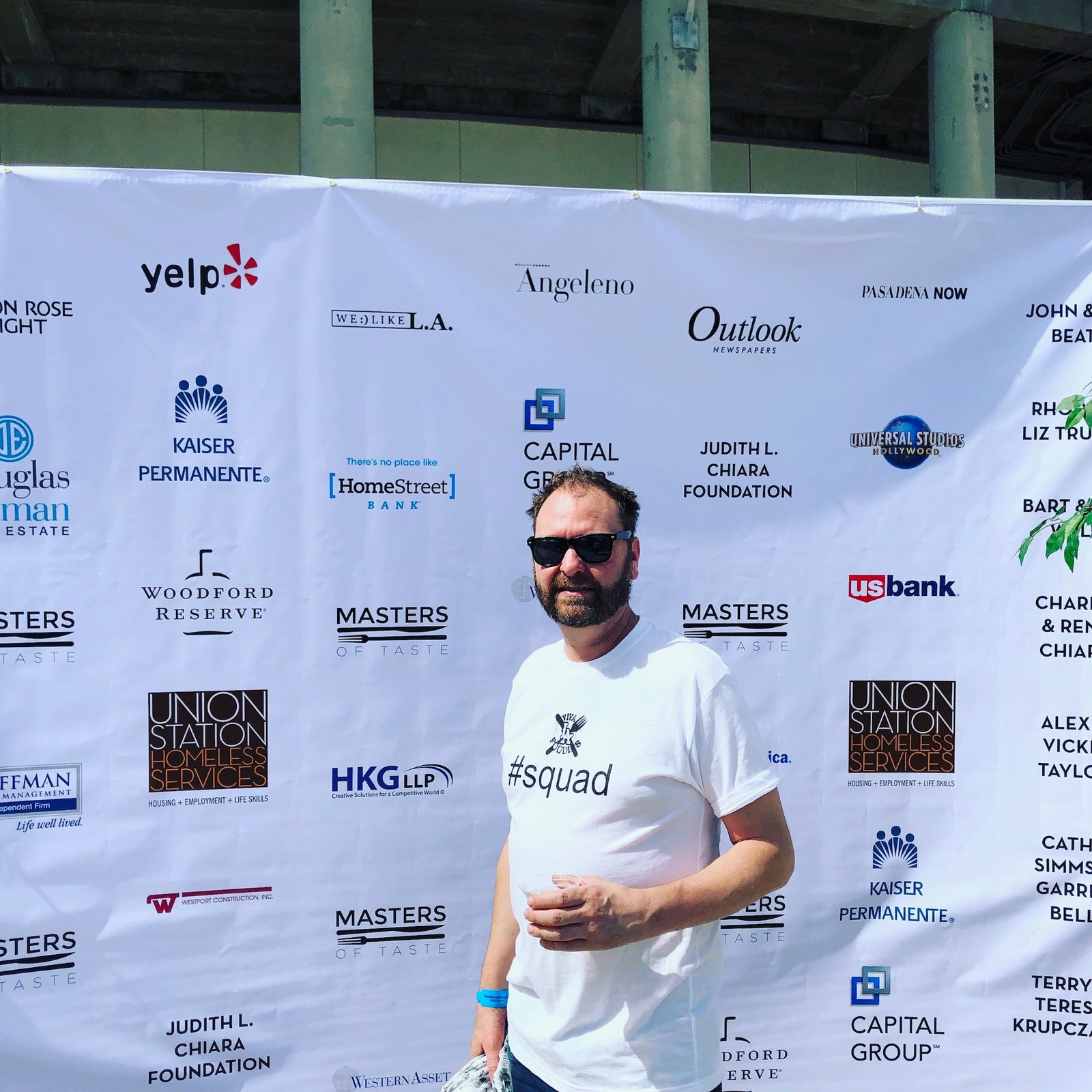 My good friend and Chef, Josh McKnight joined us for a Sunday Funday for a great cause and we chatted up local chefs he has worked with over the years.
Tasting food at these large events with a "Mind of a Chef" perspective gives us a glimpse into the thought process that chefs go through and the skills that it takes to execute the service of a small plate dish to a wide audience with quality, flavor, consistency and the art of "Be(ing) humble" in a world of Top Chefs and culinary programming.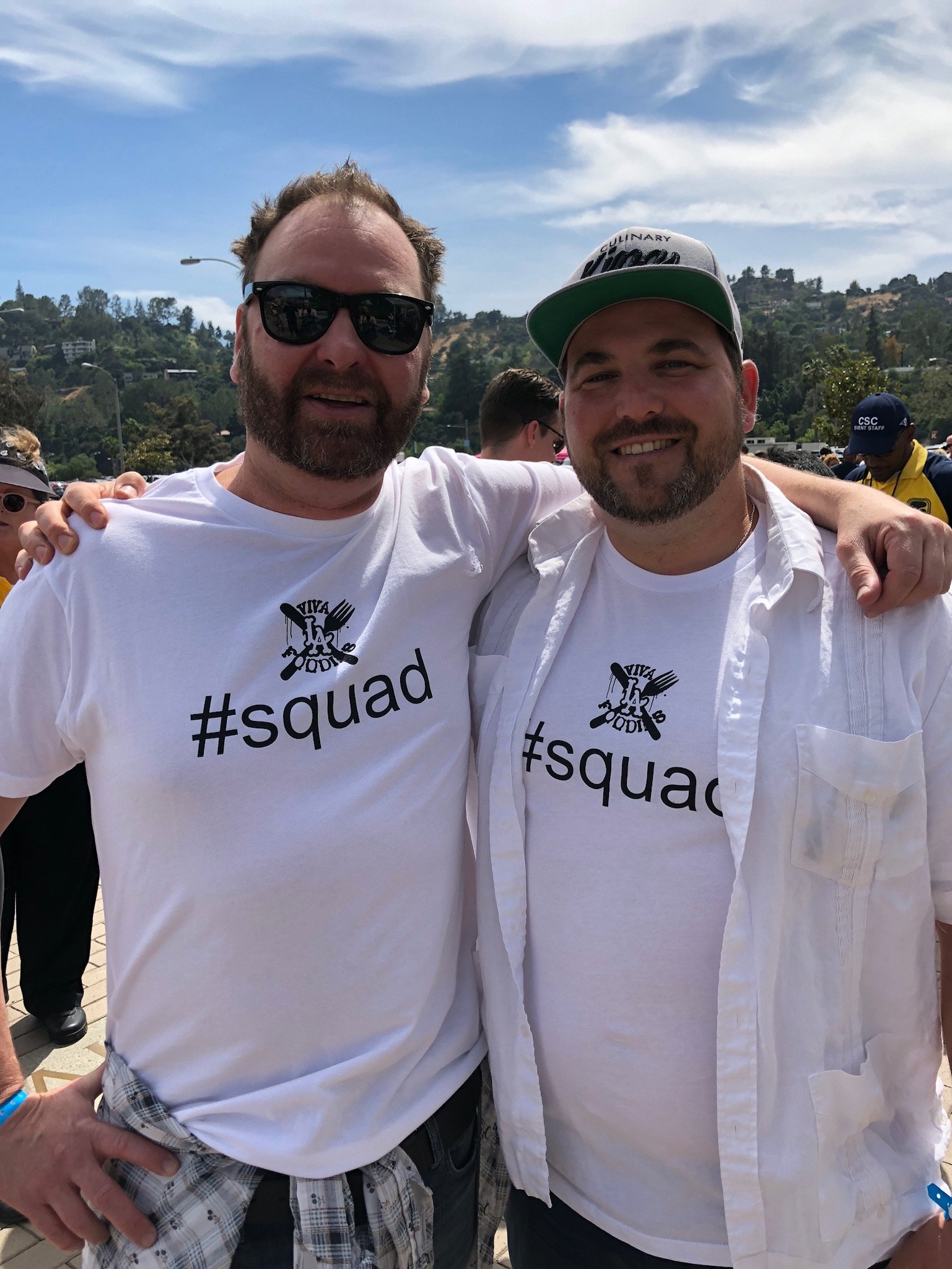 Approximately 2,500 guests attended Sunday's event on the field and surrounding stadium and imbibed on signature craft-cocktails from L.A.'s Master Mixologists as well as experiencing California's most eclectic wineries and local craft breweries and restaurants. The Food and Drinks took center stage and these are our favorites in all categories.
SAVORY Masters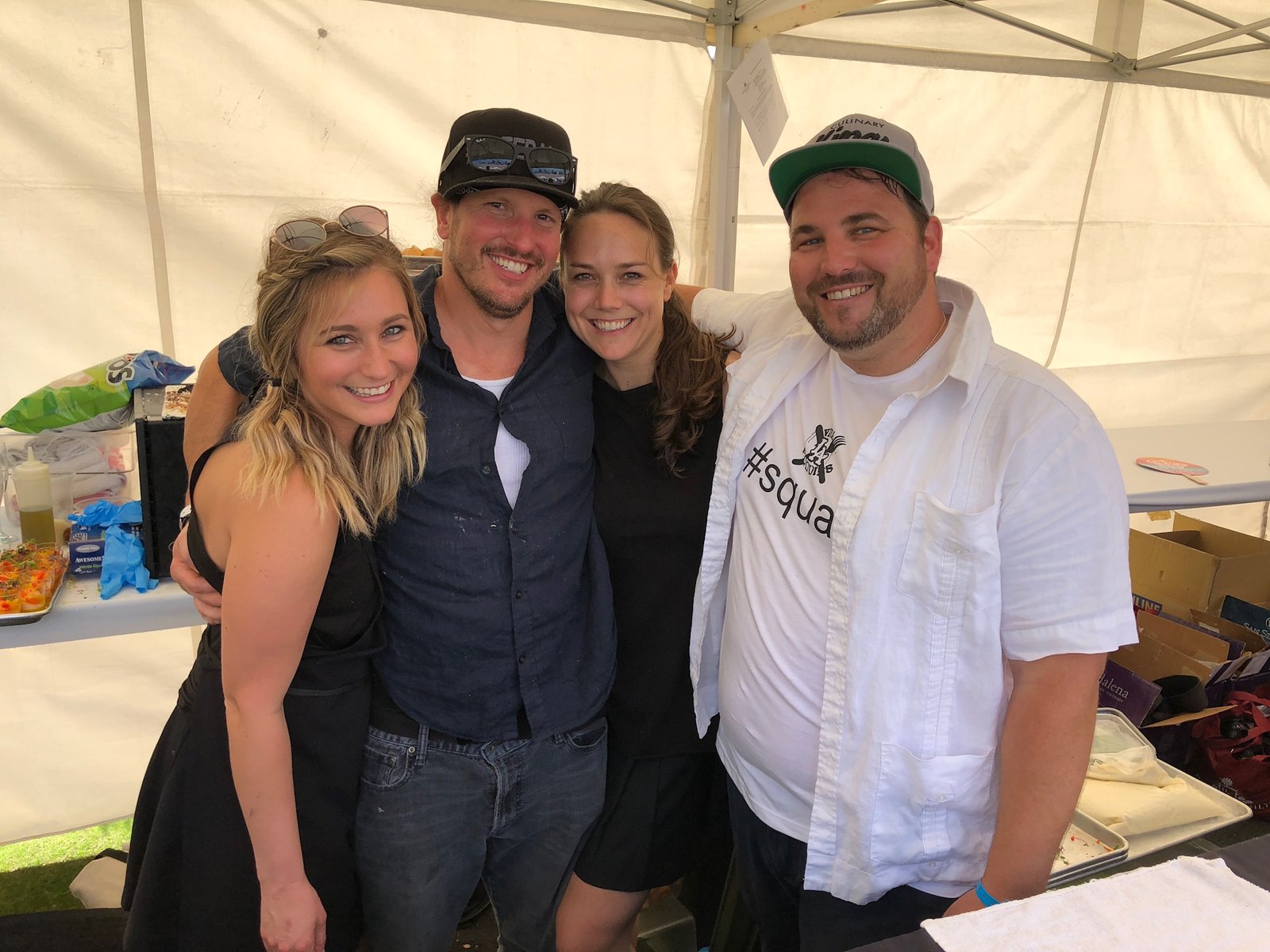 "A duo to Amuse"
Chef Paul Shoemaker does it again! An outstanding followup to the "Fois Gras dime bags" that were meticulously plated to resemble something from Scarface.
The "Salmon mouse" napoleon style was a flavor explosion hitting all of the senses. The Meyer lemon gelé gave it a nice tang. I wish every meal started this way
Another bite that didn't disappoint was "Truffle Fondue Cream Puff", need I say more. Cheese and dough need I say more.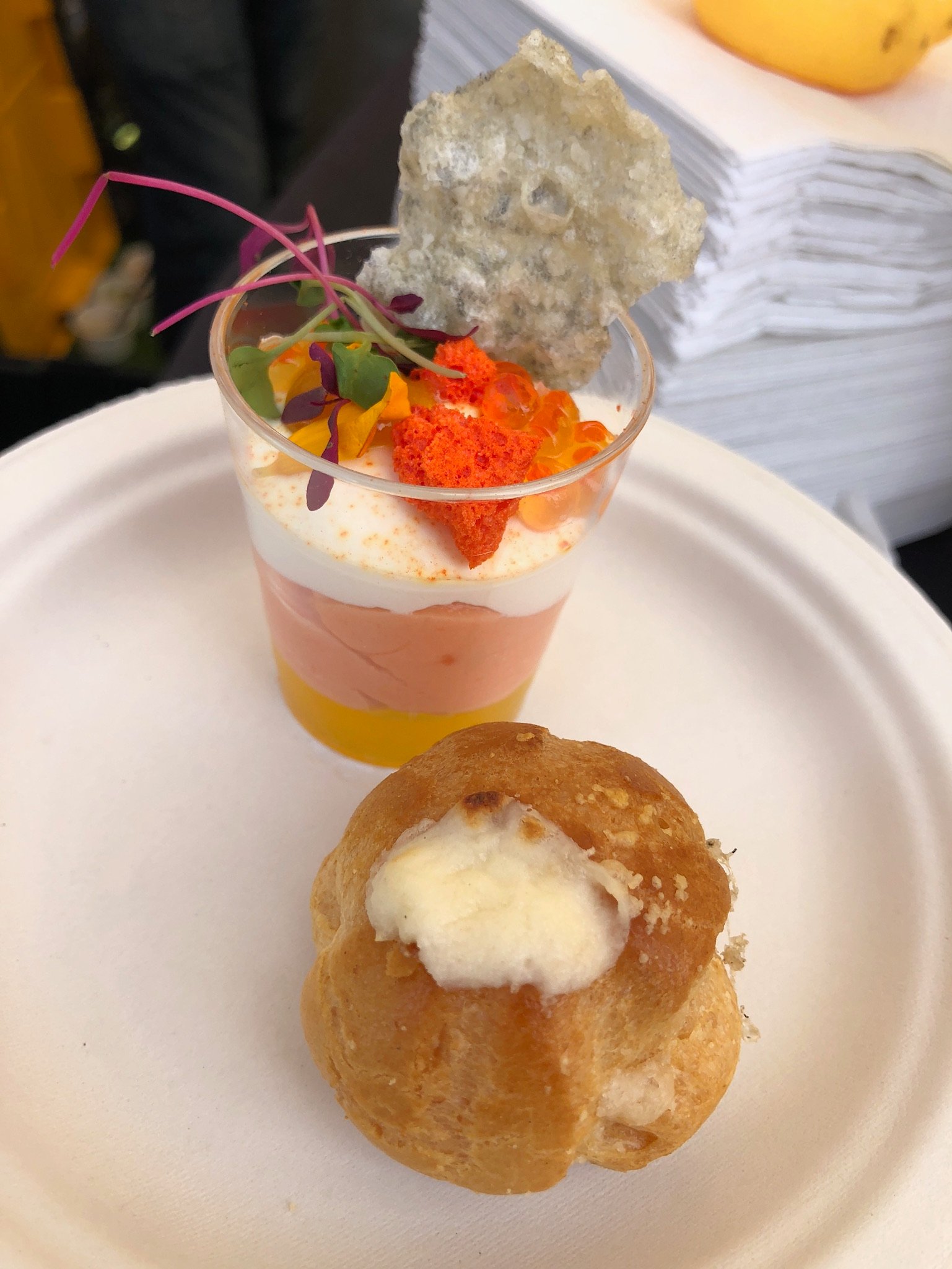 Keep coming up with the cool dishes, Chef!
Chef Calogero Drago presented his Beet and Burrata Ravioli. Chef Calogero dropped the beet like nobody else made a refreshing Italian take on "Beets and Burrata" with his Burrata Raviolo with farmers market beet sauce. The dish was light and was a great palate cleanser in between tastes.
Redbird
Chef Neal Frazer
Chef Neal and I go way back to his "In the kitchen" and LA Magazine events as well as working with his catering team at the Vibiana in Downtown LA; one of LA's premier wedding and events venues. Redbird is now a dining destination not to be missed in close proximity to the Arts District. Neal saw this venue years ago and has developed it into an amazing location for your next anniversary or celebration or large scale event.
Neal will be participating in Chefs Cycle for No Kid Hungry in the coming weeks and will be participating in LA Food Bowls' "Beast Feast" with Chef Curtis Stone, Josiah Citrin, Steve Samson & Electric City Butcher.
To donate to No Kid Hungry and Neal's ride click here. Pictured here is the "Hiramasa Tartare" with Calamansi Vinegar and a Shrimp Chip.  Cold and refreshing on a hot LA day, my only regret is not eating more.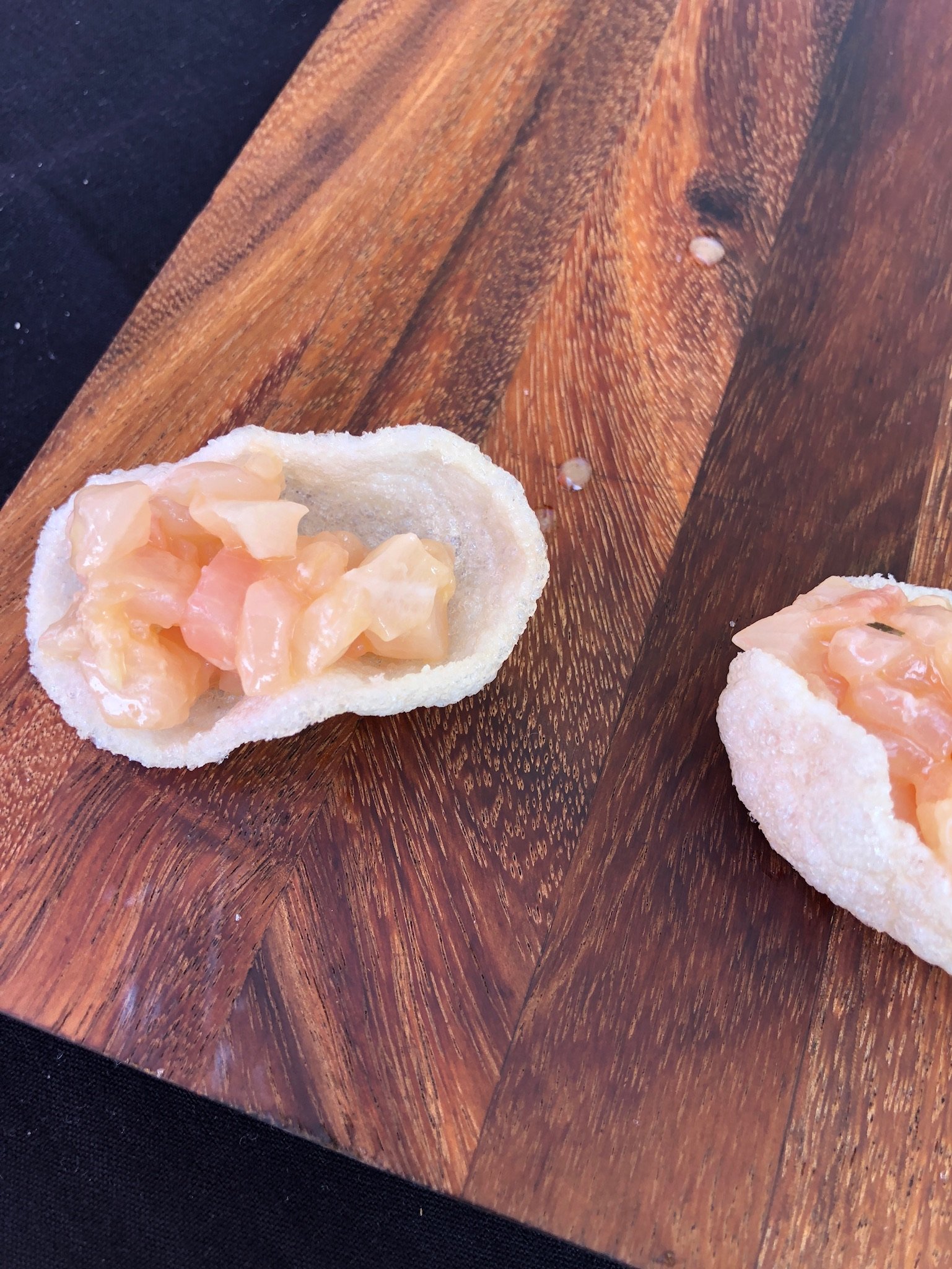 Jaffa
Chef Anne Conness
A new modern Israeli restaurant located on LA's W 3rd Street neighborhood. Seasonal farm fresh brings a new twist on Israeli food. We enjoyed two flavorful vegetarian dishes from the light Chickpea Stew and the Roasted Curried Cauliflower with Labneh and Fresno chili for a little crunch and spice kick. I am itching to try the Shawarma and Sea selections.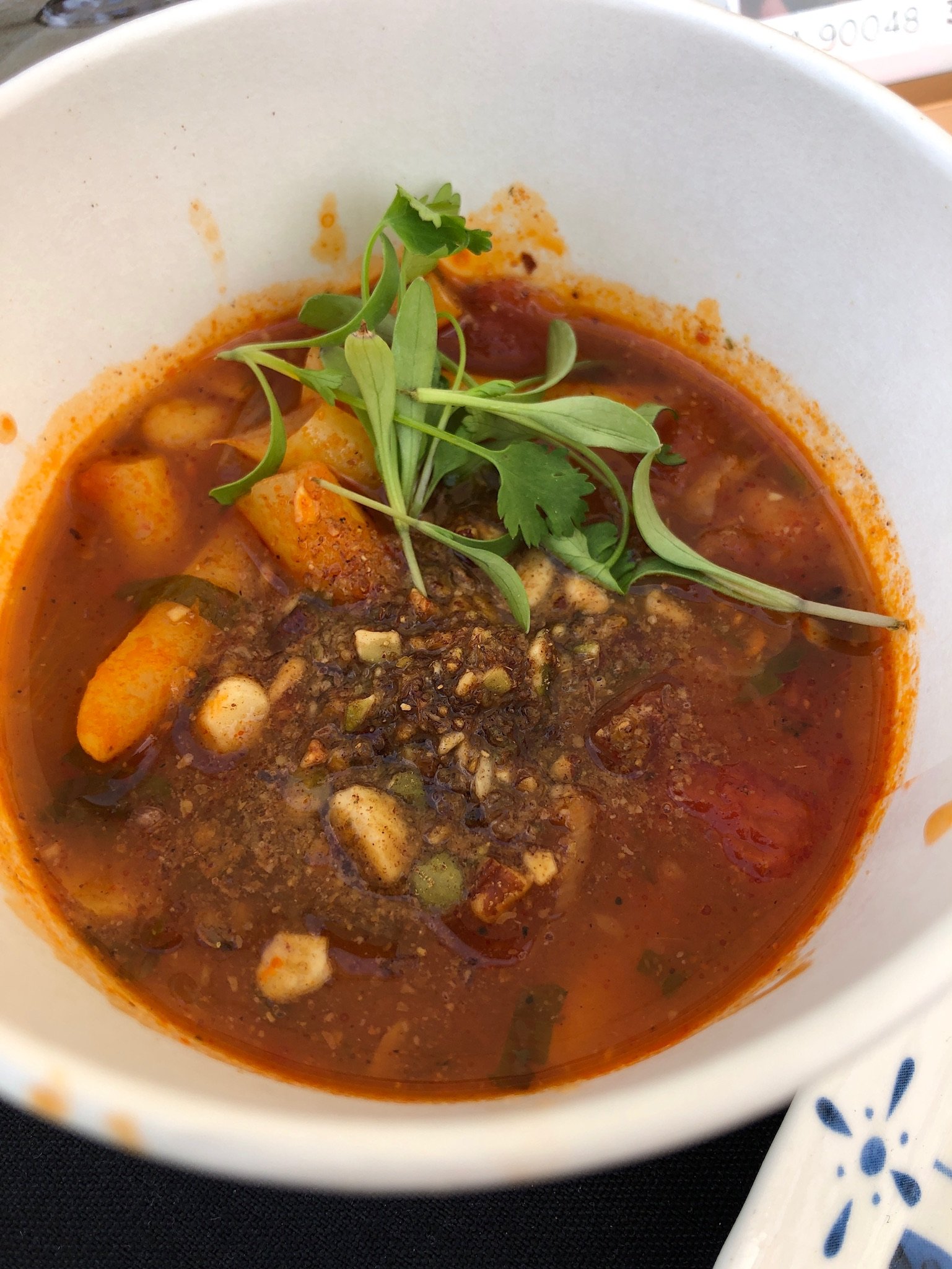 Ayara Luk
Chef Vanda Asapahu
The Grilled Chu-Chee Scallop was unfortunately the only dish we tried even though we regret not returning later in the day for the "ribs". We met with Vanda who was in the zone during the VIP tasting and she was perfecting the finishing touches on the ribs. The Peruvian scallops were grilled and resting in a rich red curry glaze that had a nice kick to it. One of our favorite LA Thai haunts in Westchester. Worth the visit and some great sauces you can buy from the restaurant is a nice added bonus.
Bone Kettle
Chef Erwin Tjahyadi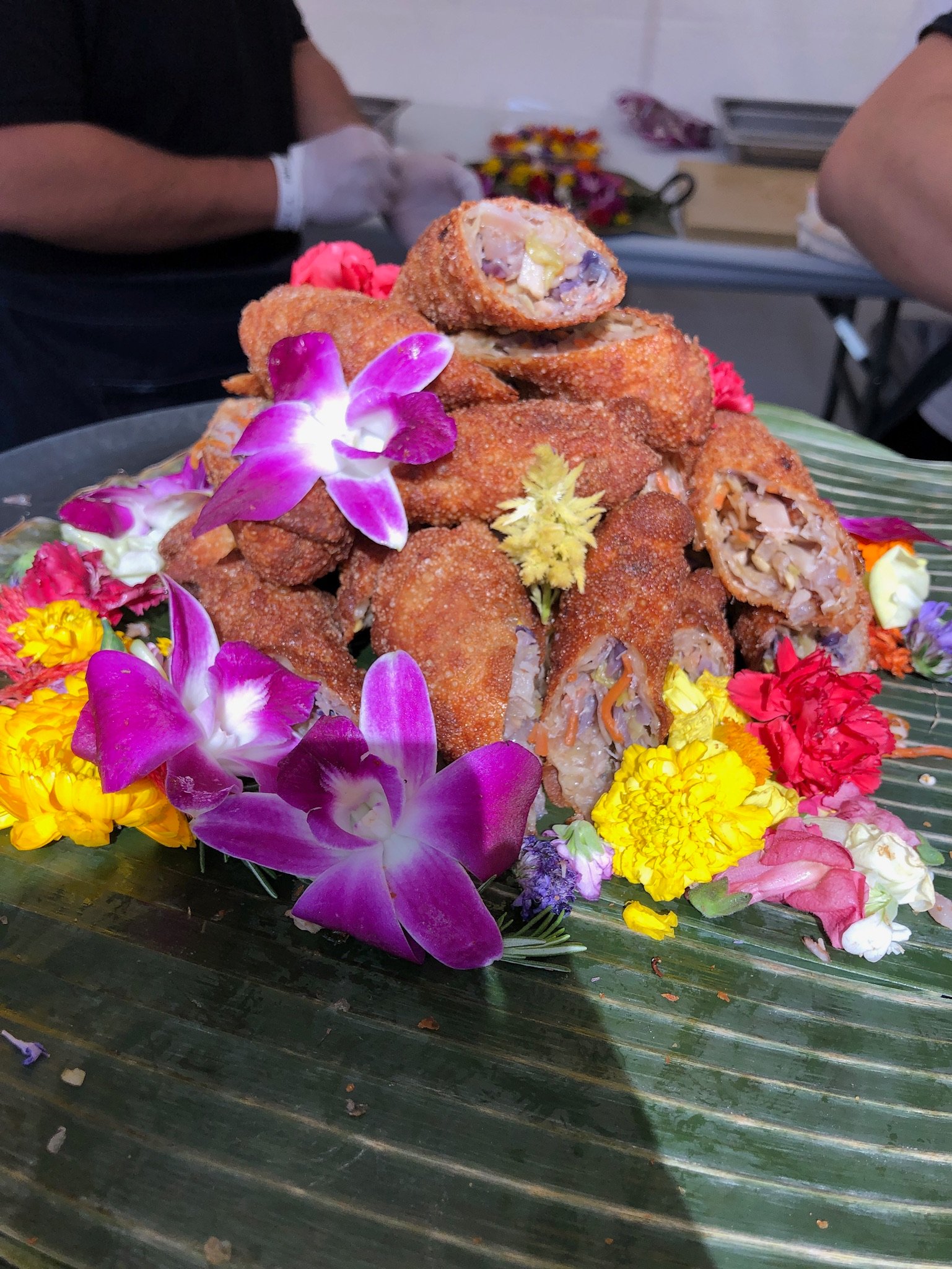 How do you top Oxtail dumplings? With Indonesian Crab Lumpia, …that's how. There's no excuse here, Bone Kettle we will be making a reservation real soon. Keep up the great work Chef.
Momed
Chef Alex Sarkissian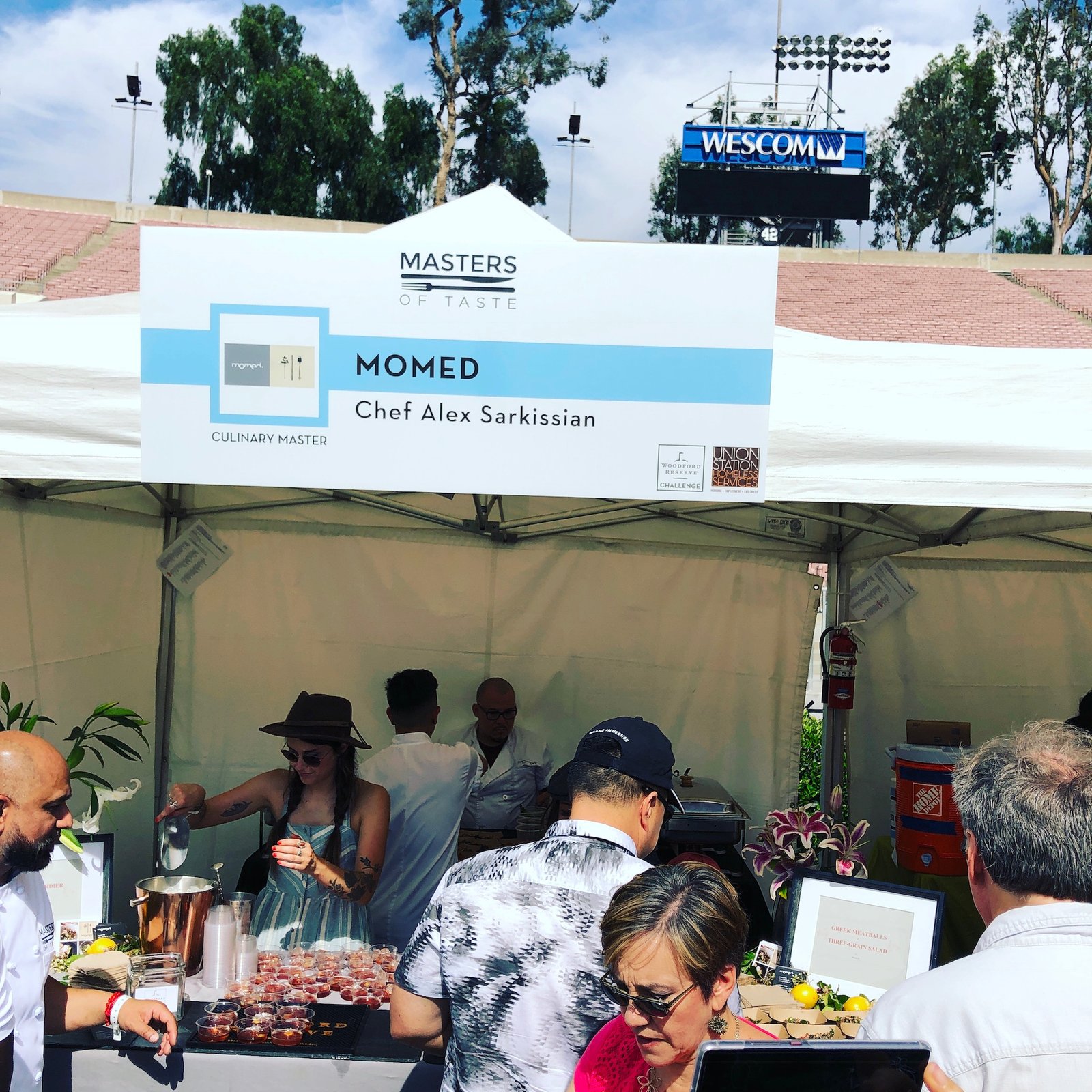 Always impressive and especially relevant with their series of "Immigrant Dinners" during this years LA FOOD BOWL. We have covered the restaurant before and its great to see that the consistency is there and they are constantly adding menu specials. Meatball and Kale, corn, quinoa salad are pictured here. We ate it so fast we didn't catch the exact dish names but they didn't last long.
Li Orient Asian Bar & Restaurant & Triple 8 China Bar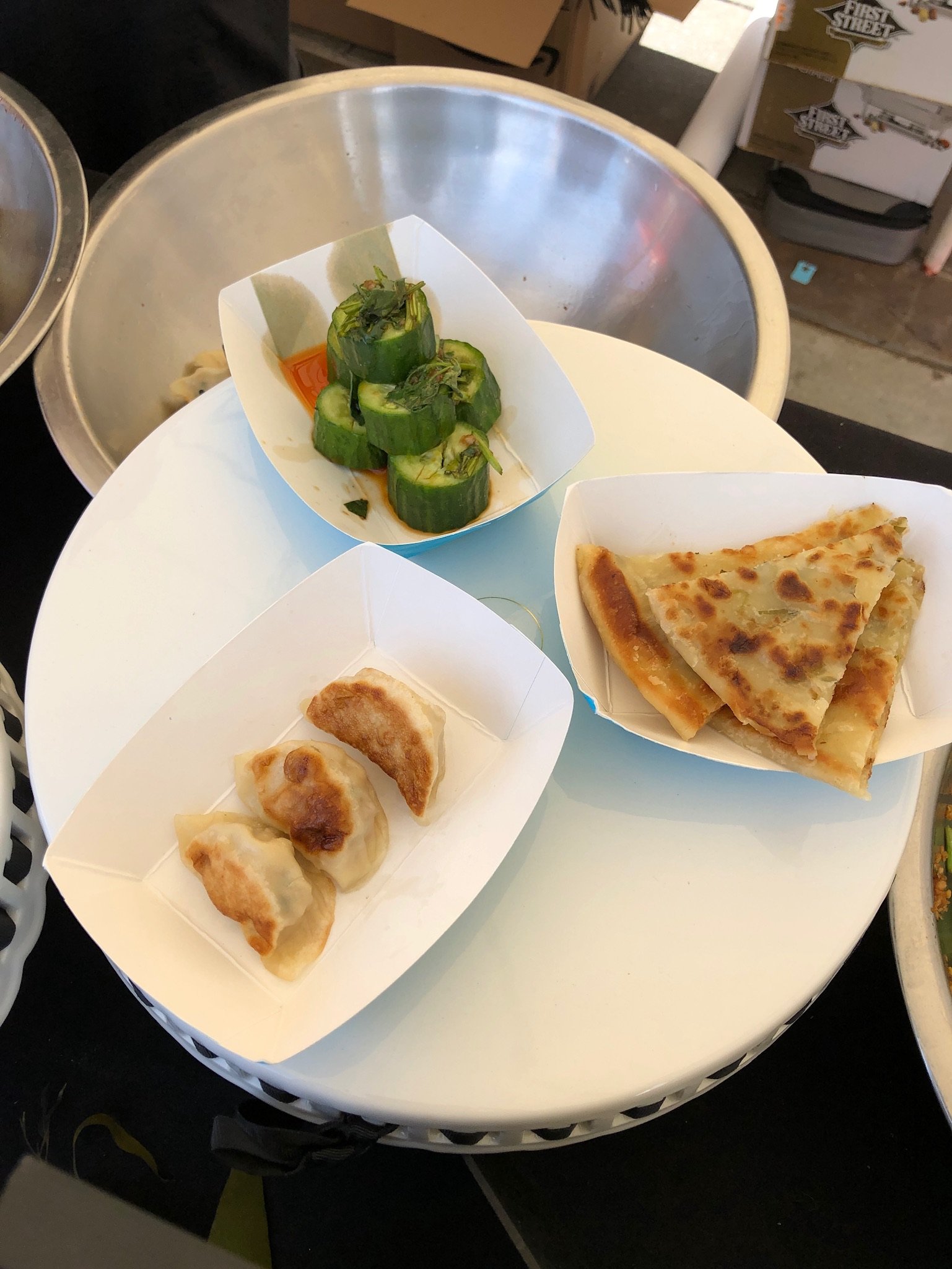 Dimsum heaven for one please.  Hong Kong Style BBQ Pork, Spicy Cucumber Salad and a Chicken Dumpling and Scallion Pancake were all offered here and we ate our share to know that both concepts get an A in our book.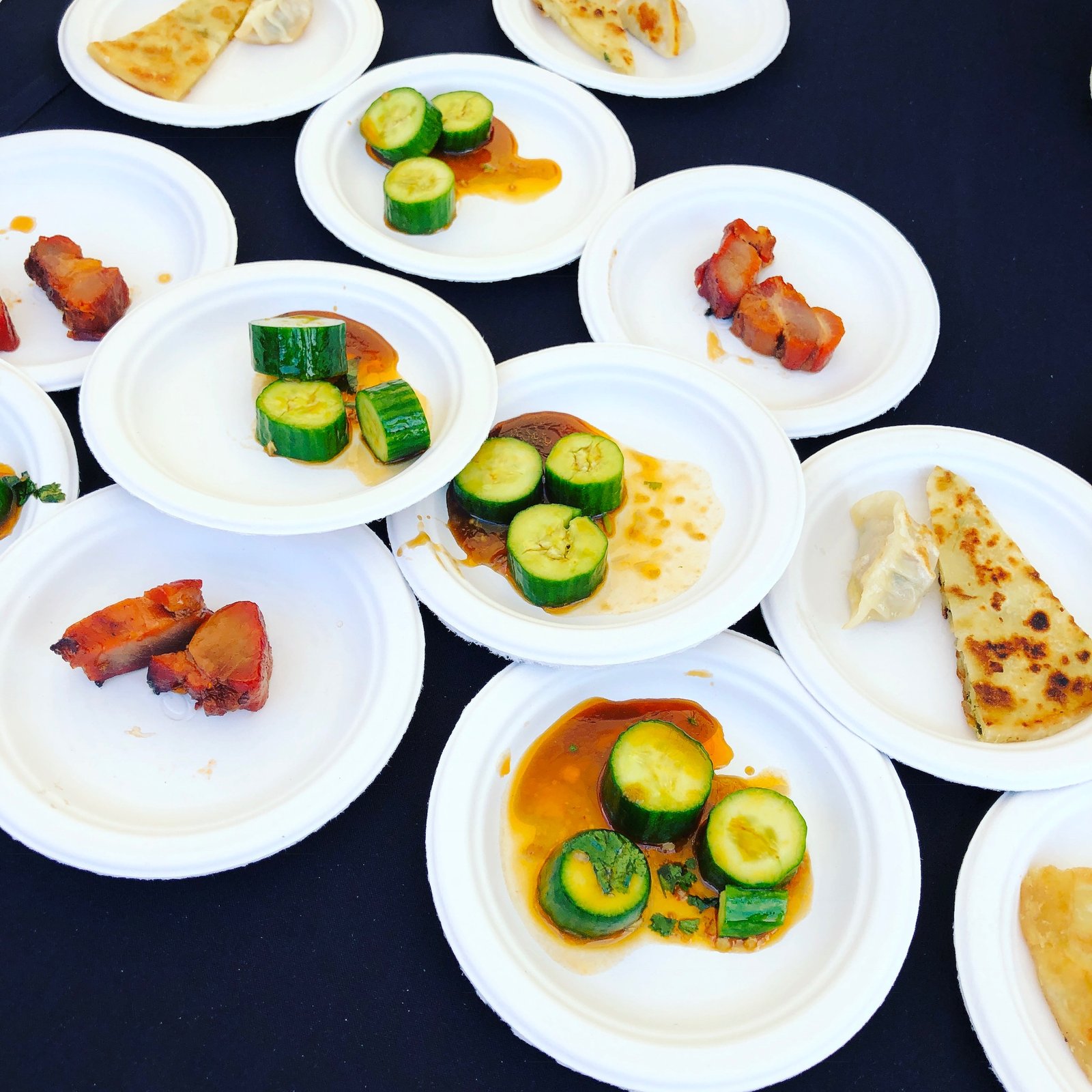 Mercado
Chef Jose Acevedo
The Carnitas Taco with guacamole, red onions, cilantro and Salsa Brava was the perfect satisfying dish. We would have ordered two more but we didn't want to get back in line. A visit to the Pasadena location is already in the works.
Gus's Barbecue
Chef Mike Stern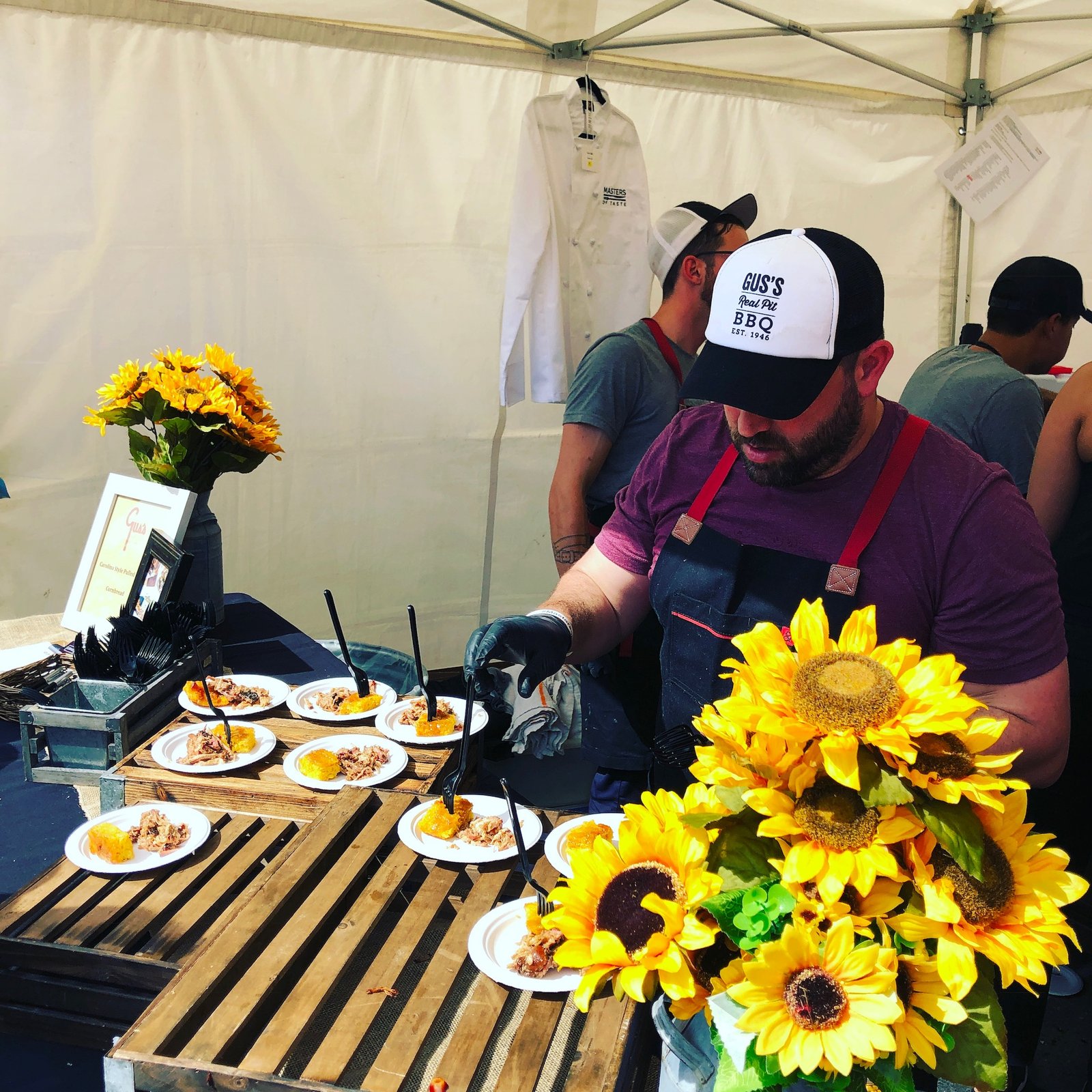 Pulled Pork and Cornbread Cake with honey glaze get in my belly.  Other than MMM MMM GOOD and can we get another I am speechless. The vinegar sauce on the side made this dish complete. Will be visiting a brick and mortar shop soon.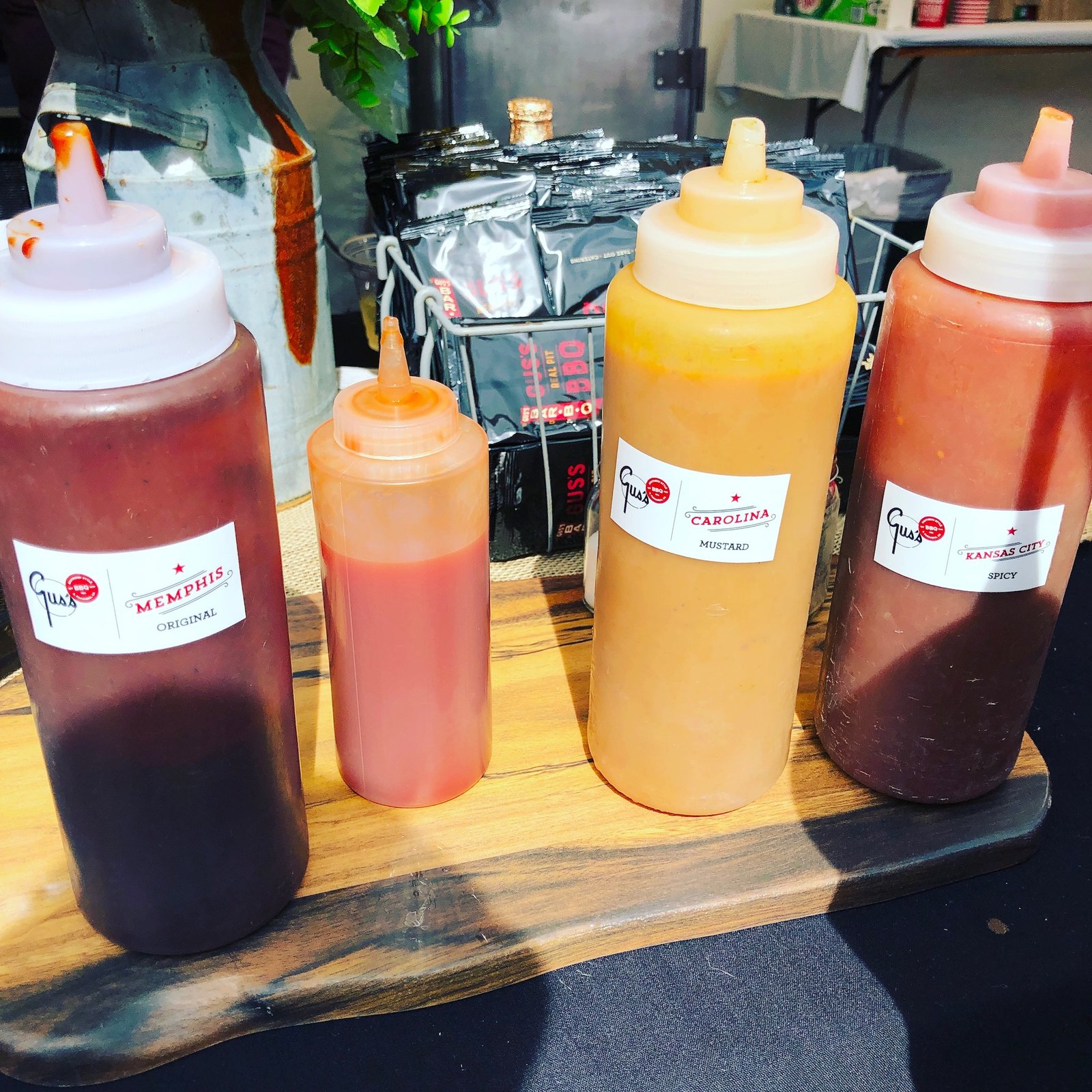 Fahrenheit LA
Chef John McLellan
Pizza Margherita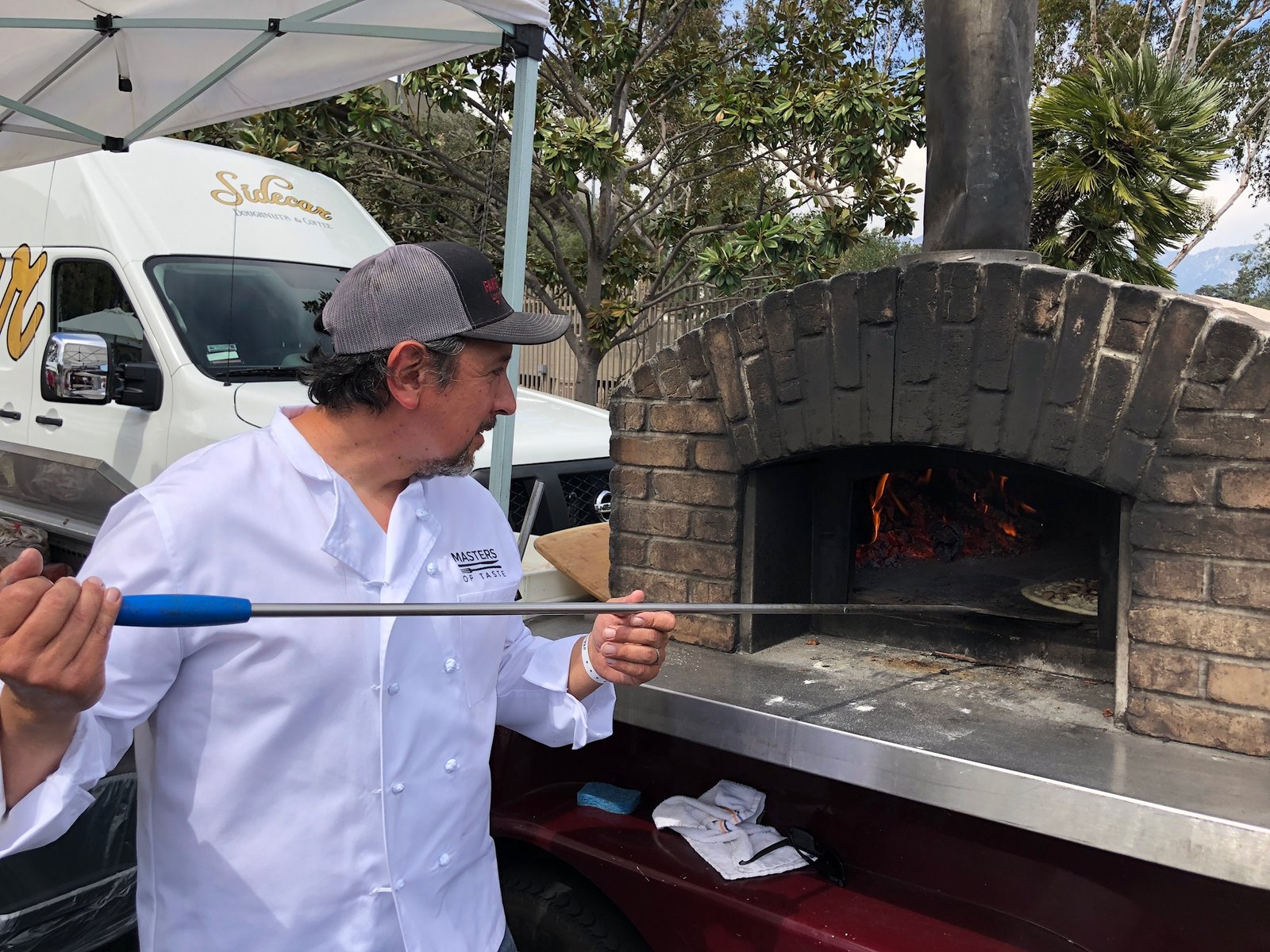 We go way back with Chef John's "Brick oven pizza oven" concept and have experienced this pizza at catered events and parties throughout the city including Guess corporate headquarters in the Garment district of DTLA. We have followed their social media feeds and we so thrilled when they recently opened up a Brick-and-Mortar establishment in "El Sereno" and hope to provide a follow-up restaurant feature when they want to show off their new pizza joint. When this comes about we will be putting out the call to our "Viva LA Foodies Squad" to join us in a pie sampling.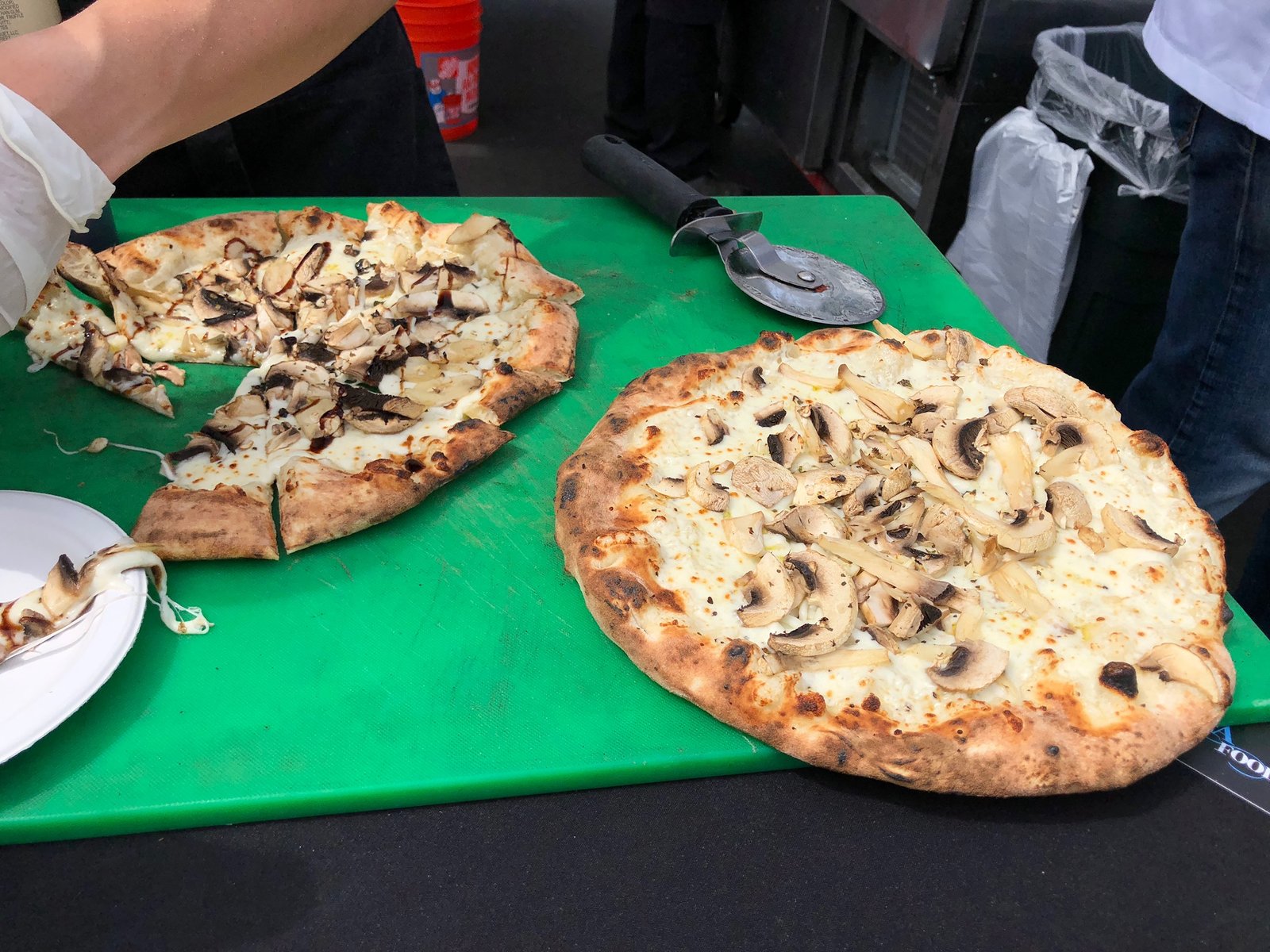 SWEETS Masters
Sidecar Doughnuts
Huckleberry Donut, what what? Exactly as its named but they flipped the script and put the donut hole on a stick for their interpretation of a Donut Pop! With donut locations in Santa Monica and Costa Mesa you can visit in person and get yourself one of the awesome flavors including the "Weekly Gluten Free" for those with gluten intolerance.
Portos Bakery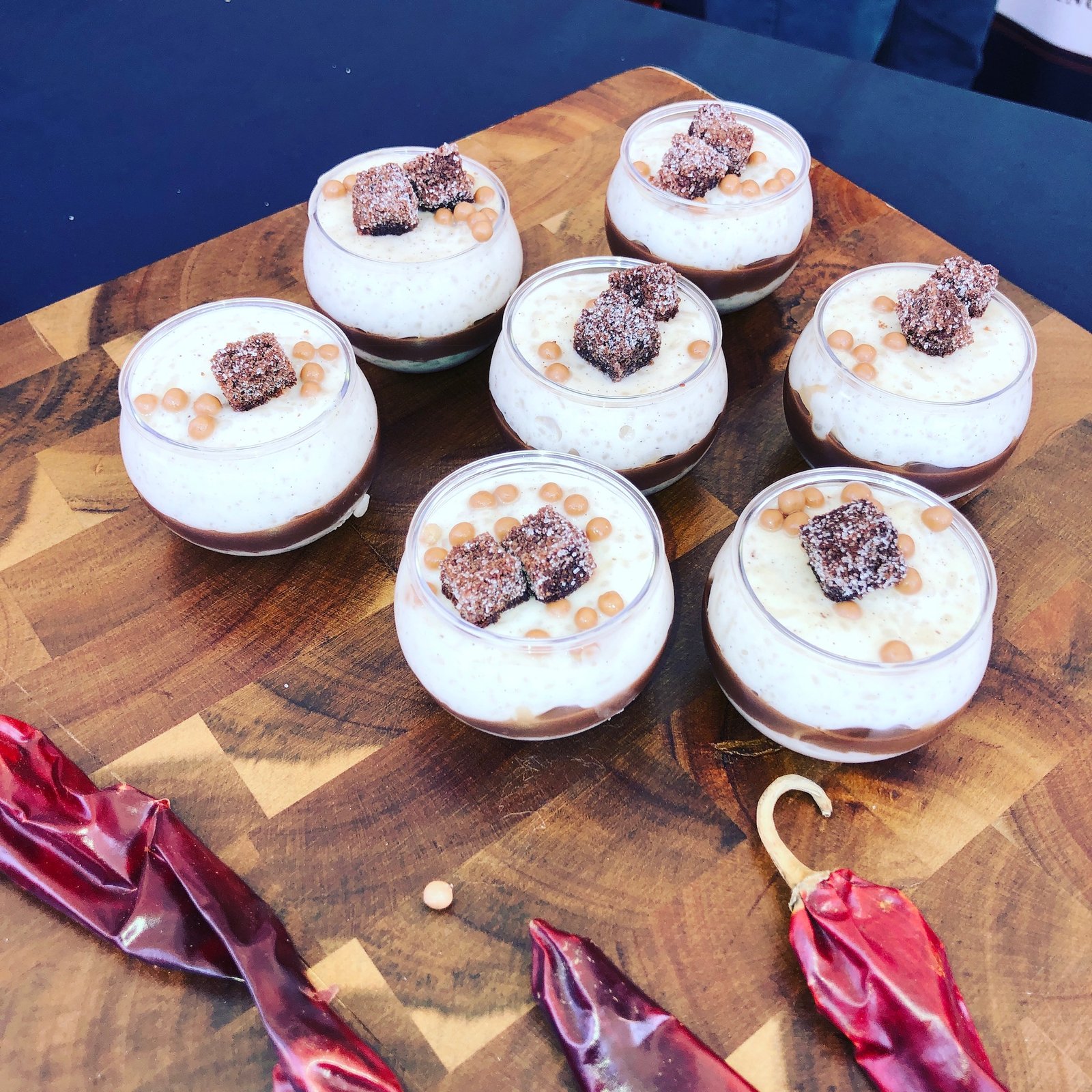 An LA Staple and my goto place for getting my "Cubano" sandwich, Pastelitos including the infamous Guava and Cheese. Today was a little something different with a new menu item that was refreshing on such a warm day. I did not want to stop at one Chocolate Rice Pudding cup but I knew I had much more to try so I pulled myself away before I could eat everything.
BEVERAGE Masters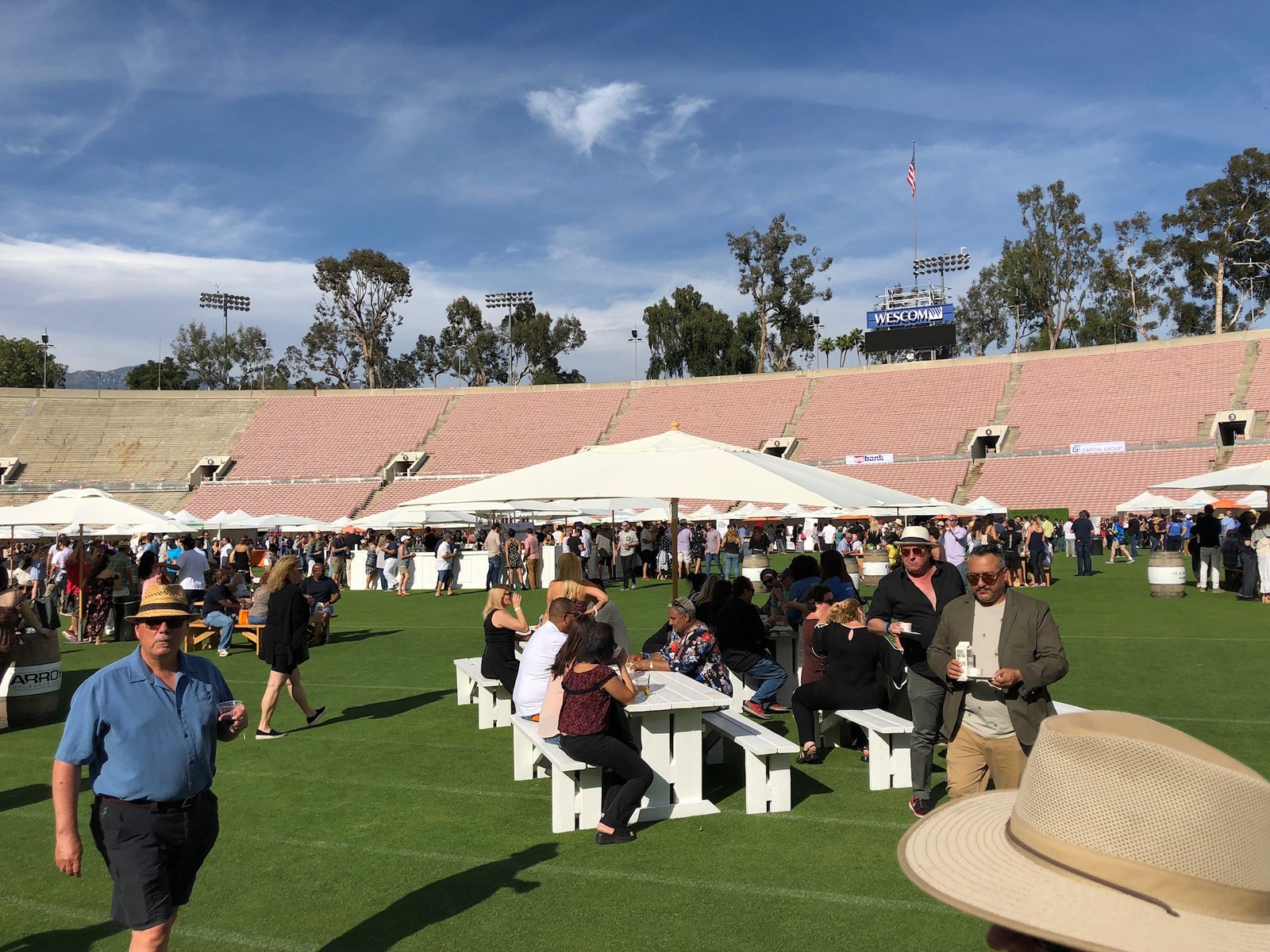 Beer was on our mind and we needed something refreshing to cool us off so "Beer and Boxed Water' was the name of the game. Summer calls for fruity or fruit infused beers so it was a toss up between Angel City Brewery in DTLA and
MacLeod Ale Brewing company in North Hollywood/Van Nuys and Brewyard in Glendale who all produced some amazing local "Craft-Brews" with their own heritage ingredients while pushing the flavor components that most "macro-producers" have lost in translation and toned them down for the masses.
Angel City Brewery
DTLA ARTS District
Saaz Berry and Pilsner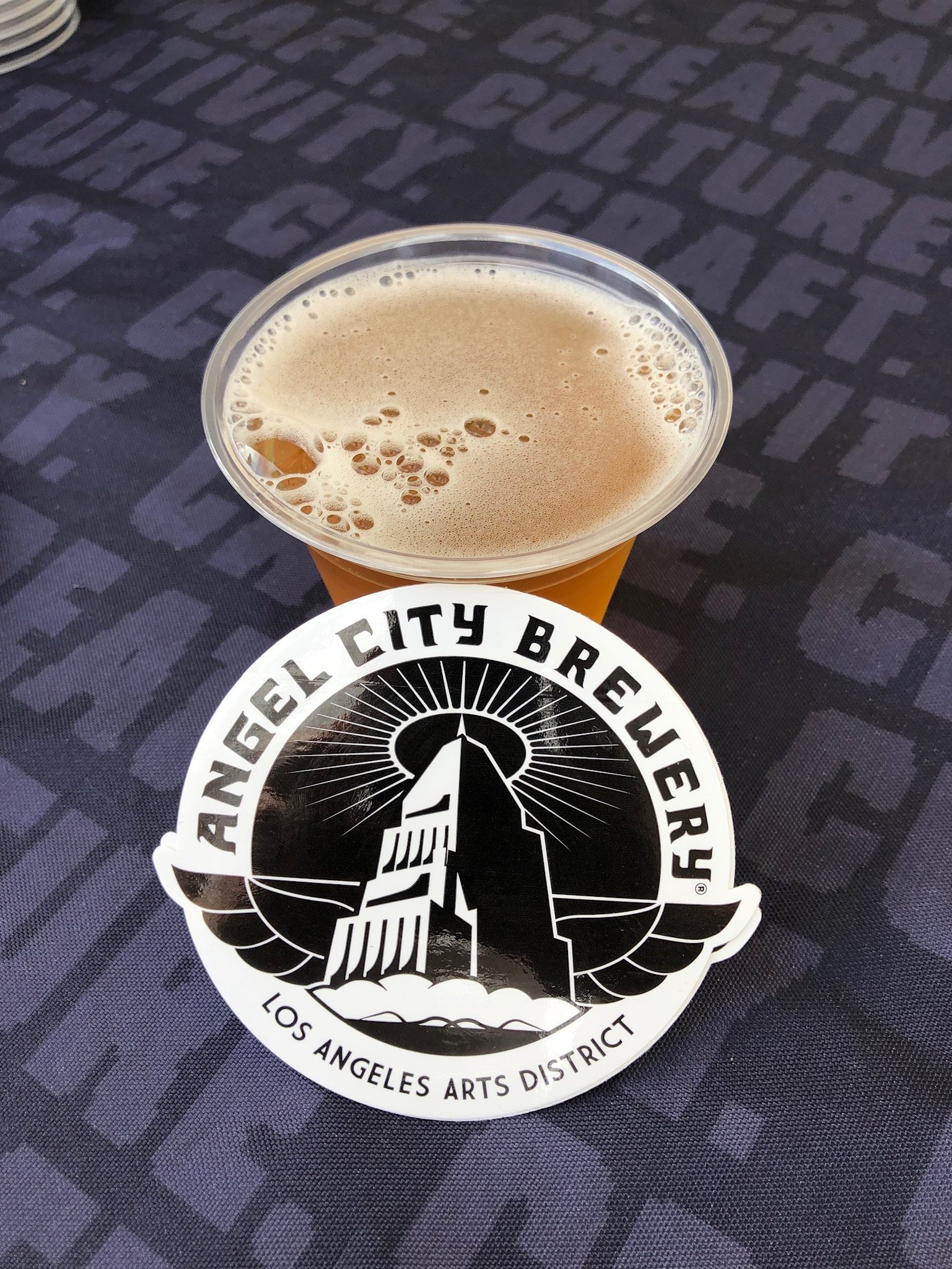 MacLeod Ale Brewing Co.
London Lager
Brewyard
Saison with Passion Fruit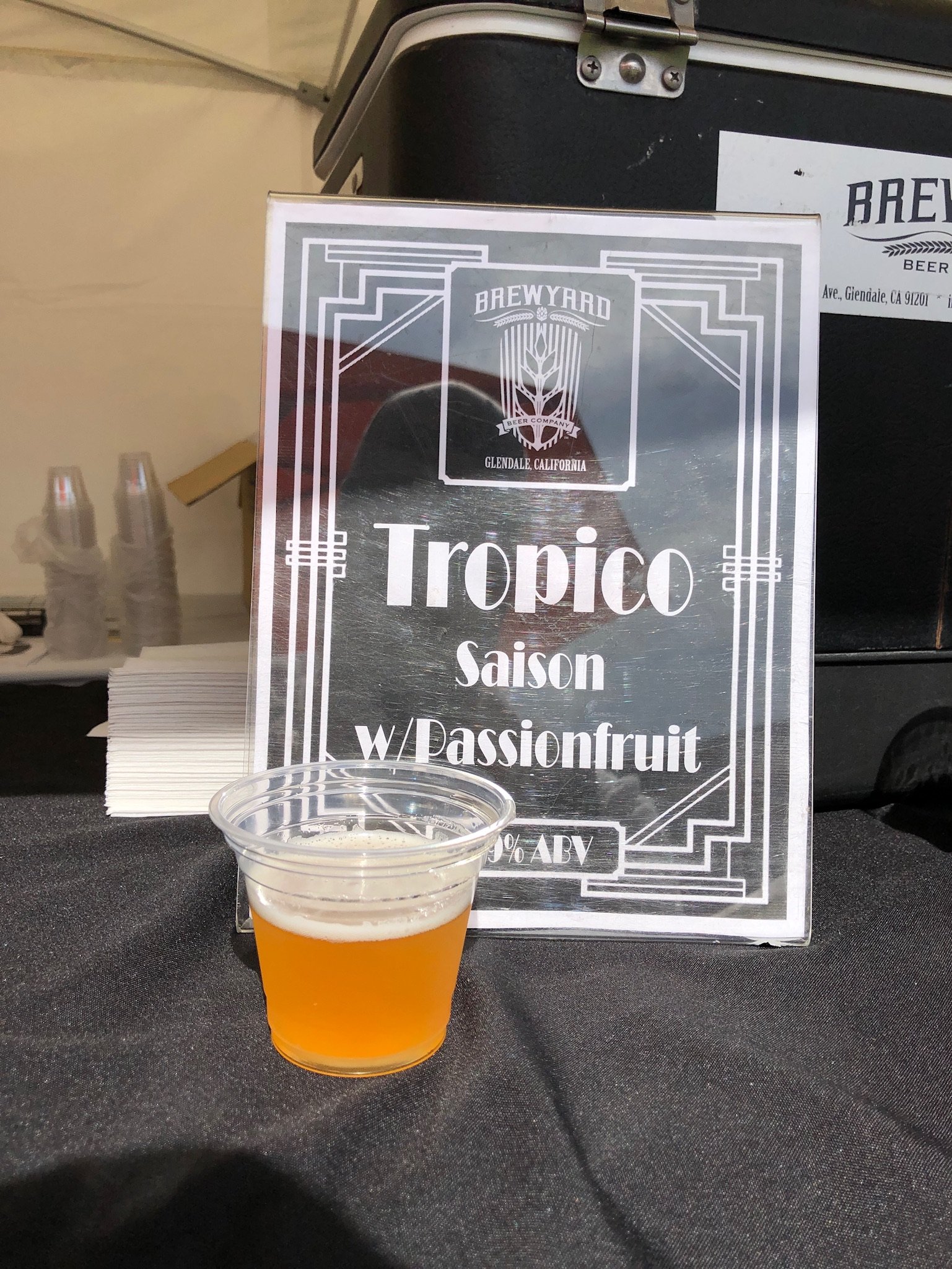 Boxed Water to the rescue to bring us back to earth and keep us hydrated. Ice cold and refreshing with the planet in mind got us through. We owe our deepest gratitude to the wonderful Culinary Public Relations team of Lawrence Moore & Associates. It's always so great and refreshing to participate in such a wonderful "Hyper-Local" Food and Beverage Tasting event. Over the years they have provided us with a front row seat to the exciting things that her Chef and restaurant clients are curating at various Los Angeles dining establishments. Through their philanthropic efforts this year the Masters of Taste event have raised just over a Half Million Dollars for Union Station Homeless Services with more coming in from this weekend. More funds are always appreciated as well as volunteering. Contact USHS today at @USHSNEWS on social media.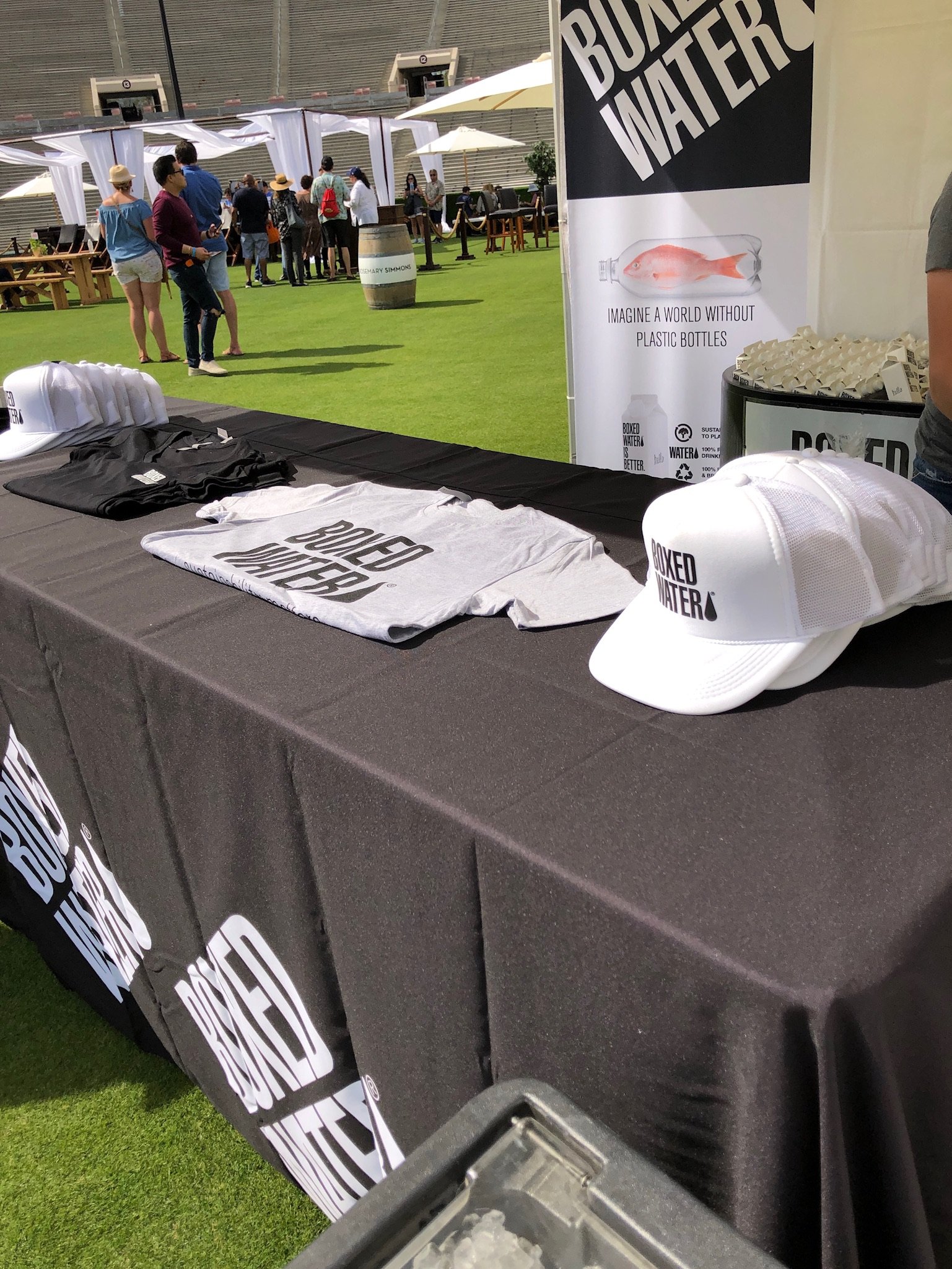 We look forward to dropping more restaurant reviews and chef features throughout the year and years to come. Please feel free to share our event photos and share our post with your friends. Great to spend the day with our foodie friends and our #SQUAD.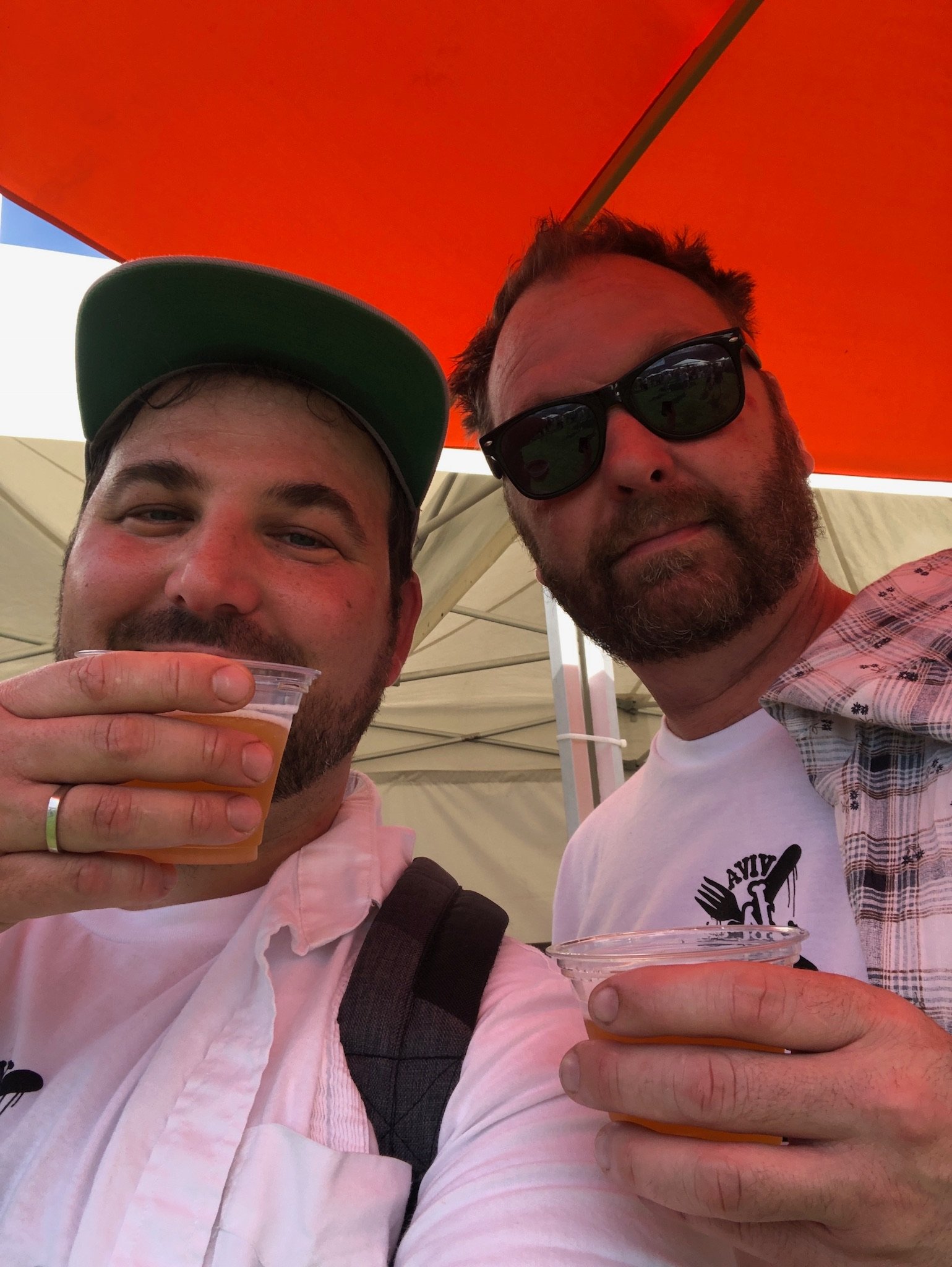 (Adam Rubenstein & Chef Josh McKnight)
****If you would like to join the "Viva LA Foodies Squad" or would like to purchase a #VIVALAFOODIESSQUAD tee please contact us today so we can add you onto our pre-order sign up sheet.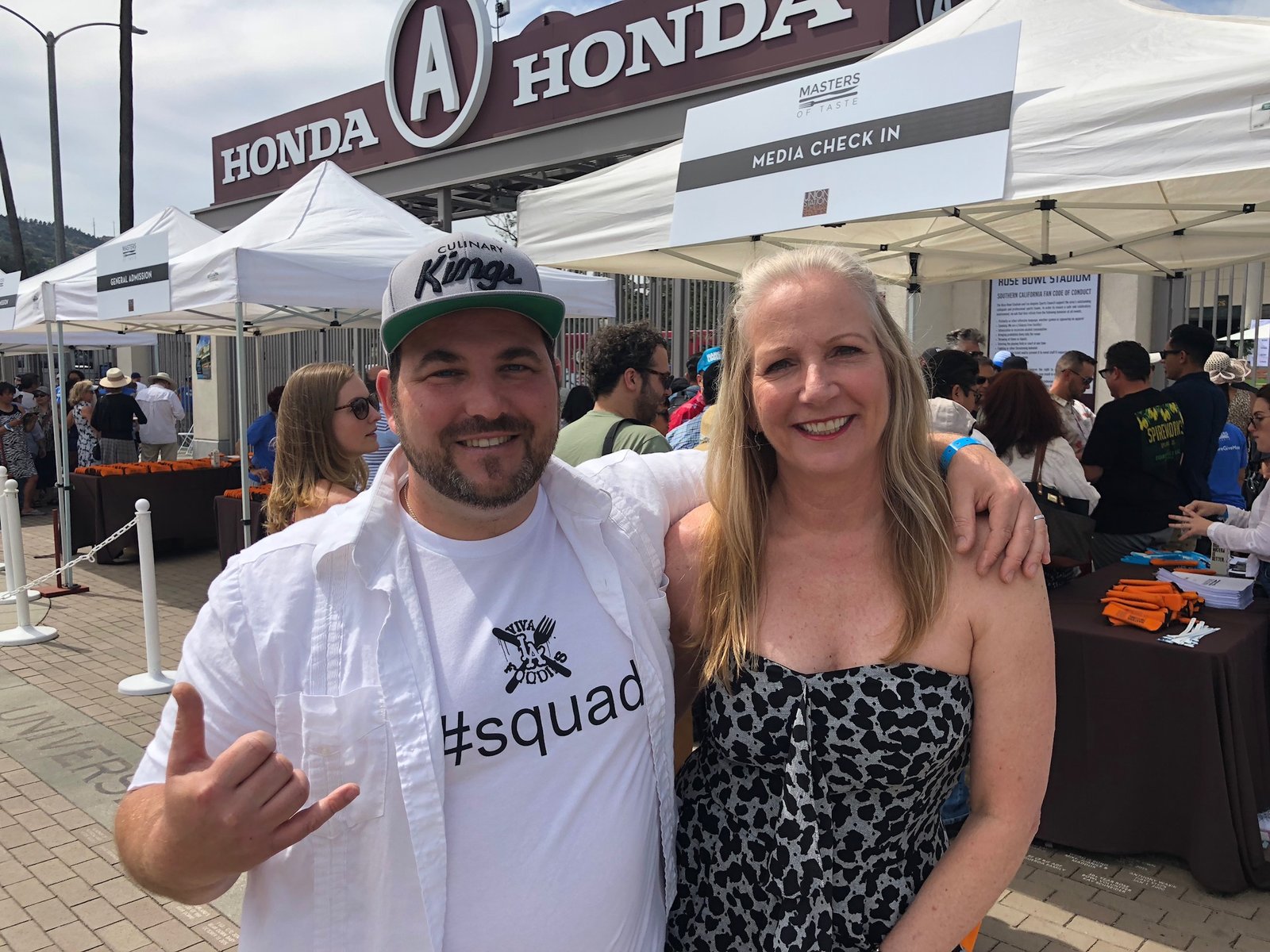 (Adam Rubenstein and Eve Hammond Bushman from Eve's Wine 101