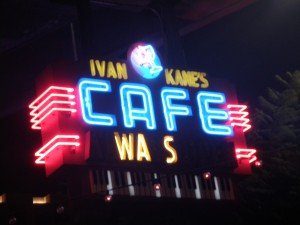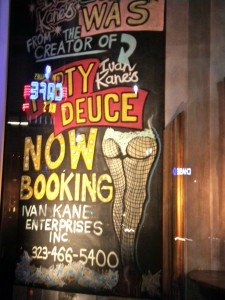 At the intersection of Haute cuisine, burlesque and Hollywood, lies "Cafe Was"; a fine dining French eatery by famed nightlife evangelist Ivan Kane that has become Hollywood's newest French bistro Super-club.


The Bourbon Street inspired interior merges the art direction of Ivan Kane and the culinary artistry of executive Chef Alex Reznik. Alex transforms the vision of Ivan Kane into food art so seductive that it will make your mouth water in anticipation of your next bite from the well appointed Cal-French menu. Alex supports the Farm-to-table movement which means that the dishes are composed with fresh high quality local produce. The ultra-hip French interior will transport you to Saint-Germain-en-Laye in Paris without leaving Sunset & Vine.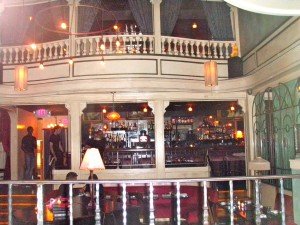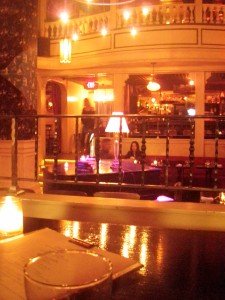 Chef Alex prepared an amazing four course tasting menu fit for a king and queen and we were primed and ready when we arrived. We first met Alex & catering/event director Lana last month. We were introduced to his culinary talents at several popular food and beverage events in Los Angeles spanning from Hollywood to Malibu and we were both excited to have our front row seats for the savory joyride that Alex had in store for us. Nothing was off the map and Chef Alex propelled us from classical French dishes to sexy contemporary fusion in under 60 seconds.


From the moment we arrived we were embraced by the entire staff at Cafe Was. Chef Alex was greeting guests and serving as maître d, a sharp contrast to his chef whites on this particular evening. The kitchen never missed a beat, even while a Sunday night music showcase of up and coming Interscope recording artists was going on in the main dining room.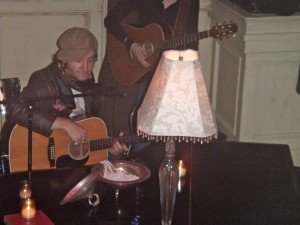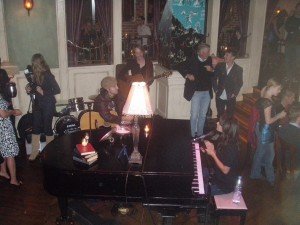 We were seated immediately and we decided that Chimay White label would be our libation of choice. Our server explained our first course of Canapes and Alex presented his creations table side.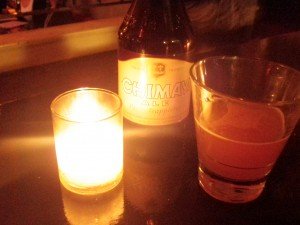 The chef's medley included modern plays on classical dishes with the Medjool Dates wrapped in bacon and stuffed with roquefort cheese, Burrata with pequillo peppers on a garlic crostini, Lolipop Frogs Legs presented to look like chicken drummettes and a Tuna Tartare on a homemade crunchy chip. All items were unique, creative and bold modern executions of classical dishes.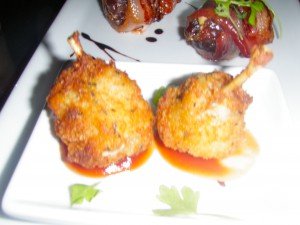 Our secondary hors d'oeuvres paid homage to the more classical French style. From a Steak Tartare prepared with organic fillet of beef and paired with olive tapenade, waffle chips and a quail egg illustrated the complexity of Chef Alex's French technique. Our final item was the Escargots en crute served with garlic confit, European butter, capers, brioche and lemon confit. A rich and delicate dish that could seduce anyone into indulging.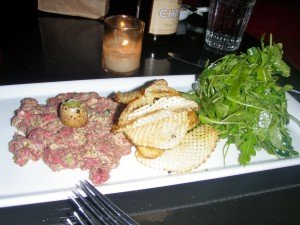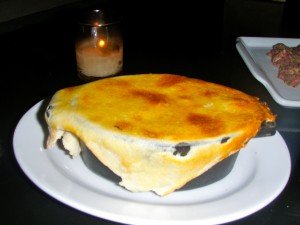 Our entrees were also classically French in concept, but the execution had a few modern twists sprinkled in. The Bouillabaisse was loaded with an abundant array of high quality seafood. The flavor just kept us wanting more while the Duck Leg Confit with the forbidden "Asian inspired" black rice had a fragrant Thai flavor that mellowed out the richness of the well cooked duck.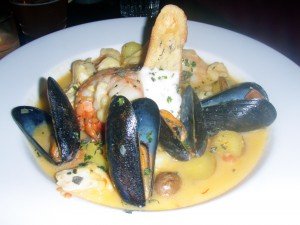 For desert we indulged on a savory and sweet warm seasonal berry bread pudding. It was accompanied by a scoop of six-spice ice cream and a canton ginger creme anglaise. It was moist and the flavors all melted together layer on top of layer. A must have for desert lovers who can appreciate something out of the ordinary.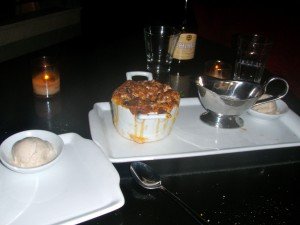 It doesn't matter if you are a die hard foodie or just someone looking for a culinary adventure, Cafe Was has something on the menu for everyone, and a bar and lounge area for you to enjoy drinks and a tune from grand piano that revolves around for all guests to enjoy. Cafe Was and "IS" Hollywood's newest sexy superclub.
Ivan Kane's Cafe Was
1521 N. Vine St.
Los Angeles, CA 90028
323-466-5400
http://www.cafewas.com