Chef Darren Weiss has been entertaining guests for years at various restaurants both locally and across the United States with his well crafted menu's and his take on New American Cuisine and he now has his namesake restaurant speaking to South-bay residents one plate at a time.
A little over two years ago Darren's Restaurant and Bar began bringing his culinary creations to Manhattan Beach residents. Darren has created quite a buzz about his cuisine and he has won numerous awards from Zagat, Open Table and more recently Wine Speculator honored him with the "Award of Excellence" for his efforts in 2009. With all of this notoriety, you would have no idea that chef Darren is hearing impaired. Instead of this being a hindrance, Darren lets his food speak from his soul and his heightened sensitivity towards ingredients allows him to express his art through his artfully presented dishes.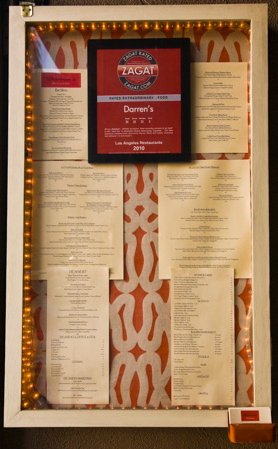 His philosophy and cooking style puts strong emphasis on the farm to table movement by only utilizing local and seasonal produce and the menu evolves as the seasons change. We were delighted to sample a range of seasonal dishes that Darren feels capture the current season and its essence.
The interior dining room is modern and classy with an upscale beach cottage vibe running through and an outdoor enclosed patio provides a secondary space for guess to dine as well as a bar area with its own bar menu.


Darren's offer's a range of beverage options for patrons from draft beer selections from Allagash, Racer 5, and Stone Brewing, as well as an extensive wine list and an array of signature cocktails.


To get things started on the right foot we sampled a duo of martinis selected by our bar-tender. Our first one was a Pomegranate Green Tea Martini with an infusion of
Pearl Pomegranate Vodka, Pomegranate Juice, and Zen Green Tea Liquor. This intoxicating libation was quite a refreshing way to entice our taste-buds for what was to come. We also tasted a lighter option, the Italian Lemonade. A blend of Absolute Vodka, Campari, Fresh Lemon Juice and a Sugar Rim got us primed and ready for the feast to come.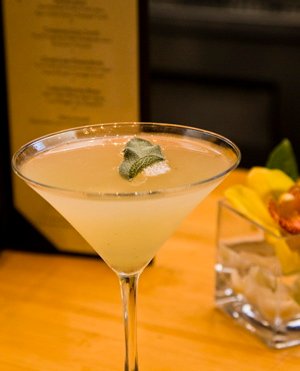 Our first dish was the Rock Shrimp Ravioli stuffed with Goat cheese and pine nuts. Every component was meticulously chosen and all built off one another to create a powerful starter dish loaded with flavor and even the crispy leek tumbleweed garnish got eaten.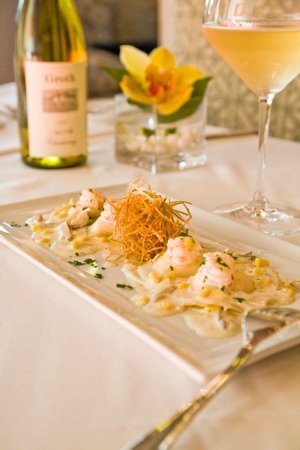 Next we had one of my favorite dishes; The Sweet and Spicy Lobster Chowder. This is not your ordinary chowder and it draws influences from Asian and American Cuisine. Maine Lobster Knuckles, Diced Purple Potato & Red Garnet Yams, Shiitake Mushroom, Sweet Corn and a Thick Coconut Broth all come together with amazing flavor in this savory seasonal chowder and it will keep you coming back for more. Take my word for it.


Our final dish was the Scottish sweet chili and peanut crusted salmon. This salmon is chef's ode to Pad Thai and Asian fusion cuisine and I simply call it "Pad Thai Salmon" because after one bite you will think you were diving into a bowl of Pad Thai noodles. Other flavor notes come alive from the Sushi style sticky rice, house Pickled English Cucumber and Lemon Grass Sake Beurre Blanc sauce.


As you can see it only takes a few dishes to illustrate how amazing and dynamic the food is at Darren's. Darren and his well seasoned team with Shawn Davis(Chef de Cuisine) and General Manager Bart Thompson make sure that guests keep coming back for more and that diners feel at home at this Manhattan Beach seaside eatery. See for yourself why Darren's draws crowds day in and day out and have a taste for yourself.


Darren's Restaurant & Bar
www.darrensrestaurant.com
1141 Manhattan Ave
Manhattan Beach, CA 90266-5333
310-802-1973
Photography by Joseph Briscoe @briscoephoto.com