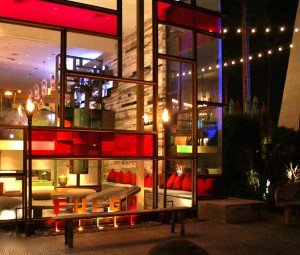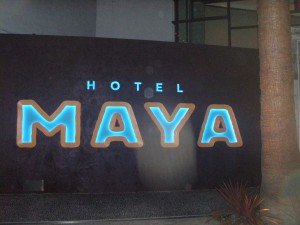 Fuego is Downtown Long Beach's newest contemporary Latin import. Located in the newly renovated Hotel Maya on the waterfront, and in close proximity to the Queen Mary and across the harbor from Shoreline Village is Chef Jesse T. Perez's newest dining destination that is sure to cause sensory overload. From the plush contemporary open interior to the intimate oceanfront patio,Fuego is not only one of the most romantic locations in Los Angeles but a must visit for Angelinos on a quest for fine dining Latin cuisine that won't disappoint.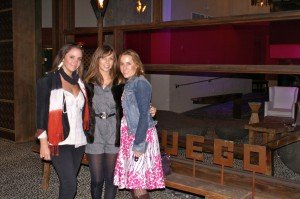 The well rounded menu was designed by Executive Chef Jesse T. Perez and it is constantly evolving as his vision for flavorful and creative contemporary latin cuisine pushes the envelope. Perez was named one of the top Latino Chefs in the U.S. in 2009 by the Flavors of Passion Awards and he continually fuses together his experiences working in some of the top Latin restaurants from San Antonio to Atlanta with his recent culinary experiences in Oaxaca, Mexico.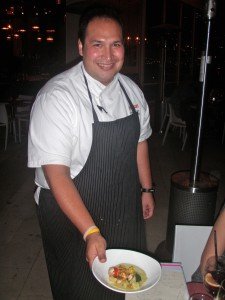 From our arrival we were greeted by friendly staff and were escorted to an amazing table on the outdoor patio with the most amazing 180 degree views, warm heaters and sultry fire-pit.


After thumbing through a vast selection of beverages we decided on the Red and White sangria. Chef Jesse prepared a dynamic chef's tasting menu that took us on a journey of Latin flavors from bread to desert.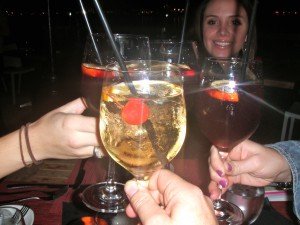 We started with the homemade pyramid shaped cornbread with jalapeño compound butter. Each savory bite was packed with moisture and fresh roasted corn.


Chef Perez arrived at our table and he presented his amuse of Oaxacan Mexican market ceviche that was packed with flavor.


Next we were presented with a modern seafood course with Aji chili Lobster Ceviche and chili rubbed seared ahi tuna with yellow mole. Both dishes worked in harmony and eased us into our next course of bite sized tamales.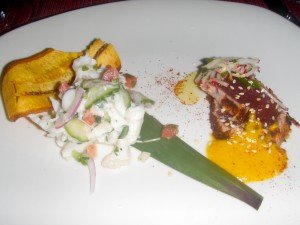 The tamale medley consisted of several family style servings of Chicken Tinga with green mole, Beef Braised with Mole, Black Bean Tamale and a wild mushroom selection from the Tamale Study menu.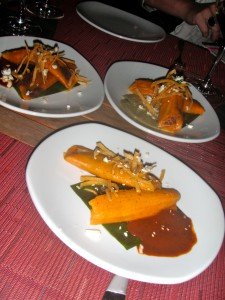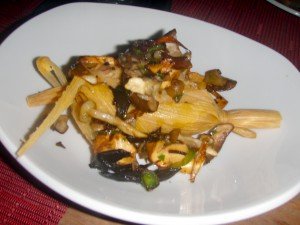 All tamales were composed with passion and each one picked up where the other left off. Next a Sipping course of Canton Ginger liquor in the form of a Tiny mojito renewed our taste-buds for our final courses.


A duo of Tacos from tender Carne Asada to shrimp lettuce wrap tacos showcased chef's range of culinary composition. This blend of modern and traditional is one of Chef Jesse's signatures.


We finished the meal with Yucatan Grouper(Masa Gniochi dumplings, poblano cream sauce, roasted Swiss chard) and a chili rubbed Lamb chop with Chimichurri sauce. To this day this is one of the most flavorful chops that I have experienced.


To break up our final course our server brought shots of Tequila crema 1921.This Mexican version of Baily's got us into the desert mood and we were ready to indulge in a duo of dessert tamales. From the Oaxacan Chocolate Tamale to Traditional Dulce we were amazing at how well they worked together.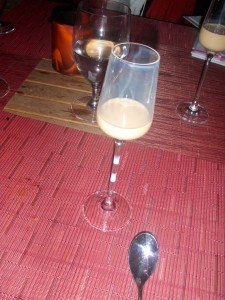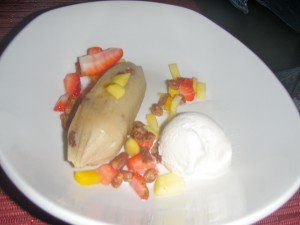 With a different themed three course tasting menu every 2 weeks, Fuego showcases its depth and takes guests on an epicurean journey. On our visit "Tamales…A dinner study" was in full swing. In a few weeks Fuego will debut its holiday menu and showcase the "Like Water for Chocolate." menu and series.
Fuego is synonymous with flavor and I encourage everyone to taste one of the many dishes that chef Jesse Perez has on display. Make Fuego your next stop on the map for a taste of Latin America in the city of Long Beach a short drive from Downtown Los Angeles.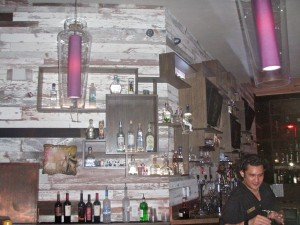 Hotel Maya
700 Queensway Drive
Long Beach, CA 90802
Tel: 562.481.3910
Fax: 562.481.3909
Email: fuego@jdvrestaurants.com
Fuego Long Beach