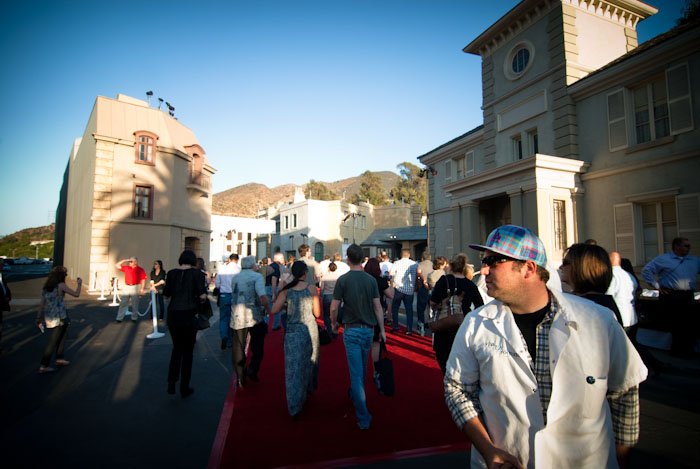 Intro/About:


The 28th American Wine & Food Festival held in Los Angeles on the evening of September 25, 2010 was like no other food and wine event I had ever been too. From a talented cast of celebrity chefs, to some of the nations top restaurants as well as the top wineries the event did not disappoint even the most discriminate foodie.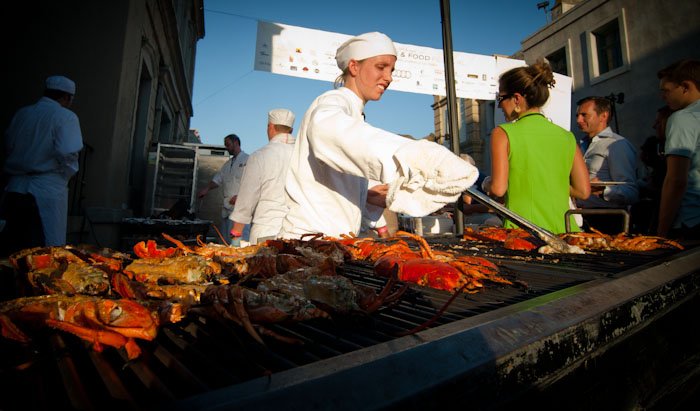 Food and Wine events in Los Angeles are a dime a dozen, but this event is the pinnacle of what they all should be.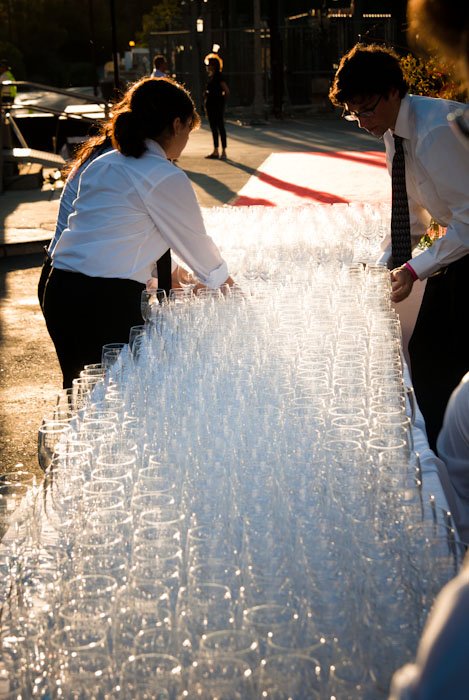 The talented team behind this event each year is the Puck-Lazaroff Charitable Foundation and over the years they have raised in excess of $15 million for the Meals On Wheels Programs of Los Angeles. The program provides thousands of meals daily to seniors and disabled persons in and around Los Angeles.
Location/Venue description:
The event took place on the Universal Studios Back-lot(3900 Lankershim Blvd, Gate 3) in Universal City, California. From there, we were transported via tram through the theme park and traveled from the C-S-I(Crime Scene Investigator) set to the infamous Alfred Hitchcock stages to the Lyon Estates from the movie "Back to the Future" until we reached our final destination of "London Square" where the festivities began.
The Setting:
The entire back-lot was lit as if we were the main characters of a high-budget Hollywood film. At the center of the space, were strategically placed event sponsors Wolfgang Puck and the luxury auto maker Audi along with Fiji water and others.
I had the pleasure of covering the event as media for VivaLAfoodies. This was the hottest ticket in town so we had to make sure that we could recap the event for those who could not attend.
The event was also important for me to attend since I also work for the Wolfgang Puck organization in the Catering division so I was also there to support our team from both the Wolfgang Puck Catering departments as well as the Wolfgang Puck Dining group.


Rico Mandel from "The Culinary Image" provided some great visual depictions of the event in his photographs.


A complete list of sponsors can be seen here
A recap of our favorite vendors/restaurants:
From the moment we entered the lot, our culinary walking tour provided a sensory experience like no other. The smells of quality ingredients permeated the atmosphere and provided enough adrenaline to keep us going as our bellies began to growl in anticipation.
The entire portfolio of Wolfgang Puck's culinary empire were present and each restaurant provided a generous portion of mouthwatering and tantalizing flavors to attendees.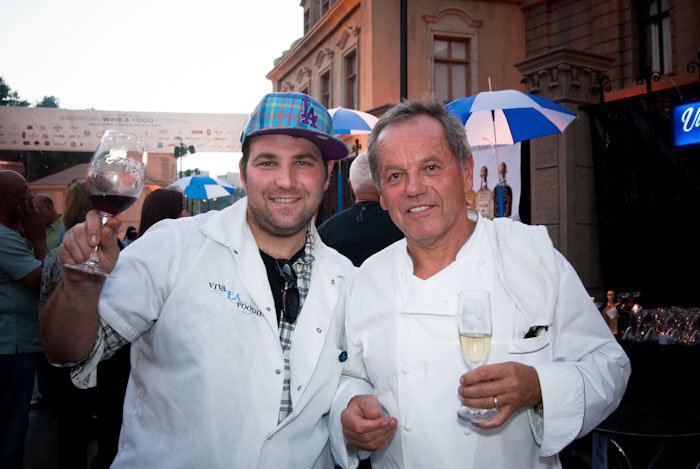 We had the fortune of grabbing a quick photo opportunity with Wolfgang Puck in between bites from Cut Steakhouse(of Beverly Hills)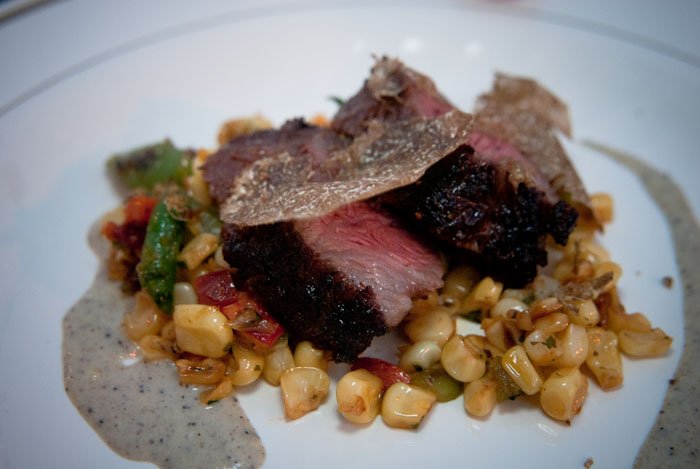 and Wolfgang Puck Bar and Grill(Los Angeles Live)


before venturing off to the table of Cielo Malibu Estate Vineyard for a trio of sips including the Sauvignon blanc, 09 Purple haze(Blend) and Black widow.


Some other memorable chef imagery and photo-ops:
Chef Paul Prudhomme


Wolfgang Puck Team
Matt Bencivenga(Chef & Managing Partner)


Executive Chef Sonny Sweetman of Wolfgang Puck Catering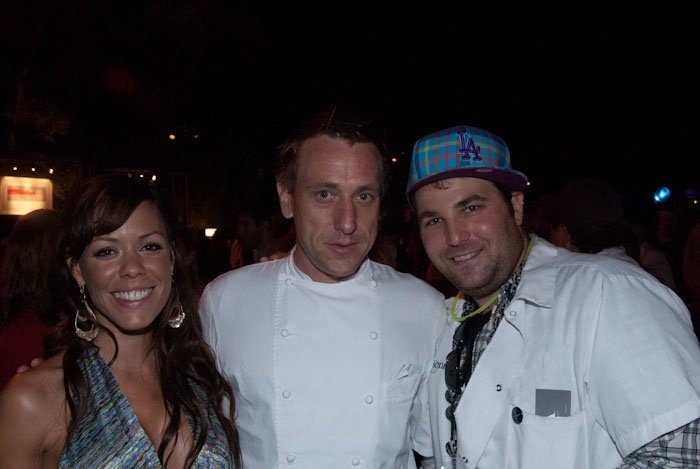 WP Housemen Crew


Some of our favorite bites


Came courtesy of Tabla Restaurant via the NYC. serving up grilled Tandori lobster with fire roasted corn salsa medley. The dish was a nice showcase of Chef Floyd Cardoz's "New Indian Cuisine" movement. And She(the lobster) was"definitely a female and she was oh so good"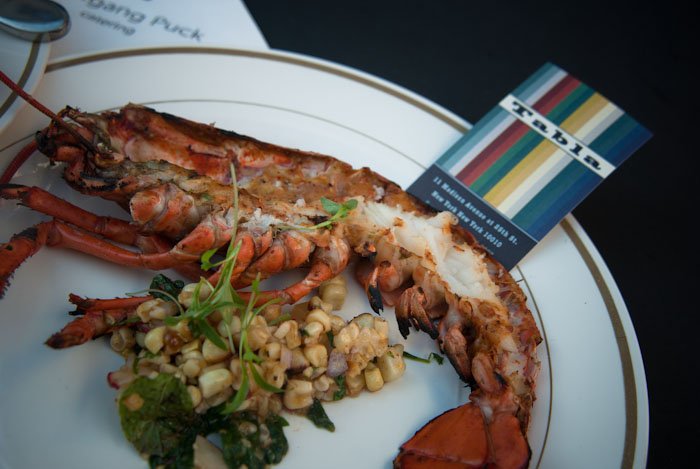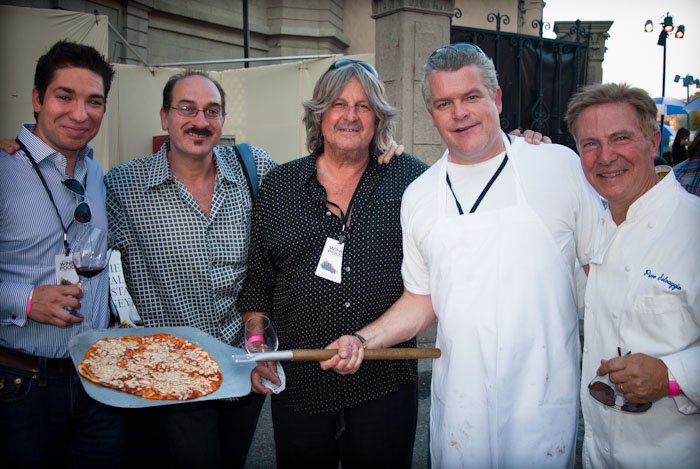 Next up, Piero Selvaggio and the Valentino Restaurant Group which has received countless awards and is now regarded as one of the finest Italian restaurants in the US. The LA restaurant is located a stones throw from Universal City, not too far from the intersection of Santa Monica & Pico Blvd. in Santa Monica, California. Chef Selvaggio also has Las Vegas and Houston locations. We also were fortunate to dine on a tasting menu spread that included: Ribs, Eggplant Parmesan, Pizza margarita, Polenta puree and Calamari salad.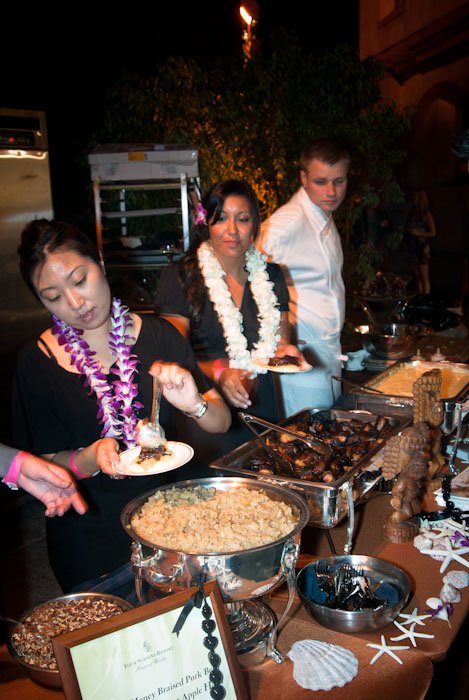 Our next stop was at the nearby Four Seasons Maui featuring selections from their "Duo Restaurant." They took a Haute cuisine approach and featured several dynamic, sexy and tasty culinary "Surf & Turf" compositions. From a Harissa and honey braised pork belly served with Polenta porridge and sour apple hash to their Island snapper "crudo" with Soy Ginger glaze and Wasabi pearls we were impressed so much so, that we had to help ourselves to a Kukui nut necklace to go as a reminder to make sure we revisit DUO the next-time we leave the mainland.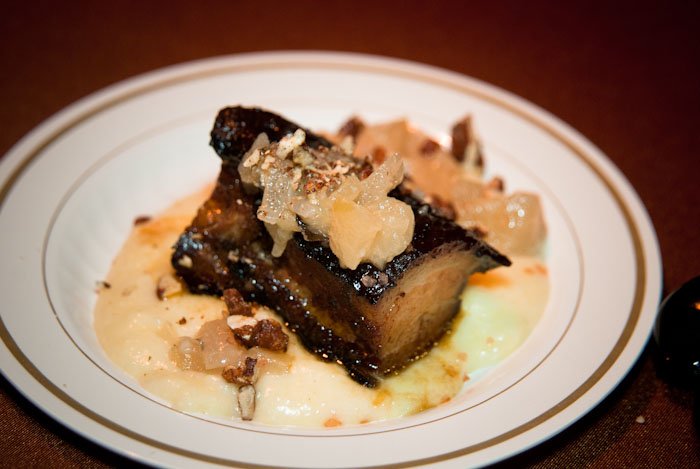 We had to keep moving so after stopping to catch our breath at the AUDI R8 Super-car display and daydream we ventured off to the upper pavilion to do what we do best, "Eat some more"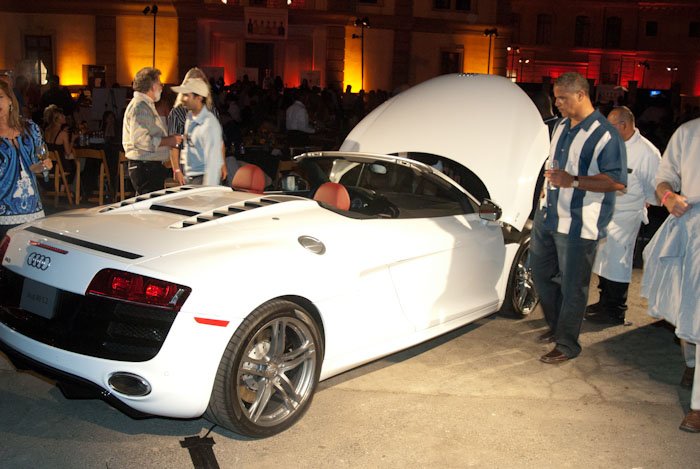 A quick stop for some hand-rolls(Blue Crab & Tuna) from Blue Ribbon Sushi Bar and Grill Las Vegas got us back in the game before stumbling on the most amazing "Raw (Seafood) Bar" courtesy of Thomas Keller's Bouchon. Where we popped Oysters, Crab and Gulf Shrimp as if they were peanuts.


We were fortunate to snap a shot of Thomas Keller, while he was being interviewed by our friend and fellow food journalist "Average Betty". It was such a great interview that we had to include it here.

Unfortunately, we have to stop here even though there are far too many others to list and as you can tell we could go on forever
A notable sip: (Local, Hip and Available)
Malibu Vineyards
2008 Cabernet Franc poured at Bouchon by glass and by the bottle at Spago
Artisan boutique Malibu wines owned and operate by Jim Palmer
We caped off the night off in "Sherry Yard's Sweet Sanctuary Champagne and Port Lounge" Sherry Yard, renowned pastry chef for the Wolfgang Puck organization was the MC of the dessert pavilion and she was having a blast, handing out glow-sticks and keeping with the theme: "Follow the dark-side"


Some amazing pastries were to be had including the following that were noteworthy: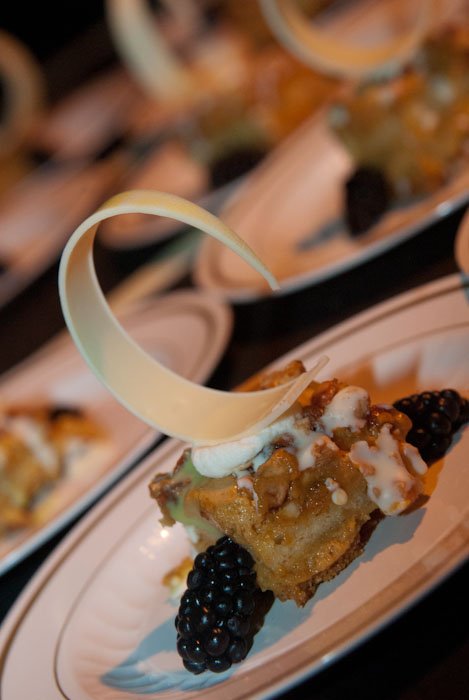 Chocolate Almond lollipop
Blackbird/ Chicago
Bourbon Barrel Panacotta with Apples and walnuts
"Push-pop"by Dominique Ansel from Daniel
Chocolate Hazelnut Puffed rice and Coco Mouse
(Simply summed up a grown up more seductive adult)
Water mission:
Fiji Water and other sponsors could not keep up with the demand of hydrating the crowd, but with no water to be found and a thirsty palette, Tsalon(Melrose) came to the rescue with pitchers of iced lemon green tea that we downed by the glassful. We regained our senses and had a chance to get in a few words with the Facebook chefs.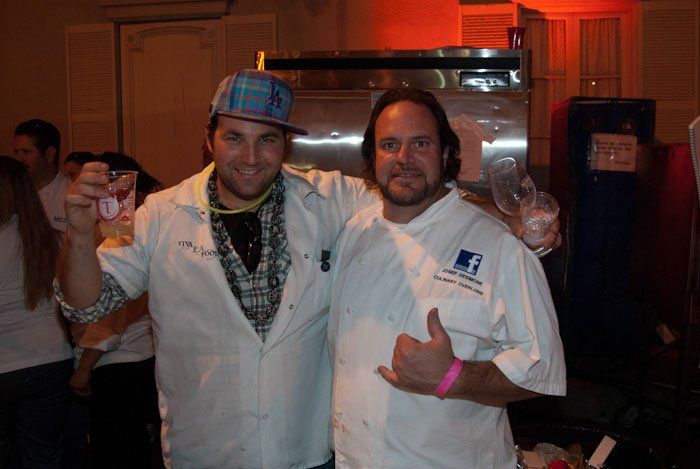 These chef's don't mess around and honed their skills over the years at Yahoo.com. Unfortunately we did not see any tweeting, Twitter chefs in sight.
Closing:
We had a blast and have to thank the team behind the 28th American Wine & Food Festival. The event couldn't have been possible without the talented team of people behind the scenes including restaurants, restaurant owners, public relations professionals, media, Wolfgang Puck and his brand, The Puck-Lazaroff Charitable Foundation, Meals on Wheels, WPC housemen, the event sponsors and everyone else who made this event possible.
It was "Just A little journey in a small town with the smell of wine and cheap perfume" as we left universal studios, while Journey played into the night!