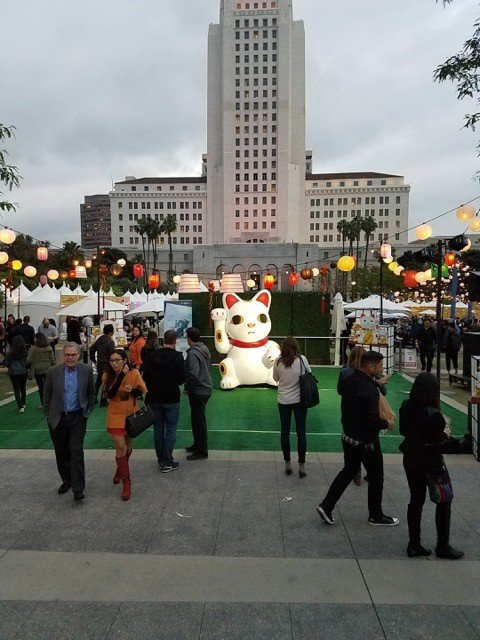 As part of the LA Times Food Bowl's commitment of  "31 days of food" driven culinary events for Angelenos looking to explore the cities diverse dining options and destinations curated by the LA Times talented team of food writers and critics including the infamous Jonathan Gold amongst others have taken over our great city with an abundance of unique experiential dining experiences that are truly one of a kind.
A 5 day curated outdoor dining festival simply dubbed the "Los Angeles Times Night Market" is a "Street Food Marketplace" in Downtown Los Angeles' that runs from Wednesday May 10 thru this Sunday, May 14, 2017 with over 50 vendors from Food Trucks, Street Food Vendors and Casual and Fine Dining establishments celebrated by the cities culinary heavyweights.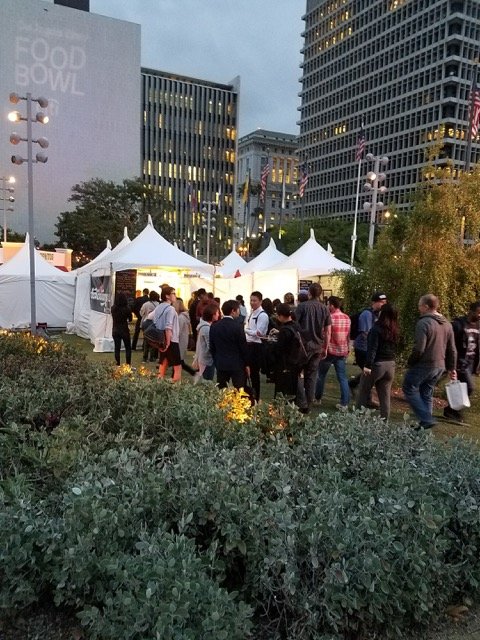 When Adam asked me to cover the event I was forever stoked to see what my fellow chefs were cooking up at this limited outdoor evening "pop up" in Downtown LA's Grand Park. Working as a chef  in LA who has also created a streetwear brand from the ground up geared at Chef's looking for a brand they can identify with to express themselves not only that they can wear under their chef whites or sport on their days off is a full-time job.  I seldom have the chance to attend food-festivals and events as a guest so this was a nice change of pace and an opportunity that literally fell into my lap and an excuse to do one of my favorite things besides cooking…..EATING and seeing what other top chefs are coming up with these days.
I have lots of industry friends and contacts who work at many of LA's top restaurants, many of which were showing off their latest culinary creations at the LA Food Bowl Night+Market.
I decided to follow my nose and explore some of the lesser known street vendors, some of which vend weekly at various farmers markets and events including the weekly Sunday market, Smorgasburg LA in the nearby ROW DTLA known for its eclectic Street Food, shopping, and drinks.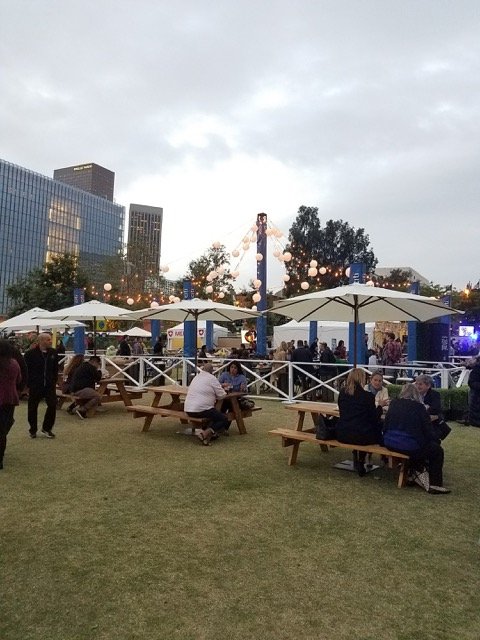 Some of the Trucks and street vendors we encountered were Belly Bombz which we checked out on Sunday at the Masters of Taste event at the Rose Bowl (in partnership with LA Food Bowl), The Border Grill where I have previously worked in Santa Monica as an executive sous-chef and have crafted many menu specials for before for the restaurant and catered events and some other LA Trucks that have become the usual suspects on the food truck dining scene like the India Jones Chow Truck, Dogtown Dogs, The Grilled Cheese Truck and many more.
We set our eyes on one of "Smorgusburg LA" greatest instagram hits,  the ever so popular "Street-Food"  "pop-up",  Lobsterdamus.  We connected with Johnny Angeles one of the companies founders via Adam Rubenstein from vivalafoodies.com who told us we had to checkout Lobsterdamus at this years LA Food Bowl Night+Market well known for their Sunday residency at "Smorgusburg DTLA"  According to Johnny this is Lobsterdamus' recipe for success,   "We start with a 1.25 LB wild-caught live Maine lobster, blanched, drizzled with butter and seasoning then finished to perfection on a charcoal grill.  Besides the "Maine" dish, Lobsterdamus also serves Lobster Balls in Garlic butter and Lobster Nachos at the pop up events.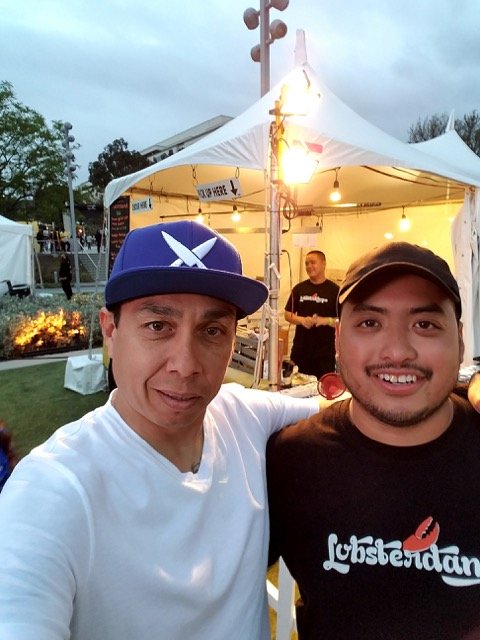 Lobsterdamus is a family business. They've been crafting their menu for over 4 years and this past year is when things really started to take off for them. Their uncle started getting getting lobsters wholesale, now they are key players in the lobster wholesale business selling lobsters, oysters and other seafood.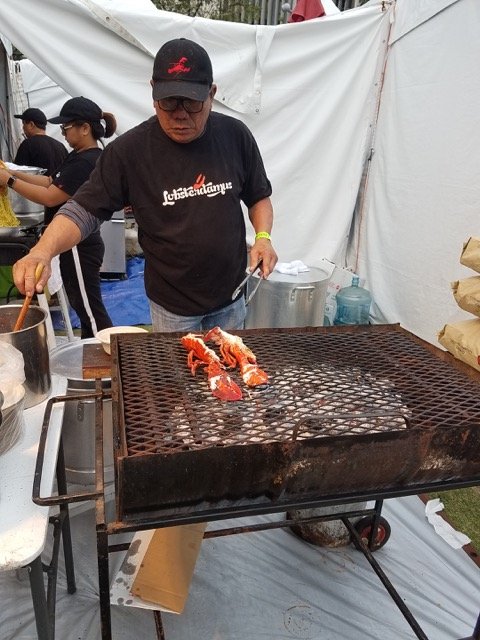 For this 5 day Night+Market, Johnny and team crafted a diverse manu that included their popular  items such as the Garlic Noodles, Signature Grilled Lobster and well as an event special the Seafood Arroz Caldo.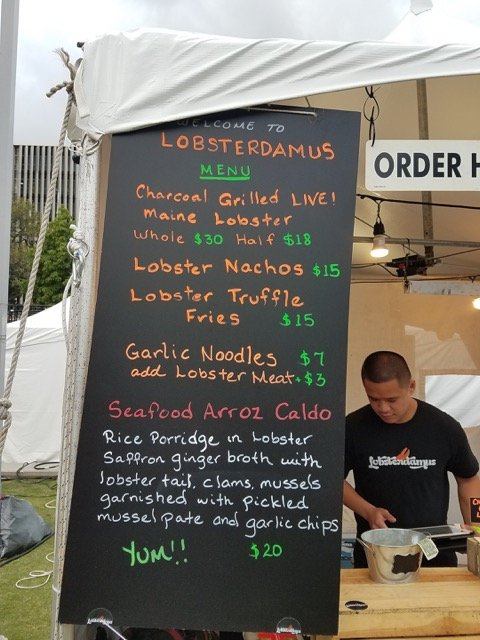 The food was amazing!! The grilled whole lobster was delicious and sweet. They cut it in half and grilled it over smokey charcoal. The only thing they put on it was butter and their own seasoned salt mixture and garnished with parsley and fresh juicy lemon wedges. The lobster is uber fresh and thats what makes the meat so sweet.  They were literally killing them in the back tent to order (Sorry PETA).
The garlic noodles were simple and good. Garnished with green onions and parmesan. They were so flavorful and  the noodles were cooked perfectly.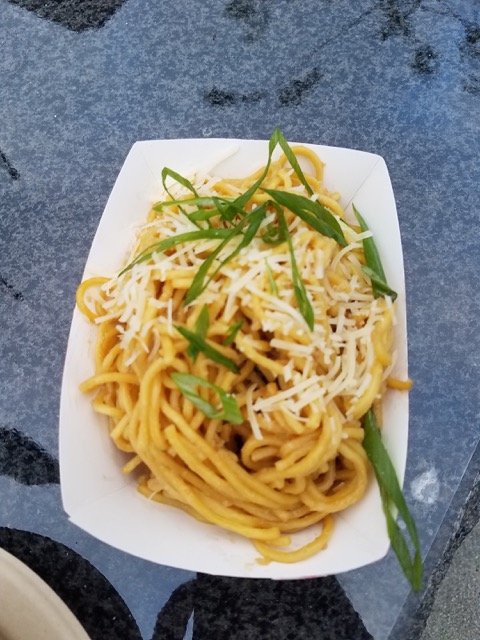 The Seafood Arroz Caldo was scrumptious! The rice was cooked in a lobster, saffron and ginger stock and made it extremely savory.  It had and abundance of ingredients in it from clams, mussels,  pickled mussels that were chopped, fried garlic chips, half a lobster tail, and lemon.  Now that's called getting your money's worth.  It was the bomb!
The LA Food Bowl night market definitely gave me a different perspective that I don't normally experience on the line of some of LA's fine dining establishments.  It also renewed my respect for the many types of food and beverage workers in the expansive industry that includes brick+mortar restaurants, roaming food trucks and "pop-up" street food vendors.  We hope that you have a chance to experience Lobsterdamus and the many other vendors at this months LA Times Food Bowl, Night+Market in Grand Park as well as their many other culinary events happening through the end of the month. There are still a few days left so get your tastebuds ready and head over to Grand Park in DTLA.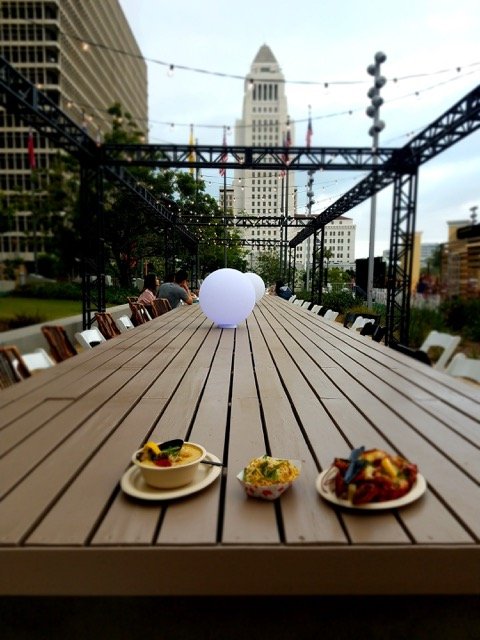 Article written by guest blogger, Chef Life Clothing's , Chef Mike Ruiz for VivaLAfoodies.com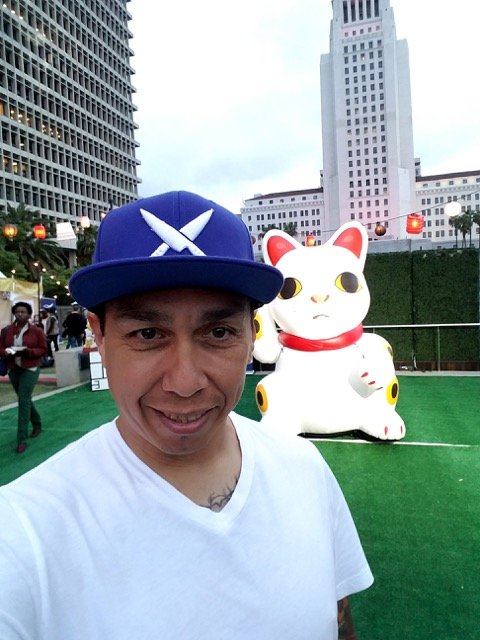 Follow Chef Mike Ruiz on Instagram as well as his clothing company: CHEF LIFE CLOTHING