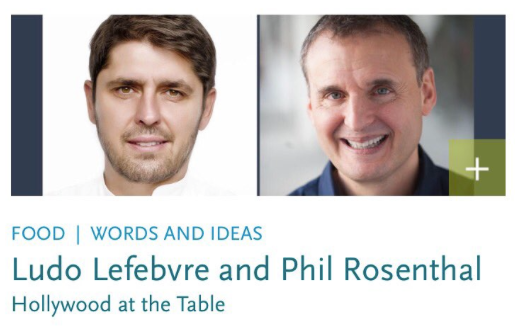 Two mega middle weights in the food and pop culture world who came from complete opposite sides of the track heated it up on the Skirball Museum auditorium floor Wednesday night.
Phil Rosenthal, an overly animated Jewish American, who created Everybody Loves Raymond, swapped stories with Chef Ludo Febvre, an objective Frenchman, who created Trois Mec. Veteran food writer, Dr. Lara Rabinovitch dished out the questions and with the help of an audience of over 200 observed the biggest commonality between the two men: their passions for food.
The two gentlemen first spoke about the women they married: Ludo married a Playboy model and Phil's wife made him throw out all his Playboys. Phil's exodus into the gastronomical universe took place when he left his parent's place to attend Hofstra University. Ludo's culinary journey started when his dad gave him an ultimatum of three jobs he could do since he didn't want to attend school. Of the three, he chose to cook. Phil travels around the world eating. Ludo cooks what Phil eats, especially the omelet and bread Ludo served him in one of Phil's episodes of "I'll Have What Phil's Having."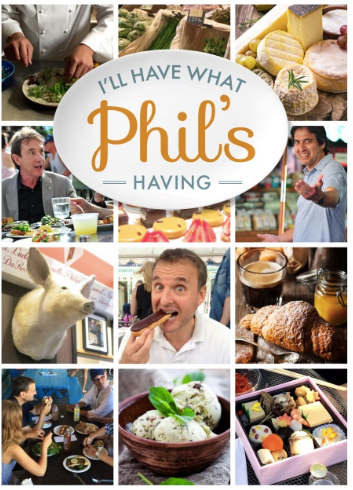 They both have kids. Ludo teaches his kids about food by cooking together and going to the farms outside of Los Angeles. Phil yells at his college aged offspring why he's eating crappy 99 cent pizza in New York City instead of buying the delicious $3 slice at Joe's in SoHo.
Ludo eats amazing medicinal popcorn created by one of his Trois Mec chefs. Phil said he thinks his son is using all his money on that stuff instead of a good slice of Joe's pizza.
Funny aside, they both feel that traveling and experiencing another culture's and country's food is how one learns and grows. Ludo experienced it on his own cooking show and saw the hard working barbecue pit masters in North Carolina getting up at 2 to 3 in the morning. Ludo said he feels he works hard, but not to the degree of the pit masters. Phil said that he loves how when he travels he sees how everyone is the same. When Phil travelled to Mexico City he discovered that the Mexican citizens love brisket just as much as the Jewish Americans. Of course, they sauce it up and marinate it for hours on end low and slow before it can be edible, but it still comes out delicious and tastes the same.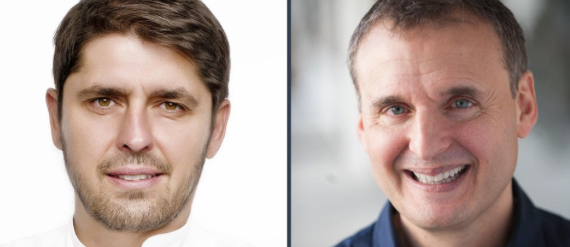 Phil's purpose of his show is to get many Americans comfortable to traveling. The Department of State says that only one third of Americans own passports. Phil feels that food is the catalyst. Not even Ray Romano wanted to travel. Phil said that he made Ray choose to go to Italy over his Jersey Shore summer destination and when all was said and done, the greatest bug bit Ray ever received was from the travel one.
Ludo wants to show people around the world that Los Angeles is a food destination through his cuisine. To help promote the confidence of opening people's palates, Ludo just broke ground on his 2nd iteration of Trois Mec in Sherman Oaks. Phil's new travel food show on Netflix is in post now and will premiere sometime in the Fall.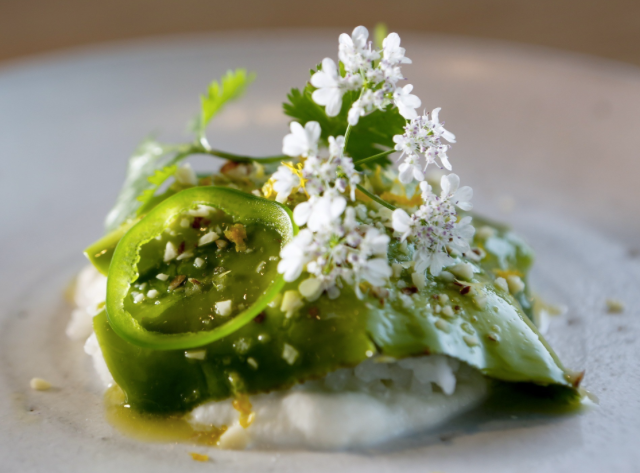 Phil and Ludo's beliefs lined up at the Skirball Museum held event called Hollywood at the Table. It was a part of the LA Food Bowl.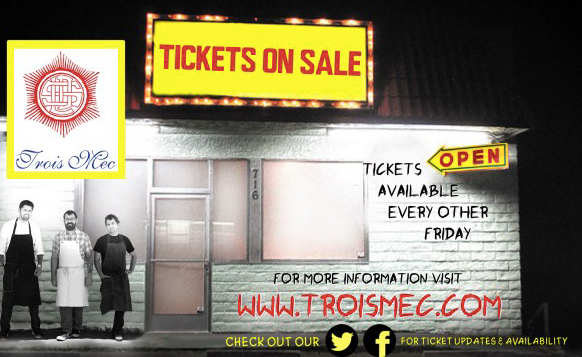 Article guest written by Monis Rose from RestaurantFiction.com for VivaLAfoodies.com