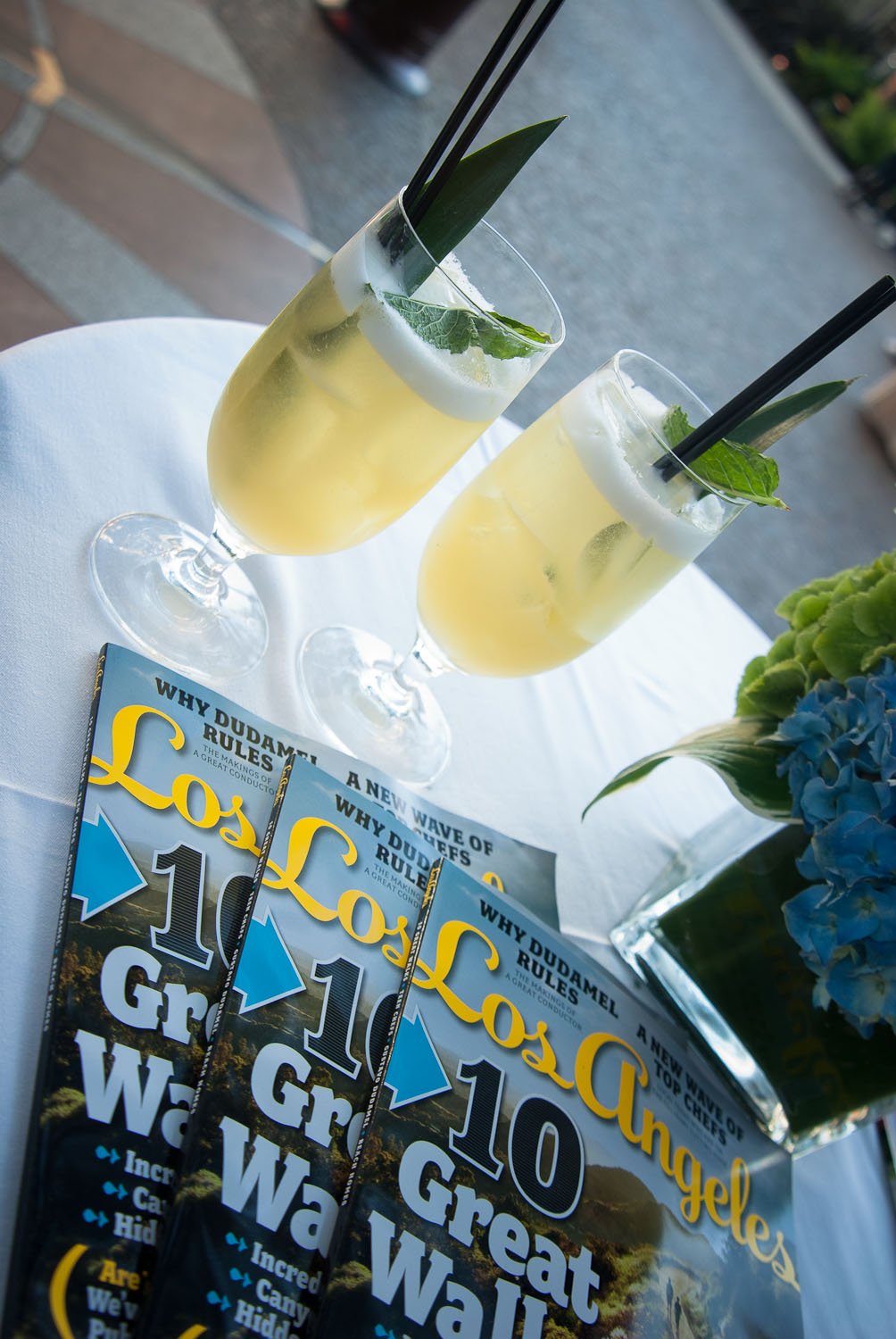 LA Magazine's "Island Style Cook-Off" was one of Los Angeles' hottest summer food and beverage tickets and we had a front row seat to the action and tropical festivities courtesy of our friends at the Valentine Group; one of LA's premier Public Relations firms specializing in the food and beverage lifestyle segment.
Rocking our best Island inspired wears in the theme of the "Aloha Spirit", our Rasta Reggae Viva LA Foodies trucker hat made us feel right at home at the picturesque outdoor terrace at the Fairmont Miramar Hotel & Bungalows in Santa Monica's Oceanside high rent district, overlooking the Pacific, where the laid back "Island Vibes" carried with the waves through the night.
About the I.S.C.O:
The "Island Style Cook-Off" or I.S.C.O. for short was a collaborate event between Los Angeles Magazine and The Hawaiian Islands to showcase the beauty and culture of the Island's via a competitive cooking competition between some of LA's "Top Chef's", all competing for the title of the "Hawaiian Islands Master Chef."
A talented roster of Judges that included such culinary greats as Roy Yamaguchi of Roy's Restaurant, Ed Kenney of Town Kaimuki, and Lesley Bargar Suter, Dine Editor of Los Angeles magazine resided over Los Angeles' Lu'au version of "Kitchen Stadium."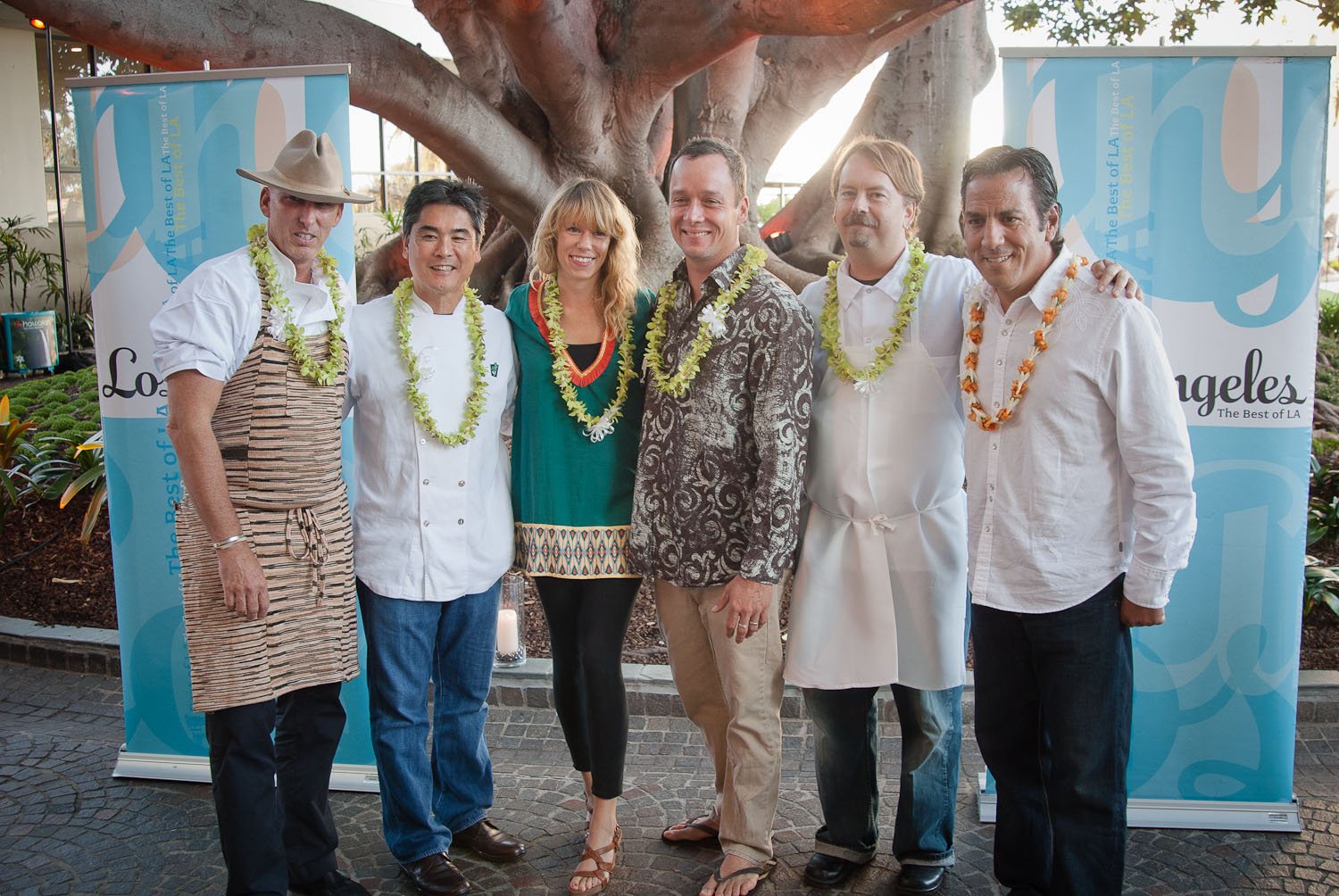 The Location:
The Fairmont Miramar Hotel & Bungalows located at 101 Wilshire Boulevard in Santa Monica embodied all that a Hawaiian resort is and was the perfect site for the "Luau themed "Pupu Party" complete with its own Native Hawaiian "Kukui Nut Tree" in the outdoor pavilion.
About the Chef Battle Event:
Leo Quinones from Fox Radio was the events special MC and kept the crowd on edge with his enthusiastic hosting and culinary driven humor. Hosting high profile media events to Leo is like taking a walk in the park because it just flows naturally. Aside from working collaboratively on a portfolio of award shows from the Grammy's to the Golden Globes, The Espy's and the Oscars he also hosts "The Snyder Diamond Cooking show" that is one of America's only "Live" cooking shows.
Pre-Bout Warm Up:
Executive Chef Ray Garcia from the Fairmont Hotel's own farm-to-table restaurant FIG made a special appearance on the main stage for a chef demo of his recipe for "Roasted Kalua Pork Tacos with Pineapple salsa on homemade tortillas.
A 50 plus pound Kalua pig was flavored with a Latin style marinade that paid homage to Los Angeles' "Pork Carnitas and Al Pastor" street tacos culture with tropical upgrades.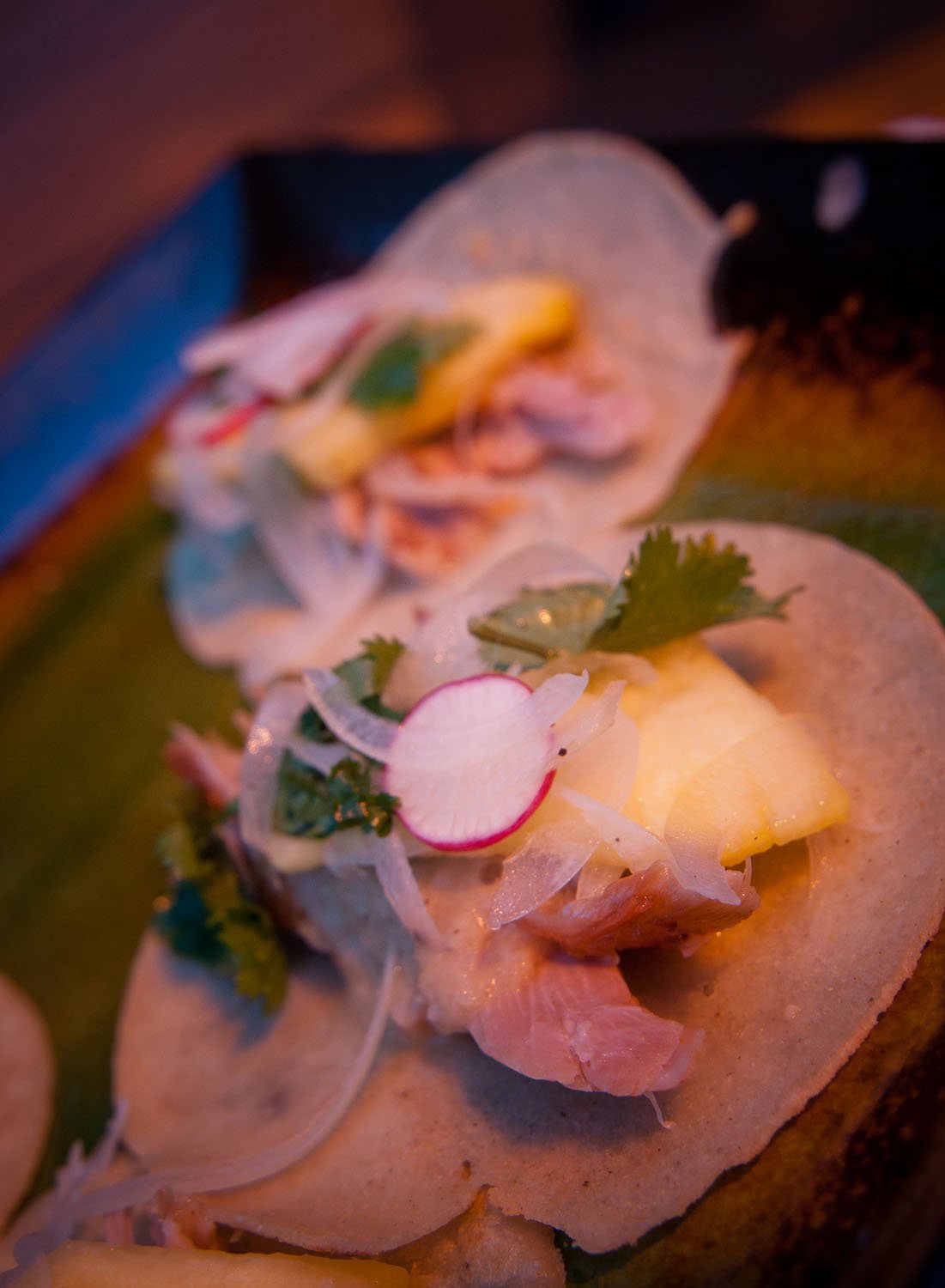 The "PIG" was infused with pineapple, habanero, garlic, brine and then roasted in the hotels own infamous "La Caja China" "IMU" style roasting box made famous by Bobby Flay's, cooking show "Throwdown."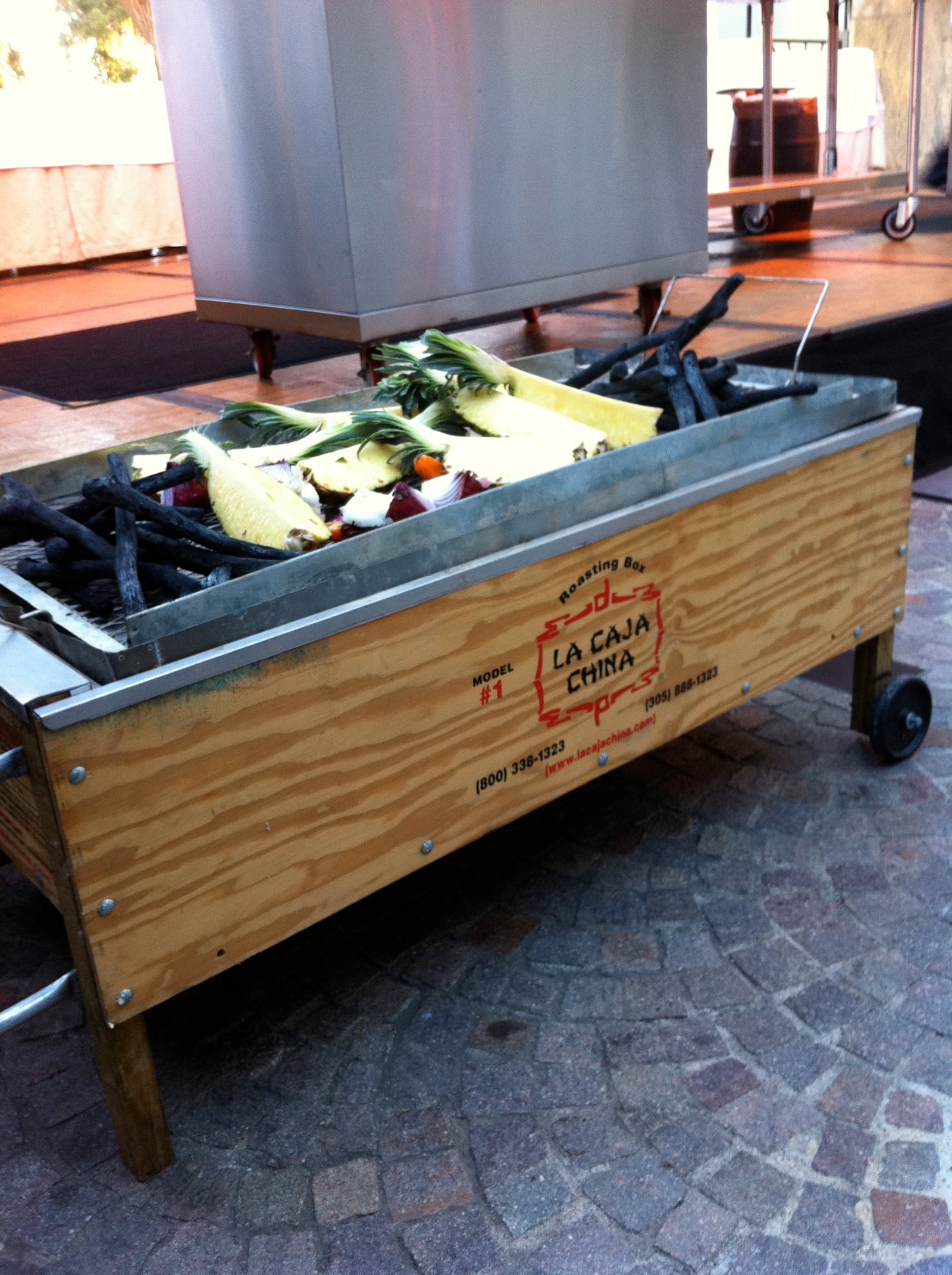 The Chefs and the Battle Royale:
Neal Fraser(BLD Restaurant), Mark Gold(Eva Restaurant), Eric Greenspan(The Foundry on Melrose), and Brendan Collins(Waterloo & City) all presented Hawaiian themed dishes to the event producers prior to the event and the online community selected their two favorite dishes and corresponding chefs to compete in a "Iron Chef Style Cook-Off", where the best dish would be chosen and a winner crowned.
The Challengers: Neil Fraser vs. Mark Gold "Regulators Mount Up"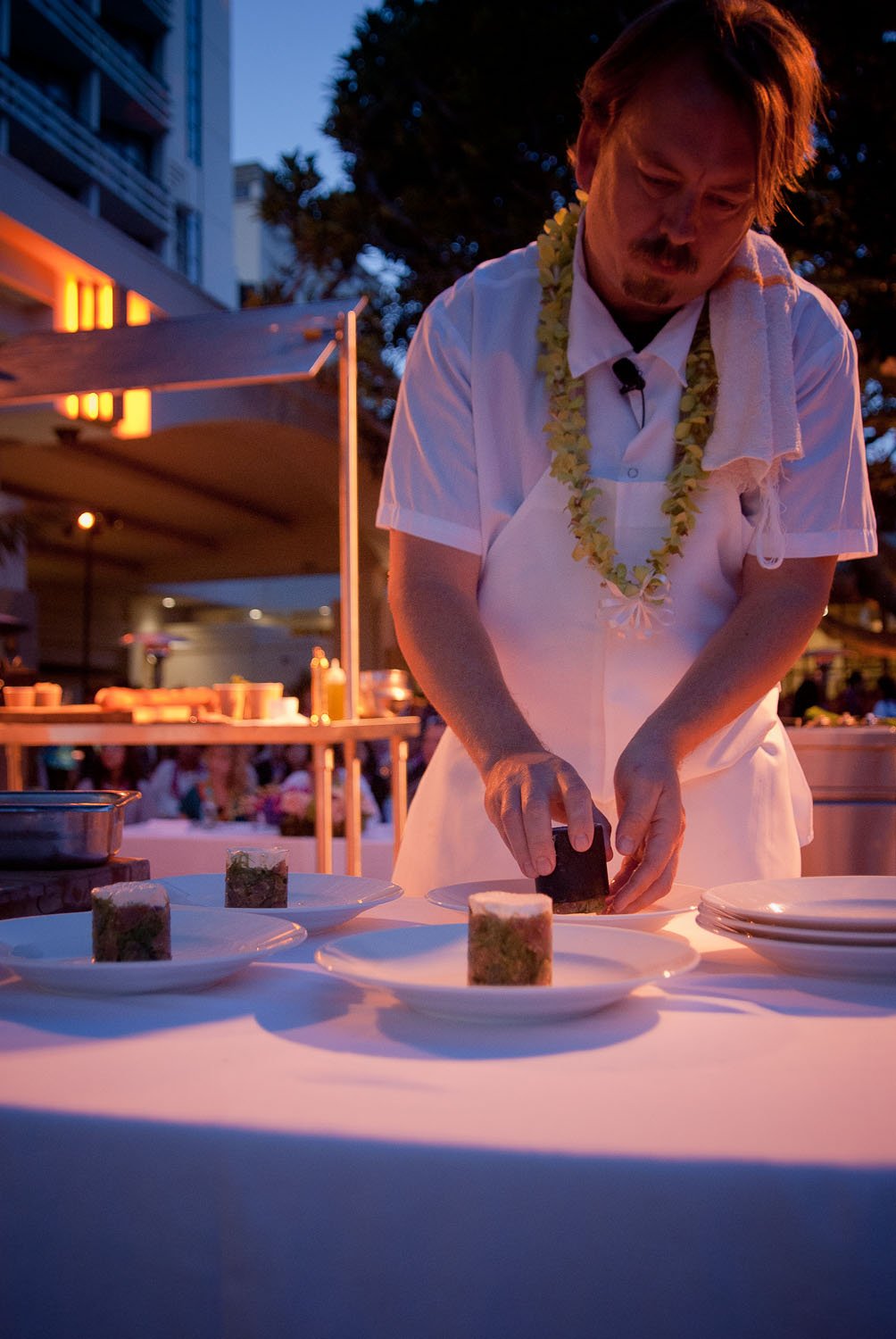 Chef Neil Fraser from BLD Restaurant is one of LA's leading and forward thinking chefs and its no surprise that he has been brought on as the consulting for "The Strand House", a new restaurant that will soon be opening in Manhattan Beach where "Beaches" used to be where the Strand meets the pier.
He provides amazing chef demos geared towards the home-cook with a fine dining approach and this was our second time observing his culinary prowess. We last saw him at another LA Mag event; "In the Kitchen with Neil Fraser" at Snyder Diamond at the end of last-year. He has a wide range of skill and it shows in the presentation of each dish as well and each flavor component can be identified with every bite. His Ahi Tuna Poke drew influences from France, China, Japan and the Pan Pacific since Hawaii is a melting pot and fusion of many cultures.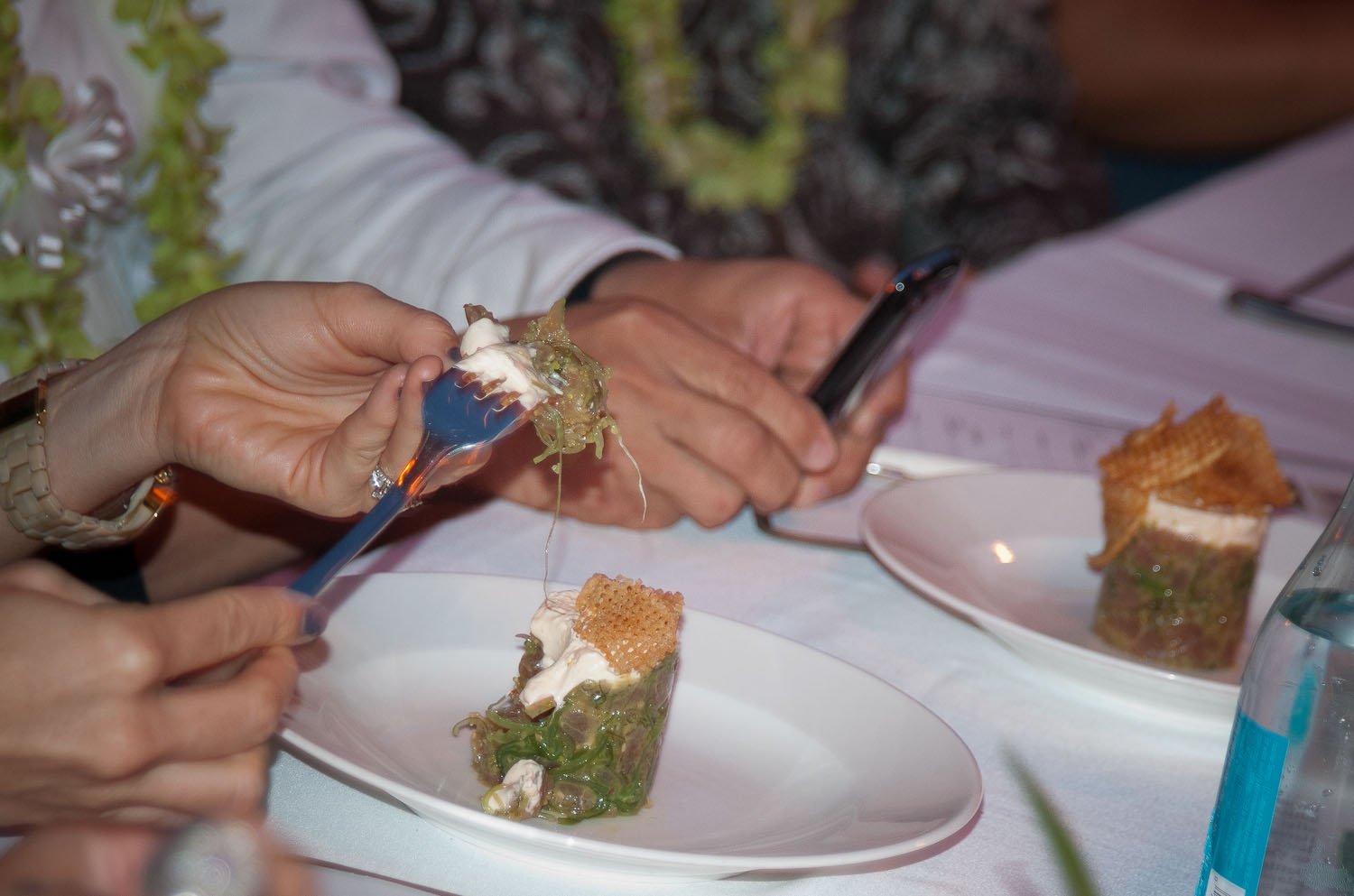 The Dish/Cook This: Hawaiian Tuna Poke, Wasabi Tobiko, Sambal Crème Fraiche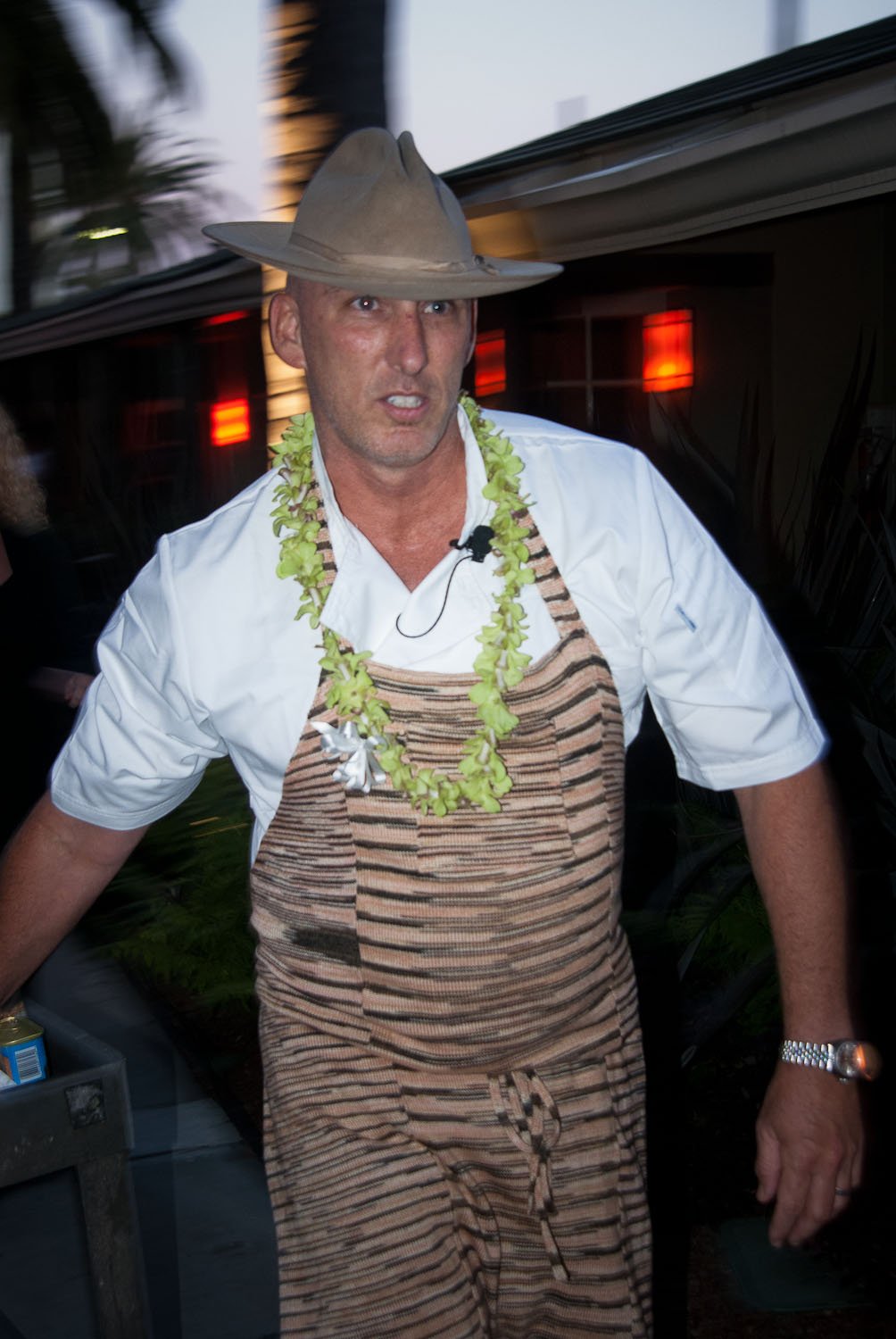 Mark Gold has made his rounds in LA's top vastly changing supper-clubs and has a resume that should earn him an honorary "Top Chef" trophy. He has been in the scene his entire life, honed his skills in many back kitchens before taking the wheel at the healm of some of LA's great eateries including Downtown LA's Water Grill, Café Pinot by Patina before opening EVA Restaurant, named as tribute to his grandmother who has been a great influence in his career.
He presented a French influenced play on classic Japanese Nigiri Sushi with a gastronomic approach that resulted in a ramped up mash-up of flavors that all mingled together like "White on sticky Rice"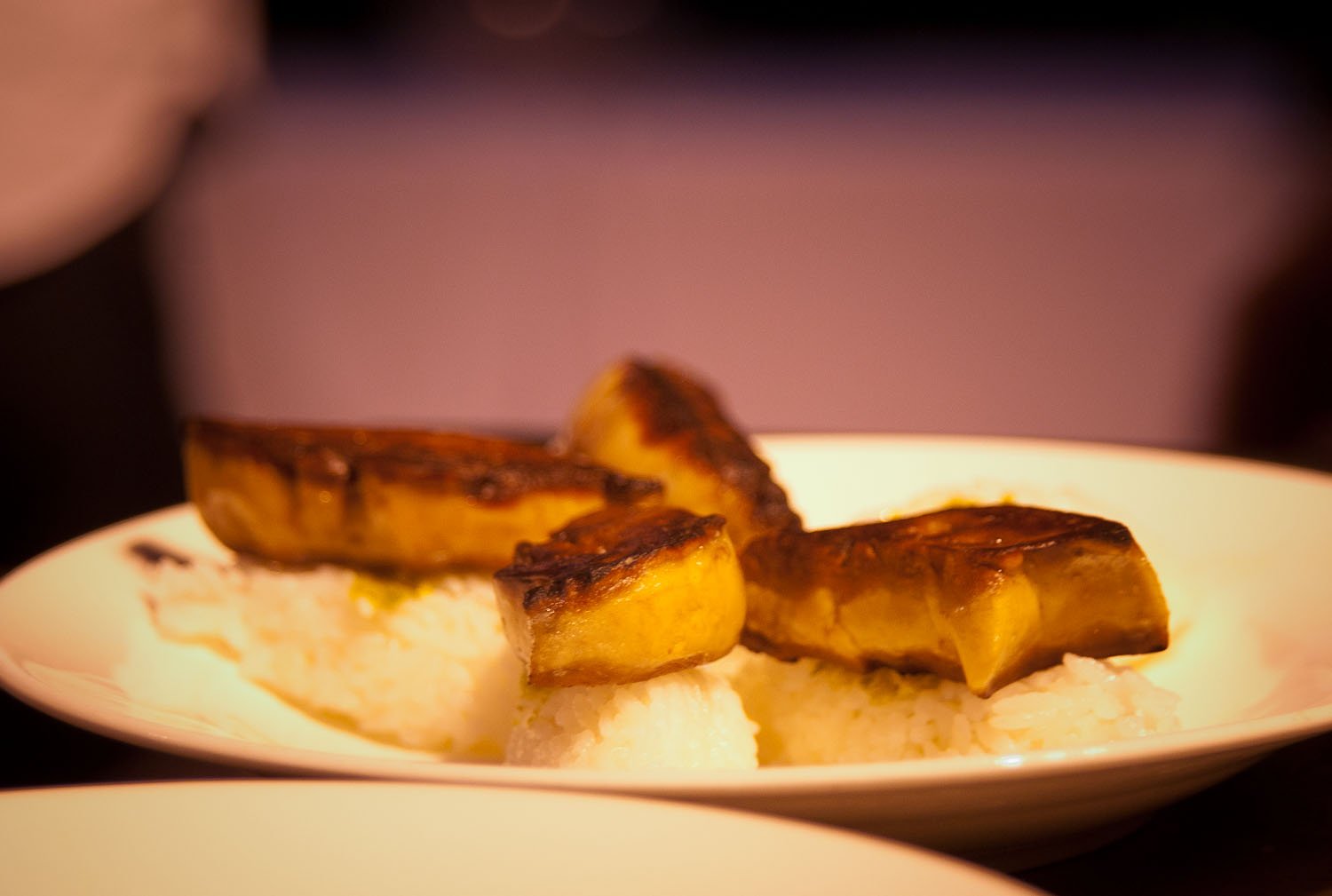 The Dish/Cook This: Roasted Foie Gras with Sushi Rice, Tea Smoked Plum and Grated Yuzu
The Drinks: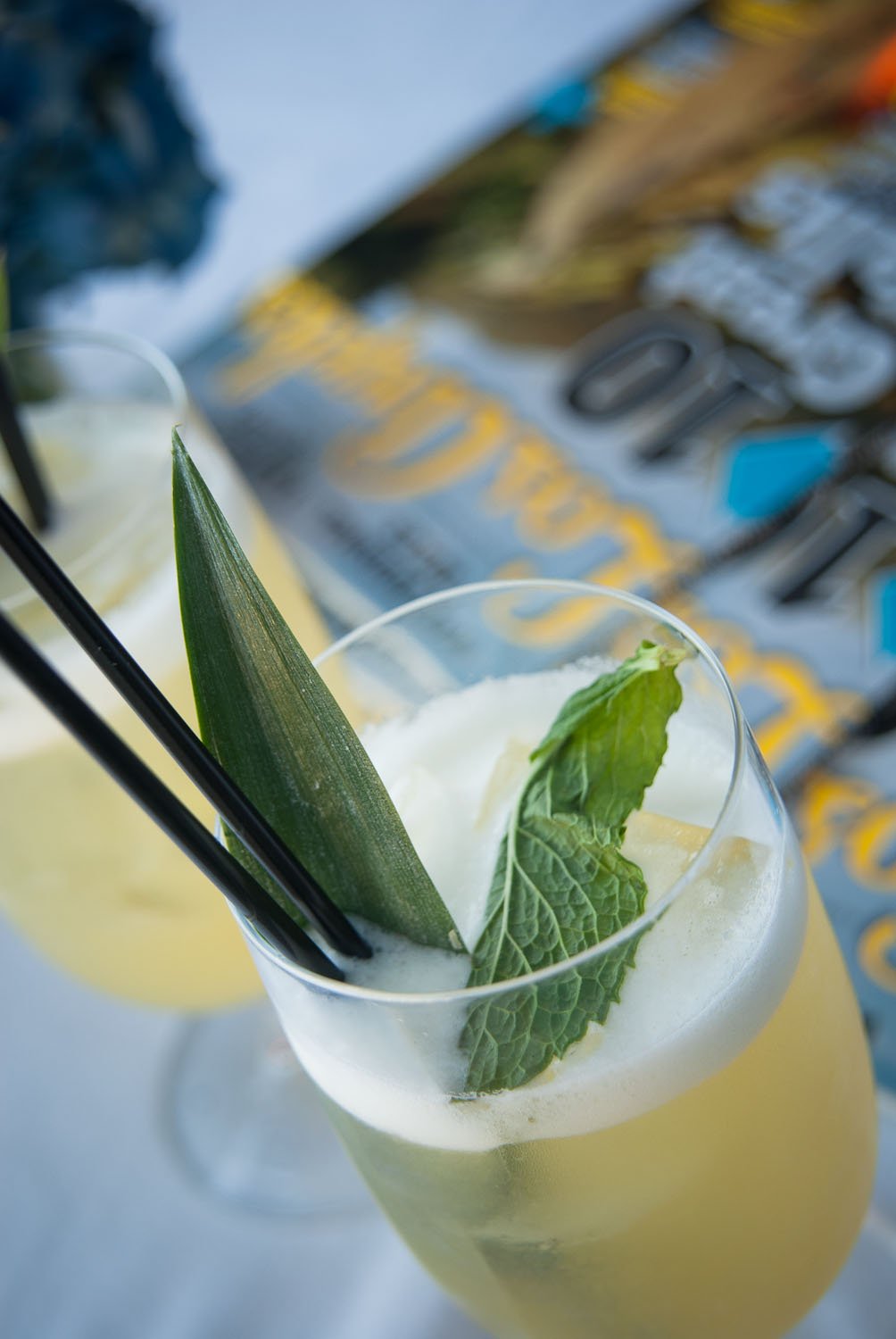 Specialty cocktail: Pineapple Mosquito(Vodka, Pineapple Juice, Organic Mint and Pineapple Garnish"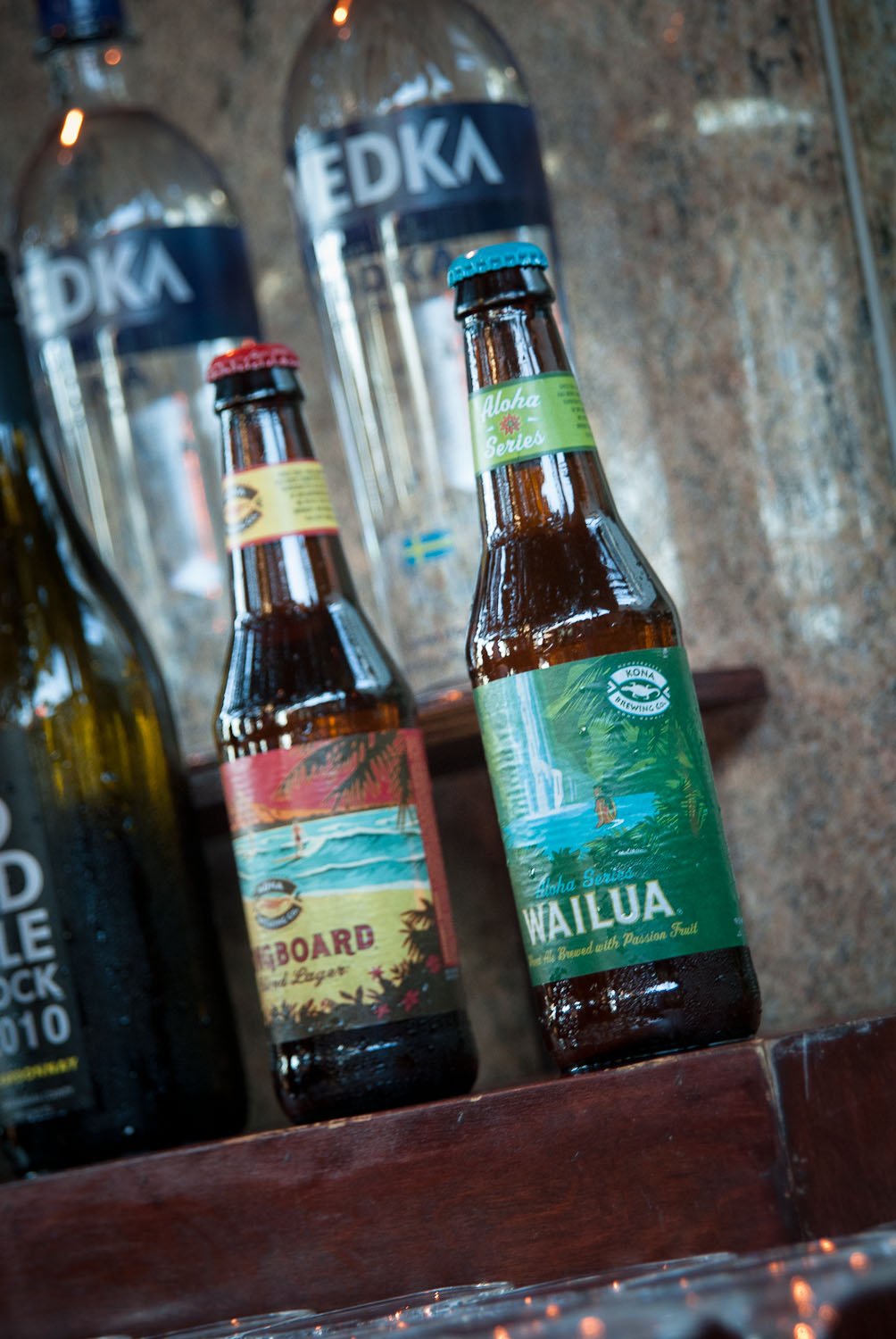 Kona Brewing Company had two of our favorite beers on hand for the event so we made sure to take full advantage of the libations that included the "Longboard Lager"" and "Seasonal Wailua Wheat" Beer.
Island Snacks: Mauna Loa Macadamia nuts, Taro Chips, Kauai Guava Macadamia Nut Cookie, Waialua Estate Dark Chocolate
The "Pupu's":
Kumamoto Oyster, Pineapple and "Espama"(SPAM) with Toasted Buckwheat from Chef Mark Gold, Eva Restaurant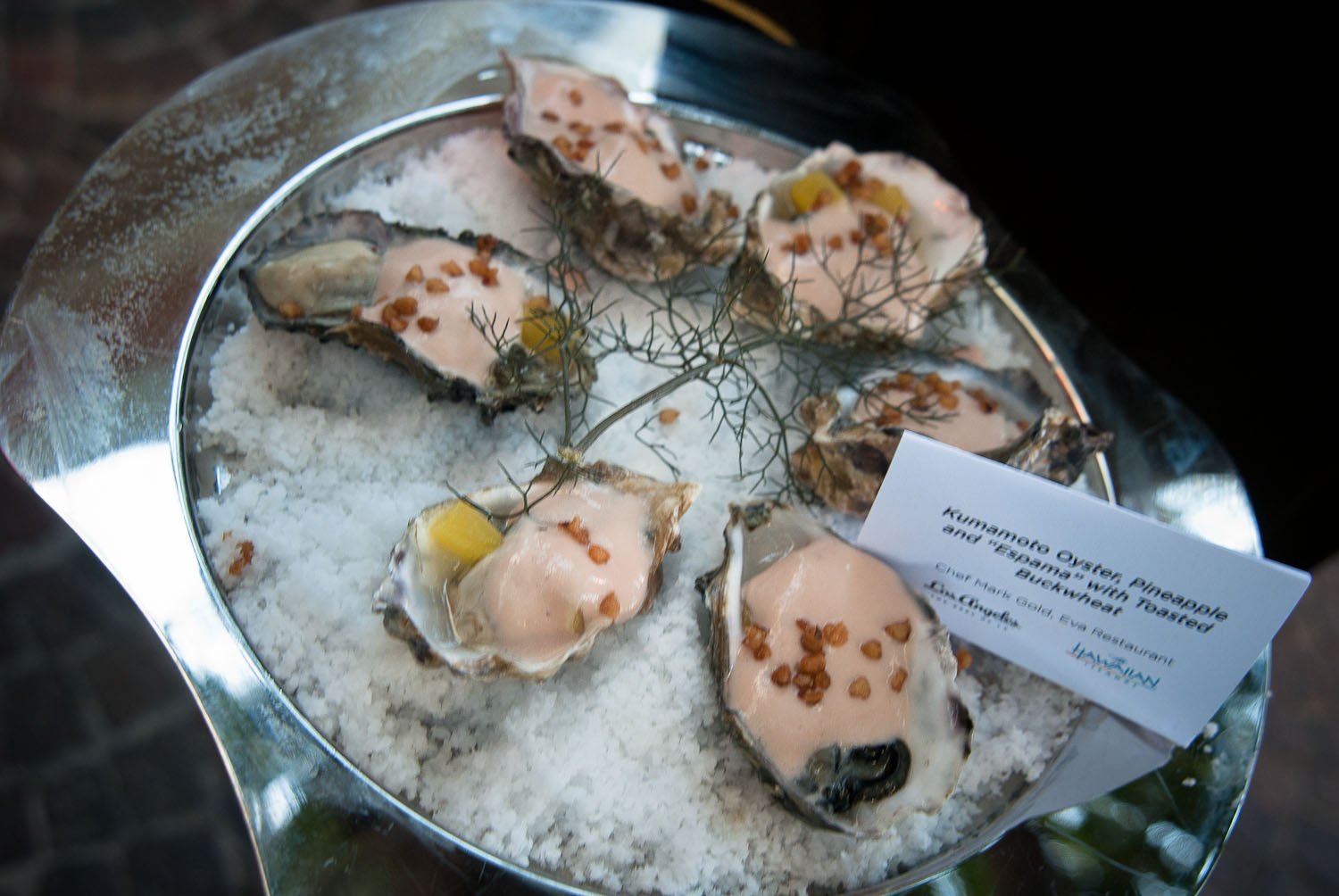 Spam & Pork Bánh mì or bánh mỳ (Vietnamese Baguette Sandwich)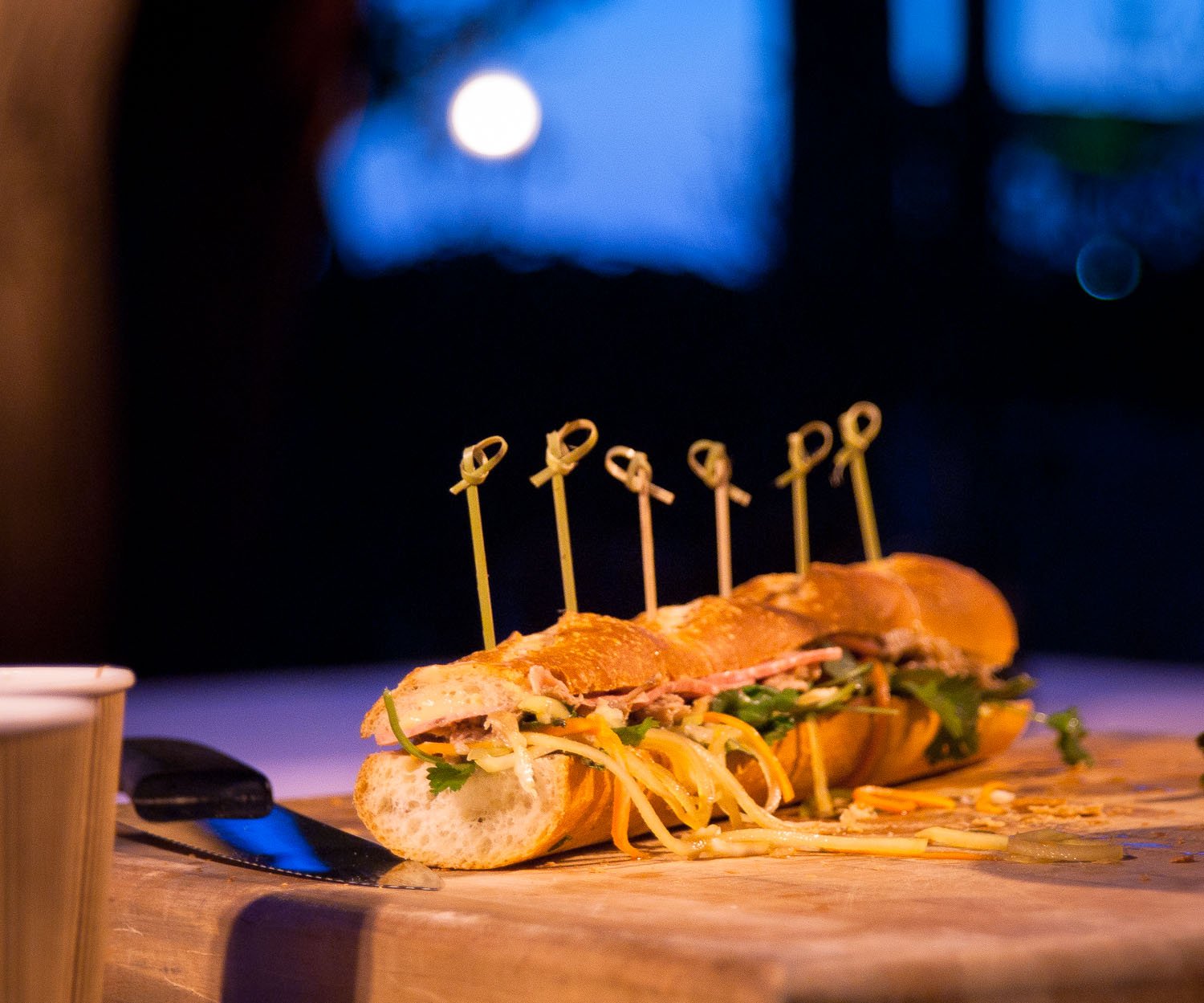 Friends in High Places: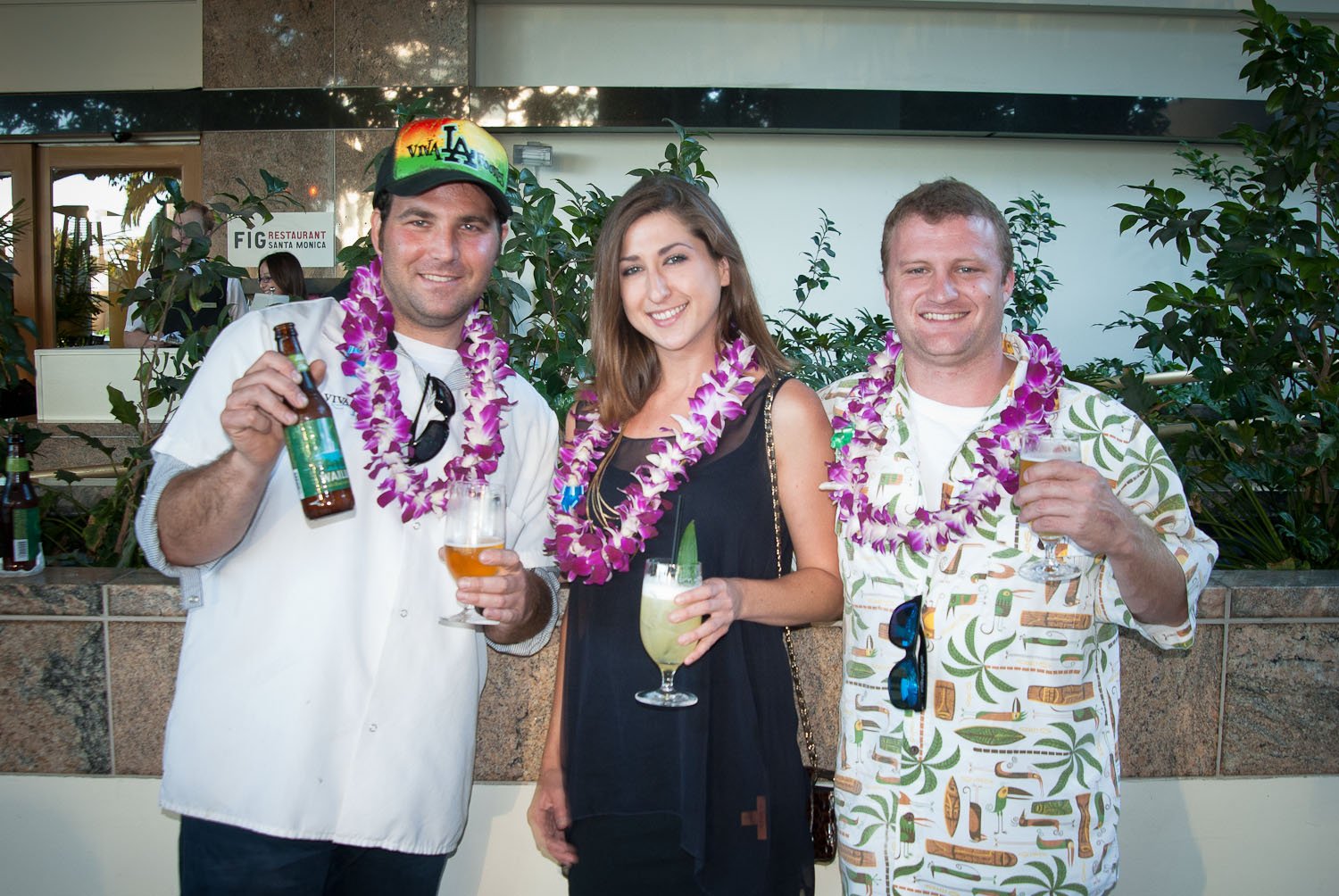 Cory Bradford: "Kona Brewing Co." with Greer Snowden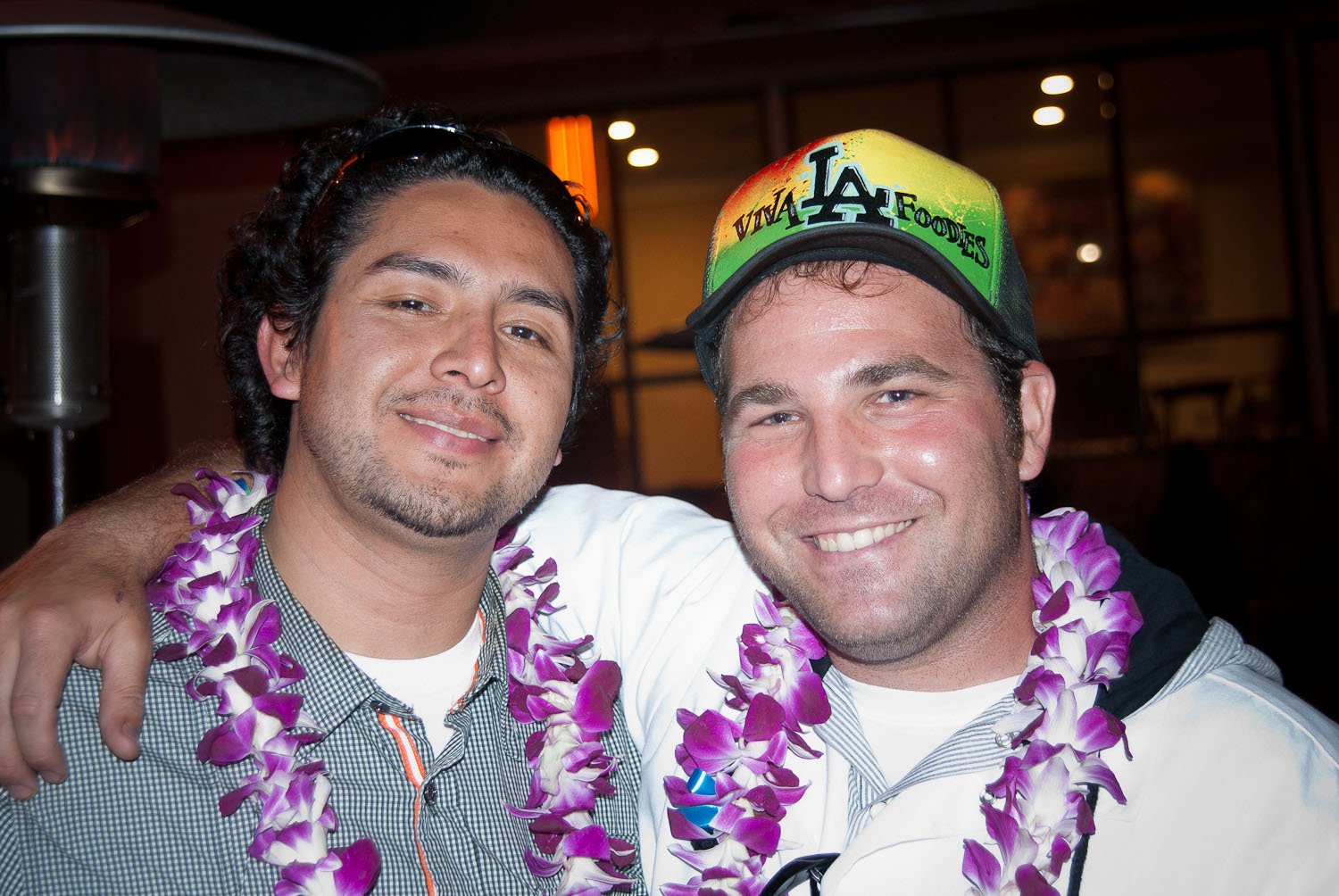 Rolman Gillespie & Valerie Sindal from "Val Be Mar Specialty Coffee"(not pictured)
Mahalo:
The splendor, mystique, romance and island spirit seem to never go away from our memories and you can agree especially if you have been to the Islands on one or more occasions. My last visit was over 2 years ago and being at the event made it feel like just yesterday.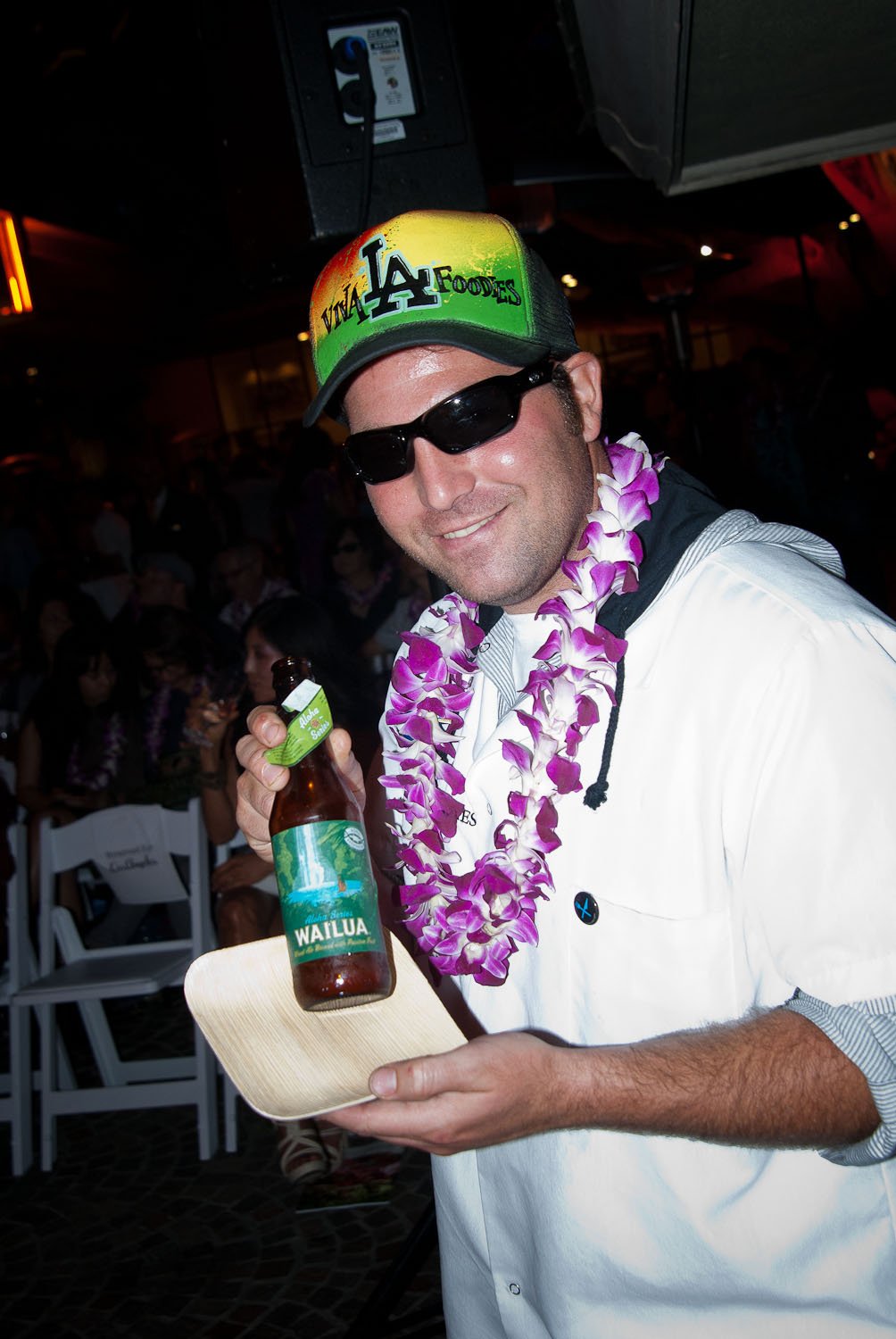 The Hawaiian culture and lifestyle is magical and is something that everyone must experience and appreciate at least once in their life. All good things must come to an end at sometime or another and we owe a big congratulations to Chef Mark Gold for taking home the title of the "Hawaiian Islands Master Chef."
We had a blast at the event as usual making new friends and we owe a huge Viva LA Foodies "Thank You" to the talented team at the Valentine Group headed by Steve Valentine and Caitlin Rafferty for putting together another successful LA Food and Lifestyle production.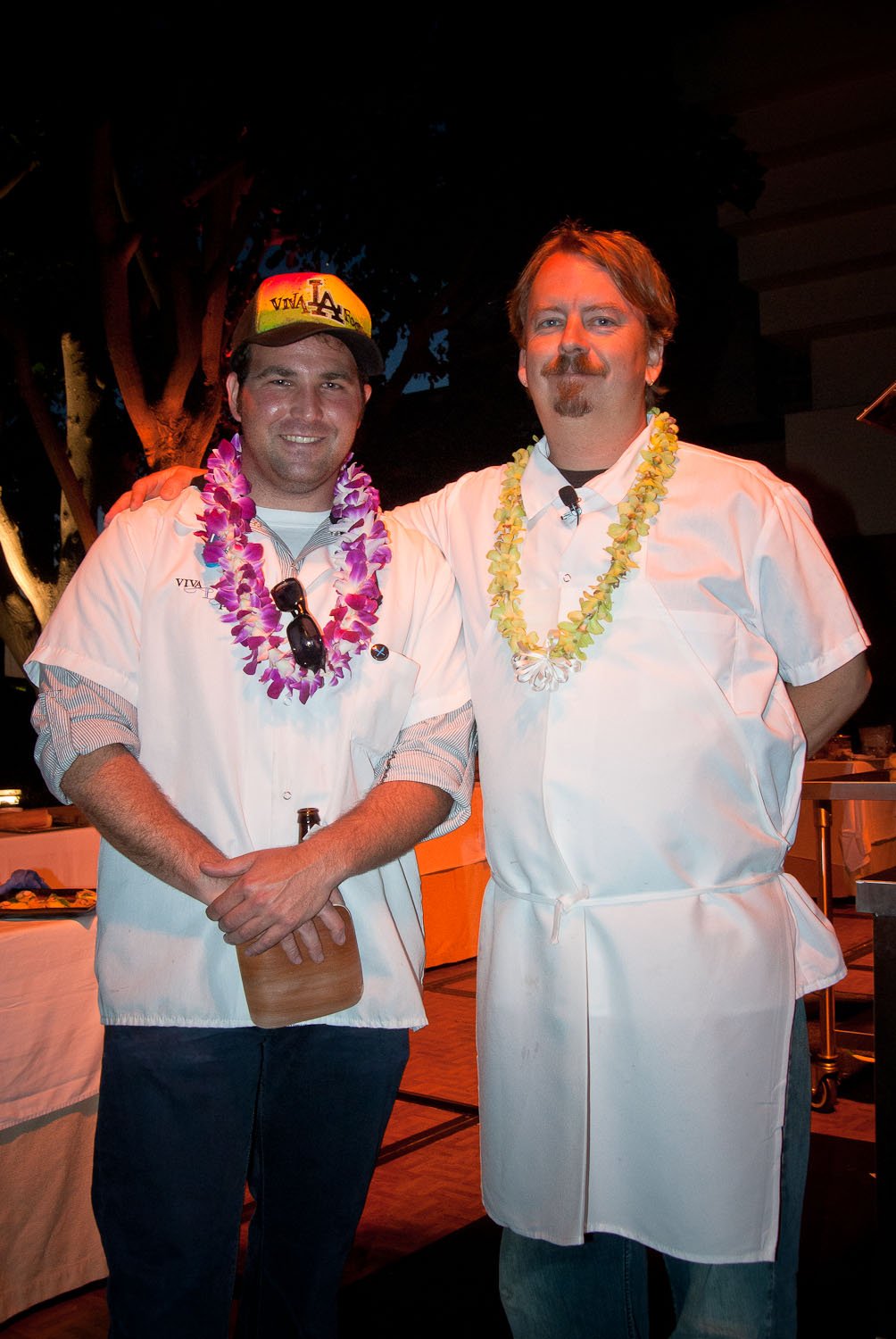 **Photography by Rico Mandel from "The Culinary Image" & "Rico Mandel Photography"