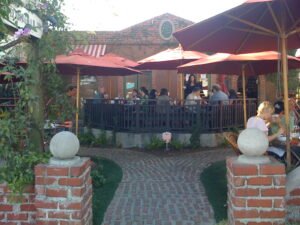 It was the early afternoon yesterday and I was meeting Joe Briscoe(www.briscoephoto.com), the official Viva La Foodies photographer in Los Feliz for lunch. I had several places in mind but he had suggested the Alcove Cafe & Bakery for this installment of Healthy and Affordable Eats. I had been there once before for brunch but this time was a different experience mainly due to the glorious weather that we have been experiencing in Los Angeles this past week.
The Spanish Bungalow style decor dates back a few years prior to 1920 and radiates with character. This once duplex now houses the bakery, kitchen, dining room and various seating areas both interior and exterior on the property. Additionally the Alcove has a commitment to the environment and they use green practices where available including the disposable serve-ware amongst other practices.
Due to the nice weather I wanted to eat something on the lighter side yet substantial enough for me to be productive for the rest of the day and I was enthusiastic to see the wide array of salad selections. I decided on the Classic Cobb Salad because I felt like a variety of proteins and not a lot of carbohydrates. The classic cob features sliced marinated grilled chicken breast, egg, tomato, Applewood smoked bacon, point reyes blue cheese, avocado, romaine and shredded iceberg with creamy balsamic vinaigrette on the side. A whole wheat roll also accompanies. The salad was plated in a bowl and every element was artistically placed forming a unique and tasty cobb. I have had lots of cobb's in my life but this is one for the books, hence this article.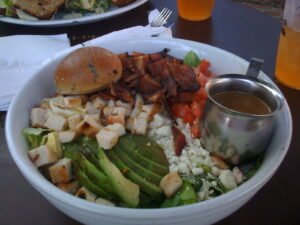 Joe decided to go for the BLT for which he has gone back for on many occassions. This version of the BLT comes piled high with Applewood smoked bacon, romaine lettuce, and pesto aioli to which he added avocado and sliced turkey breast for a club-like version. A cesar salad comes as a side dish and was plated artistically in the center of the sandwich wedges.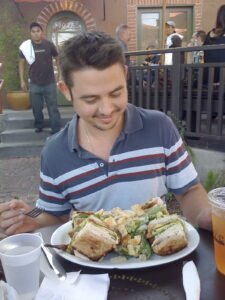 Since we both had work to get done we decided to opt out of the various wine and beer selections and sip on homemade Arnold Palmer's. These refreshing drinks were the perfect compliment to our entre's as well as the warm, sunny, California day that we had experienced.
The Alcove Cafe has a pet friendly patio and is also great place to people watch. You never know who you will see there. While we were dining we saw Superbad & Juno Star Michael Cera. Experience the Alcove if you have not experienced it yet.
Alcove Cafe & Bakery
1929 Hillhurst Ave
Los Angeles, CA 90027
(323) 644-0100