Come hang out with us and our good friends from The Valentine Group and Los Angeles Magazine and experience the "BEST OF LA" while attending the largest communal holiday office party that Los Angeles has ever seen. With plenty of holiday cheer and food and drink to match and your favorite holiday tracks in rotation, a Karaoke sound-system and photo-booth will keep you stimulated for hours. Why not kick of the Holiday Season right at one of the best venues exclusively located in the Miracle Mile at the famous Variety Building?
Wednesday, December 7, at 5900 Wilshire Blvd. in the spectacular foyer of the Variety Bldg.
WHAT: 10+ bars offering seasonal cocktails – the largest spirits tasting Office Party in L.A. "think Mad Men on steroids;" mixologists, cocktail recipes and techniques, and more hosted by Los Angeles magazine.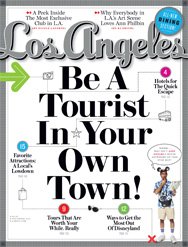 WHEN: Wednesday, December 7, 2011; 7 – 9 p.m.
WHERE: The lobby of 5900 Wilshire across from LACMA in Miracle Mile
SEASONAL LIBATIONS: Tastemaker tequilas, vodkas, liqueurs, wines, and more by Herradura, Svedka, Pisco Porton, Chambord, Malibu Family Wines, The Naked Grape. Other participants to be announced at a later date.
HOLIDAY BITES: Market Restaurant will provide festive "office party" cocktail fare and a hot chocolate and dessert bar
ENTERTAINMENT: DJ Hem will provide music; a karaoke lounge and Santa photo ops are also available.
RSVP: Tickets are $30* at www.lamag.com/holidayparty or $55 regular price; *use code BHOPSALE at checkout through Friday, December 2 for discounted tickets (or $25 off).
Special thanks to The Ratkovich Company where the event will be taking place in an iconic, 31-story building in Miracle Mile, home to the city's emerging and established leaders in media and entertainment. The Ratkovich Company is a Los Angeles development company that engages in both new development and the imaginative reuse of existing buildings. The company has won numerous awards for its restoration of historic landmarks, including the art deco Wiltern Theatre and adjacent Pellissier building, Chapman Market and the city of Glendale's Alex Theatre.
For more information, contact Caitlin Rafferty at Valentine Group L.A.; 323.801.0019 or Caitlin@valentinegroupla.com