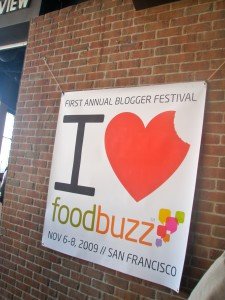 As if we had a change to get hungry after the Ferry market tour, we headed out on foot to the City View space at the Metreon building in Downtown San Francisco for the Foodbuzz Afternoon "Taste Pavillion." This was our only chance to sneak in a quick exercise session in an effort to burn off a few of the incomprehensible calories that we consumed on our tour thus far.
Highlights from the over 50 vendors that participated included a selection of micro brews from 21st Amendment Brewery & Restaurant in San Francisco. Serving as a beer guide, our friend and blogger Candice from Beer Advocate provided us with a wealth of knowledge about each beer featured.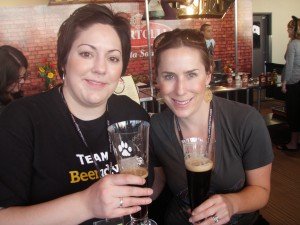 Two distinctly unique beers were offered; One on draft and the other in an aluminum can. The Back In Black IPA (draft) was a darker and sweeter version than most IPA's on the market and it had a robust malty and black roasted color. The second selection was something unique that caught our attention. The Hell or High Watermelon Wheat ™ beer was a contrast to typical witbier ("white beer) products that are available at most ale houses. This more ambitious version has watermelon notes that is in sharp contrast to their orange or banana cousins. Refreshing is all that comes to mind when describing this beer.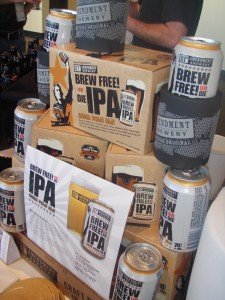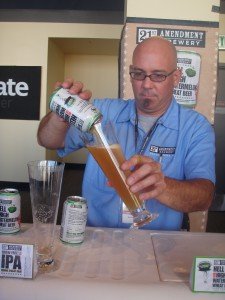 Rogue Ales was also in the building offering Morimoto Soba ale and Morimoto "Black Obi." Chef Masaharu Morimoto from Iron Chef lends his name to this amazing Japanese style ale.
Other surprises came from Philippe Breneman, Executive Chef of Aquarius Restaurant at the Santa Cruz Dream Inn and his colleague Jesse T. Perez from Fuego Restaurant at the Hotel Maya in Long Beach. Both acclaimed Joie de Vivre chef's illustrated the talents using their dishes as vehicles to showcase their abilities and creativity. They both let their dishes speak thousands of words with the visual appeal as well as body stimulation. I look forward to visiting both properties to experience the offerings firsthand on the home turf.
Both Bertolli and Natures Pride had recipe demos from blogger recipe contestants and I can say that I enjoyed sampling each and everyone's creative efforts since food is about passion and expression and these recipes were all carefully crafted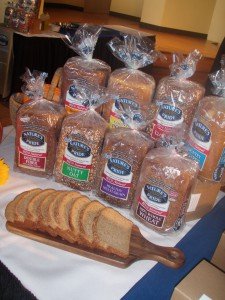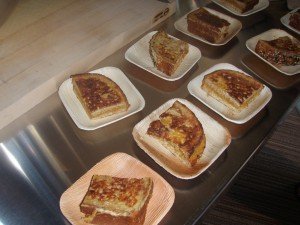 And just when we felt that we had enough swag, we each were treated to a VIP Gift Bag from Frog Hollow Farm with dried fruits and other goodies. Frog Hollow supports the "Farm to table movement" and believes in sourcing within your community and living locally.
Share our Strength was also present to spread awareness of the fight against child hunger and promoting an evening of dining to raise money for college scholarships for at risk youth.
There are far too many sponsors to mention so I will drop one last shout out. Kerry Gold from Ireland provided a spread of its expansive line of dairy products from Irish cheddar cheese to butter in an all out tasting. I still have to say that the Dubliner Cheddar and their Irish butter are still my favorites since my visit to the dairy farm back when I was a youngster on vacation in Ireland.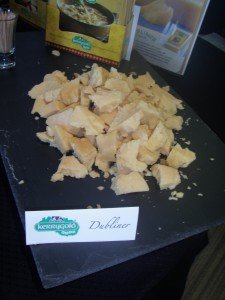 We were whipped out and on the verge of food comas before retiring to the hotel for a mid afternoon nap to recharge for the Farm to Table dinner at the Greenleaf Produce Warehouse that was to come in several hours.