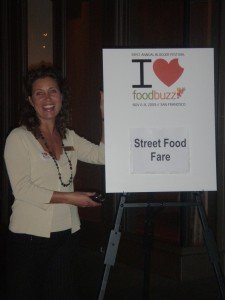 It was 7:00pm last Friday and after the outstanding welcoming reception by the Foodbuzz family, the congregation of 200+ Food bloggers converged on San Francisco's Ferry building like a biblical exodus from Egypt and all I could hear in my head was the infamous Bob Marley track, Exodus…"Movement of Jah people"
Groups of bloggers united and sought out their respective foodie expeditions. Marissa and I were fortunate to have our noses and bellies as guides as well as our co-conspirator and fellow food blogger Rico Mandel from The Culinary Image. He was chronicling the event in the style of his signature photojournalist approach and he captured Marissa and I from our first pour of Thirsty Bear "Valencia Wheat" beer to our last sip.
Since we are also two Jews who enjoy pork, it was no accident that we reconnected tonight in San Francisco and "pork" was the theme of the evening. From Crispy Chicharones with a tag-line "Got Crispy Skin" from 4505 meats to a Mini rotisserie Porchetta on an Acme Roll with curly cress and onion Marmalade from Roli Roti, our non-kosher cravings were met with open arms and salivary glands.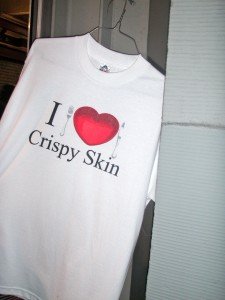 Cupcakes were next on our agenda and the artisan bakers from Mission Minis had an amazing arrangement of their signature mini cupcakes on display. Since a lot of food had not been touched by us at this point, Marissa and I decided on trading bites of the Swiss Almond Coconut and Ruby Red Velvet to save room for other festival delights before stopping next door at the Straus Family Creamery for the organic micro-produced coffee and Vanilla bean ice-cream.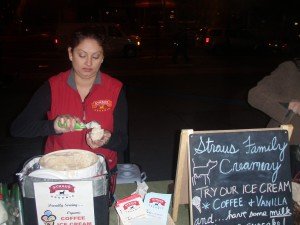 On a side note, I know the above dining route may sound a bit un-orthodox, but it really didn't matter because how often do you get the chance to experience an amazing assortment of dining options all in one place specifically arranged for food bloggers.
A few more beers later and we sampled a pizza from Pizza Politana with "Greenstring Farms eggplant, dry-cured olives, feta and parsley that took us both back to Greenwich Village NYC.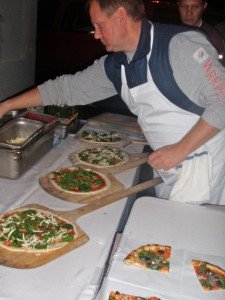 We were both in serious need of a deep palette cleansing in between courses so we shared a Beet Salad with Point Reyes Blue(one of my fav's) and Far West Fungi Voi au Vent medley from Spencer on the Go. Both salads were amazing and for some reason mushrooms kept falling into Marissa's purse(LOL)
A trio of tacos later consisting of Braised Beef, Chorizo potato and vegetarian mixed bean by Tacolicious brought both classic and modern flavors of Oaxaca to SF by way of chef and owner proprietor Joe Hargrave.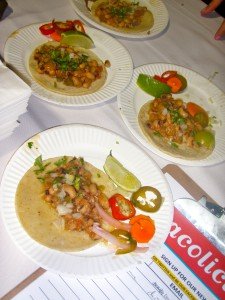 Rico and I reconnected towards the end of the event at the Hog Island Oyster Co table to indulge on a locally sustainably farmed Kumamoto Oysters on the 1/2 shell accompanied by HIOCO's signature Asian style Hog Wash.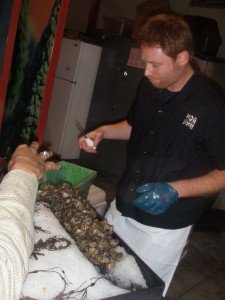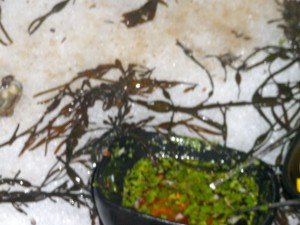 After prying ourselves away it was time for one last indulgence; Savory Vegetarian and meat pies from the Pie Truck. This was an atypical choice for desert, but since we were breaking all of the rules, it was not too far off since a pie crust was involved.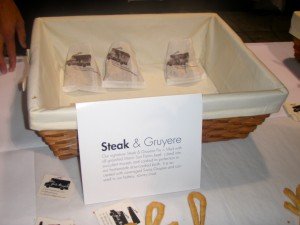 All in all without hesitation we can say that "We got served", in a good way by Foodbuzz and amazing street vendors at the "Taste of SF Street Food Fare Pavilion.