Last Saturday's wine festival was quite a special event. Not only were international wines represented, but VivaLAfoodies had a chance to debut a taste of what is to come in 2010 with VivaLAcatering and events.


This exclusive gathering would not have been possible without the help of our friend, Dan Silberstein from Drink:Eat:Play. He curated an amazing venue at the Hollywood Renaissance Hotel and provided us with a space to display our culinary creativity.


Between plating up our "Taste of Nappa in Hollywood" chef's "Amuse" we were able to take turns sampling the best wine vendors that K&L wine merchants, Hollywood put on display for all of the guests.


Our small bite was a hit and we made sure that the platters were never left empty. Our Savory and sweet tribute consisted of "Sourdough Garlic Toast points with Apricot Pineapple Chutney, Mascarpone Cheese and Pear Balsamic glaze topped with fresh local-organic spearmint."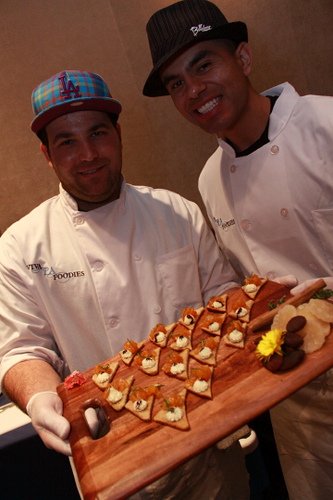 We also had a chance to meet some great people, bloggers and reminisce with our friend Carina Ost from uncouth gourmands who was covering the event for her blog. Our friend Rich Allen provided some amazing event photography and his partner in crime; Eliza James(musician) made sure that both Luis Castro and myself had a chance to sample some of the wines that were on display.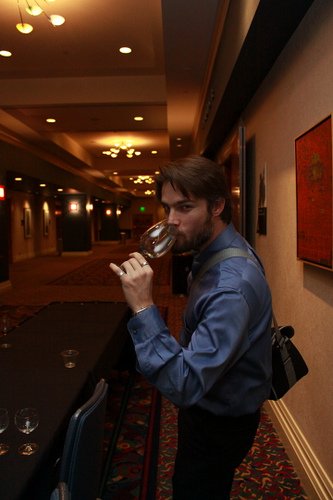 Some of our favorites included a trio of wines(Tannat, Estival & Alcyone) from Uraguay demo'd by Bossa Imports. From Gooseberry's to pineapples and even marshmallow, chocolate and pralines these vinters know how to push the flavor envelope. Blueberry Sake from Banzai Beverage rounded out our unique day of work and wine tasting.
It was great to be among the community of food and beverage fanatics and once again be behind the scenes. Special thanks to our VivaLA girls Marissa and Allison for encouraging vendors and guests to visit us.


We enjoyed meeting everyone at the VivaLAfoodies/VivaLAcatering table and it was our pleasure to treat you to a taste of the wine country in LA. Stay tuned as we have more to come real soon…..We hope to see you all at the Cupcake Festival for a taste of something sweet.