About The First Annual Food truck Chowdown:
Over 50 gourmet food trucks converged on Los Angeles State Historic Park in Downtown LA for LA's first annual "Food Truck Chowdown and Mobile Food Symposium" this past weekend. A more modern version of the classic hoedown brought together world cuisine, music, art exhibits and so much more to raise money for the events benefactor; The Leukemia & Lymphoma Society 's Greater Los Angeles Chapter.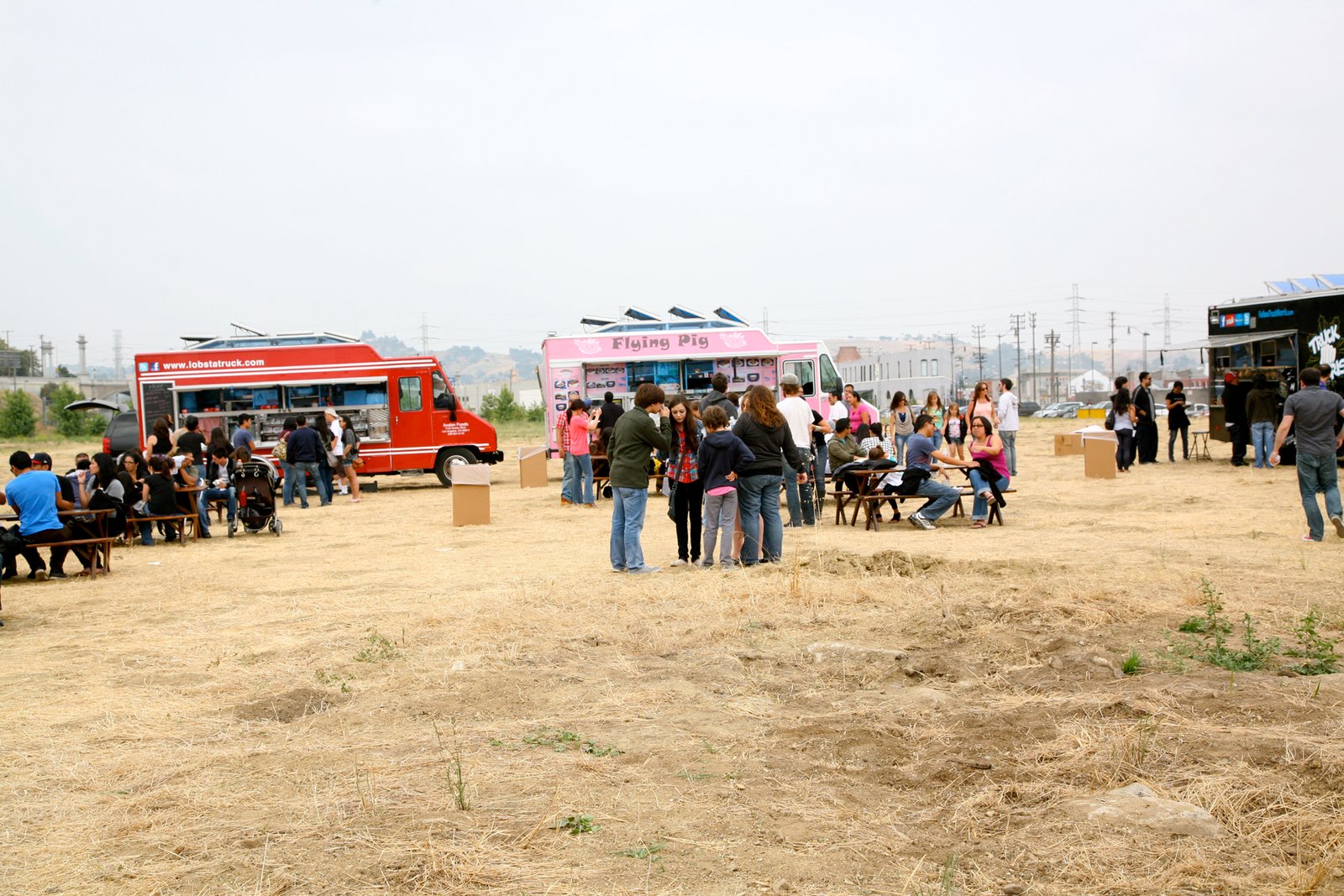 We were among the many that flocked to this great event with our photographer Joe Briscoe by our side snapping enough food truck imagery to start a food porn network in Van Nuys.
The Mobile Food Symposium:
A mini food-truck business symposium was put on by the Southern California Mobile Food Vendors Association and was centered around the days events. Our friend and current Paysaber client Mike Teodoro from the Tapa Boy Truck invited Viva LA Foodies to participate in post-event media coverage.


The symposium gave the public a chance to view the mobile food industry as a whole and that it goes way beyond having fancy wrapped food trucks and driving around major cities like Los Angeles. Guest speakers from the Southern California Mobile Food Vendors Association, selected food truck operators, and industry suppliers as well as a guided walk-thru a real food-truck were all a part of the events festivities.
We at Viva LA Foodies go far beyond just being a food and lifestyle website. We are also entrepreneur's who believe in products that ease the guests hospitality experience and that is why we have teamed up with the folks at USAepay.com to provide the Paysaber iphone/ipod touch mobile credit card terminal to a growing number of Los Angeles based food-trucks. Since about 10% of our Paysaber fleet was vending at the Food Truck Chowdown, we had a chance to visit with a few of our successful clients during the event in between the food service rush. Unfortunately, we could not get pictures with them all but we were there supporting all of their great work.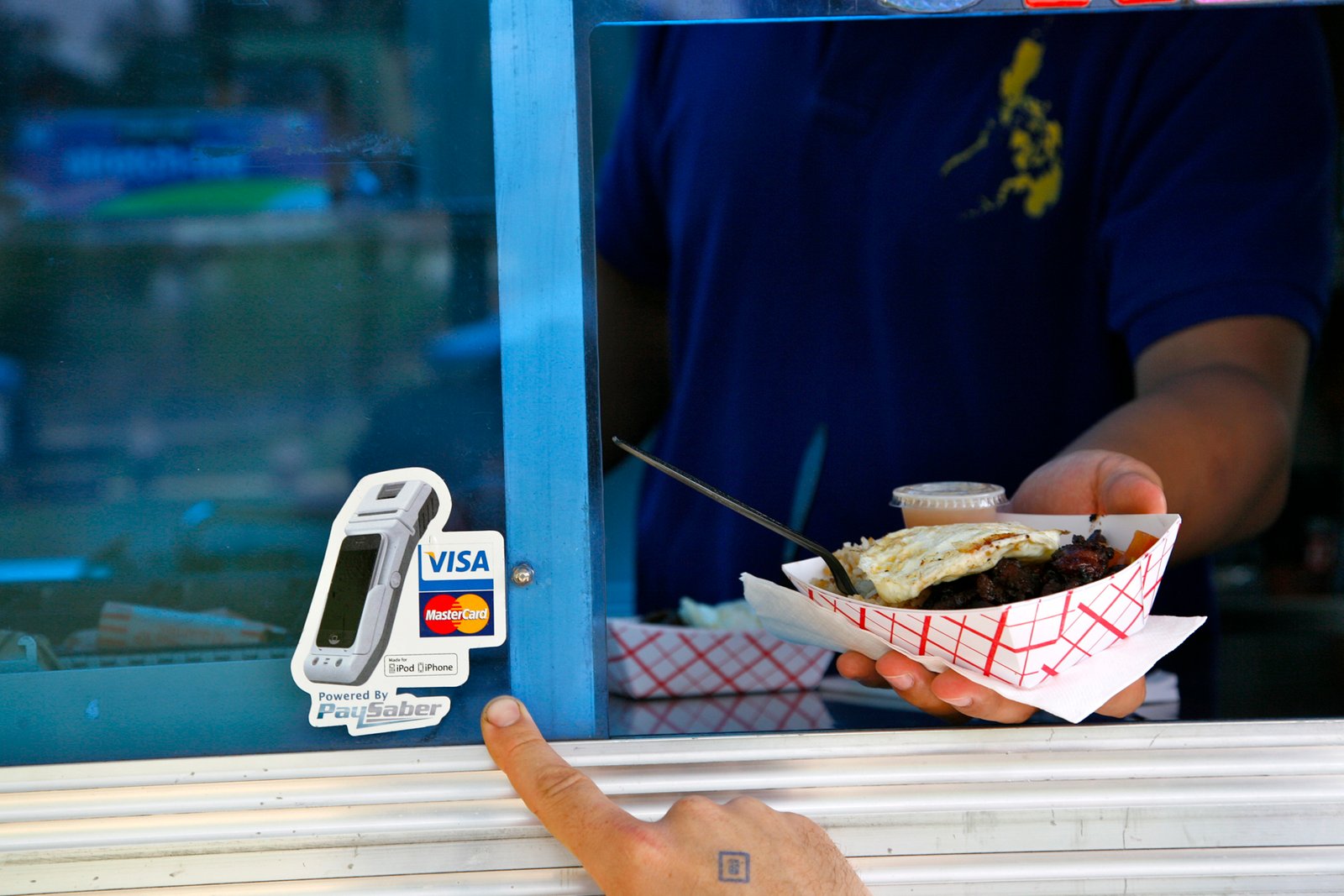 The Charity:
The Leukemia & Lymphoma Society 's Greater Los Angeles Chapter received a portion of the proceeds from the daily ticket sales in order to continue funding their program so that they can eventually "Cure leukemia, lymphoma, Hodgkin's disease and myeloma, and improve the quality of life of patients and their families." Food and charity do go hand in hand and that is what I call a "Perfect Pairing."
About The Paysaber:
The Paysaber is a mobile credit card solution for the country's roaming restaurants and other mobile businesses powered by the unique Paysaber (Point-of-Sale) cradle with iphone 3G, 3Gs, 4G ipod touch devices and now the iPad. The PaySaber provides a complete POS system with a full database of menu items, inventory management and also has a built in bar code scanner and on-board printer that all aid in making the customers experience easy, quick and allows the truck to go beyond the "Cash Only" stigma that most food trucks face.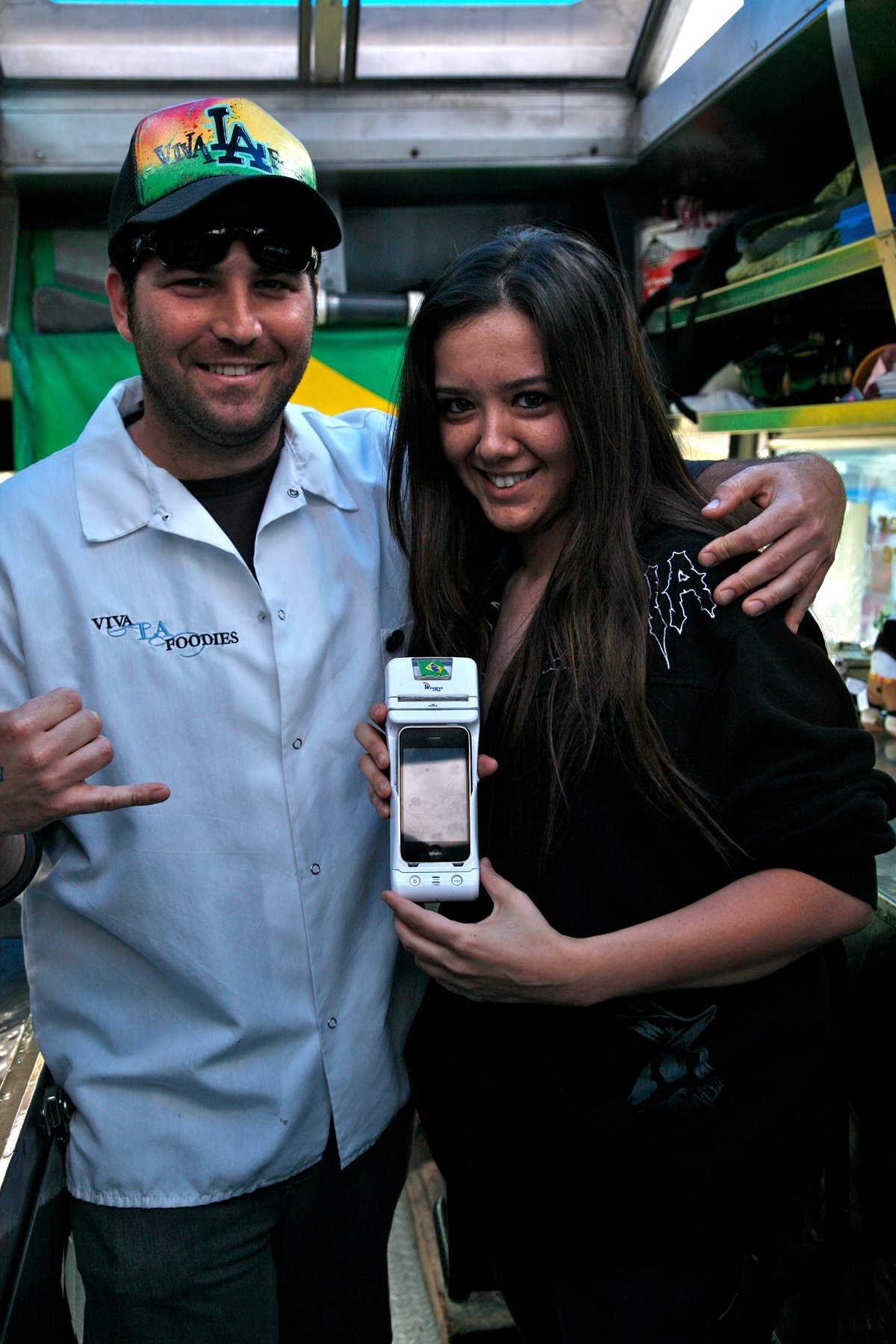 As a result food trucks and mobile businesses have seen a net increase in sales of over 30% vs. Cash. If your business does not use Apple products, we have some other similar solutions available for other smartphone and tablet technologies.
A visit with some of The Paysaber Food-Trucks:
Tabom: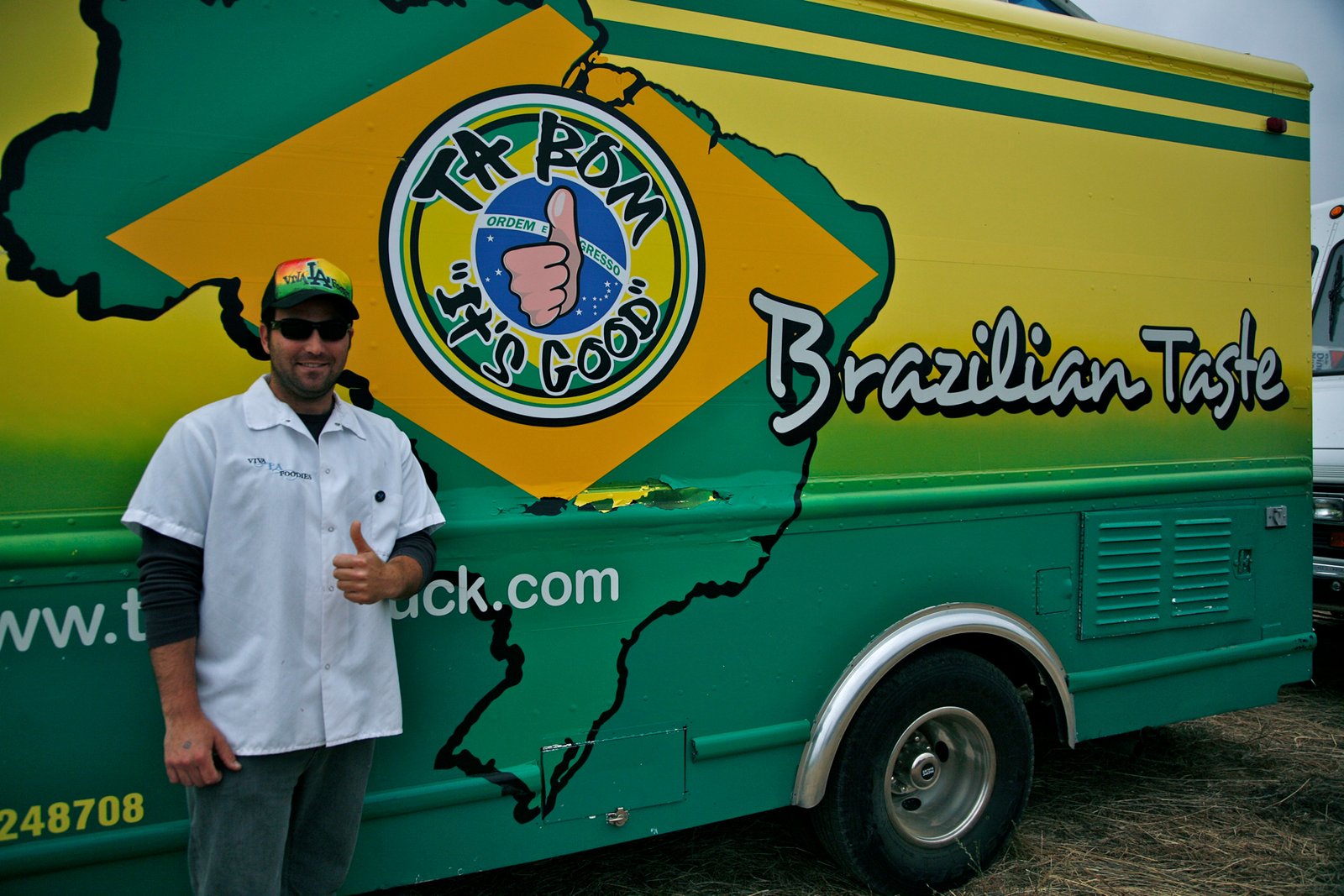 Truck Summary:
Tabom specializes in Brazilian street food. From handmade "Pastel" turnovers to burgers and burritos they have something for everyone. We had an assortment of the "Pastel(es)" and we enjoyed each and every bite. As an added bonus they served us a plate of Brazilian Chocolate Brigadieros.


-Spicy Cheese (Pepper Jack)
Crisp pastry with melted pepper jack cheese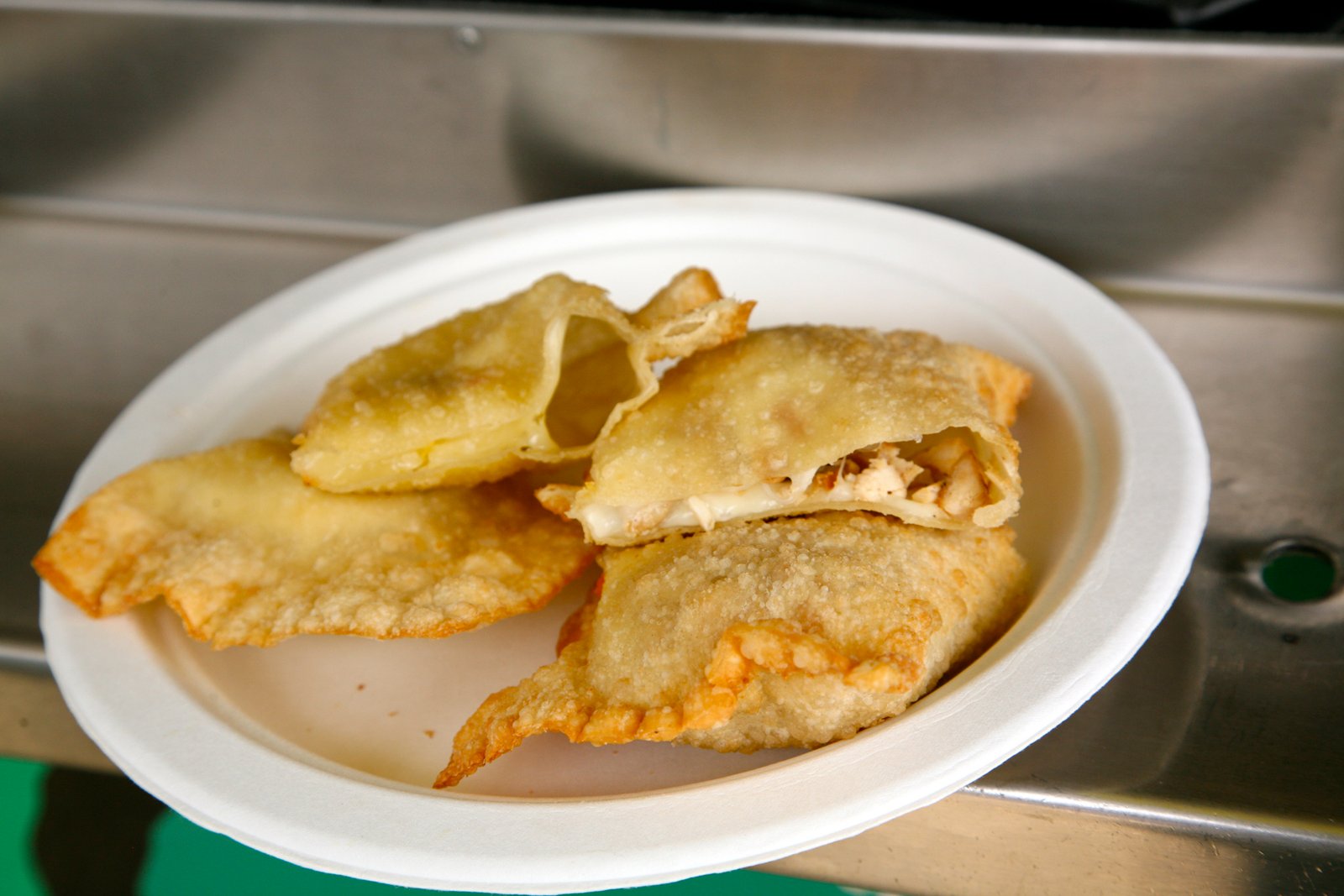 -Chicken 
Crisp pastry with shredded chicken and melted mozzarella cheese filling.
-Ground Beef
 Crisp pastry with seasoned ground beef filling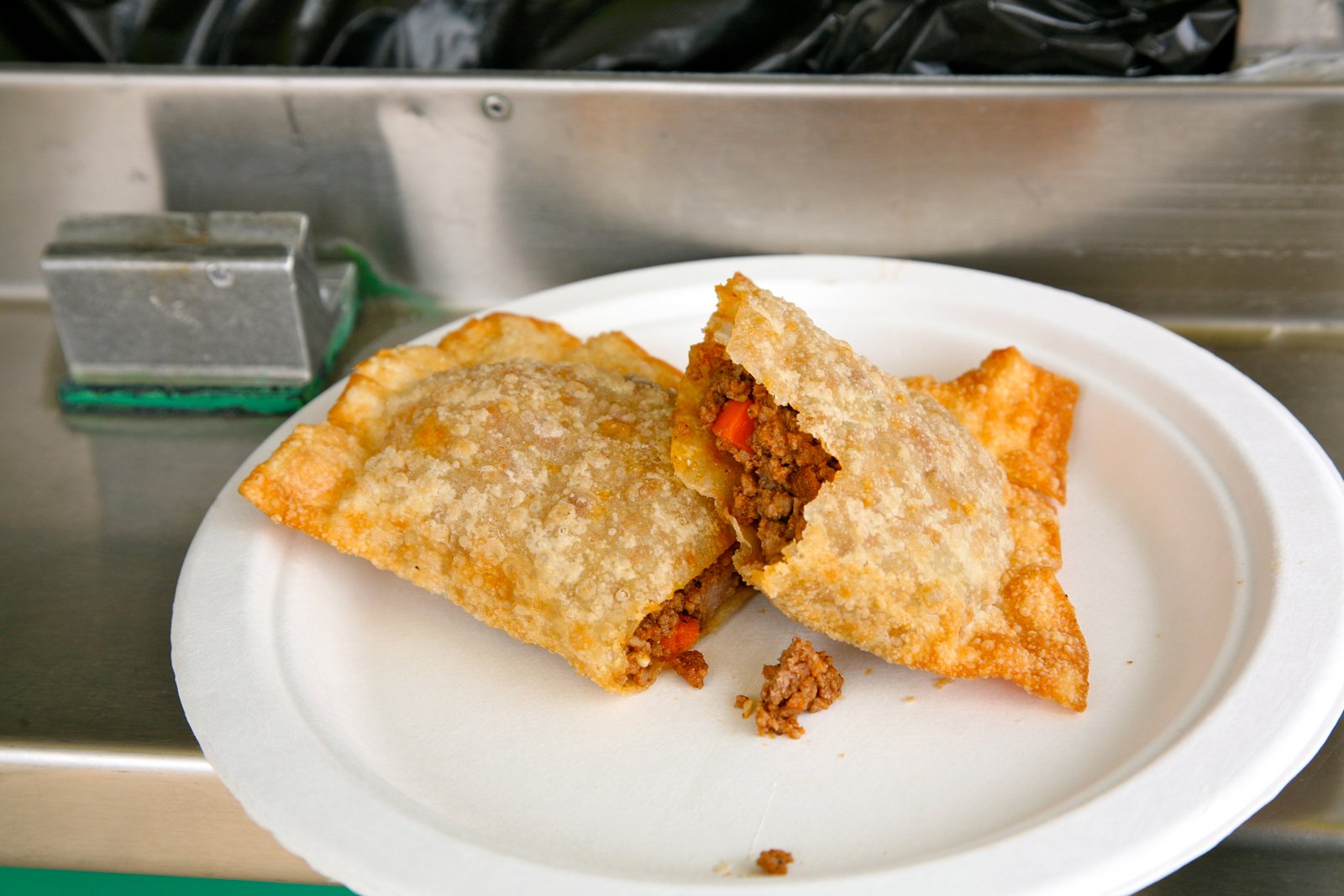 Banana
Crisp pastry with sliced banana filling and sprinkled with cinnamon and sugar. & Brigadiero(Chocolate fudge candy)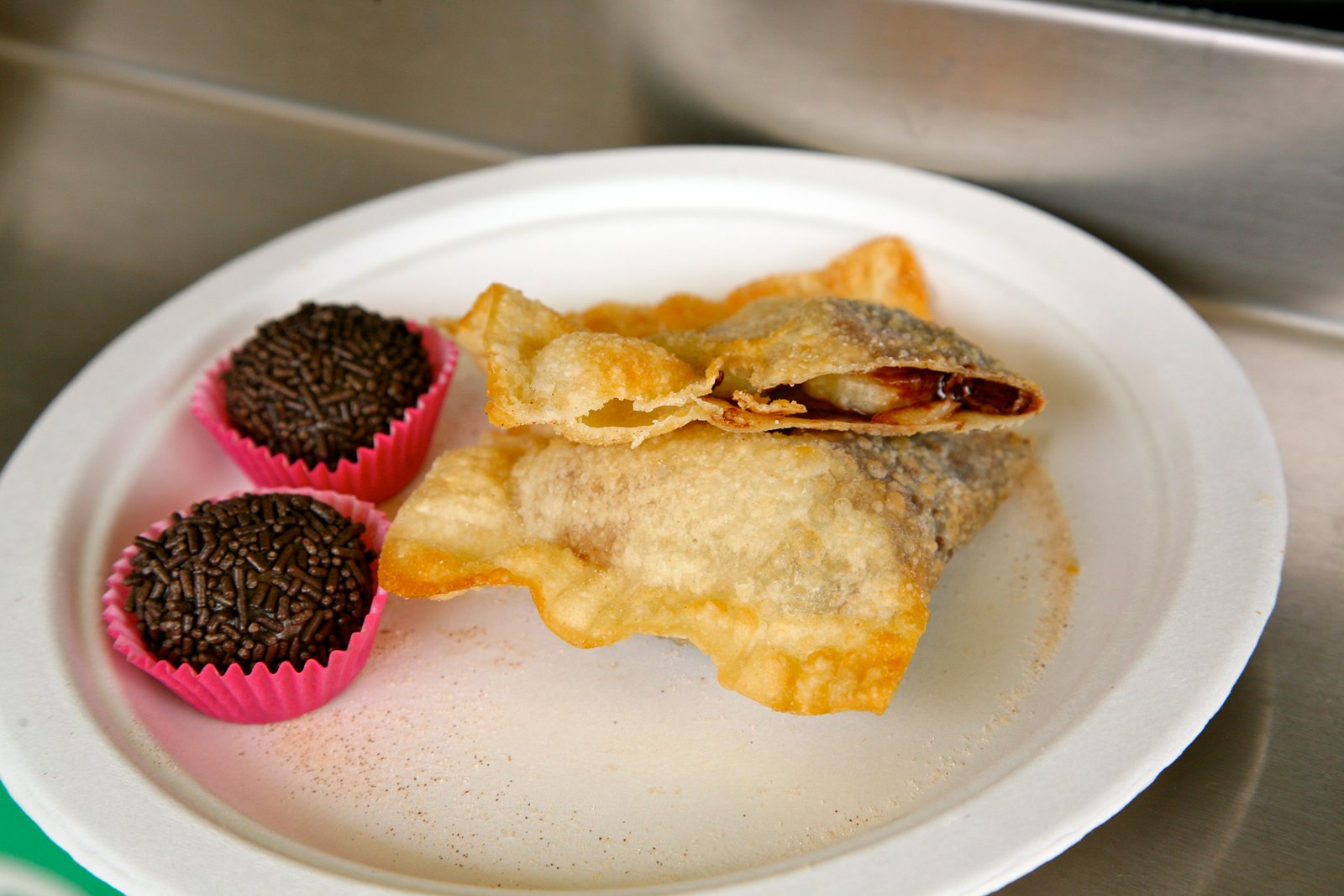 Tapa Boy:


Truck Summary:
Tapa Boy is one of LA's leading Filipino Food-Trucks serving up a Filipino street food breakfast all of the time. With a motto like "Filipino Food on Filipino Time" this truck sure knows how to serve it up.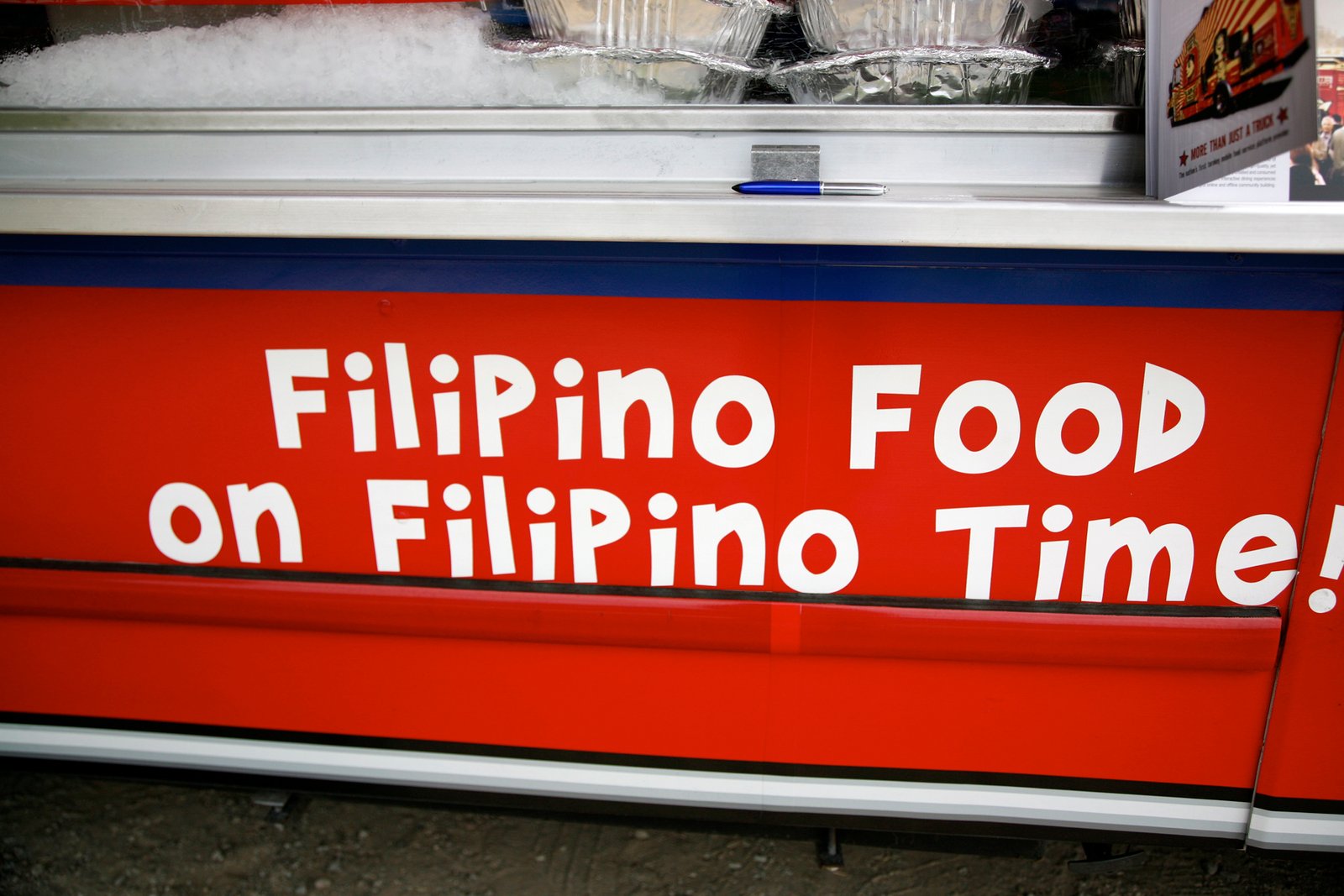 We had a duel of the "Tapa Bowls" and the end result was a draw; Beef and Pork tied!
Tapa Bowl (Tapsilog)……"Tapa Sinangag Itlog"
The thinly sliced beef tenderloin is highly aromatic and served with Tapa's vinegar sauce, fried egg and cucumber slices.


Tocino Bowl (Chicken or Pork Tosilog)……"Tocino Sinangag Itlog"
Sweet cured chicken or pork is caramelized and loaded with exotic flavors.
The Boba Truck:


Truck Summary: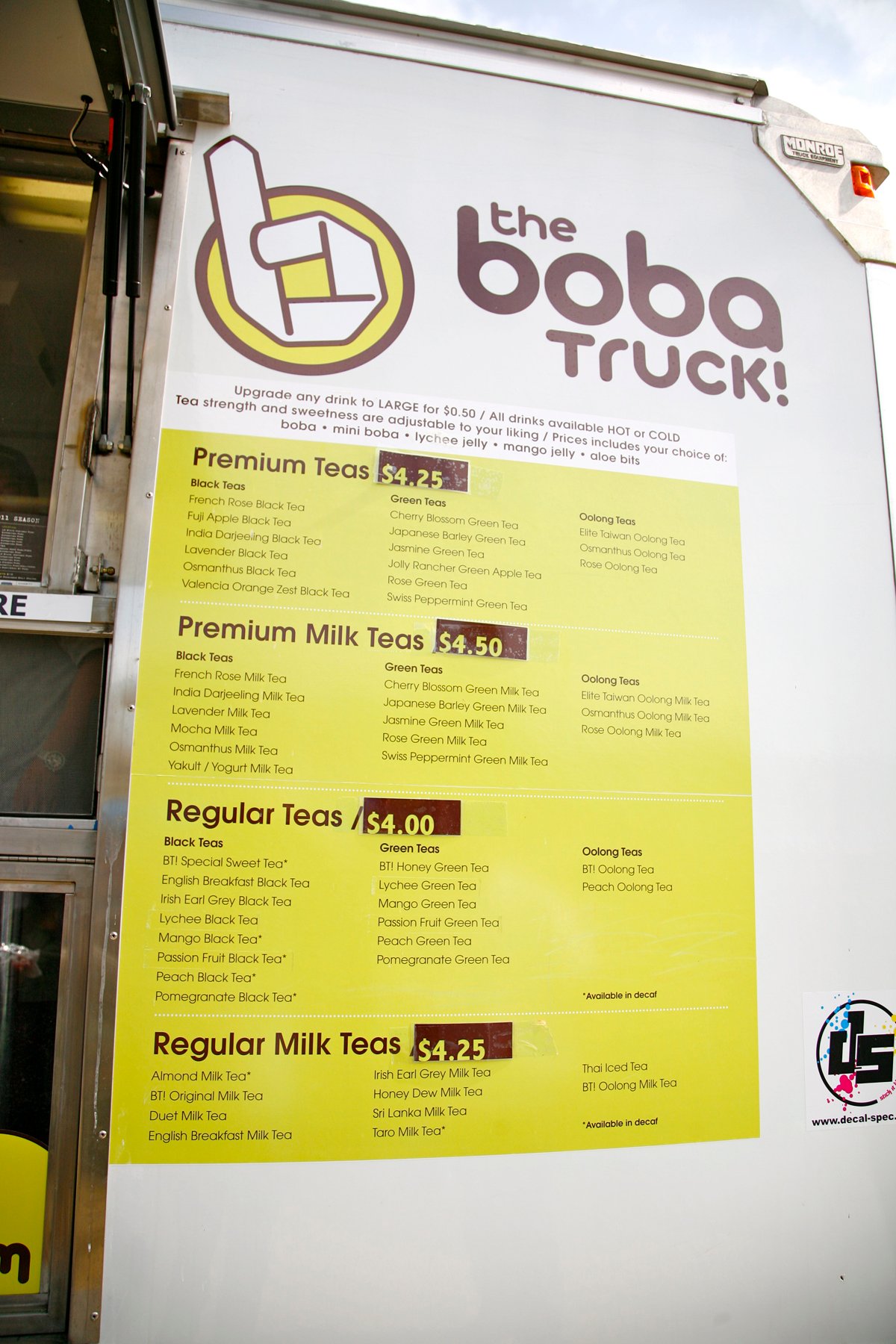 The Boba Truck is a boba shop on wheels that cranks out home brewed french press style boba drinks to Boba fanatics across Los Angeles. During the Chowdown they were slammed so we missed our opportunity to quench our thirst with this one of a kind libation.


Chunk N Chip:
Truck Summary:
With an arsenal of artisan ice-cream cookie sandwiches simply named the "Boo-Yah" keep fans coming back for more. Like the Boba Truck, they were also inundated with customers so we didn't get a chance to indulge in a "Boo-Yah" of our own.
Lomo Arigato:
Truck Summary:
Lomo Arigato has been on the streets of LA for over two years and they have been bringing Peruvian-Japanese street food to food festivals and food truck events from Los Angeles to the OC so it was no surprise that they were at the "Chowdown." We attempted to catch up with the trucks owner Eric Nakata but due to the nature of the food business he was unavailable. Look for the truck on the streets with the butcher knife hood emblem and the "Lipton Brisk" truck wrap and order a "Lomo Saltado Bowl" and you will not be disappointed.
The music soundtrack vibes: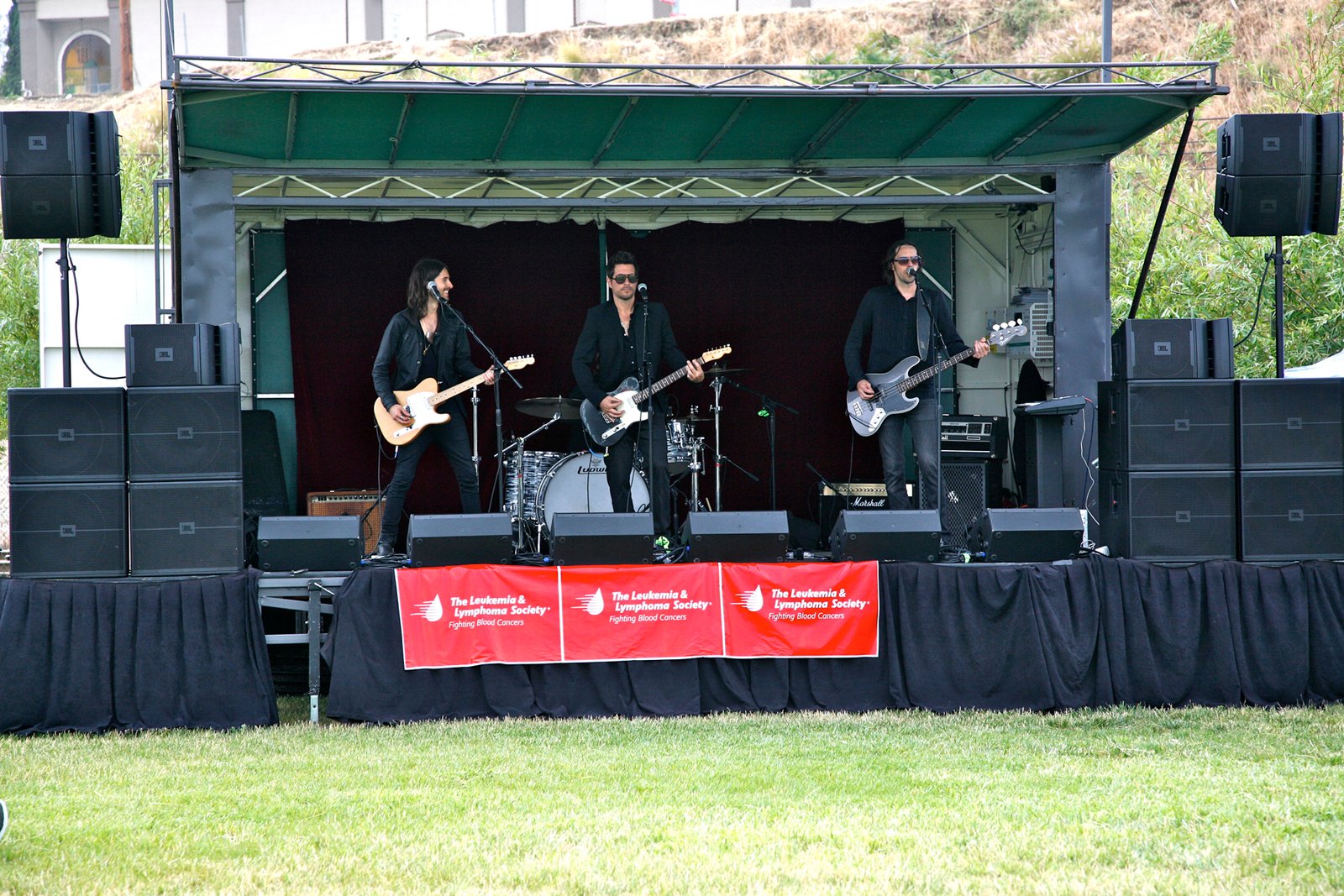 With a vast line-up of live performers, two great tribute bands stood out from the crowd armed with some great classic tunes. We ate to the beats of Hollywood U2's rendition of Vertigo and Petty Cash's versions of "Folsom Prison Blues" by Johnny Cash and "Refugee" by Tom Petty and The Heartbreakers. Watching Petty Cash perform is like ordering 2 for 1 "You-Call-its" at a college dive bar; nostalgic, fun and a great deal!
Sweet closing: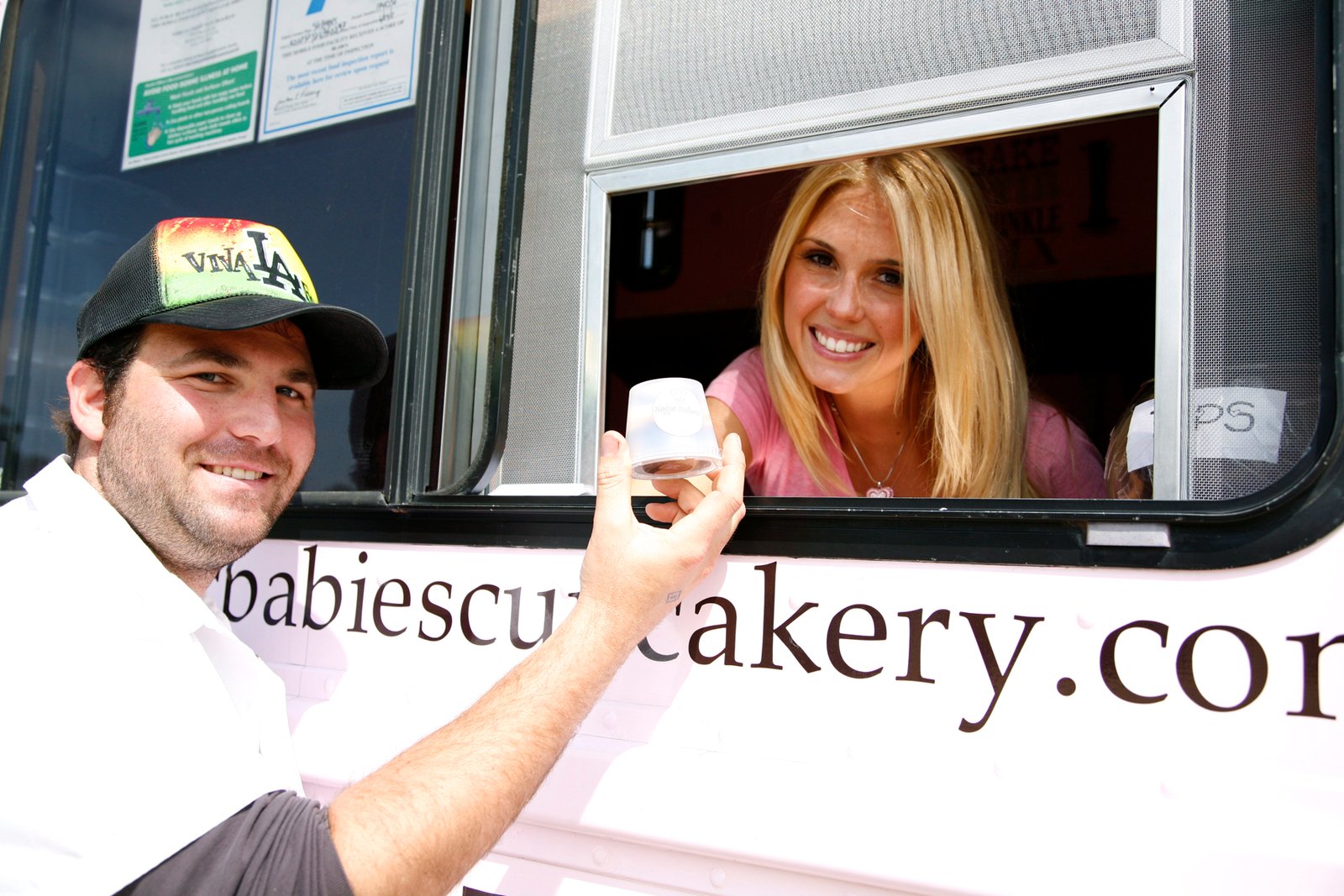 The girls from Sugar Babies (Mobile) Cupcakery brought a little something sweet to the event so in true foodie form we had to give their cupcakes a try. The pink "Barbie" inspired food truck cranks out freshly baked cupcakes with catchy names and custom decor. The "Nutty Butter" peanut butter cupcake is a chocolate cake that is not only filled with peanut butter, but is also topped with an infused peanut butter cream cheese frosting. It was so good that we didn't even need a glass of milk to wash it down and this is quite a rare occurrence. No "Got Milk" sob story here.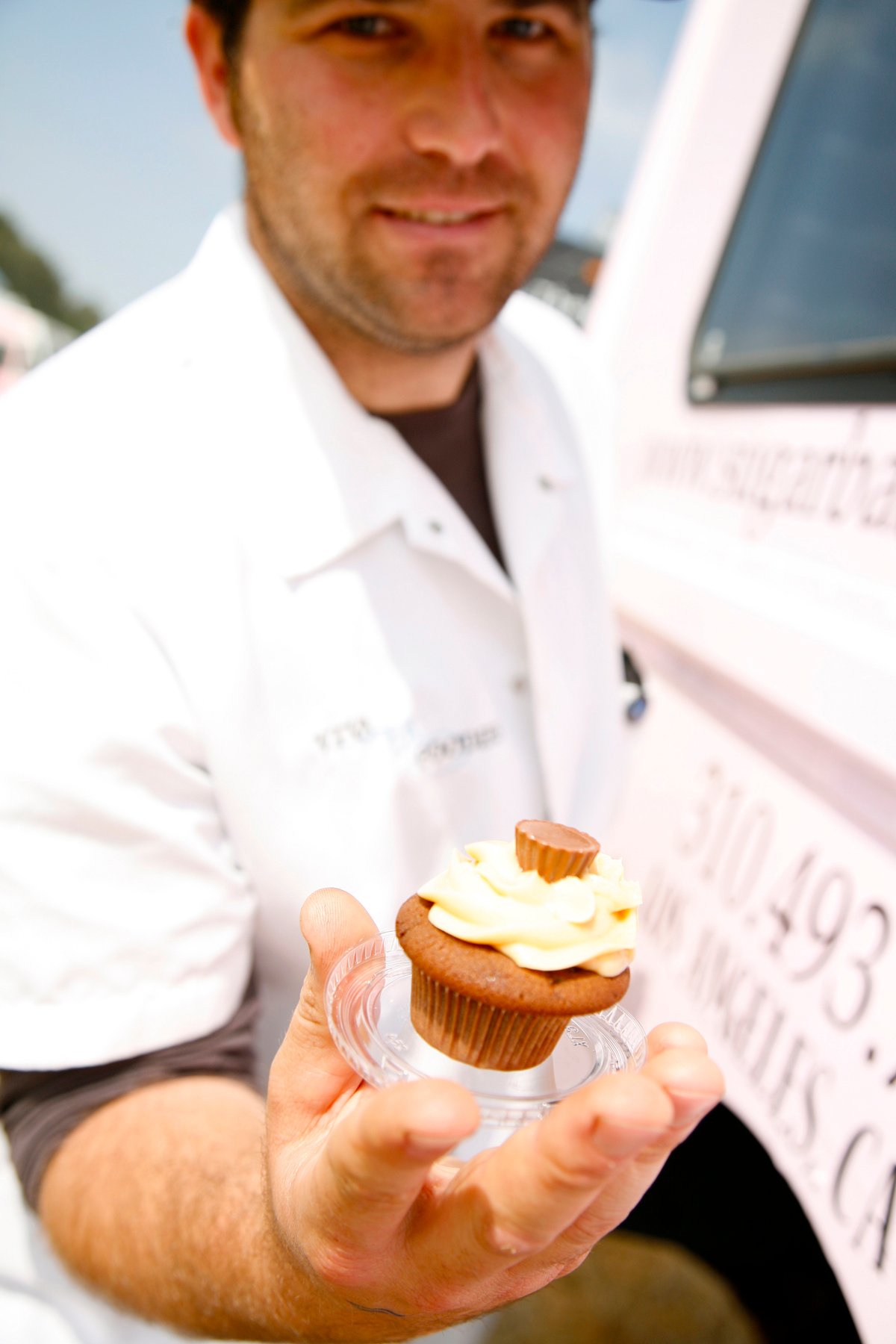 Special Thanks:
To sum it up the event was quite successful. We have to give a huge thanks to Briscoe Photo for documenting our journey to the "Food Truck Chowdown." We had a blast meeting with all of the trucks and catching up with our friends who have been loyal to the Paysaber brand. If you or your food truck is seeking a credit card POS system, don't hesitate to contact us today so we can provide you with the best processing solution for your mobile business. "We came, we saw, we CHOWED-DOWN!"