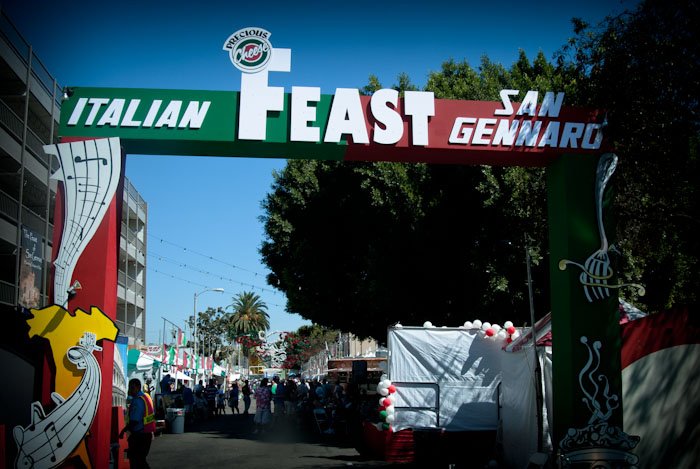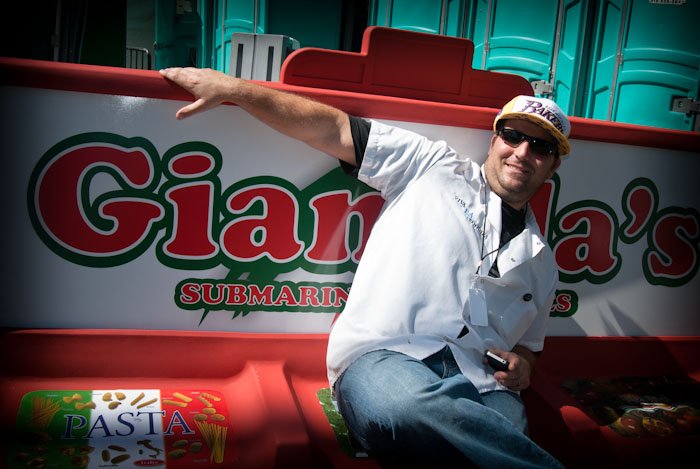 We had the honor of being media guests along with our good friend Rico Mandel, from the Culinary Image, who provided the photography of us in action as we celebrated Italian Heritage month,courtesy of The San Gennaro Foundation's annual street festival in Hollywood.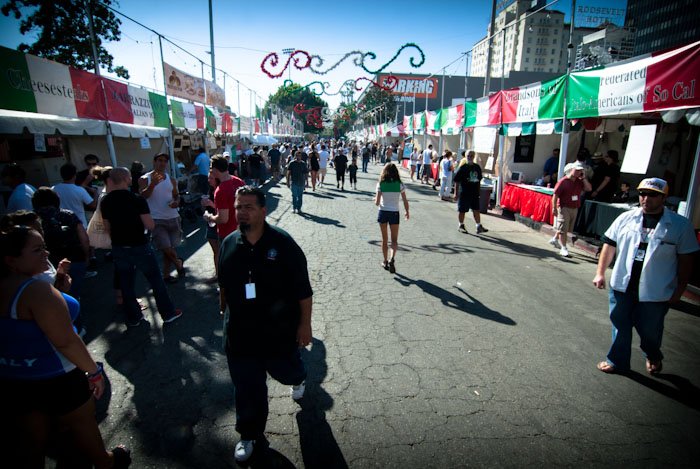 Each year this event raises several hundred thousand dollars and all of the funds raised go back to our Los Angeles community including shelters, food banks as well as school programs; all benefiting the less fortunate.
With MC's and event hosts like Jimmy Kimmel and Adam Carolla how could you go wrong by ever missing the Precious® Cheese Italian Feast of San Gennaro, Los Angeles? You simply can't.
About The San Gennaro Foundation
The symbol of the charity is St. Gennaro, patron saint of Naples who believed in helping those in need. Along with the fundraising component, the organization also promotes Italian Culture and Community. Jimmy Kimmel and other prominent Italian Americans here in Los Angeles all oversee the non-profit foundation.
Location/Venue description:
The festival venue is conveniently located across the street from the Hollywood and Highland
complex, directly behind the Jimmy Kimmel Live(El Capitan) Theater in the heart of Hollywood. Street vendor booths from local restaurants, a sound stage for live music and carnival games complete the setting.
Sponsor mention:
Precious® Cheese was the presenting sponsor this year as in years past and they have become a symbol of the event as they are committed to the preservation of Italian heritage here in Los Angeles.


A recap of our favorite vendors/restaurants:
This year we have limited our recap of vendors to focus on quality and not quantity. From a gourmet specialty Italian food truck, to zeppole, pizza and espresso we seized the flavors of Italy.
Food truck: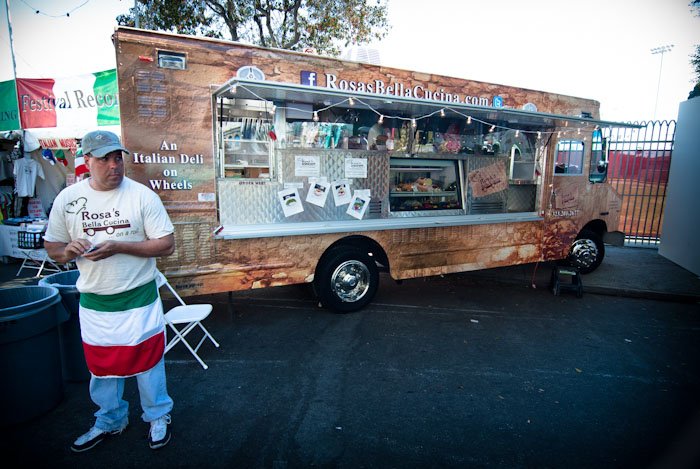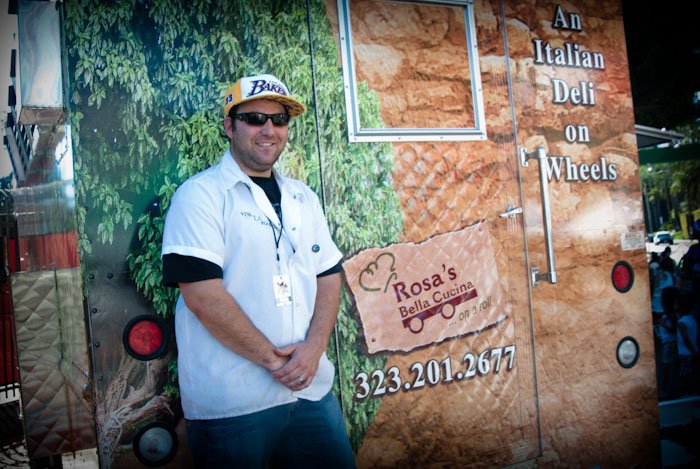 Rosa's Bella Cucina was on a roll, literally. Los Angeles' newest Italian Deli on wheels was serving up its "Bambini"mini deli-style ciabatta sandwiches.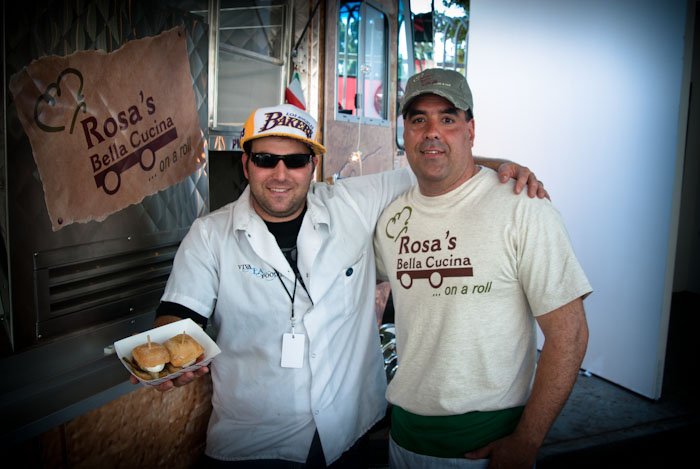 From la Mamma "Angelina"with Prosciutto and Mozzarella, La Caprese with Mozzarella and Tomatoes and others, each savory sandwich was welcomed with open arms and wonderful hospitality by truck owner and operator Rosa Graziano and family.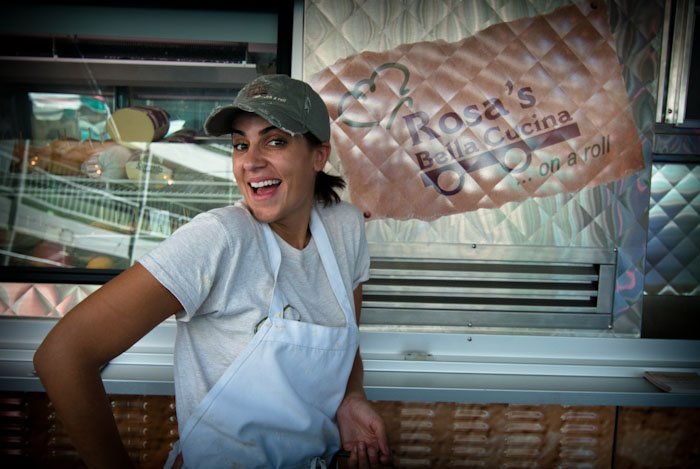 Look for the truck on the streets and at public and private events throughout the city.
Rosa and her mom also had a booth featuring zeppole and their homemade special arancini with your choice of spinach and meat sauce toppings. From Savory to sweet these small bites were quite a treat.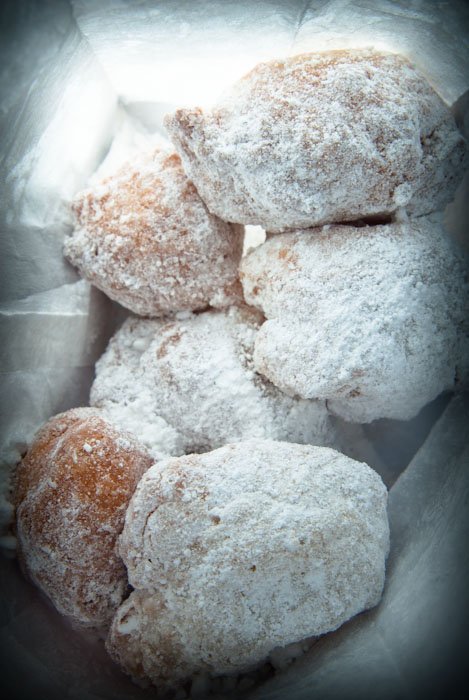 Situated next to their booth was Rocco's Pizza LA and we were delighted to have a personal introduction to the owners via Rosa. I have been a fan of this New York style pizza for years ever since I first had it at the festival. I was surprised and excited to hear that in addition to Rocco's miracle mile location, they also operate Rocco's Tavern in Studio City and 901 Bar & Grill in the USC area. Besides having some great conversations, I had time to enjoy an awesome slice of Rocco's famous sausage pizza and also got a souvenir Rocco's tee to match.


To cap things off, Fiat, The Italian auto maker provided complimentary Espresso in their showroom featuring the new Fiat 500 car.


With our stomachs and mouth's full, I took a moment to get a photo at the LA Dodgers truck "dodgertown USA" before heading off.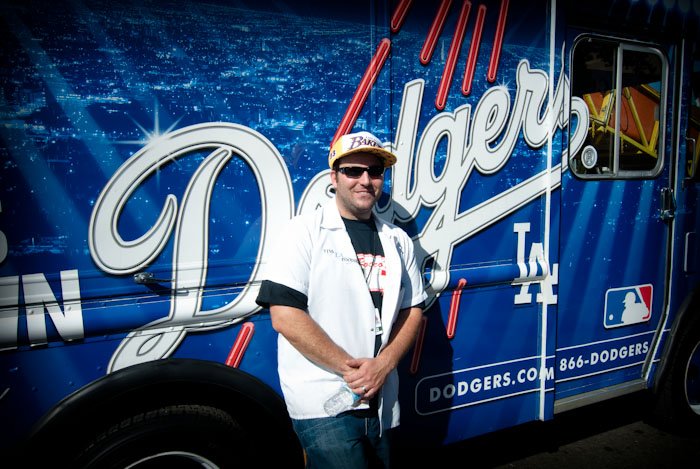 Closing & Special Thanks:
The event, like others in the past went off without at glitches. The food, vibes, music and culture will always be a positive memory. Special thanks to those who made our experience possible including Caitlin McGee from MPRM communications, and Rico Mandel Photography for capturing the timeless imagery.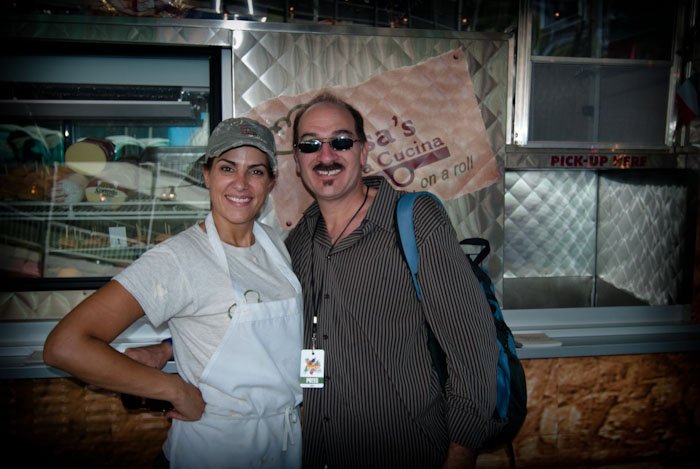 Thanks Grassroots California for providing VivaLAfoodies with the "LA Bakers" edition hat that we had the pleasure of representing at the event!