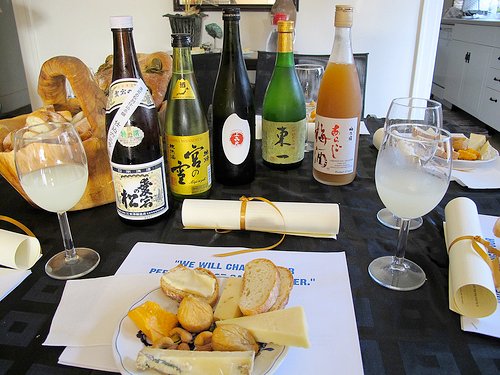 Welcome to Trivial Pursuit "Cheese and Sake" edition or at least that is how I felt last-week when I attended a round table tasting put on by none other than herself, Barrie Lynn, "The Cheese Impresario. So in the theme of this great American board-game, I will recount my sensory experience one category at a time.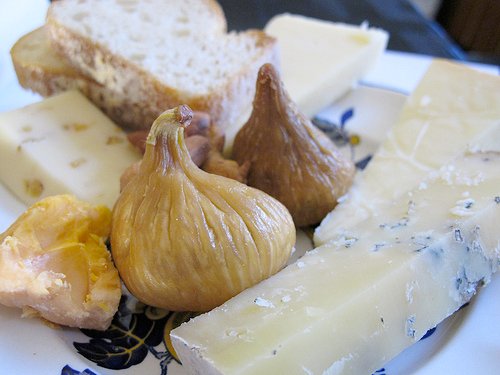 Entertainment, Staring: The Cheese Impresario
Barrie Lynn, The Cheese Impresario, is a self proclaimed cheese entertainer that has been spreading her cheese knowledge one nibble at a time and has been educating and entertianing foodies for years via her monthly "Cheese Matters" column in The Beverly Hills Times, as well as many special event appearances nationwide. We met almost a year ago at Los Angeles Magazine's From the Vine '09 and have been talking cheese ever since.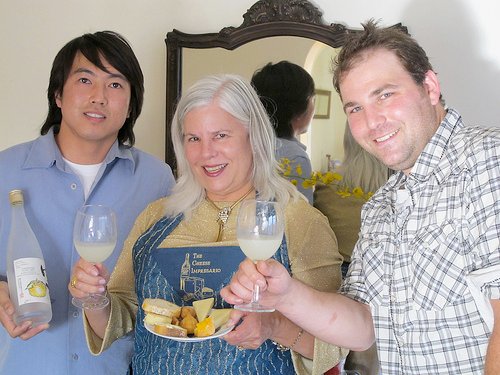 When I got the invite to attend this cheese class I couldn't say no. The premise for the class was to pair sake flavors with cheese with one goal in mind; to bring out Unami sensations with each bite.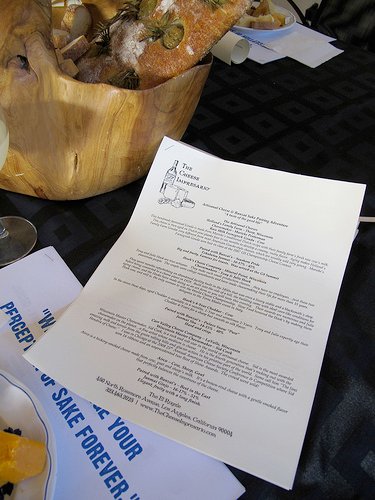 History of Sake(background)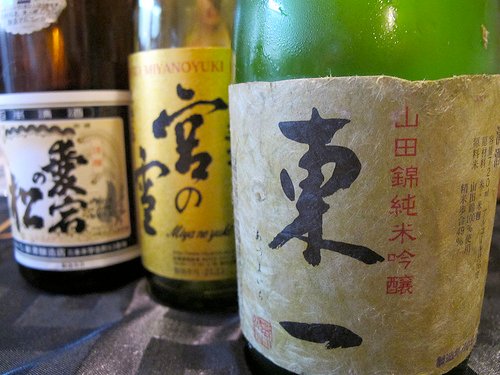 There is more to Sake than meets the eye. With a history that dates back over 2,000 years this fermented rice wine was once dubbed, "the drink of the gods" and continues to become a part of the beverage mainstream thanks to the creative folks behind Banzai Beverage Corporation. Our Sake insider, K. Inoue made us feel like we were in a Japanese Sake distillery with his factual spirit knowledge and he brought us up to date with all Sake happenings past-present and future. Each of the evenings pours embodied these elements. With far too much Sake knowledge to drop in one post, I will leave you with a few facts.
-Chinese characters are still on Japanese sake bottles as an homage to communication among the Japanese aristocracy.
-"Junmai" in Japanese referrs to premium
-Sake has 400 flavor points vs 200 flavor points for wine
A few Sake's from Banzai's extensive catalog that made guests appearances at the table were:
Yuzu Sake-Freshly Squeezed
Euphoria(Junmai Ginjo)
Plum Nectar Sake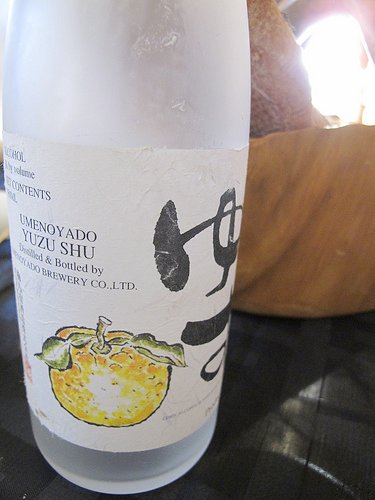 What's Sake without Cheese? They actually have more similarities than you think.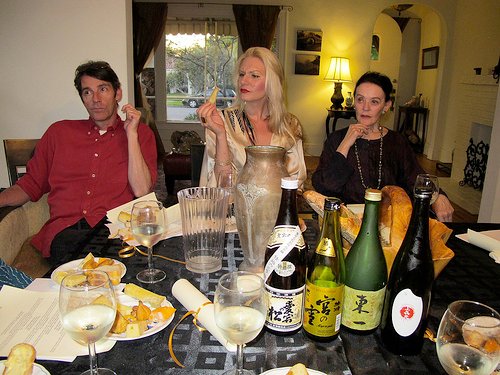 Science(of Cheese)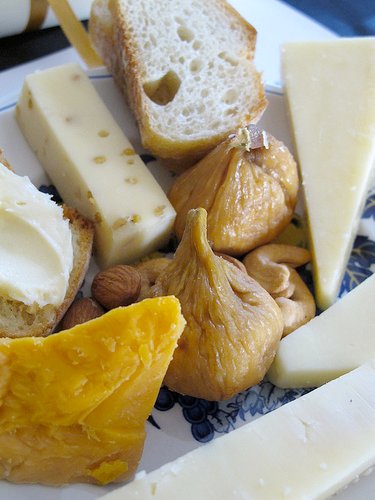 According to Barrie Lynn, Cheese is best if left out 1 to 1.5 hrs prior to consumption because the microbes in cheese are alive and these are the ideal conditions for maximum flavors. Both cheese and sake originate from similar types of Mold or Koji so it is only fitting to pair the two.
Geography (of featured cheeses),
There are many micro cheese purveyors located throughout Wisconsin. Not too far from where Trivial Pursuit originated behind the walls of Northern Plastics of Elroy, Wisconsin, lie a slew of independent family operated cheese purveyors such as "Hook " and "Cook".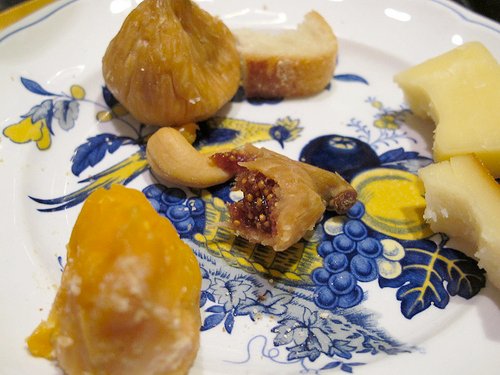 Tony and Julie Hook run Hook's cheese company and they run the operation themselves. Now that's micro-production; but you wouldn't tell from their robust 4 and 10 year Cheddar's.
Sid Cook from Carr Valley Cheese Company brings a rock-star approach to his cheese making. Local milk and a great product has earned him the title "The Jimi Hendrix of Cheese." Try "Airco" made with cow, sheep, and goat milk. You wont be disappointed by this award winning hickory-smoked Artisan cheese.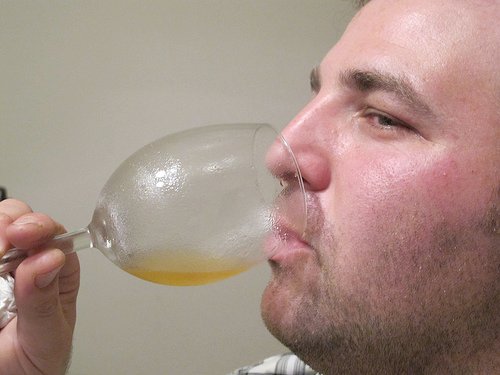 Its amazing how two unlikely foods and beverages can pair together so well. In fact, the entire evening was a perfect pairing in itself. Besides seeing some familiar faces and having a foodie experience with some great people in the industry, we learned new facts and consumption methods for cheese and sake and expanded our knowledge of both in a fun and relaxing atmosphere. We owe this all to the skills of Barrie Lynn and her team; Pauli Orchon from "Friends in High Places" and K. Inoue from Banzai Beverage Corporation for putting on this great event. I am already looking forward to Barrie Lynn's next class.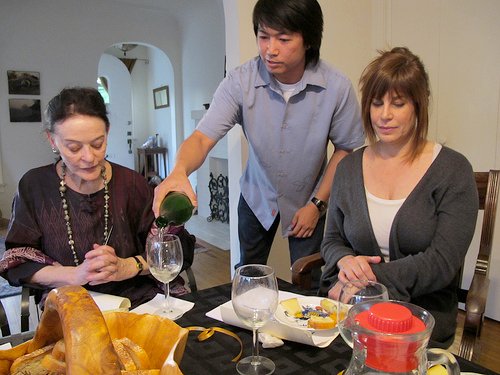 *Photography by Lisa Robinson from Stone Orchard Pictures for providing these amazing smell-e-vision shots. Now that's food for thought!

Schedule you next private cheese class today with Barrie Lynn, The Cheese Impresario