A waiter at The Raymond Restaurant thought about quitting. He worked there for 6 years and received many other offers. The entire city of Pasadena knew of his skills and talents. This was no surprise to the owners or general manager. They made him an offer he couldn't refuse. The waiter decided to stay and invoke his love of the historic restaurant to this day and many more tomorrows.
Like the waiter, the stories within The Raymond are omnipresent. They're on the walls, paintings, patios, and china. They put the THUMP in the heartbeat of the 100-plus-year-old refuge.
Weekend brunch transports you to an effervescent caretaker's house once owned by the hotelier, Walter Raymond. Welcoming wood panels mingle with outdoor tree branch canopies, gardens, and an unpretentious fully equipped craft cocktail bar.
Bloody Mary's and mimosas are Pasadena's best, but the real magic comes from the elixirs featured on the cocktail list. Each beverage features a story fit for creatives and history buffs.  New Orleans might have invented the Ramos Gin Fizz, but The Raymond perfected it. It's a heavily shaken gin and juice concoction topped with egg white fluff almost on the verge of becoming a thick merengue.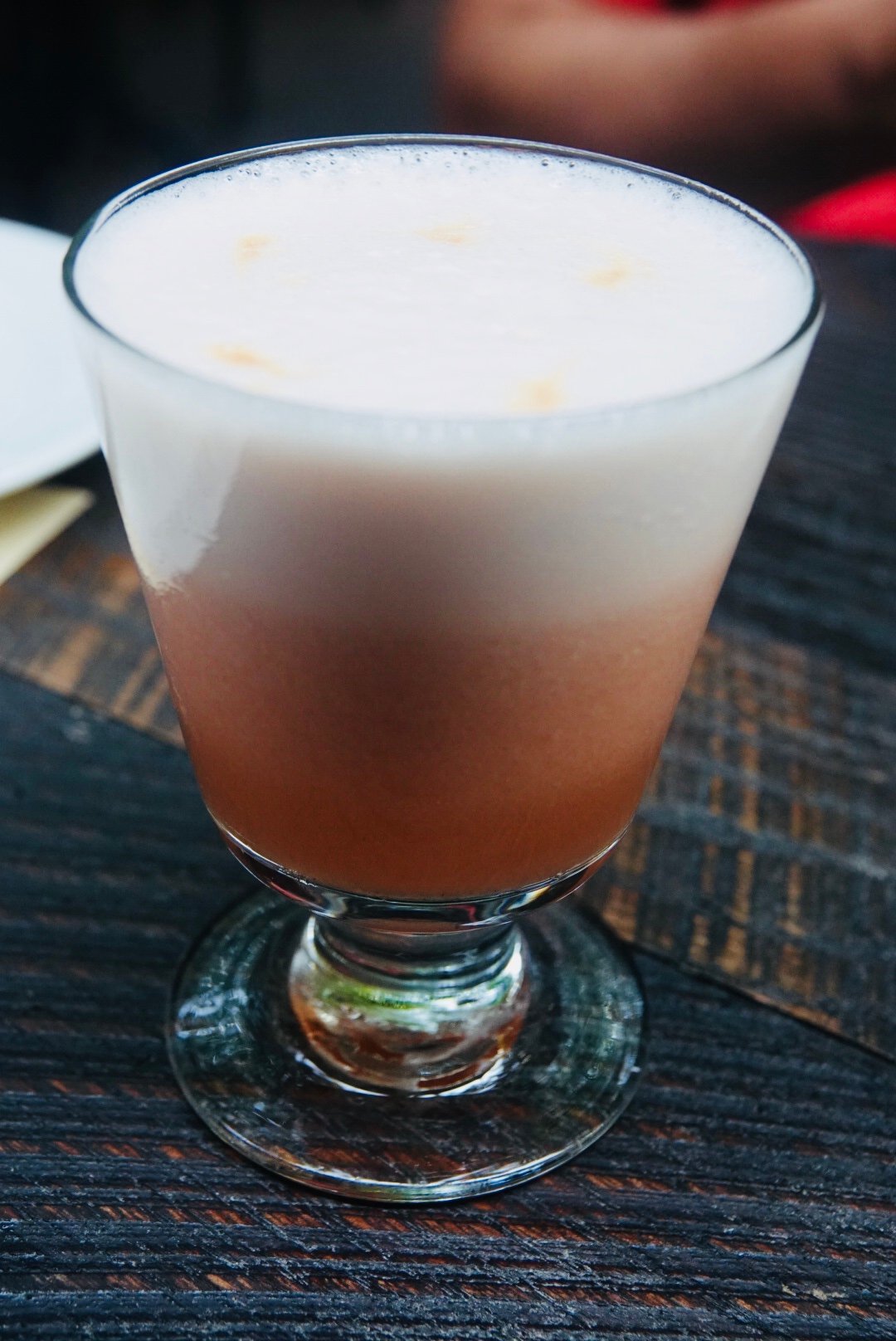 Doesn't matter if one has a mustache or not, the Ramos Gin Fizz gives you something to shave;) Straws are for wussies.
Brunch is a meal without formalities. No rhyme or reason on what to order and when. It's a blend of meal times where you can call the apple fritter donut holes your appetizer. They're delicate but not fragile or flimsy. The crust has the golden crunch and the full-bodied apple filling is nourishing enough to cleanse the palate, and make one's appetite grow.
We are fortunate to live in Southern California, a part of the state that takes its breakfast burritos as serious as its tacos. The one served at The Raymond can only be described as Shawshank Redemption perfection. The burrito comes "wet," where the red chili sauce is smothered on top along with a sprinkle of al pastor, a way of plating burros made famous in Santa Fe, NM.  The Raymond serves a classic version of Huevos Montuleños, a Mexican dish originating from the Yucatan peninsula. A bunch of goodness consisting of scrambled eggs, black bean and corn salsa, a roasted tomato-guajillo chile sauce, avocado, and a cojita cheese crumble layered on top of a miniature crispy tortilla. Additional items on the brunch menu feature omelets, chorizo and eggs as well as lunch fare like a BLT, cheeseburger, and steak and fries.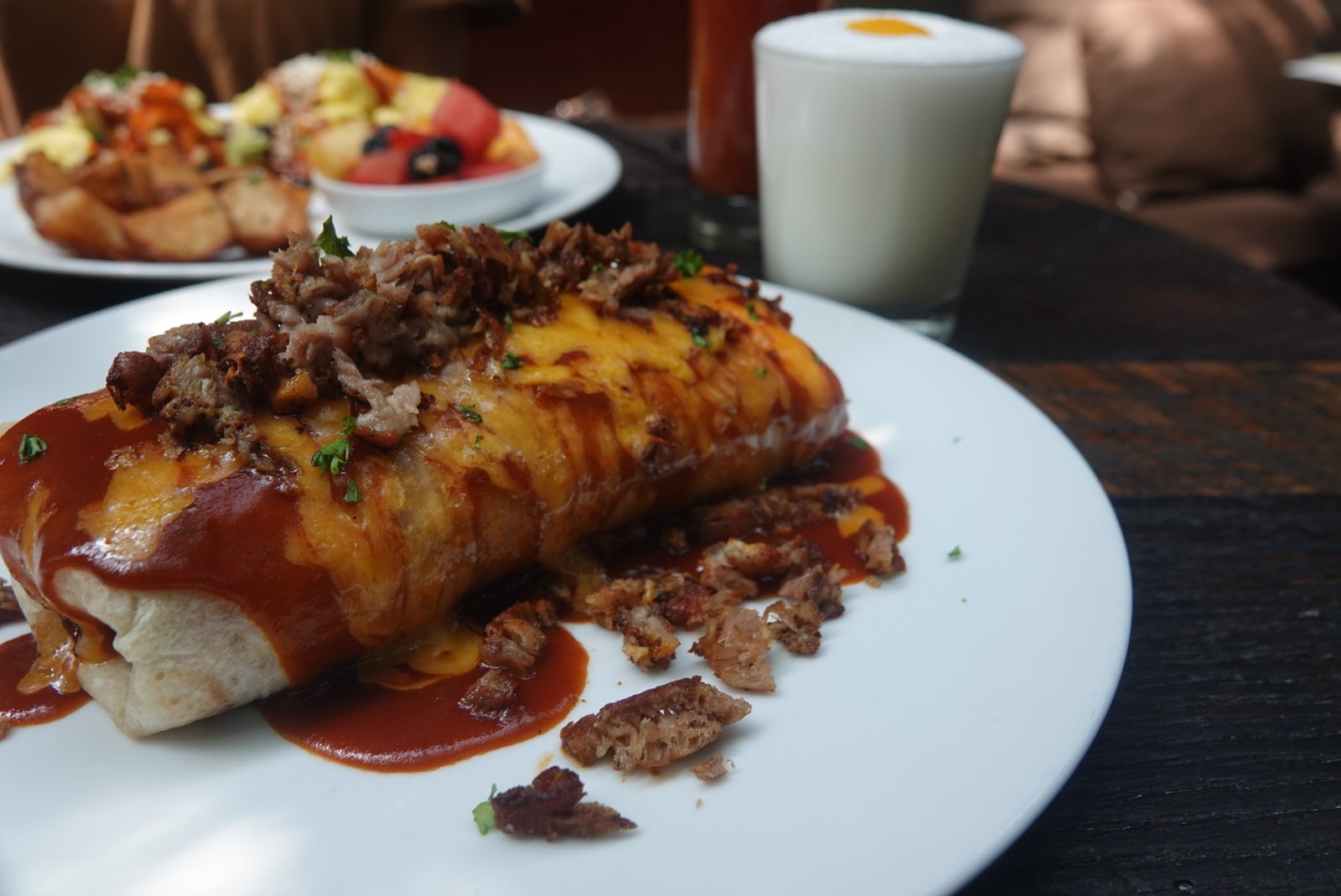 Even if these items seem like nothing special, every dish at the Raymond has a story and the stories give the meals meaning. That's something money can't buy.
GET SOCIAL WITH THE RAYMOND
The Raymond Restaurant:
1250 S Fair Oaks Ave, Pasadena, CA 91105
Tuesday through Friday (lunch and dinner) Saturday and Sunday (Brunch and Dinner) Closed Mondays
Article contributed by Monis Rose from Restaurant Fiction for Viva LA Foodies