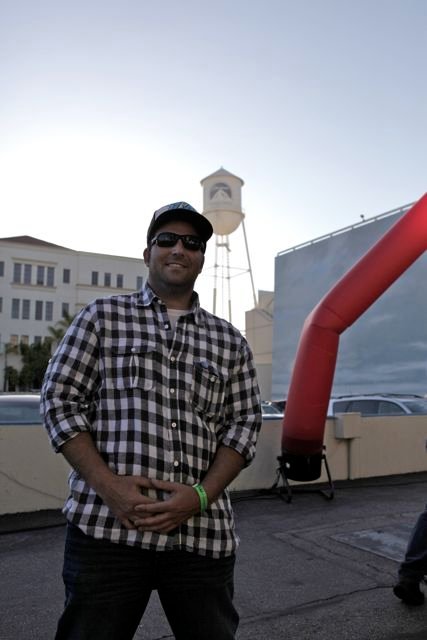 A few weeks ago we were proud to be the privileged guests of Jane Summer from Summer Communications for the annual Concern Foundation "Block Party" at Paramount Studios-Hollywood, where they took their "Dancing in the Streets" theme literally and even tossed in some Kevin Bacon inspired dancing,circa "Footloose" from the 80's. So, I guess you can say that as with anything in life, Six degrees of Kevin Bacon really does exist and we can't escape it.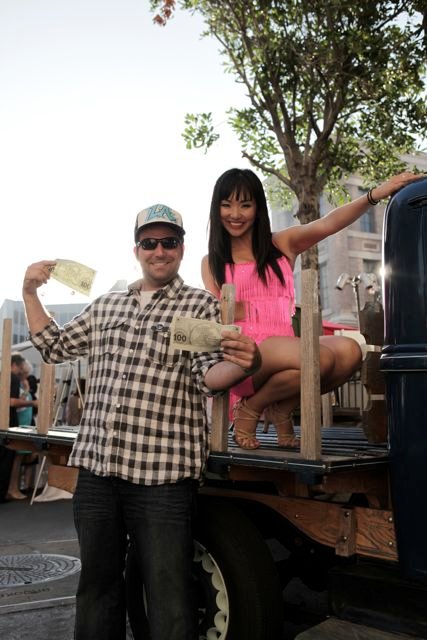 In true foodie fashion my Viva LA Foodie confidant and personal paparazzi Mr. Joseph Briscoe and I ate and drank our way through the entire "New York City" back-lot twice over while we sampled menu items both "Savory & Sweet" from Los Angeles' top dining establishments and local artisan catering companies.
The Big Dance:
"Dancing in the Streets" for the Concern Foundation brought together over 50 of LA's top dining institutions and boutique catering companies for the 3,000 plus crowd of fortunate and hungry Angelinos that were in attendance for this yearly culinary driven fundraiser.
Four stages of live musical themed programing included a collaborative dance troupe from "The Cancer Free Dancers" who showed that they can dance proudly with the stars in support of cancer research. We caught up with them after the performance "ON THE BLOCK", unfortunately there was no "Jenny" in sight.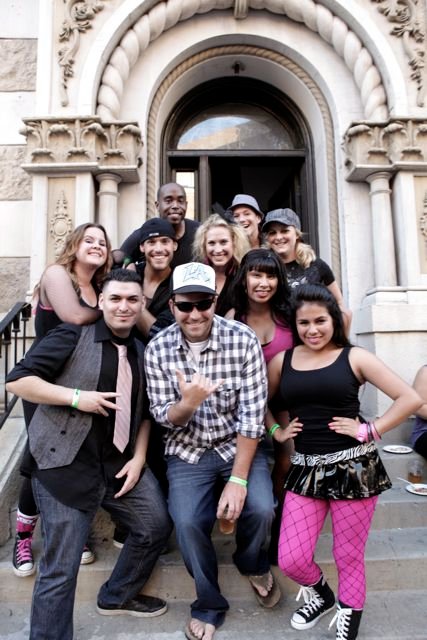 Additional stimulation came in the form of a realistic casino-style gaming pavilion where I learned the do's and dont's of "Casino Craps." and couldn't stop saying "What's the haps on craps."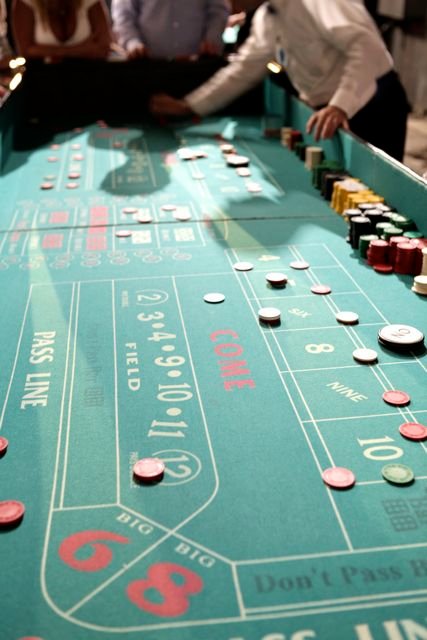 All of the entertainment was secondary to the cause at hand, where Concern showcases the importance of supporting cancer research and embracing local "cancer survivors" who now consist of a population group of more than 13 million people due to the amazing advances made in the treatment of the disease.
Why Concern?: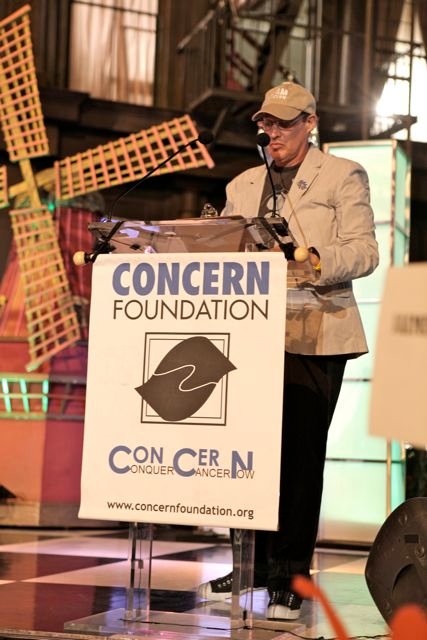 Since Concern's inception they have raised in excess of 43 million dollars and has funded 600 of the worlds top cancer researchers via its non-profit charitable foundation. Volunteers all work together concurrently with the cancer researchers to enrich and better the lives of those people living with cancer in hopes of curing the disease one day real soon. As a result of their efforts "52 researchers are supported by a "CONquer canCER Now" grant, endowment or special research initiative. These outstanding investigators are furthering their expertise in 13 different areas of cancer research at leading institutions in California, the United States, and around the world."
On the Menu:
With so many great establishments offering bountiful bites of their signature dishes we have narrowed down some of our favorite selections from both the Savory and Sweet categories
The Savories: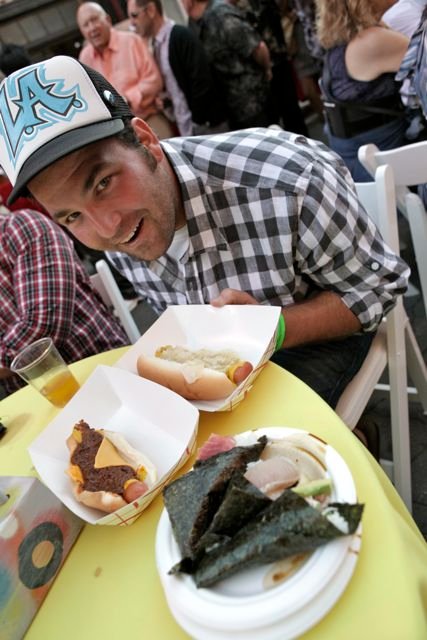 California Sushi Academy students made Japanese inspired hand-rolls with a California Twist paired with 2 infamous "Pink's Hot Dogs". A street version of "Surf & Turf", the perfect "YIN & YANG"
The Grill on the Alley(Beverly Hills) provided their specialty French Dip Sandwiches with spicy mustard and Horseradish cream.
La Cachette Bistro(Santa Monica) dished up some smooth duck Pate on fresh toasted Crostini.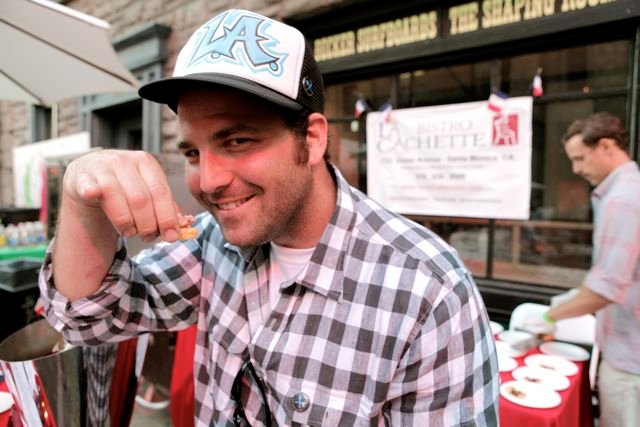 Il Cielo(Beverly Hills) served up some tempting Lasagna.
Malo/Mas Malo(Silverlake and Downtown) showcased their signature Shrimp ceviche and even brought Tequila shots along for some added kick.
Samba Brazilian BBQ(Redondo Beach/Universal City) grilled up their signature Churrasco beef selections and regional chopped salad.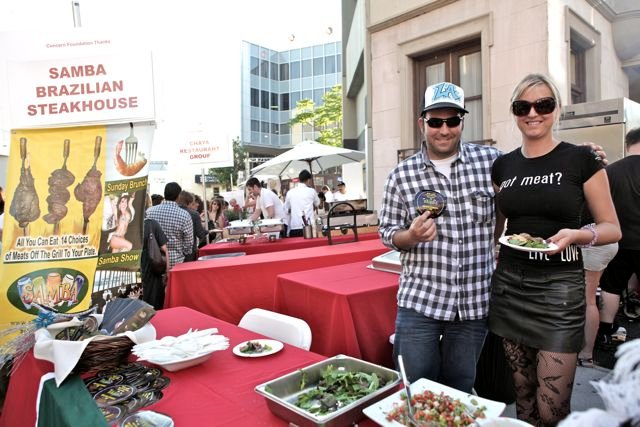 The Sweets: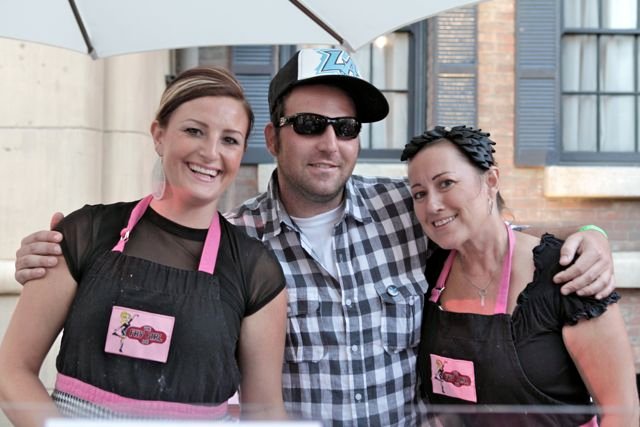 The FRYGIRL Inc, and its owner Shelley Beals is a giver in all senses of the word. She is not only a "Cancer Survivor", but A specialist in the "mini-fried foods arena" of private gourmet catering and she brings her mini-donuts and fancy fried foods to venues across California from Santa Barbara to San Diego. We enjoyed catching up with our dear friend with the big heart and her trusty Fry Girl Rikki doing what they do best, cooking up "The Mini-Donuts." I will be honest, "I love my Fry Girls" and all of the fried goodness that they bring to the yard.
Lusterous Libations:
In the theme of "Dancing in the Streets" we savored an "oldie but goodie" that never fails; Scotch on the rocks courtesy of Billy Joel.
Wolfgang Puck Cold Brewed Iced Coffee provided an alcohol alternative to the expansive bar menu as well as providing an added caffeine buzz to specialty mixologist cocktails.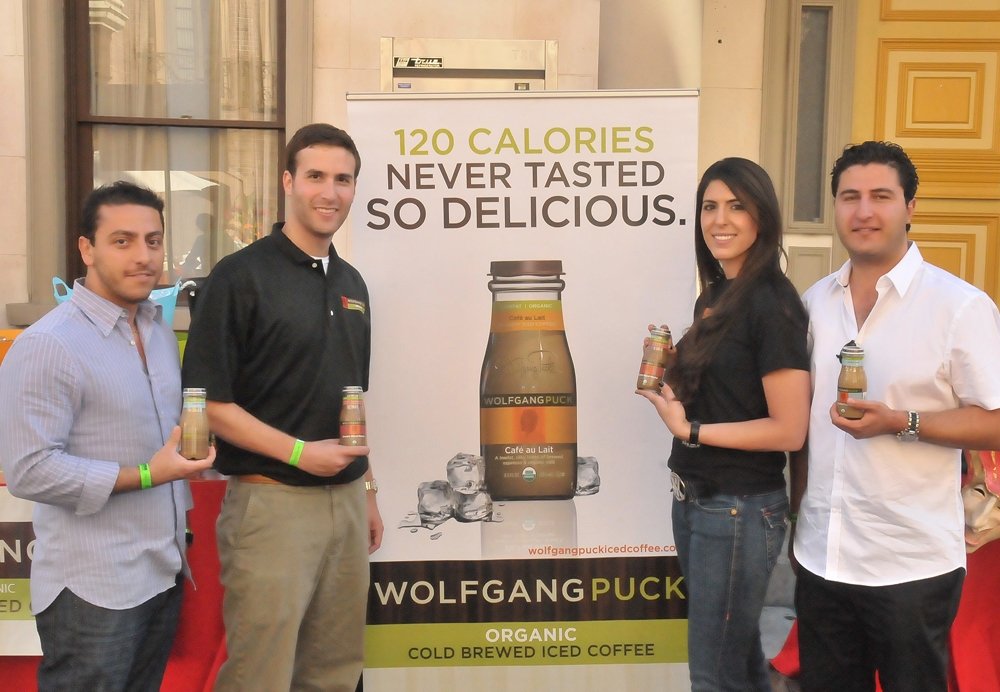 "Dancing in the Streets" soundtrack:
Martha & the Vandellas – Dancing in the Street
David Bowie – Dancing in the Street
Van Halen – Dancing in the Street
Kenny Loggins-"Footloose"
A sweet closing for a great cause:
As usual we had a blast, but wouldn't have been able to do it without our great friends in "high places." Jane Summer from Summer Communications always takes care of us with her good graces and is a marketing force to be reckoned with and she has an extensive portfolio of restaurant clients to back it up. We always get the VIP treatment and we appreciate all of the great invites to the dinners and events that her team produces.
When it comes to events, our good friend Dan Silberstein from DrinkEatPlay is notorious for producing some of LA's largest Beer, Wine, Music and Lifestyle events and on average his events draw crowds in excess of 9,000 people. From LA Beerfest, Septemberfest, LA BBQ Fest, Block Party, Tributefest and 80's Prom he keeps a busy schedule, but we were fortunate to have him along as our guest to give us a low-down on the rest of Los Angeles' Food and Beverage Events for the rest of the year. And last but not least, we couldn't have captured the essence of the event with our amazing photographer Joseph Briscoe. His lens went high and low and provided a glimpse of something extraordinary.