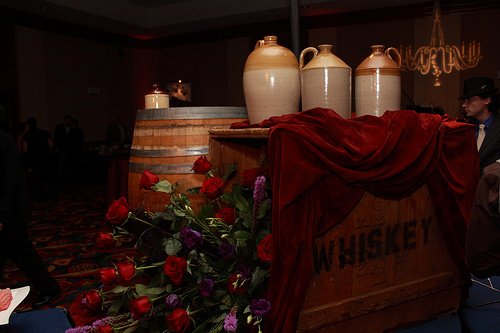 Drink Eat Play's Speakeasy: Spoke….
… to every spirit taste bud you could imagine. Last Saturday night, Drink Eat Play transformed the Renaissance Hotel in Hollywood into an event sure to make any old timer reminisce. The event featured a nice blend of well known larger brands and some smaller ones that had an opportunity to showcase what they're made of.
When we walked in we were welcomed by a little Charlie Chaplin projected on the wall and drinks ready to pour. Such a clever start! I loved this as I'm a huge classic movie fan and it really just started the evening right.


People swanky-ed up in their best 20's attire. Big Willie's band kept the evenings theme with the jazzy beats that got the flappers flappin'. Fedora adorned gents and sassy ladies mingled and tasted an eclectic trade show style spread of fine spirits and mixers. A delectable chocolate fountain with marshmallows and fruits sweetened up the evening as well.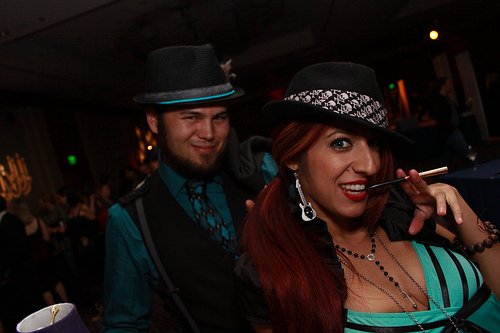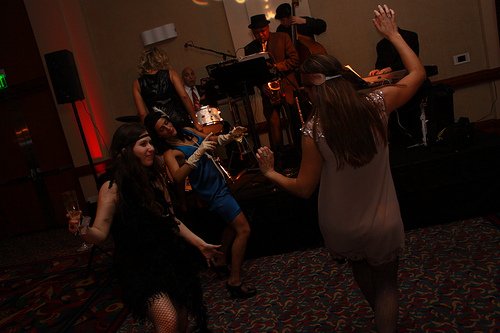 As "Big Dave" of Essential Sprits from the Silicon Valley said, " it's introducing people to the European traditions of old world quality of spirits." "Big Dave" offered sampling of his two Hawaiian rums- the Gold and the Silver. Both unique in taste. The Gold was a definite bold and well, "POW" in taste. Where the silver was much more smooth and neutral.


Alain Royer and Preiss Imports showcased some fine French spirits, as well as a special blend called the "Aviation" . A delicious treat of Cadenheads' Old Raj Gin, Luxardo Marashino Liqueur, Pages Pure Grape Sugar Syrup and Pages Parfait Amour and lemon juice. Perfectly shaken then topped with a Luxardo Marachino Cherry… brilliant! I can't lie, I went back for a second.
One of the coolest tables (yes, pun intended) was the Névé Ice. It was a tough time getting in as people gathered to taste the difference. It was almost like watching a a street magician. Michel Dozois prooved what a difference ice can really be. Demonstrating Névé Ice vs regular hotel ice. Névé uses the purest of water and the cubes are frozen a minimum of 48 hours to ensure the slowest dilution rate achievable. You really could taste the difference and dilution of using the hotels ice.
A highlight for me was meeting Melkon Khosrovian from GreenBar Collective and TRU Vodka and TRU Gin. They showcased 3 different Vodkas: Straight, Lemon and my personal favorite the Vanilla. What made this company so interesting was their passion and commitment to being a environmentally responsible company. TRU not only set standards in maintaing clean farmland for the organic ingredients but has also taken steps such as reducing the amount of glass in their bottle, using tree-free printed labels and recyclable synthetic corks. TRU also goes a step further and plants a tree for every bottle sold.


Some of the cities top mixologists mixed some tasty treats. The guys from the Varnish Room mixed some wicked concoctions that spiced up the end of the evening. Who would have though a little Cayenne pepper would go so well with alcohol.
Although, I couldn't try everything as my whiskey fitness isn't' so high, the one thing I wish I had gotten to try was the highlight of photographer Rich's evening- 25 year old Scotch.. that would have been a treat.
As the event came to an end you could defiantly feel the Roarin' 20's in the air… as a few flappers and gents has trouble staying awake on the plush couches that honestly in a black and white photo I'm not sure you could tell which era it was taken. I'd say that is a pretty good indication of SpeakEasy being the cat's meow.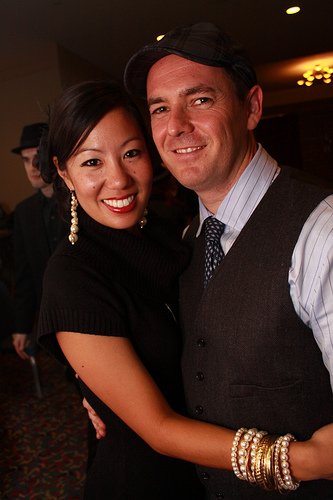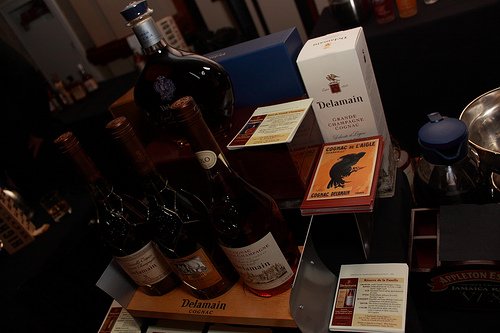 Special thanks to Richard Allen for photographing the event with our guest correspondent Renee DeLawder

http://www.flickr.com/photos/sagittarianimages/