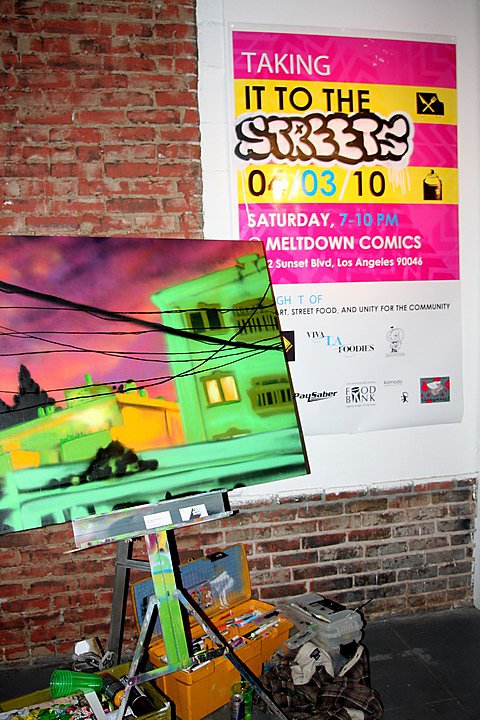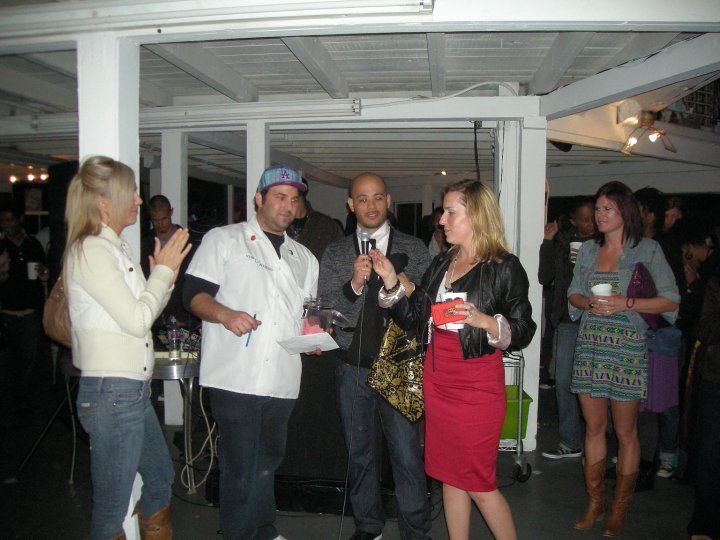 Los Angeles came out in full support of "Taking it to the Streets" this past Saturday, April 3rd at Meltdown Comics on Sunset. "Taking it to the Streets, also known as Ti2tS was a cross collaborative effort between LA Street Food(LA Street Food App), VivaLAfoodies and Hybrid Roots to bring awareness to the cities hunger epidemic while showcasing our cities diverse "Street Art" and ever so popular mobile food culture. The Los Angeles Regional Food bank was the designated charity for our event and we were pleased to have them receive 4 bins full of food along with some cash donations.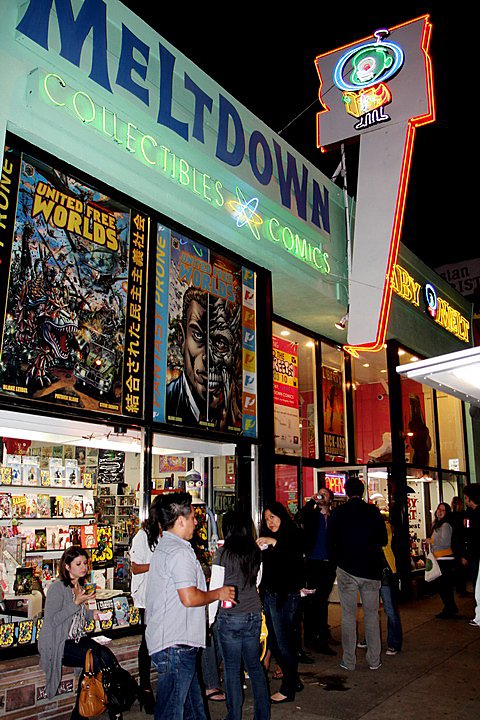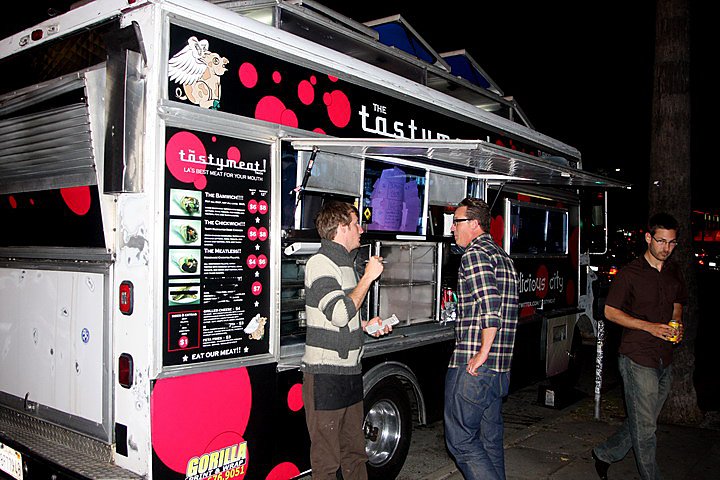 The premise of the event was simply dubbed "A Night of Street Art, Street Food, and Unity for the Community" and this was evident by the huge turnout of attendees. With a slew of amazing sponsors from local restaurants(Groundwork Coffee, Fresh Brothers and Manhattan Beach Pizzeria), Beverages from Function Drinks and New Belgium Brewing, graffiti supply and skate shop(33 1/3), a mobile credit card Solution(Paysaber by USAepay) and an artist driven production house(SA Studios Global) the event was a great success.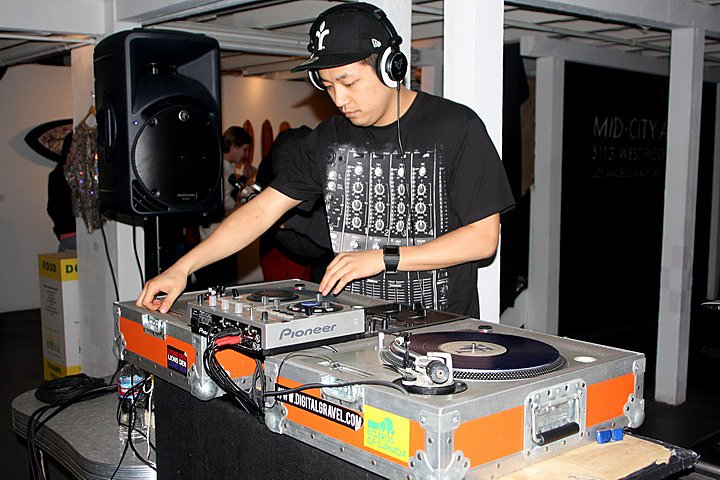 Marissa Harrington from Hybrid Roots made her solo curatorial debut and guests were surprised to hear that this was her first solo show. She organized artists across various mediums, styles and genres all with the common thread and focus on street art.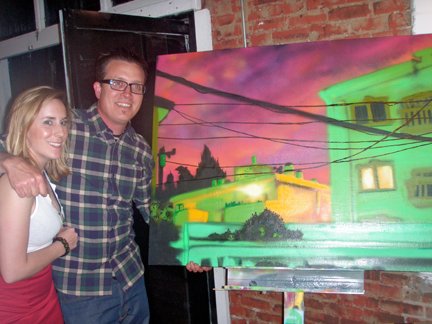 From custom painted skateboard decks, hand-painted shoes and apparel, plexi-glass, fabric, canvas, laminated graphic surfboards and photography, all artists showcased their own interpretations of street art. Their art was represented from all ends of the spectrum and included the high profile "LA Woman" photographic works from Estevan Oriol from SA Studios, Eyeone and an ever so talented roster of up and coming artists including MEEX, Joe Briscoe, Suzie Morales, DINO and Double D's, to name a few. Cav3 and Dj Denkym were our auditory artists for the evening and their beats provided the sountrack for the night.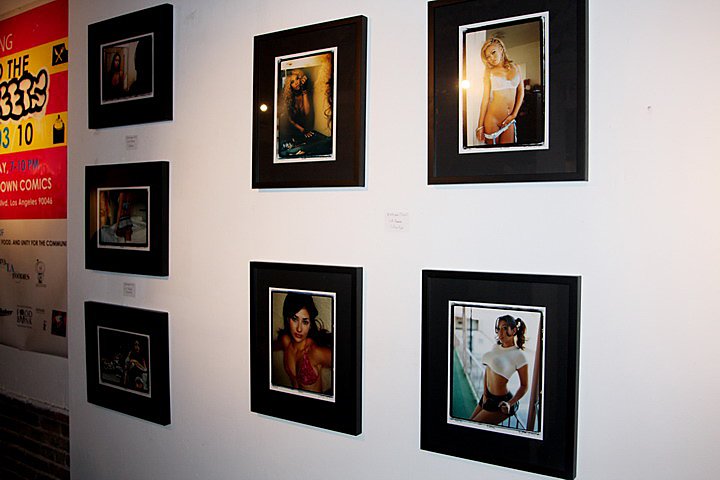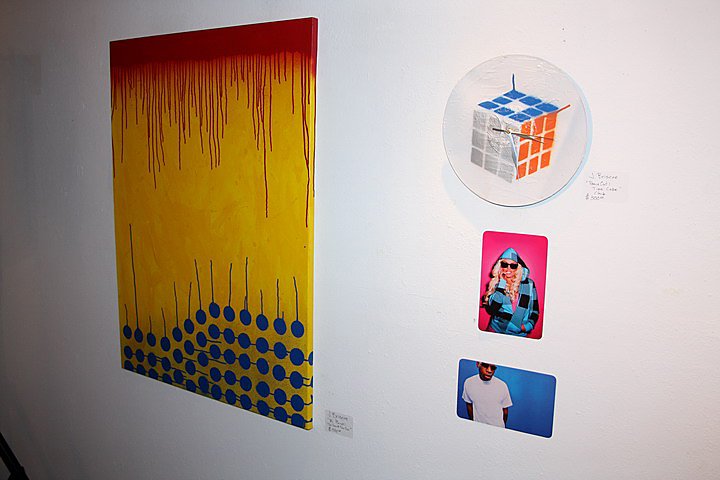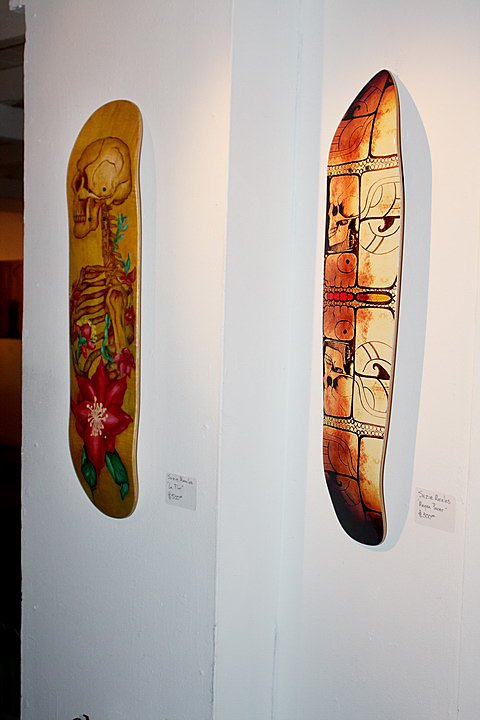 Finally and as equally important as the art were the food trucks. Yes, our diverse city does have ethnic gourmet food trucks and we had some of the best mobile vendors on hand. Baby's Bad Ass burgers had American food covered with their mini burger sliders, while Komodo provided their twist on Latin-Asian Fusion cuisine with their bountiful tacos and burritios, TastyMeat brought their signature dishes of Turkish wraps(Falafel and Shawarma) and their oh so tasty "feta fries" and Coolhaus served up their eclectic ice cream cookie sandwiches and homemade ice cream. Without you all, the event wouldn't have been a success.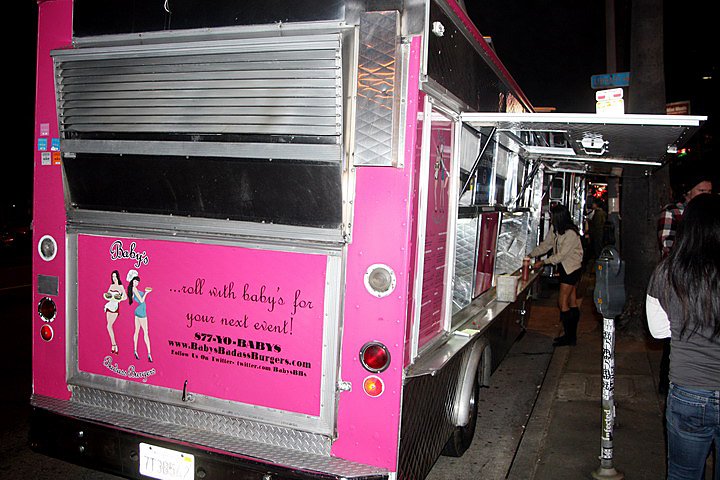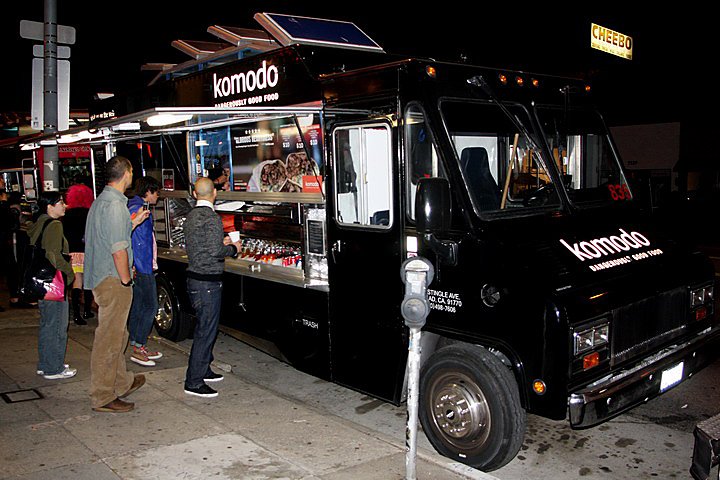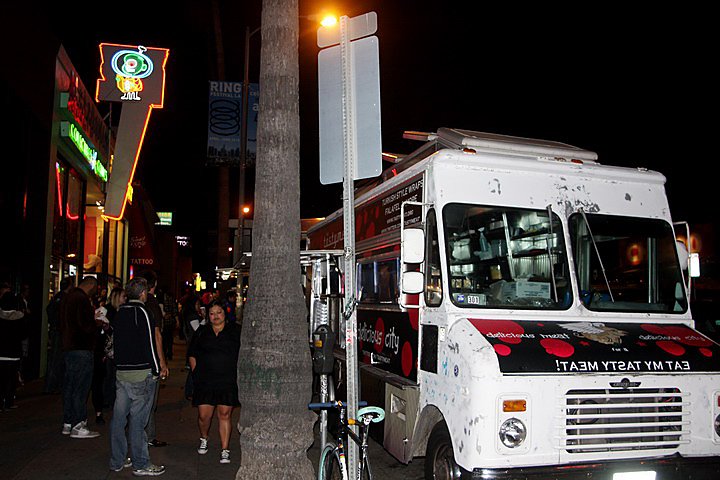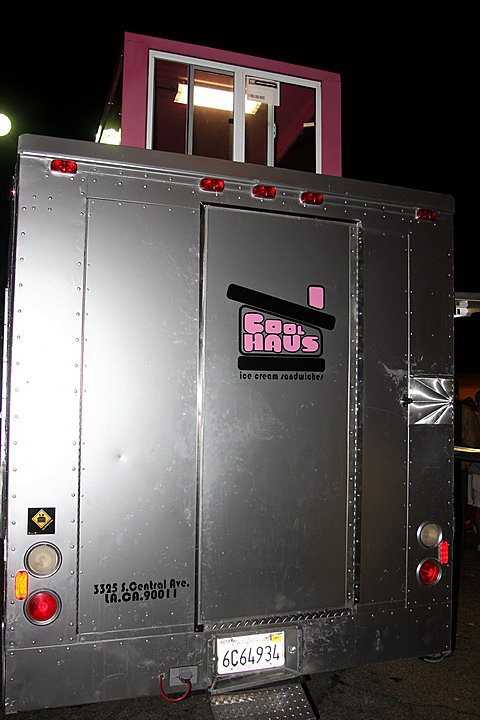 Special thanks to Just Tamales for coming down from San Pedro to sell bags of tasty homemade tamales to patrons as they were heading out for the evening. Latin food is such a big part of Los Angeles street culture and Mexican food always has a way of bringing people together.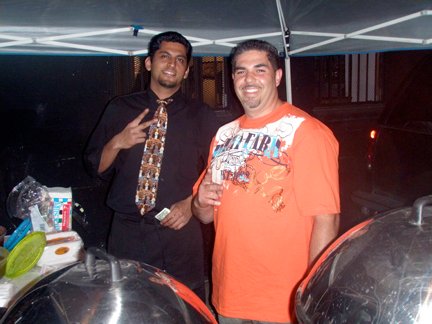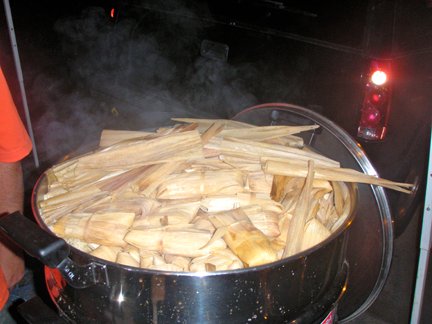 On behalf of the "Taking it to the streets" inaugural show special thanks go out to everyone who helped install the 1 day show. Adam Stoller and Joe Briscoe came through both as artists and event coordinators and I take my "LA Dodger" hat of to both of them as well as the numerous helpers behind the scenes.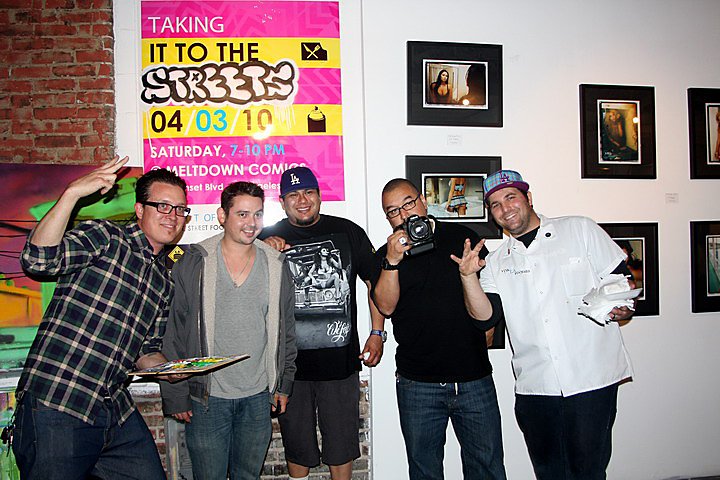 We hope to see everyone soon at our next show and we promise it will be bigger and better.
A VivaLAfoodies(Adam Rubenstein) & LA Street Food(Patrick Green) Production|Curated by Marissa Harrington with Hybrid Roots
Event Interview Video by Gabrielle Olya
VivaLAfoodies and LA Street Food present Taking it to the Streets|Food Bank Fundraiser
A birds eye view in the MELT gallery, by Joseph Briscoe(www.briscoephoto.com)
Click for video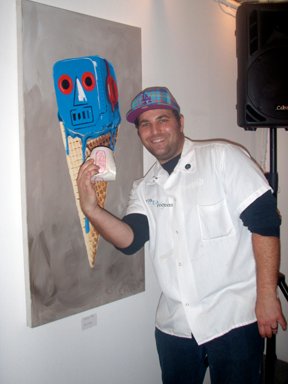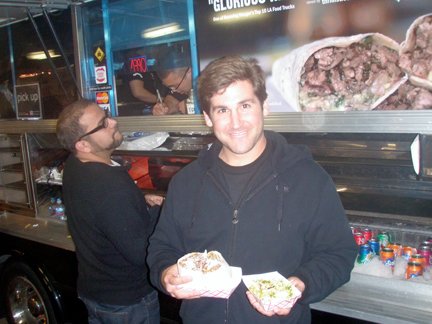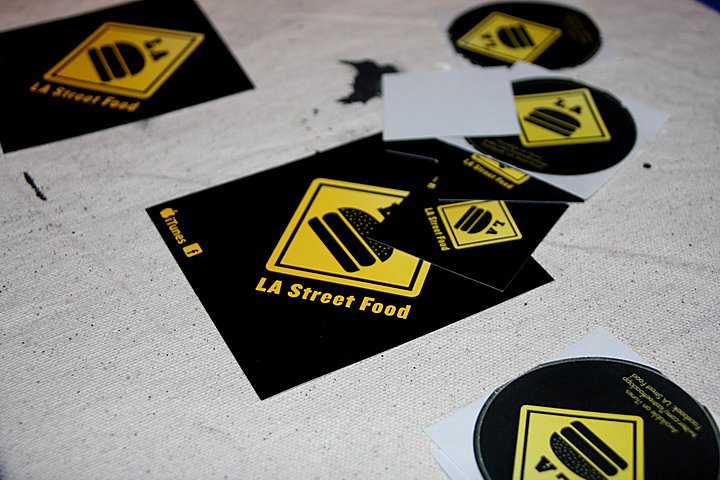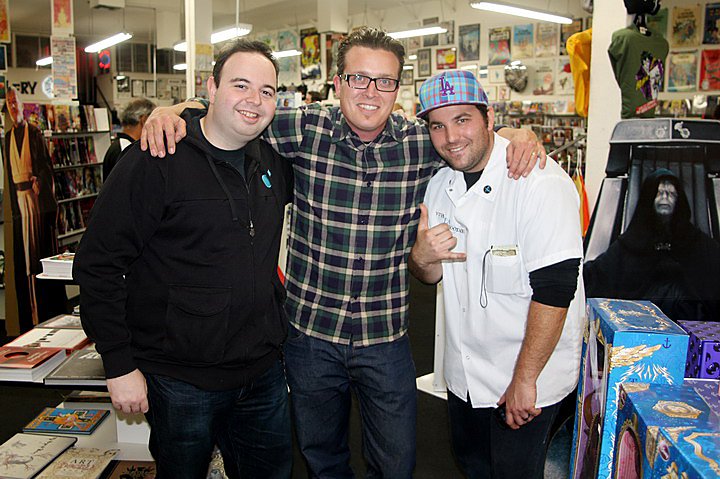 Special thanks to all of our event photographers for all of the amazing shots!