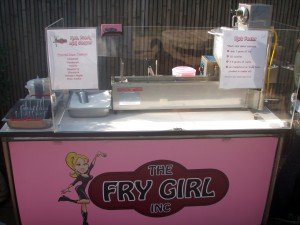 It was a beautiful Sunday; yesterday in Los Angeles and our destination for the day was the home of "The Fry Girl" for a backyard party and a tasting presented for VivaLAfoodies and a few of her close friends. From the moment we arrived we were greeted with happy faces and sweet smells, and I still have flashbacks to our day of sweet fried heaven as I write this.


What started back in April 2001 as a dream has blossomed into a sweet success story. Shelley Beals is better know as "The Fry Girl" these days and as she explained, her name is a play on "The Fly Girls"; those crazy hip-hip acrobatic dancers from the comedy sketch Show from the early 90's: "In Living Color." Her array of fried food stations are amazing bold creations with a few conservative confections thrown into the mix that like the fly girls will make your taste-buds bounce to the beat.


I first encountered the "Fry Girl" and her talented team at the Guess Holiday Party in December in Downtown LA. At the time, her colleague Donnell Brown was cranking out mini-donuts and he gave me a brief introduction into the world of "The Fry Girl" and I must say that I was sold from my first bite of sugary goodness.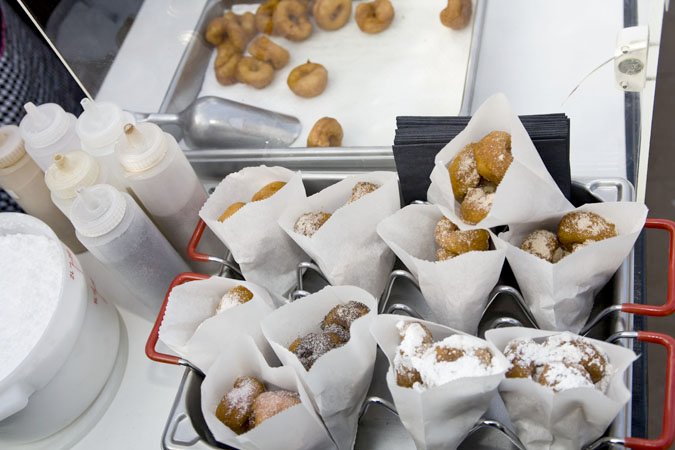 Shelley, formerly of the Advertising industry is passionate about her new culinary direction and continues to bring her fried treats to Hollywood sets, premiers, celebrity homes, private events, television morning shows and just about anywhere and for anyone who wants to host an event featuring mini donuts, mini corn-dogs, French fries and her newest devious delights: deep fried Oreo's. The great thing about her lines of fried foods and stations is the fact that they are all fried in Canola oil which contains Zero Cholesterol and no trans fats and her nouveau treats are a healthier nod to sweets and treats of old.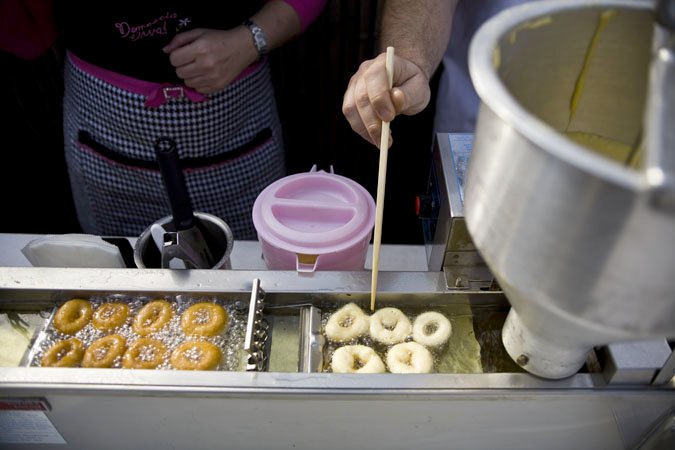 And now onto the menu……..Each item below is fried with love, time and care in Trans Fat/Cholesterol free canola oil.
Mini Donuts


Her donuts are pumped out in small batches from her mini donut machine that is essentially a miniature donut factory on wheels. Believe it or not, each mini donut contains 1 gram of fat, 26 calories, 3.5 grams of carbs and are cholesterol and trans fat free. This has been verified and her cart lists these facts to curious onlookers. Therefore, nobody should deprive themselves of these bite sized morsels. Watch your donut evolve from batter to tasty bite in a matter of seconds, which is all the time it will take to get your mouth watering.
French Fries: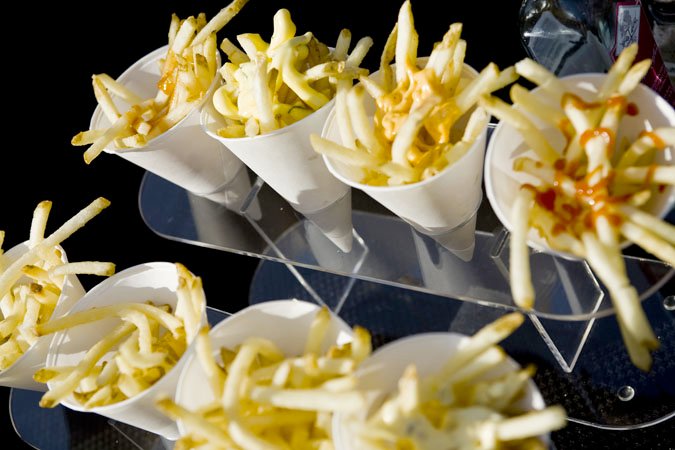 Bliss in a dixie-cup, need I say more? With an arsenal of sauces ranging from Rosemary Mayo, Garlic Mayo, Black & White Truffle Mayo, and Thai Ketchup, just to name a few, you can rest assured that the fry is just a vehicle for "The Fry Girls,"sauce.
Mini-Corndogs:


Bite sized corndogs, made from chicken, a healthier option to beef and pork, will take you back to those corndogs of your youth. Pop a few and take turns dipping into every sauce until all of your cravings are met.
Fried Oreos:


And just when you thought that was it, make room for donut battered fried oreo's. Each soft capsule of goodness is a unique creation because the batter forms various one of a kind round shapes. One bite is all you need because you will be hooked, but keep in mind that every treat is best enjoyed in moderation.


Our tasting was indulgence to the "nth degree", but each calorie was well worth it. Once again, The Fry Girl took care of us and didn't let us down. It was a journey that will be ingrained in my memories for years to come.


For a brief moment during the sugar induced frenzy we had a chance to meet Shelley's friends from Sweet Lucie's Ice Cream and Treats and we are excited to see how their journey unfolds in the coming months as they make their Los Angeles Debut on the mobile scene. We at VivaLAfoodies hope that like Shelley, they experience a taste of sweet success.


It was so great to learn how to make mini-donuts and fried Oreo's that will knock socks off, but I will leave all of the work to the experts from "The Fry Girl". Why mess with a good thing, when someone else has the magic formulas. I know I will be calling on Shelley and "The Fry Girl" team in the near future for my next special event.


The Fry Girl
Shelley Beals
Ph: 213-590-1710
Fax: 310-327-7940
E-mail: minidonutgirl@aol.com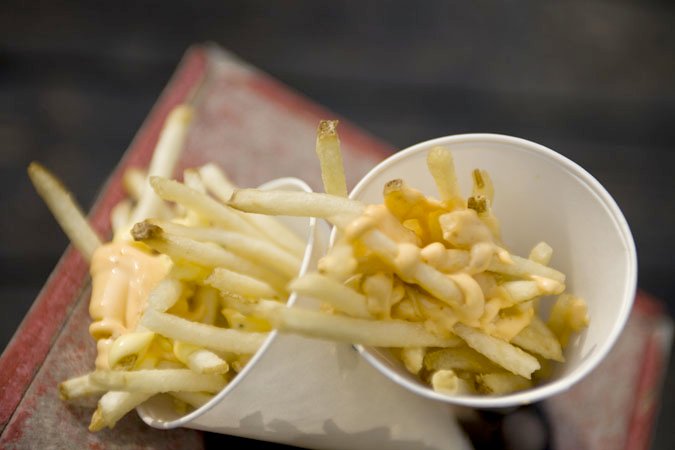 Photography by Zach Schueller
contact: zach@zacharyjphoto.com