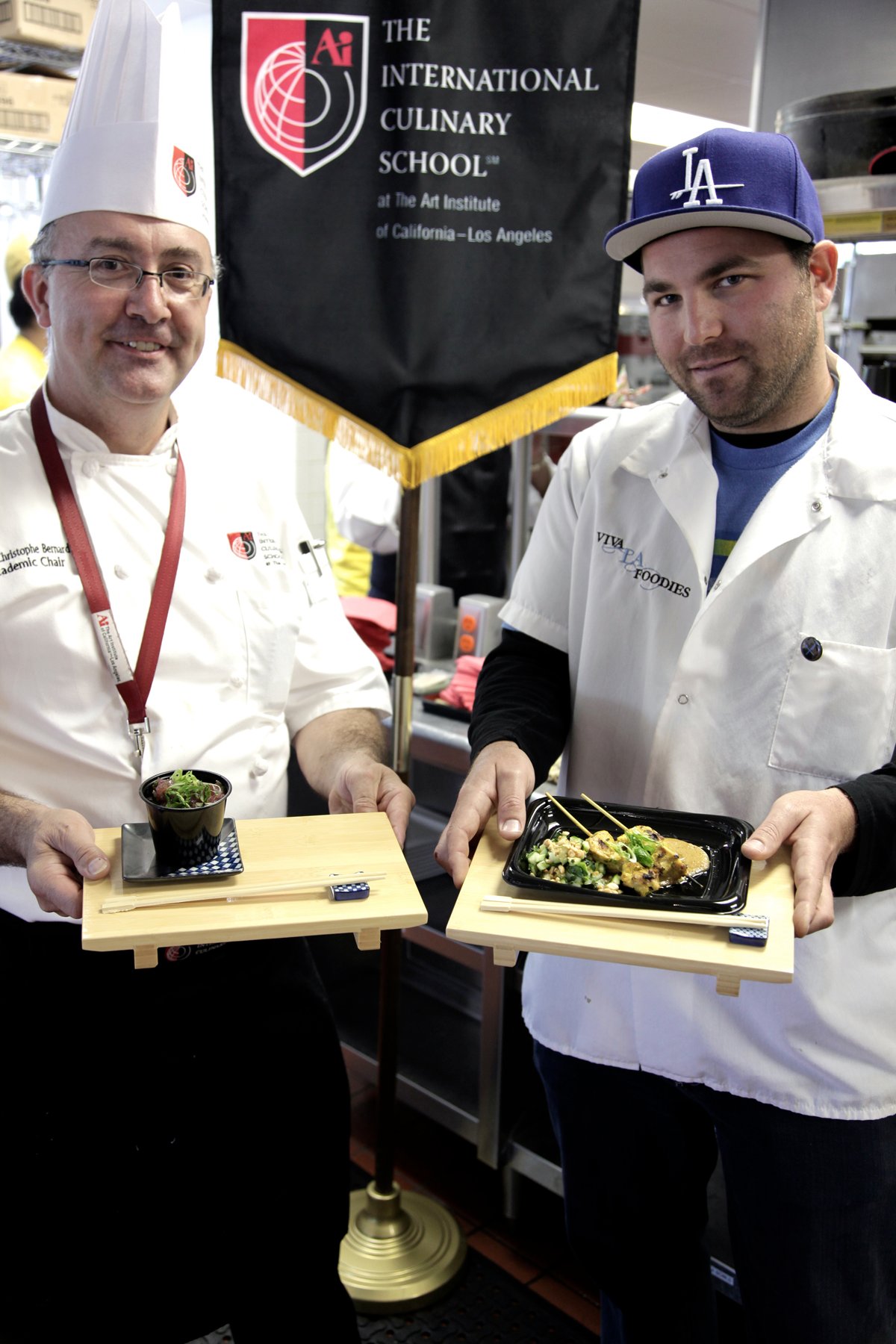 The International Culinary School At the Art Institute Of California– Los Angeles & The Fall 2011 Senior Culinary Practicum and À la Carte Students Present an exotic lunch and dinner menu starring the White & Black Truffle. Pick your poison, well not literally; and choose either the lunch menu with the Black Truffles or the dinner menu with White Truffles or in the spirit of the Holiday's do both at Bistro 31 on 31st & Ocean Park in Santa Monica at the Art Institute of California campus.


The three course tasting menu will be offered at $48 per person and menu items will also be available a la carte from the Bistro 31 regular menu.
For lunch on the same days, the Bistro will be offering a Black Truffle Salt Cured Torchon of Foie Gras for $15.95.
The Art Institute is importing fresh black and white truffles directly from Italy just for this event. Additionally, they have also invited Urbani Truffles and Avalon Fine Foods, two of the event sponsors to organize a great educational display on truffles in the gallery space next to the restaurant.
This event has been entirely organized by our "Senior Practicum" students and all the dishes will be prepared by the talented "A La Carte" Class students. This event is designed to be a learning experience for the students as well as an epicurean experience for the public. It is offered "at cost" so that the general public can enjoy gourmet truffle dishes at an exceptionally affordable price.
Please note also that Bistro 31 does not serve any wine but guests can bring their own wine without a corkage fee.
Black Truffle Prix Fix Lunch: served from 11:30am to 1:30pm from December 6 through 8, 2011
White Truffle Prix Fix Dinner: served from 6:30pm to 9:00pm on Tuesday, Wednesday and Thursday from December 6 through 8, 2011
This special event is sponsored by: Avalon Fine Foods Inc. and Urbani Truffles. Due to the exotic menu and quality of the menu offerings there is limited seating so reservations are highly recommended. Mention that you found out about the event on VIVALAFOODIES and you may get a little something special from the chefs.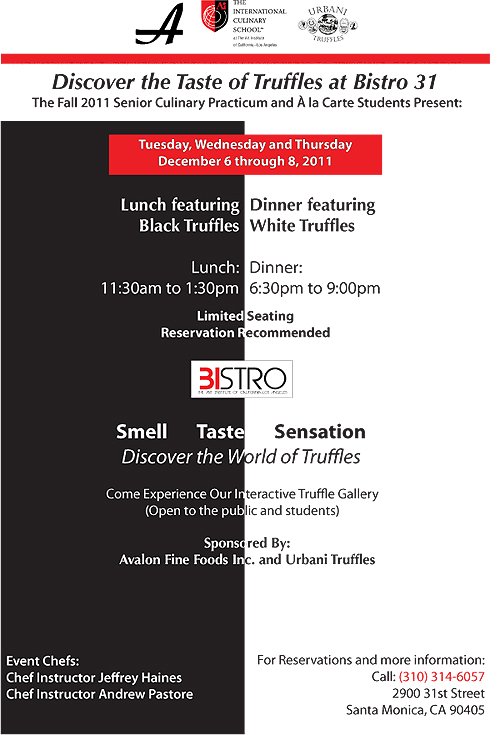 Event Chefs:
Chef Instructor Jerey Haines & Chef Instructor Andrew Pastore
For Reservations and more information: Call: (310) 314-6057
Bistro 31
The Art Institute of California-Los Angeles
2900 31st Street
Santa Monica, CA 90405
Event facebook page: facebook.com/bistro31
Menu
Starters
Cannellini White Bean and Fennel Soup $15
Served with Shaved Black Truffle and Crème Fraiche
Main Course
Classic Truffle Risotto $28
Thinly Shaved White Truffle with Parmesan Reggiano and Pecorino
~
Sous-Vide Roulade of Muscovy Duck Leg $28
Stuffed with Kurobuta Pork, Vanilla Bean and White Truffle
Accompanied with Celeriac Puree, Sautéed Spinach and Blueberry Glace
~
Dessert
De-constructed Truffle Banana Split $14
Banana Truffle Banana Cotta with Banana Foam, Chocolate Truffle Fun Gor,
Maraschino Cherry Sphere, Vanilla Truffle Gelato, Banana Powder and Cholate Dirt
You cannot call yourself a foodie until you experience a TRUFFLE-GASM for yourself. And like most exotic and adventurous foods, once you pop, you can't stop. We hope to see you there in support of the rising culinary stars from the Art Institute of California-Santa Monica that also happens to be our culinary alma mater.