Breaking bread with a stranger is more sensual than shaking hands. It's the truest sense of putting down the work titles and uniforms, not talking about the paychecks or the fancy schmancy toys, but truly enjoying each others time and company. If that's what Bone Kettle is going for in their new tasting menu with wine pairing concept, then they aced it with flying colors.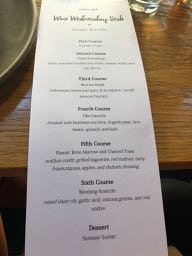 The family owned restaurant needs no introduction. Two handsome brothers operate the joint. They come from Komodo "Phorrito" aclaim. One's in the back putting pure passion in even the micro green garnishes, the other handles the operation in the front of the house. A new sommelier that helped put Republique's wine program in the next stratosphere gives plenty of assists in all the right places.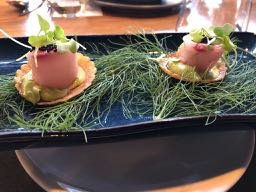 Inside the sleek and simple haunt is a brush of fun. Molds of Indonesian yaki monkeys hang from lighting fixtures with a tranquil ambience that's never uncomfortable.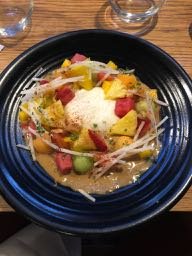 The tasting menu is treated like one's last supper heavy on Indonesian and Italian influences. Crudo comes with ambrosial Rieslings. Vinegar based San Bai Su sauce balances oxtail dumplings. Rujak, an Indonesian fruit that makes one heck of a sweet and spicy fruit salad lifts Burrata cheese.
Ube (sweet purple potato) gnocchi is fluffier and more nutritional than it's regular potato counterpart. Flaming bone marrow needs to be one of the basic food groups.
Finally, the deathblow comes from the deep fried Arancini rice balls stuffed with short rib Rendang, one of the signature dishes from with Minangkabau highlands of West Sumatra in Indonesia. The dish alone makes this $45 a person dinner seem like it costs hundreds. Summer sorbet is a closing amuse bouche. It's always welcomed.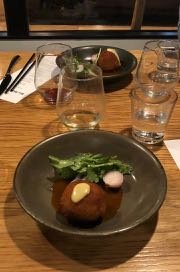 God forbid I have to leave this planet now. God forbid this 6 course-tasting menu with wine pairings from Germany, France, Italy, and California was indeed my last meal. But if it is and I do have to go, I'm okay with it because I've dined at Bone Kettle. I'm beyond happy.
Get Social with Bone Kettle
Instagram
67 North Raymond Ave, Pasadena
Article written by Monis Rose from Restaurant Fiction for Viva LA Foodies