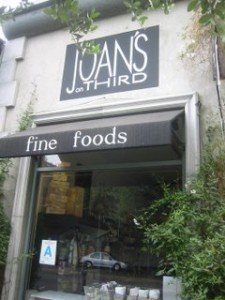 We frequent this fun pet friendly bakery and marketplace on most Saturdays for a late breakfast/early lunch/brunch. Its convenient location provides a perfect jump-off point for your weekend activities including nearby shopping at the Beverly Center, the Grove and the numerous shops and boutiques along 3rd Street, Beverly, La Cienega and Fairfax Avenues. There is something on the menu for all of your gastronomic cravings from Sandwiches, Breakfast items, Deserts and Coffee House Beverages. Additionally, the Marketplace provides all of the accompaniments for a romantic picnic lunch or dinner party.
One of my favorite things about Joan's is the cheese and charcuterie counter. I am very passionate about trying various exotic cheeses from around the world and we are always provided with a wealth of knowledge about the tasty cheese delights. Some of my favorities include the Valdeon(Blue Cheese wrapped in Fig leaf), Humboldt Fog Goat Cheese, Truffle Tremor Goat Cheese and Bermuda Triangle.
When I am not shopping for for cheese you can find me sitting outside with my dog Buju, Fiance Marissa and occasionally several friends enjoying the House Specialty; The Chicken Milanese Sandwich that consists of lightly breaded chicken breast with melted provolone on your choice of Ciabata roll, Baguette or Whole Wheat Bread. All versions stand on their own, but my preference is for the whole wheat. It is tradition for us to split the sandwich and share the bountiful Southwest Salad. This salad comes piled high with jicama, curried chick peas, red peppers, tomatoes, roasted corn, avocado, tortilla strips and spicy cilantro dressing. The pairing of these two Joan's specials provide a nice balance between healthy, fresh and tasty ingredients.
If you do end up saving room for desert, check out the desert counter for an assortment of homemade cupcakes, Gelato and other decadent treats. Cupcake selections include: Chocolate Cupcake, Vanilla Cupcake, Coconut Cupcake, Chocolate Cupcake with coconut topping, vanilla cupcake with chocolate frosting, spice cupcake with maple frosting chocolate cupcake with maple frosting, pumpkin cupcake, marshmallow cream filled chocolate cupcake, peanut butter filled chocolate cupcake, snickers cupcake, carrot cupcake. I am partial to the peanut butter chocolate cupcake and the Coconut cupcake.
Joan's also has a vast selection of soups along with frozen and ready to eat meals in the Take-out section of the marketplace. A vast arrangement of side dishes are also available in various to-go containers to accompany your home cooking or make an entire meal from the counter selections. After visiting Joan's once you will see why the countless cult following of customers keep coming back for more.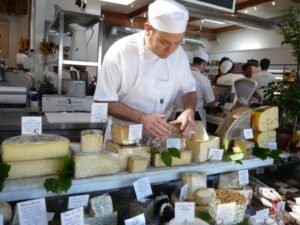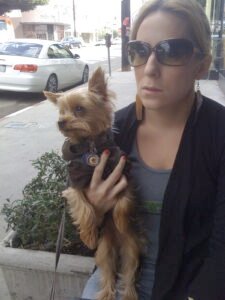 Joan's on Third ($$)
8350 W 3rd St,
Los Angeles 90048
Btwn La Cienega Blvd & Fairfax Ave
Phone: 323-655-2285
Fax: 323-655-1967
http://www.joansonthird.com