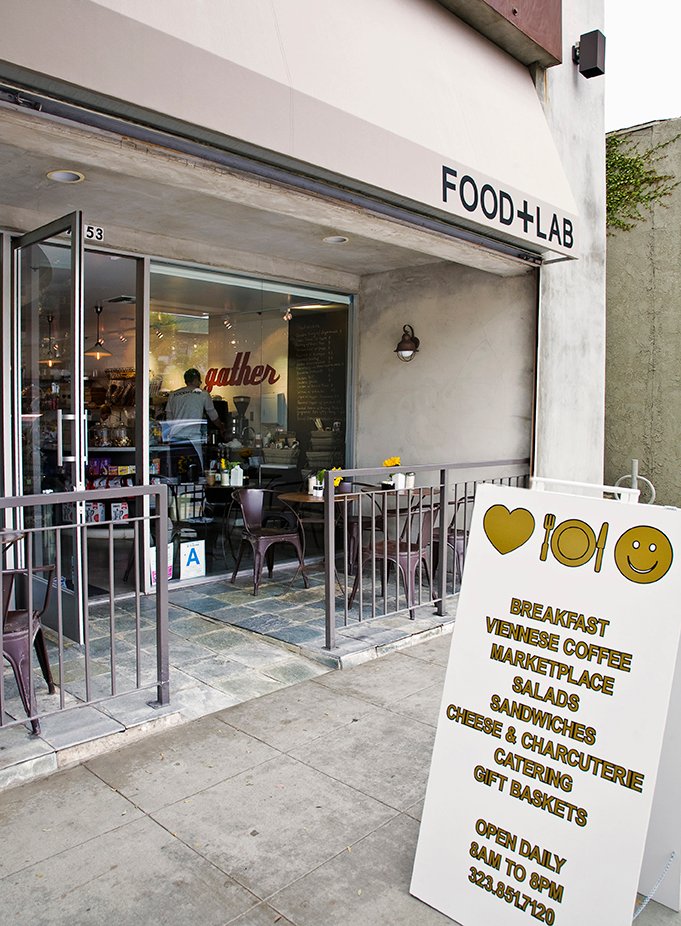 Tucked behind a tough industrial exterior and neighboring Los Angeles landmark restaurants including Jones Bar and Formosa Café, and in the shadows of the West Hollywood gateway lies Food+Lab Café, West Hollywood's newest eatery on the block.
Food+lab was started 3 years ago as a catering company, hosting to the notorious and demanding entertainment industry. Food+Lab always had aspirations of bringing its passion for creative, healthy and epicurean food to a café setting. In the short span of 3 years Food+Lab has done exactly that. After catering more than one thousand events and many satisfied clients later, the café was born and opened its doors to the public in January 2009.
The culinary minds or lab techs as we like to call them at the controls of food+lab are Ester & Nino Linsmayer, both Austrian transplants to the United States. This "mom and pup" team, as labeled by Nino himself is the essence of Food+Lab. Nino serves as a culinary consultant of sorts and runs the day-to-day operations of the food lab brand, while Ester handles all aspects of the menu items; from creation to implementation. They are both usually on site and always make sure that the customers are taken care of and treated like family. Nino's passion and exuberance is evident and he makes sure that the customer is satisfied.
Food+Lab is a bistro style café that serves up an array of tasty organic cuisine and freshness is the key ingredient.
Since this was a return visit, I had already had several food lab creations under my belt and was excited for the adventure in store. On my previous visit I had the Smoked Salmon Sandwich with Crème Fraiche and sliced cucumber. This creative twist and interpretation of lox on a bagel truly shows what kind of ingenuity goes into the menu at Food+Lab. Another selection that melts the taste buds is the salami sandwich with balsamic artichoke, gorgonzola and tapenade on ciabatta. This somewhat richer sandwich is built on artisan ingredients and complimentary flavors.


On the day of our shoot, Nino provided us with a tasting menu of several popular breakfast and lunch items. We started with an iced late and a classic cappuccino since Viennese coffee is one of the house specialties. For the breakfast course we started things off with the brioche with Nutella and mascarpone. This sinful combination is packed with bold flavors and works as a stand-alone breakfast or can even be served as a desert.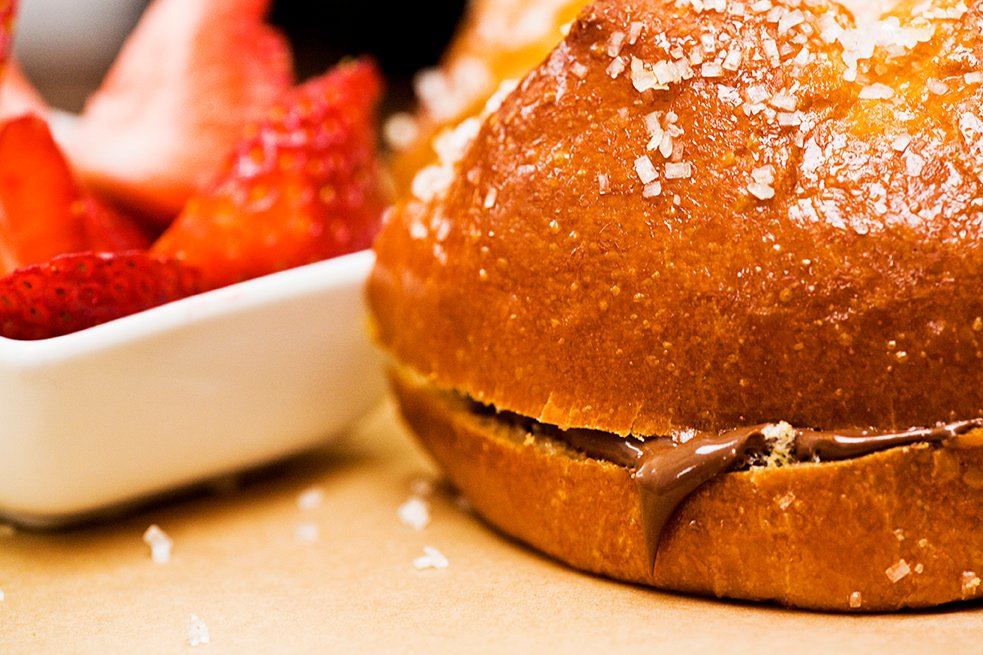 Next we tasted the egg sandwich. This version is quite different from most others that I have had, and once again its preparation is truly unique. The sandwich is served on rustic Artisan wheat bread and has a slightly nutty texture. The flavors continue to build when a hard-boiled egg, pancetta, watercress and homemade Aioli meet in perfect unison.


The lunch selections that we tried were the vegan sandwich complete with hummus, roasted vegetables accompanied by dried tomatoes and basil pesto and served on wheat. This sandwich is a meal in itself and would satisfy even the most discerning eater. The sandwiches are presented on wood planks and accompanied with a medley of house olives and mini gherkins.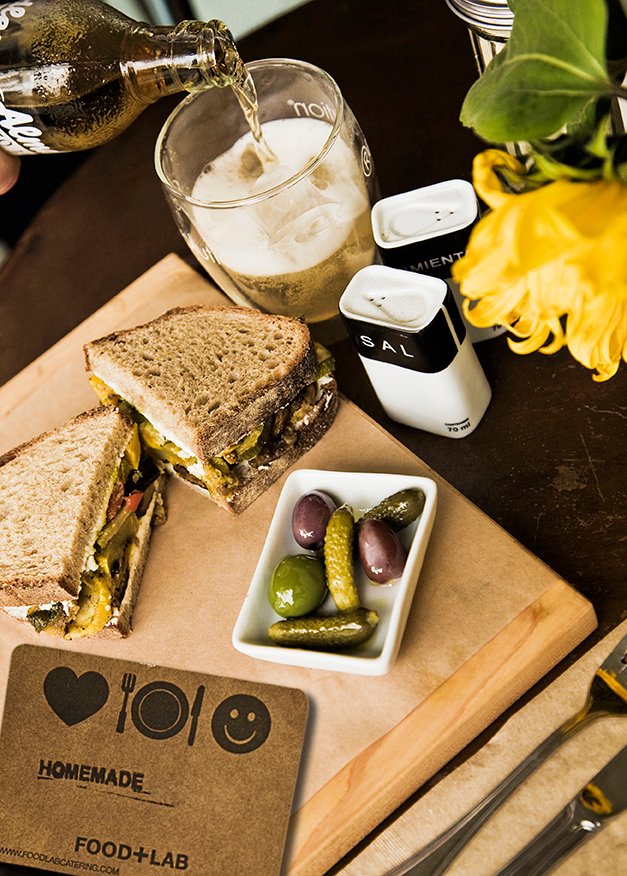 We debated several salad selections and told Nino to decide for us and he choose to serve us the chicken arugula salad with edamame, cranberry and candied pecans. This is a salad that takes him back to childhood because it is paired with mom's homemade dressing and the dressing is the reason that Nino eats salad to this day.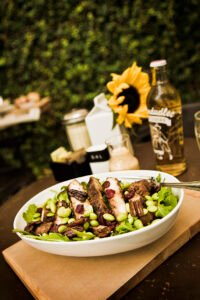 Food+lab is also a marketplace for Charcutterie, imported European sodas and snacks as well as to-go items including soup. The Organic Potato chips are brought in from the United Kingdom and Esther tells us that the Beef and Horseradish are simply her favorites. Need a soda fix, try the "Alm Dudler", translation; Drink of the Alps (the Coca-Cola of Austria), Nino describes it as "A lemongrass herby ginger ale."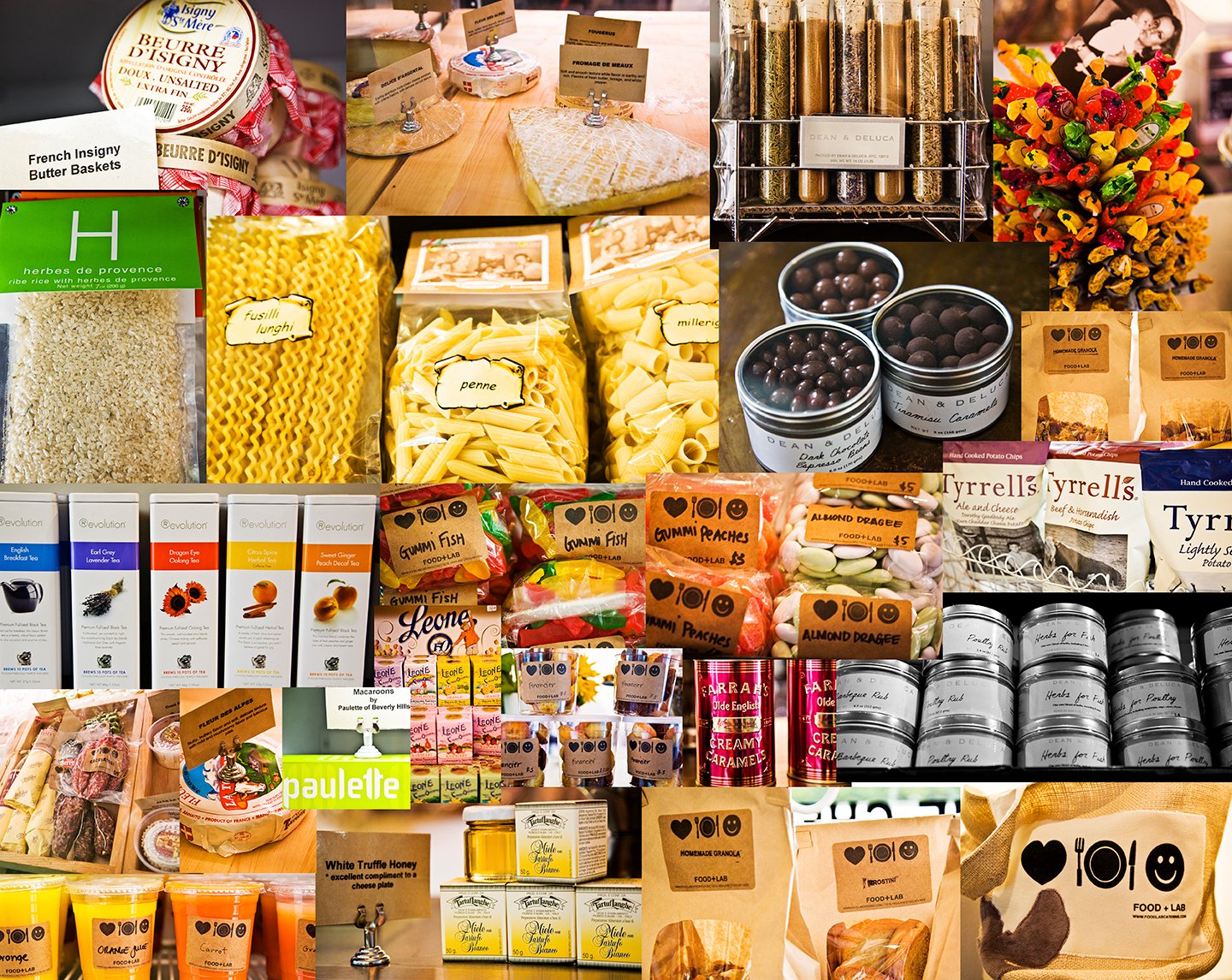 Need a gift for the foodie in your life? Gift baskets are available at food lab courtesy of Dean & Deluca of NYC. The food lab encourages living eco-consciously and encourages its customers to bring in and reuse the Food lab Tote bag ($25). Each purchase entitles the customer to a 25% discount on retail items.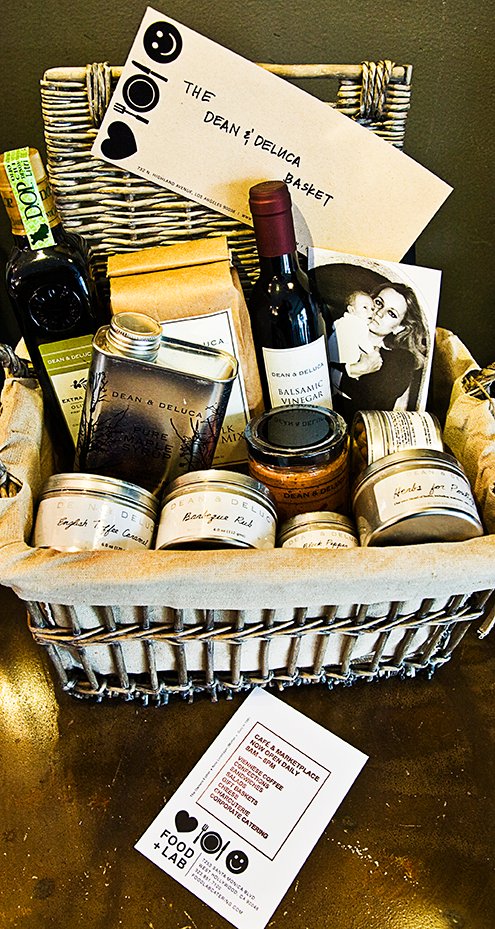 Once our journey to Food+Lab was complete we realized quite simply that it doesn't take a rocket scientist to figure out that this sidewalk café creates edible concoctions that keep testing your taste buds and keep the customers coming back for more. So next time your in the mood for some flavorful goodness, check out Food+Lab: where health and happiness meet taste.


Food Lab Cafe & Marketplace
http://www.foodlabcatering.com/cafe.html
7253 Santa Monica Blvd
West Hollywood, CA 90046
(323) 851-7120
@ Santa Monica Blvd. between Poinsettia Place and Formosa Place