BottleRock; 1 part beer and wine bar, 1 part wine boutique and 2 parts restaurant. Mix all of these key ingredients together and you get BottleRock. With quality ingredients, masterful culinary creativity and a team that pays attention to every detail, BottleRock provides the perfect setting for an affordable epicurean adventure that will tantalize your senses.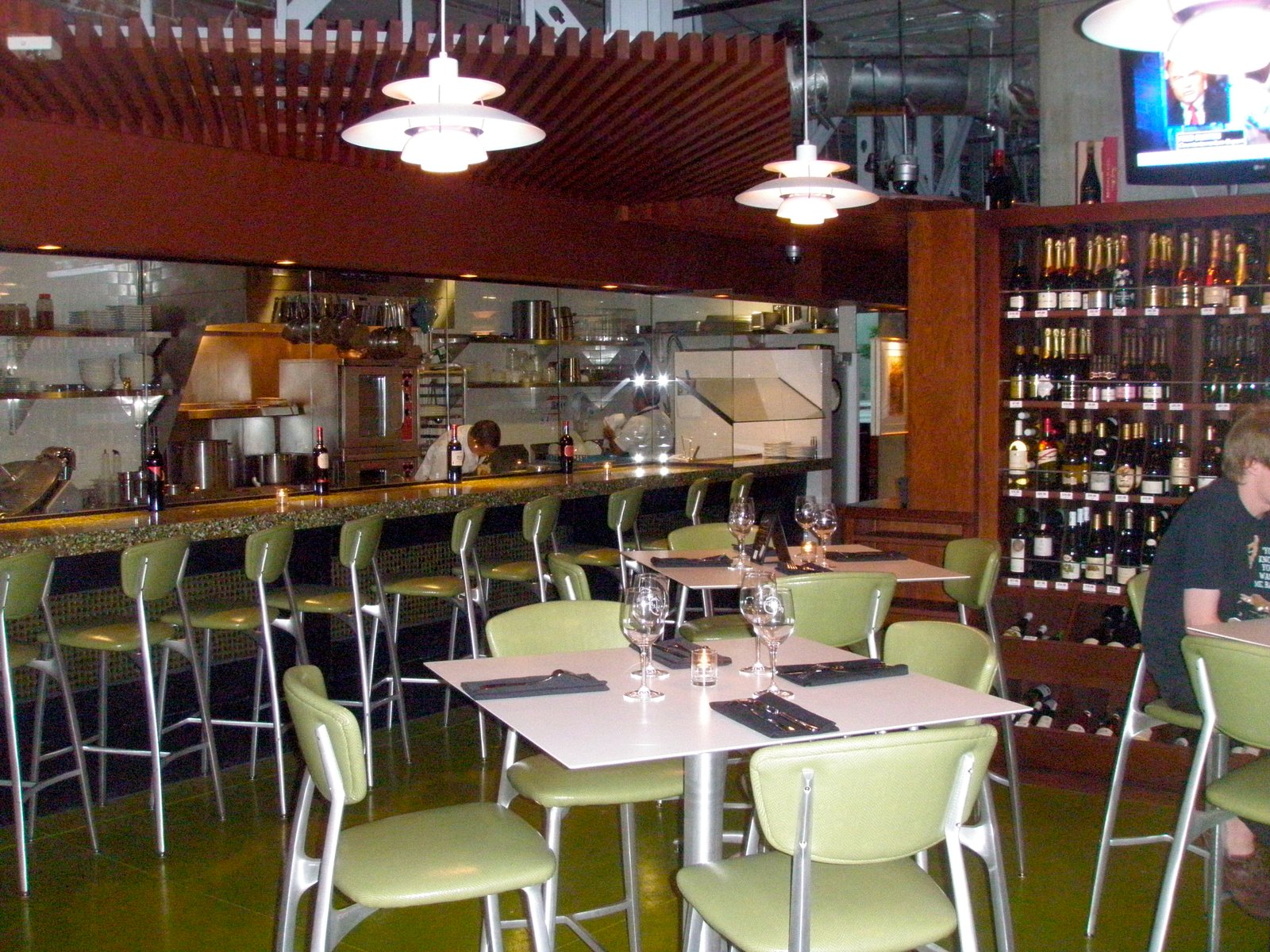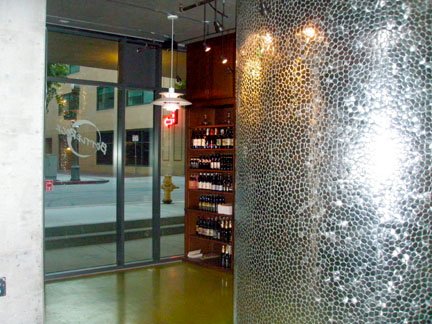 Located in Downtown Los Angeles, in the South park District, on the ground floor of the Metropolitan Lofts on 11th between Hope and Flower, BottleRock pays homage to a New York State of mind right here in Los Angeles with its lofty interior space. The talented culinary team is led by veteran chef, Jared Levy(formerly of Providence) and the nice sized menu has something for everyone; from a Roasted Half Young Chicken to the Pork Belly Risotto. BottleRock also boasts its own "beverage strategist", Alex Macy who works along with the chefs to pair beer and wine selections to your meal matching each ingredient note for note.
Our tasting menu consisted of 5 amazing courses, each putting us closer and closer to gastronomic bliss. Our first course was the Fresh Fava & Pistachio Falafel Salad. This salad is Chef Levy's take on a decomposed falafel. An artistic presentation of falafel, sumac, tahini and watercress just to name a few started us off in the right direction. Next, we sampled the Loup De Mer(Sea Bass), a light and flavorful dish of crispy skin sea bass, braised fennel, chick peas and fennel broth. This elaborately presented fish stew was another dish that showcases BottleRock's talented chef's cooking and plating talents. This dish, like the one before was multifaceted and each element provided another flavor, layer and texture. Just as we thought our meal was coming to a close we were reminded that we were not even halfway through. Next we had the house special Okonomiyaki; translation "What you like grilled." The best way to describe it is as Eggs Benedict gone Japanese. A Japanese style Seafood Pancake replaces the English muffin and a sunny side up egg draped in Prosciutto and topped with soy glaze, nori and dried bonito flakes with Greet Tea Aioli completes the dish. Again, many dynamic elements all hand picked to work together make this dish truly memorable and it is timeless and can be enjoyed at all hours of the day.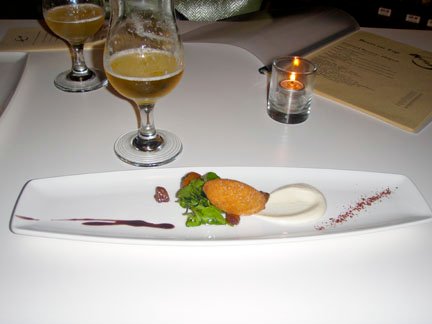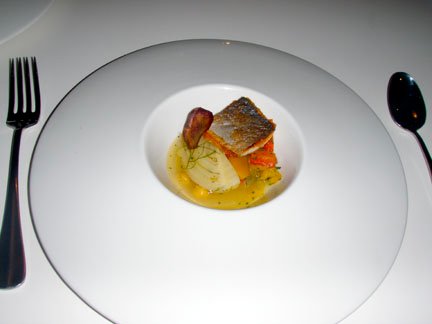 To break things up between desert the chef's provided a sampler platter of the best "in house" Charcuterie* that BottleRock is known for. The platter included amuse-bouche portions of Confit Pork, Duck Rillette, Foie Gras Torchon, Pan Crisped Boudin Noir(Blood Sausage), Pate de Campagne, Pig Ear Terrine and Salami Finocchiona(Fenel Sausage). Bite after bite of these delicacies on freshly baked crostini blasted sparks through our palettes.
We finished the meal up with a Beer float and Ice Cream Sandwich, and yes, I did say Beer float. This grown up version was suggested by Alex and it paired St. Bernardus ABT with hand made Toffee ice-cream. This malty and hoppy beer complimented the ice-cream and they worked together symbiotically as 1. At times, I had to remind myself that this refreshing treat consisted of beer. The slightly more traditional chocolate chip cookie Ice cream sandwich was large and full of flavor from the Vanilla Gelato to the Lemon Verbena.
BottleRock shoots right through to the stomach with its epicurean delights and quenches your thirst for fine dining cuisine at reasonable prices, The secret ingredients for Bottle Rock's success is love for what they do and constantly pushing the culinary envelope with fusion dishes both classical and out of the box. The next time you get the thirst for an ice cold pint, stop in and ask Alex for a Blanche De Bruxelles / Manneken Pis Belgian White and a Charcuterie platter to start things off right. You will thank yourself in the end because you will feel like a king.
*a delicatessen specializing in dressed meats and meat dishes; also : the products sold in such a shop
BottleRock Downtown Los Angeles
1050 Flower Street # 167
Los Angeles, CA 90015
Phone: 213.747.1100
ENTRANCE – on 11th Street
between Hope and Flower
http://www.bottlerock.net/losangeles/location.html
http://www.bottlerock.net/losangeles/menus.html
Also visit the Culver City Location
BottleRock
3847 Main St
Culver City, CA 90232-2619
(310) 836-9463