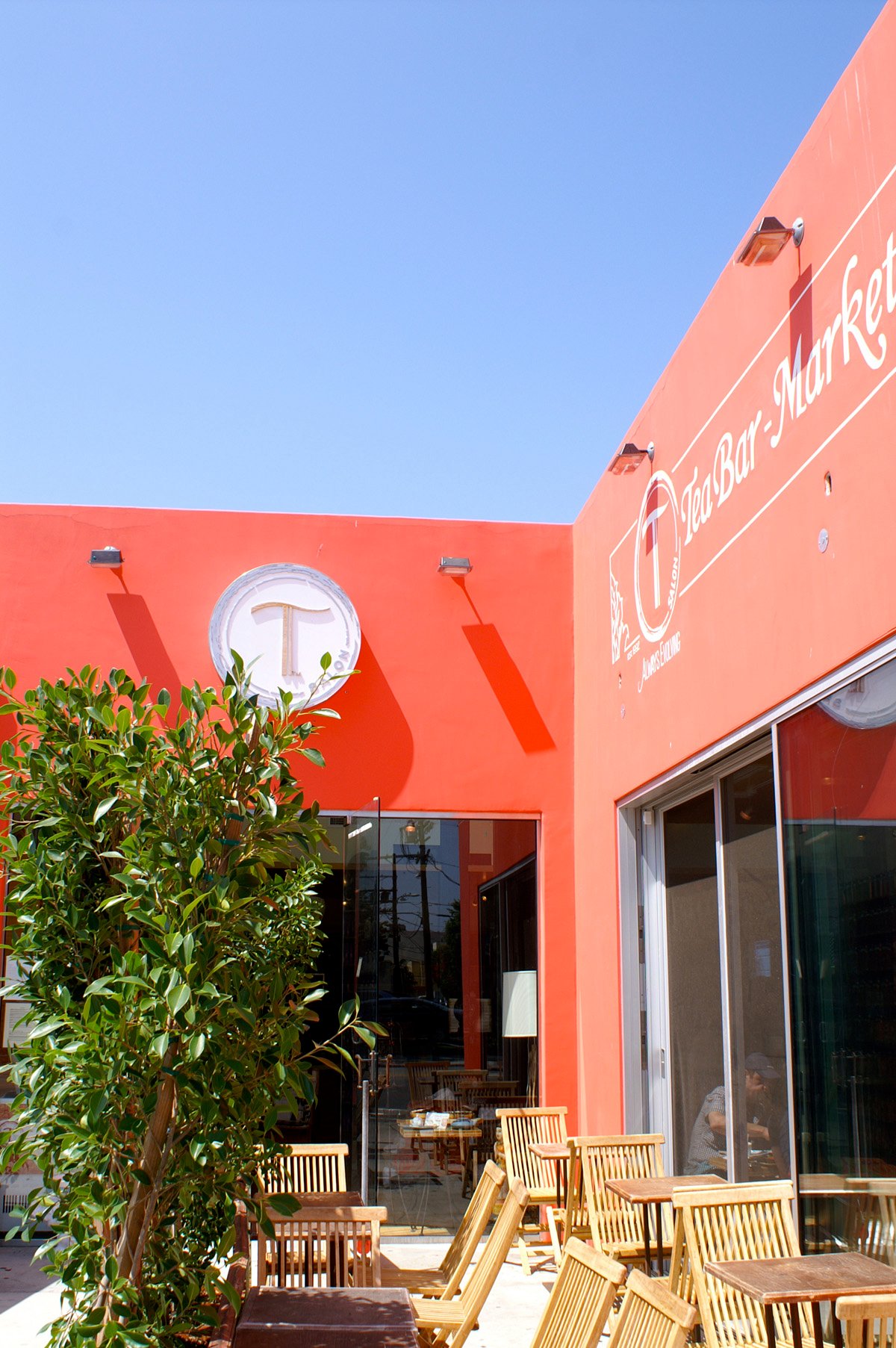 About T-Salon:
For all of you that remember Elixir Teas & Tonics on Melrose and still yearn for its vibes, look no further, you have found your new sanctuary at T Salon Melrose. The best part is that it's only a mile or so down the road, where Melrose meets La Brea in the Miracle Mile/Hancock Park adjacent neighborhoods of Los Angeles.
A slightly more modern version of a traditional Japanese tea house has been putting its own spin on Tea and culinary treats since its soft opening several months back.
And, T-Salon has been making a big splash ever since with over 20 cold, ice-brewed teas that flow out of a custom non-alcoholic draft system that keeps drinks cold and consistent with every pour.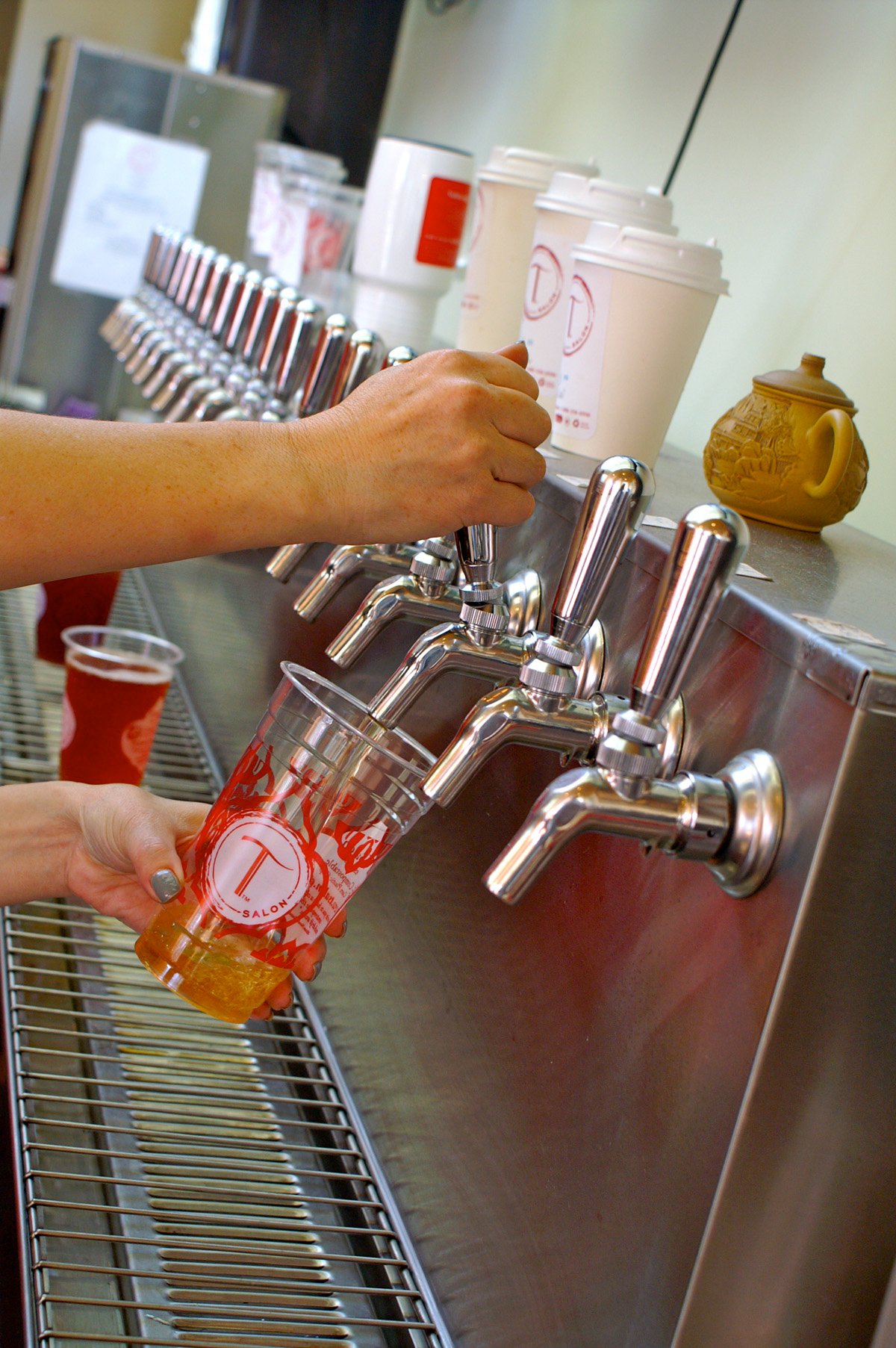 Tea infused sushi and ice-cream and some sweet bites from local artisan bakers from throughout our city round out the sublime spread found at this boutique coffee house alternative.
T salon sums up their unique concept best on their blog as An Eco-Sustainable Tea Bar, Market & Cafe and you have to experience it for yourself to see that it is much more than that.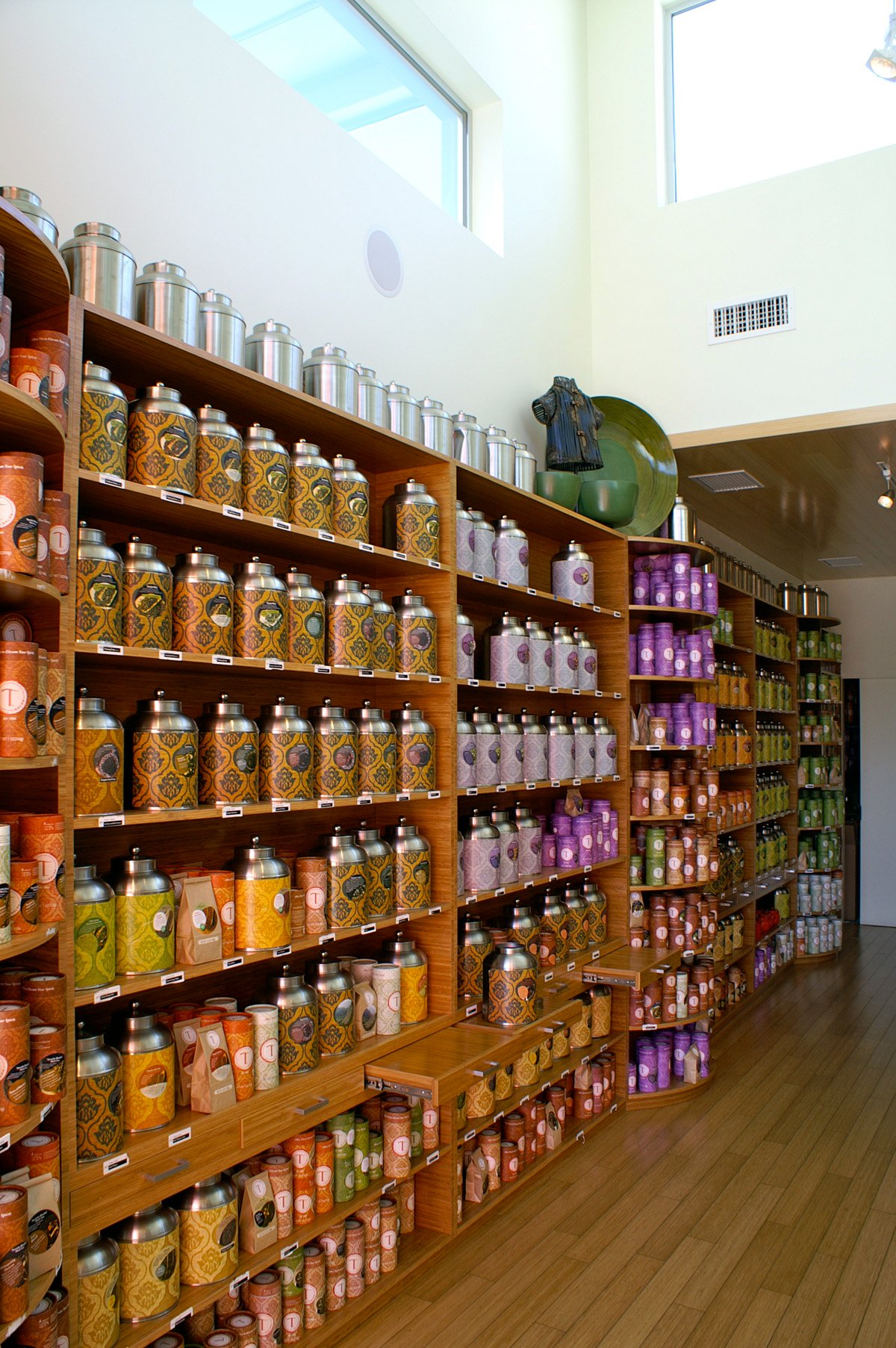 T-Salon and Z-Sushi go hand-in-hand:
Owner Miriam Novalle formerly of T-salon New York has successfully transplanted her flagship location to Los Angeles with a few additions. Since Sushi is uniquely LA, it is no surprise that tea and sushi go together like "Peas and Carrots"(Thanks Forrest Gump). Novalle's T Salon and Sushi Zuri under the direction of Chef Zuri Lifshitz interweave their passions for flavors and food by creating a truly unique culinary mash-up that works oh so well.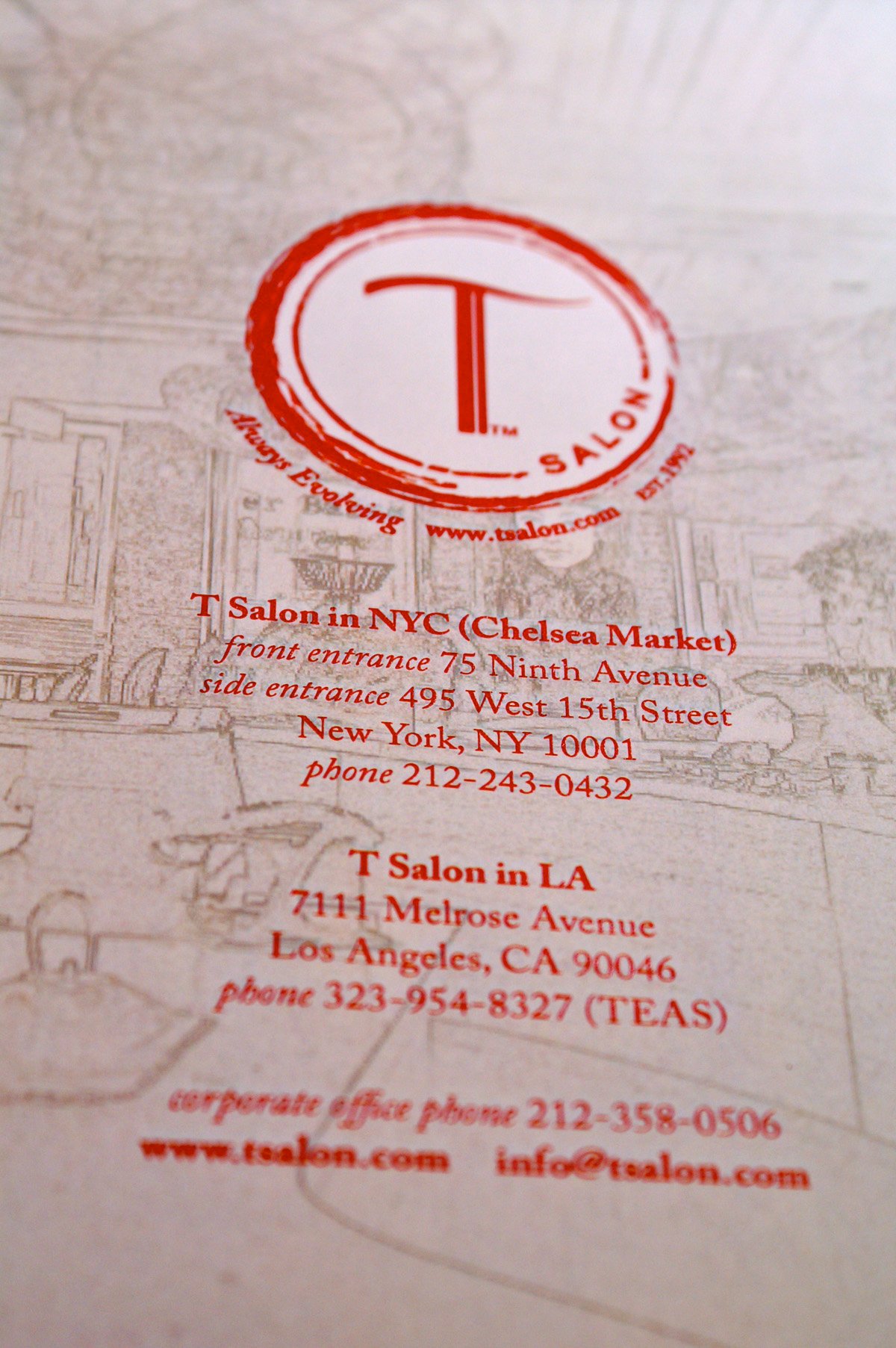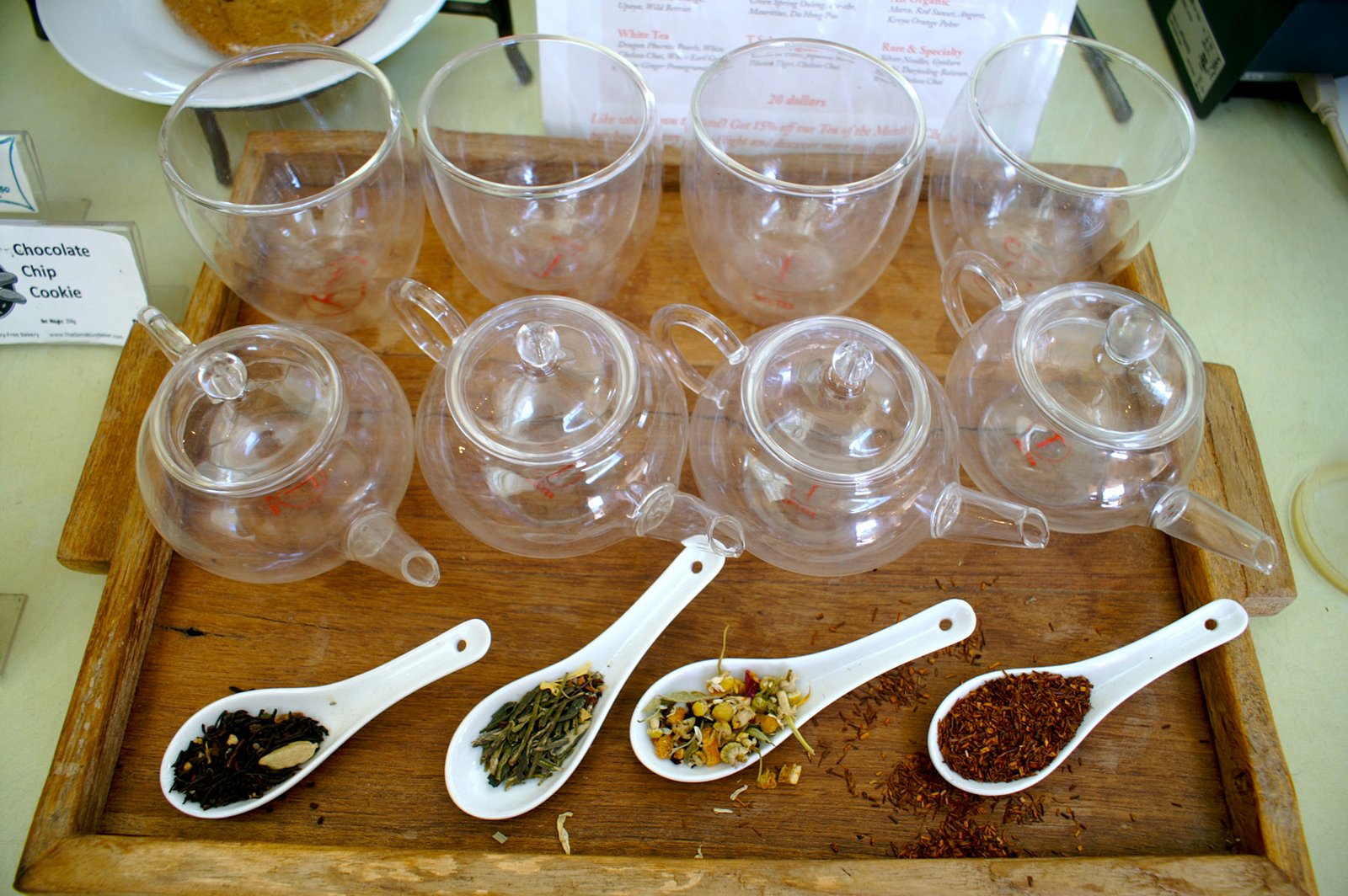 About Z sushi:
Zuri is a Jedi master when it comes down to making sushi and his hands seem to summon the forces of sushi fusion. No light saber needed, Chef Zuri handcrafts each sushi item himself with an arsenal of secret sauces with tea infusions. He also keeps few padawans or apprentices standing by to act in his presence if he gets pulled away to do private catering. He brings his own version of Nouveau sushi to the T-salon clientele who are looking for something a cut above the rest.

Tea and Sushi together as one:
All of T-salon's menu selections are the product of the union of food and beverage and in their case, tea and sushi. For centuries tea has been paired with sushi but Chef Zuri takes it a step further by formulating his creations with tea as an integral ingredient in the sauce mixtures.
All dishes are ordered and served table-side with prompt and positive service.
We ate almost everything off the menu in one way or another and would like to put the following items on blast: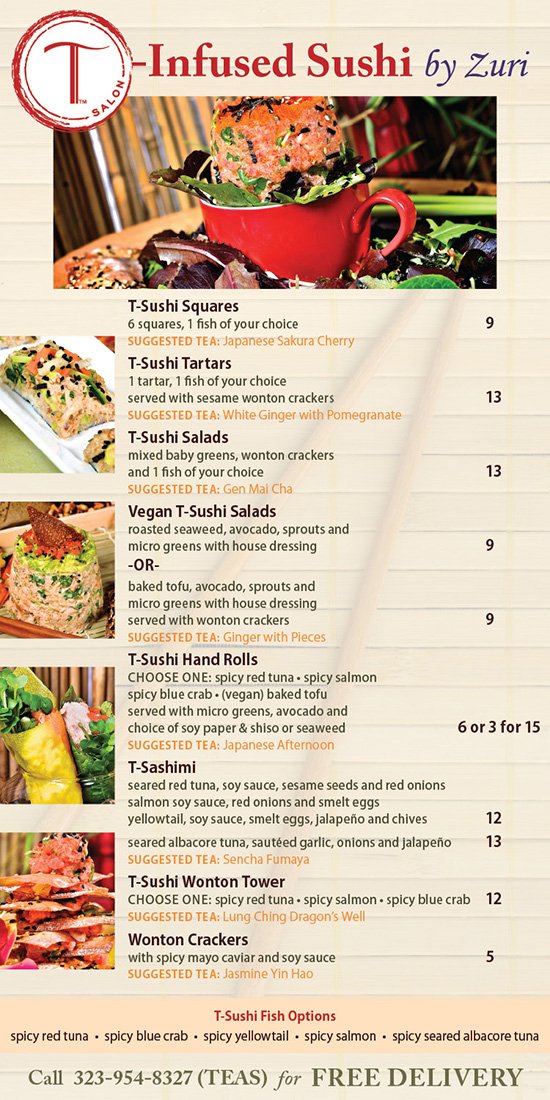 T-Sushi Squares(spicy tuna or crab) are not your ordinary katsuya(esque) rice cake style sushi. This less crispy counterpart is lighter and more complex and soothing in flavors.
T-Sushi Tartars(Tuna or crab)-are served with sesame wonton crackers and loaded with flavor and is the perfect meal to cool down on a hot day.
T-Sushi Hand Rolls(spicy red tuna, spicy salmon, spicy blue crab or vegan baked tofu served with micro-greens, avocado and choice of soy paper & shiso or seaweed. These light bites are filling without making you feel overloaded as well as providing that Omega3 boost to keep you going into the evening.
Zuri's other selections of either T-Sashimi, T-Sushi Wonton tower or the famous Wonton Crackers with spicy mayo caviar and soy sauce all provide the satiety to make you just feel good.
I Scream, You Scream, We all Scream for Ice-cream:
Did someone say Ice-Cream tasting? Yes, they actually did and this isn't anywhere close to the ice-cream we all crave from our childhood. This slightly more adult tea infused ice-cream comes courtesy of Carmela Ice cream from NYC. Several exotic tea flavors took several months to develop, but the end result is soothing bliss in every scoop.
White Ginger pomegranate, Sunrise in Tibet and Organic angora were all so aromatic and soothing. Each embodying their own holistic properties while simply just tasting good. Treat yourself to a sweet treat while keeping your body in perfect balance.
Food for thought: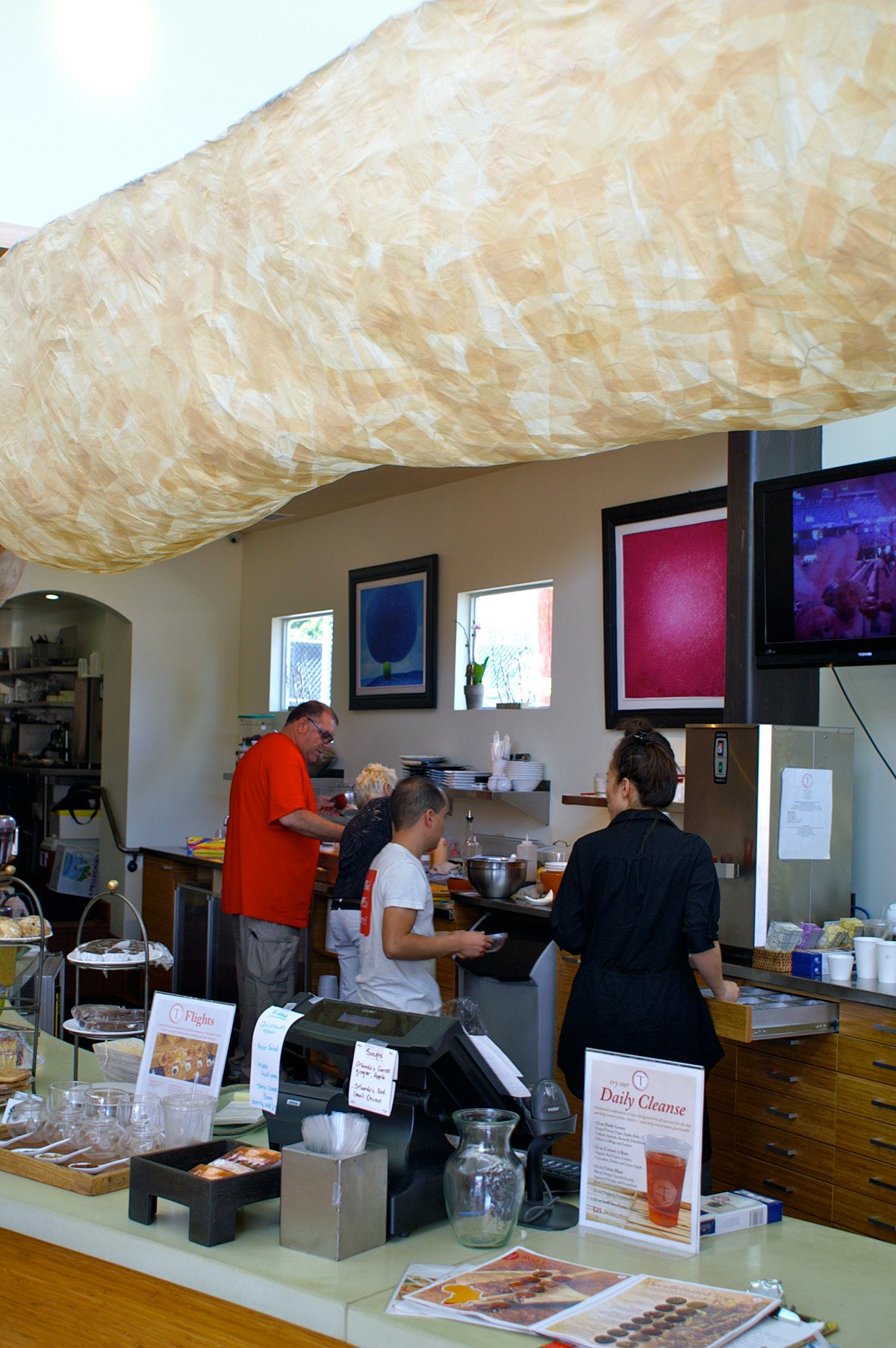 It doesn't take a genius to realize that the T-salon is here to stay. And besides serving up tea, sushi and ice-cream, they also are a great source for gifts for that special someone in your life who just likes to Zen-out. Everyone needs friends in high places and that's why I was fortunate to visit with Pauli Orchon; friend, foodie and fan of T-salon. Without her invitation, I would've missed out on this refreshing Los Angeles gem. The problem is, once you visit you will keep coming back. And, I will be back again very soon for my ice cold Lemon Verbena fix with a side of Zuri's famous tuna tartare.
If you are thinking about cooking with tea, the following Article, "Think Outside The Cup" will get your mind and creativity racing.
Maybe you will be Zuri's next Jedi apprentice!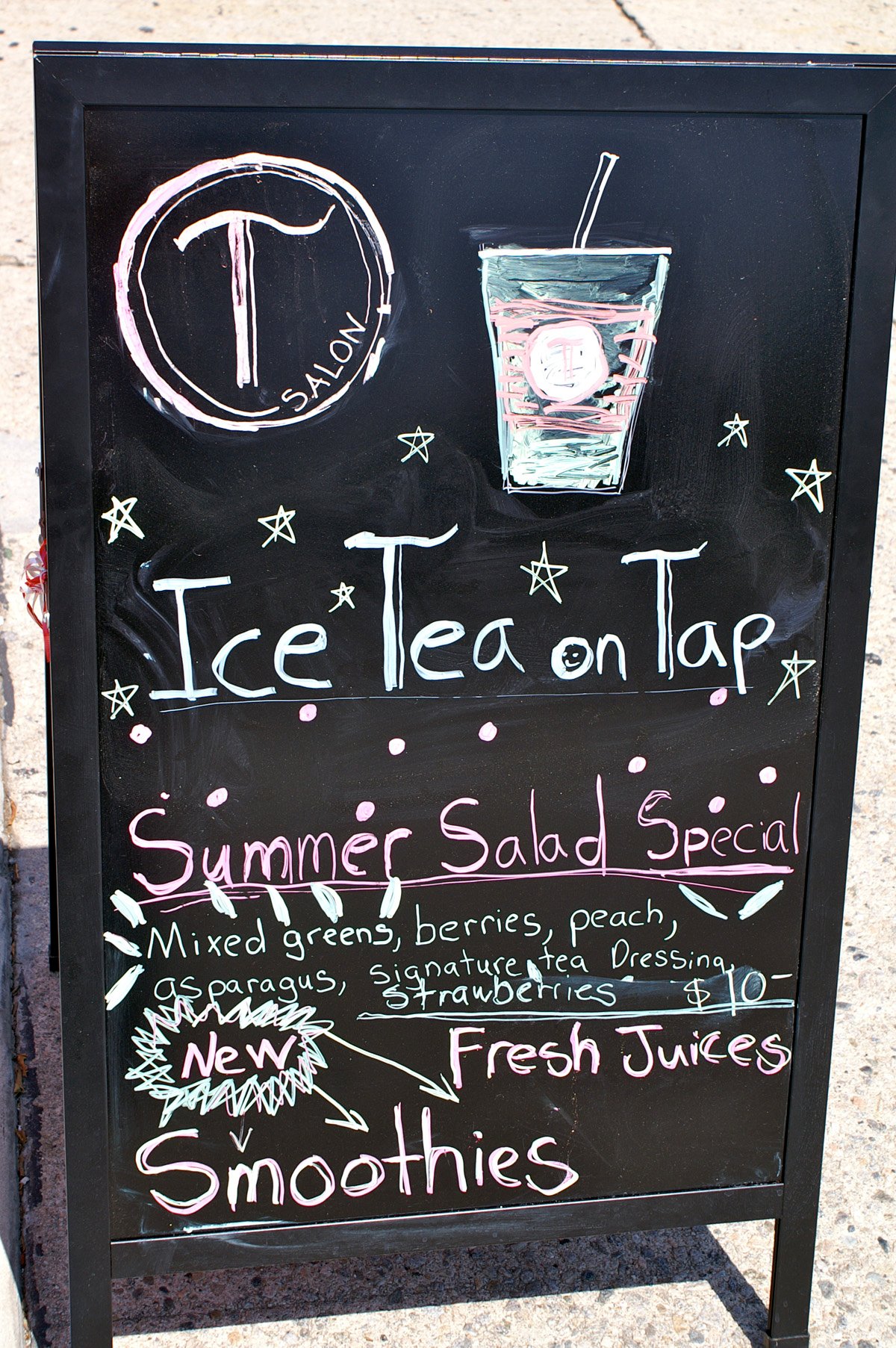 Contact info:
T Salon
7111 Melrose Avenue
Los Angeles, CA 90046-7617
(323) 954-8327