A hidden treasure in Malibu is John's Garden Fresh Health Store. This small jewel features a junior market style setup with all of your favorite nostalgic snacks and healthy options for both food and beverage. At the counter there is an extensive menu written in colored chalk and you can get anything ranging from Smoothies, Salads, Soups and Sandwiches. Every-time I venture out to Malibu I make a stop here because I know I can get a mouthwatering sandwich that is both filling and healthy.
Two of my favorite sandwich selections are the Malibu Club and The Pacific. The Malibu Club is a tuna club that is served with your choice of bread ranging from Rye, Wheat or Sourdough and accompanied with avocado, lettuce, tomato, onion and/or sprouts and your choice of condiments. The Pacific is similar to the club with 1 less layer of bread and shrimp salad instead of the tuna salad. It is best to get both and split each 50/50 as I did this past Friday. Another favorite item is the Vegetable Soup that served daily.
There is always plenty of outdoor seating at the Malibu Country Mart and you can enjoy the people watching and occasional celebrity sitings.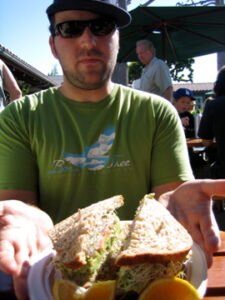 John's Garden Fresh Health Store
3835 Cross Creek Rd
Malibu, CA 90265
(310) 456-6895