Ruby's is located in Redondo Beach at the Seaside Lagoon and is a place where locals and visitors can take a trip back in time and experience a taste of Americana. Ruby's offers a plethora of dining options with an old-school diner theme running throughout. A view of Seaside Lagoon and a comfortable interior with a family atmosphere makes Ruby's Redondo a great place to bring the entire family.


In the spirit of celebrating the new year and the classic American diner that Ruby's is known for, it was only proper that we would indulge in a few milkshakes, burgers and fries.


We started off with the Oreo Cookie Fantasy and Strawberry shakes. Made to perfection, these sweet treats tantalized our taste-buds and took us back to our childhood. We continued our journey back in time with the Spicy Jalapeno Jack Cheese Sticks. These cheesy treats are a variant of traditional mozzarella cheese sticks and have a nice kick and are presented with 3 dipping sauces. We rounded out the meal with one Ruby's new appetizer selections, the Hickory Bourbon Sliders. These American Kobe ground beef patties are served on Kings Hawaiian sweet rolls and topped with an onion ring and smothered in hickory bourbon bbq sauce and served with Zero Trans-Fat "Refillable" Fries. A larger version is also available, but I recommend the sliders so you can take full advantage of all of Ruby's fries. We refilled twice, once with the traditional shoestrings and the homemade chili fries. Both versions were tasty and I was a fan of the shredded beef chili topped with green onions.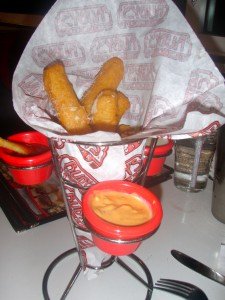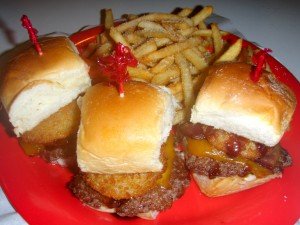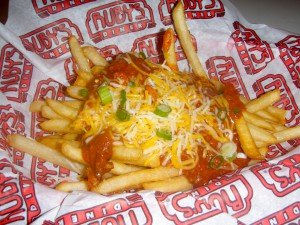 I plan on visiting Ruby's real soon because I know I will be craving a shake and a burger and am starting to make myself hungry. Visit Ruby's between 1/18-1/24 and present the Redondo Beach Chamber of Commerce "Restaurant of the Week coupon" (below) at the start of your meal and you will receive a free appetizer of your choice. Take my word for it that Ruby's will take care of all of your comfort food cravings.


Download Redondo Beach Restaurant of the Week Coupon(Below) or visit chamber website
rubys redondo coupon
Ruby's Diner
www.rubys.com
245 North Harbor Drive
Redondo Beach, CA 90277-2508
(310) 376-7829