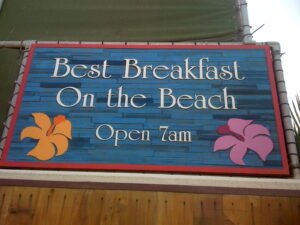 Whenever we visit Mission Beach we usually visit this popular breakfast eatery that fronts the Boardwalk at Belmont Park in San Diego. The island hut decor and motif provides the perfect staging area to view the activities beach-side at Mission Beach including surfers, jet skiers and people watching.
A large breakfast and lunch menu provides popular American breakfast specialties including various versions of Eggs Benedict including "Eggs Benny, Seafood Benny and Eggs Benedict Florentine." I had a craving for Eggs Benedict the moment that we arrived in San Diego so I was thrilled when we decided on The North-shore Cafe for our brunch excursion before a day of golf at nearby Tecalote Canyon. I choose the Seafood Benny due to its lighter deviation from traditional Eggs Benedict replacing the Canadian Bacon with its seafood counterpart of Smoked Salmon(aka: Lox). Cream Cheese was also added to the English Muffin along with a poached egg and hollandaise. I also opted for the Cottage Cheese as my side dish for its protein and taste. Home Fries, Black Beans or Fruit are also available.
The restaurant can become crowded on the weekend so please plan accordingly. Leave your name at the host desk and catch some sun on the Boardwalk while you wait for your number to be called. The menu provides extensive choices and good value based entrees ranging in the $10.00 pricepoint. Mimosas and Cocktails are also available.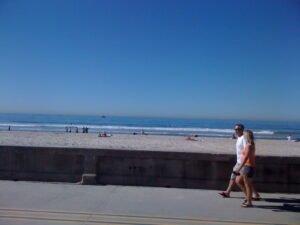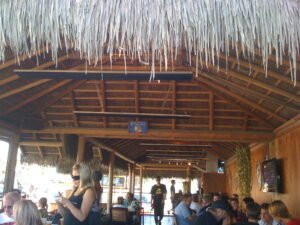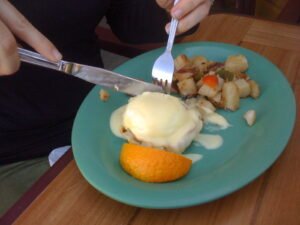 The Northshore Cafe @ The Wave House
3125 Ocean Front Walk
San Diego, CA 92109
Phone: (858) 228-9283
Cross Street: Ventura Place
Hours: Sun-Thu 10am–9pm , Fri-Sat 10am-1am
http://sd.wavehouse.com/